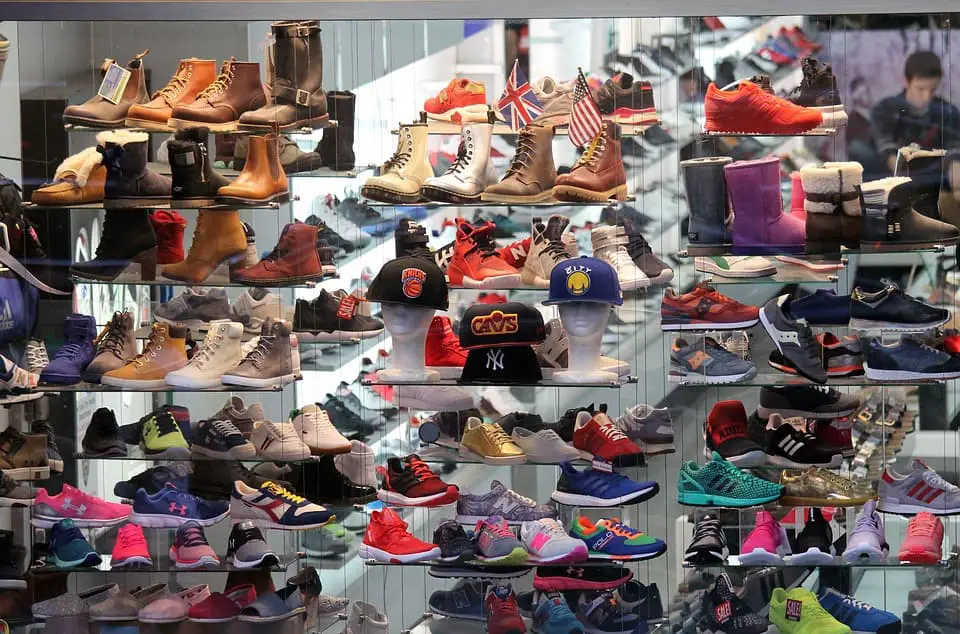 Do you like working at a retail store? Are you a fanatic of footwear and sports shoes? If you would like to do some side business or earn an extra income while studying, then you can think of applying for a job at Foot Locker. Foot Locker has a huge presence in the United States of America and is a popular footwear company. We will discuss Foot Locker Careers here.
Foot Locker Careers
What does a Foot Locker employee do, you ask? As a Foot Locker employee, you may work in the retail department sales department, selling and distribution department. Depending on your work area, you will help improve the company's productivity to attract more customers to your company. You also have to welcome customers, listen to their queries, provide refunds to the customers if needed, address their issues, keep an account of the stock, etc. 
History of Foot Locker
Foot Locker is an American footwear retail store established in Mid-Town Manhattan in the state of New York. Foot Locker has also expanded across 28 countries. They specialize more specifically in athletic footwear but also have footwear stores for kids and ladies. The company also stands out in terms of the uniform trend the employees wear, which bears a close resemblance to a referee's uniform. The most predominant product at Foot Locker is from Nike. 
Preliminary Requirements To Be A Foot Locker Employee
You should possess a high school diploma or a college degree. The latter is preferred.
You should be at least 18 years of age (varies in some cities)
You will be required to work 12 hours a day. The time period may vary.
You should have organizational skills, and you should be a great team player.
You should have proven work experience working at a retail store 
You should possess excellent vocabulary skills.
You should have analytical skills and interpersonal skills.
You should be detail-oriented.
You should possess customer service experience.
You should be able to handle various tasks handed out to you and be flexible to accommodate the business's requirements.
You should have the quality of taking up initiative and doing a job with little to no supervision.
You may be asked to work for long hours, including evenings, weekends, or holidays. You should be comfortable doing this.
You should be punctual.
You should learn to adapt to any environment and work under tight schedules and merge in with a fast-paced environment.
Application Process
To apply for a job at Foot Locker, you can go to their careers.footlocker.com. The site offers various job opportunities such as administrative support, buying & planning, customer service & support, E-commerce, facilities & maintenance, finance & accounting, human resources, information system & technology, investigation & loss technology, legal, logistics & supply chain, marketing & public relations, etc. You can select a job area that interests you and apply there. You will get to see a description of the job. Then select apply. They will display the duties and qualifications required for the job. Then they will ask you your experience, application questions, additional application questions. You will be asked to review your application. Finally, you have to agree to their terms and conditions. You will also be asked to attend group discussions. Once you are done with this, you will complete your application process.
Top Employers Before Joining Foot Locker
While applying for a job at Foot Locker, you may be a beginner or an individual with extensive experience in this field. If you are the latter, you can check out some of the top employers where you may have worked and get an idea of your chances of landing a job at Foot Locker. The more experience you have under your belt, the higher are your chances are of securing a job at a top-reputed company. The benefit of this is that you will receive great pay.
The first employer in the list is the one that has a higher percentage of hiring you, whereas the last employer in the list has the least percentage or chances of hiring you. The statistics are approximate and will differ over a period of time.
If you work at Walmart, you have a 14.2 percent chance of landing a Foot Locker job.
If you work at McDonald's, you have a 16.4 percent chance of landing a Foot Locker job. 
If you work at Target, you have a 6.2 percent chance of landing a Foot Locker job.
If you work at Burger King, you have a 4.2 percent chance of landing a Foot Locker job. 
If you work at Wendy's, you have a 3.5 percent chance of landing a job at Foot Locker.
If you work at Subway, you have a 6.3 percent chance of landing a Foot Locker job.
If you work at United States Army, you have a 5.8 percent chance of landing a Foot Locker job.
If you work at Macy's, you have a 6.8 percent chance of landing a Foot Locker job.
If you work at the Home Depot, you have a 3.8 percent chance of landing a Foot Locker job.
If you work at J.C. Penney, you have a 2.9 percent chance of landing a job at Foot Locker.
Careers Available At Foot Locker
You will be astonished to know the number of job opportunities that Foot Locker has to provide. They have a total of 20 job opportunities available. Yes, you read that right. You can find a job in every field. You can select the job that suits your interest or the one that you plan to build your career in.
Administrative Support: Every organization or company needs an administrative officer to run the company's processes efficiently. Even an administrative officer will need assistance to carry out their duties because the job is a lot. This job requires you to schedule meetings, plan itinerary, guiding the team members, and setting administrative systems and practices.



Duties:

You have to take phone calls or respond to emails as you are the middleman between your executive and the correspondent interested in your business. You are also responsible for drafting emails, faxes, or copies of your executive's business documents as and when needed.
As you will be managing the administrative department, you have to document your department's workflow and prepare reports based on it for your executive to analyze it.
You have to arrange business meetings with other partners or companies and note down the meeting minutes. 



Buying & Planning: As Foot Locker is a retail store, they need a continuous stock supply. But how much stock should be purchased, and what are the demands of the customers? The answers to these questions are given by the merchandise buying and planning department. They forecast the inventory required in the future by considering the customers' product demand at different times. Traditionally, there is centralized merchandise that sources the products for Foot Locker.



Duties:

You have to collaborate with merchants and negotiate deals with them to source the products for Foot Locker.
You have to monitor the process of buying, selling, and distributing the goods as per the policies of Foot Locker.
You have to ensure that the goods received do not have any defects and match the description that you had given to the merchant.
Foot Locker currently has 4 job openings in this sector, namely, buyer accessories, associate planner, associate space planner, and merchandiser.



Facilities & Maintenance: The maintenance of a company plays a key role in attracting more customers. Hence, as a part of the facilities and maintenance staff, you contribute to maintain the infrastructure and decorum of Foot Locker. You are the handyman of the company. You carry out the building's maintenance by repairing, cleaning, and servicing the Foot Locker construction conditioning.



Duties:

You have to perform routine maintenance checks of Foot Locker.
You have to overlook and manage the security, parking, cleaning and catering services of the company.
You have to take control of the company's renovation work or any other construction matters related thereto. 



Investigation & Loss Prevention: An investigation & loss prevention officer is responsible for safeguarding the company from theft, miscreants, or dishonest company practices or personnel. There is a wide range of positions available, from security officer to auditor.



Duties:

You have to carry out surveillance with the help of CCTVs to nab shoplifters and report them to the concerned authorities.
You have to conduct a Foot Locker retail department audit to ensure that they are not involved in any malpractices. 
You will have to launch investigations to apprehend criminals on account of shortage in the inventory if any display is missing or some important documents are not found.
Salary Of A Foot Locker Employee On The Basis Of Their Job Title They Hold
The position or the job title you hold in the company you are working for plays a key role in determining the salary you receive. If you have many years of experience under your belt, say you hold a typical store manager salary, you can expect an average pay of $142,287. Similarly, if you have very little to no experience under your belt, and for example, have been allotted the job title of a warehouse worker, you can expect an average minimal pay of $29,600.
| | | |
| --- | --- | --- |
| JOB TITLE  | AVERAGE SALARY | SALARY RANGE |
| Store Manager Jobs | $142,000 | $131,000 – $153,000 |
| Sales Leader Jobs | $107,000 | $92,000 – $123,000 |
| Assistant Manager Jobs | $66,000 | $60,000 – $72,000 |
| Customer Service Representative Jobs | $45,000 | $40,000 – $51,000 |
| Visual Merchandiser Jobs | $37,000 | $32,000 – $41,000 |
| Key Holder Jobs | $35,000 | $34,000 – $35,000 |
| In-Stock Associate Jobs | $35,000 | $32,000 – $36,000 |
| Sales Associate Jobs | $33,000 | $30,000 – $36,000 |
| Stocker Jobs | $33,000 | $32,000 – $33,000 |
| Shift Leader Jobs | $32,000 | $30,000 – $34,000 |
The average standard pay for Foot Locker jobs depending on job title ranges from $27,000 to $153,000 per year.
Interview Questions
Have you worked in a footwear retail store before?
Yes. I have worked in a footwear store before at (name of the footwear store) back in (year of working). I worked as a (name of the post held in that company) and worked specifically in the sports department. I have hands-on knowledge about every footwear for any sport. Additionally, I have also worked in the kid's shoe department and thus have an idea of the shoes that kids can wear for any event.
Let's say that you were placed in the sales department, then how would you guarantee sales for Foot Locker?
The reason that I had opted for the job is due to my love for sports. I am a big fan of (name of the sport you are fond of). And I have thoroughly researched every aspect of that sport. Due to the knowledge that I possess, I can attract many sports fans, giving them recommendations for the perfect shoe and the perfect shoe size for the sports. I can also design and strategize a great sales plan keeping in mind the sports events and popularity it possesses. Hence, more consumers will purchase footwear from Foot Locker, thus increasing Foot Locker's sales.
Where would you like to see yourself five years from now?
I am currently pursuing my high school diploma or graduation. Once I graduate, I plan to work as a Cashier (or any other beginner's role you like). And as the years go by, I would like to hold the store manager position at Foot Locker.
Also read Nike Mission, Vision Statement & Values Analysis
Foot Locker Careers – Job Application, Salary, Age & Interview Questions