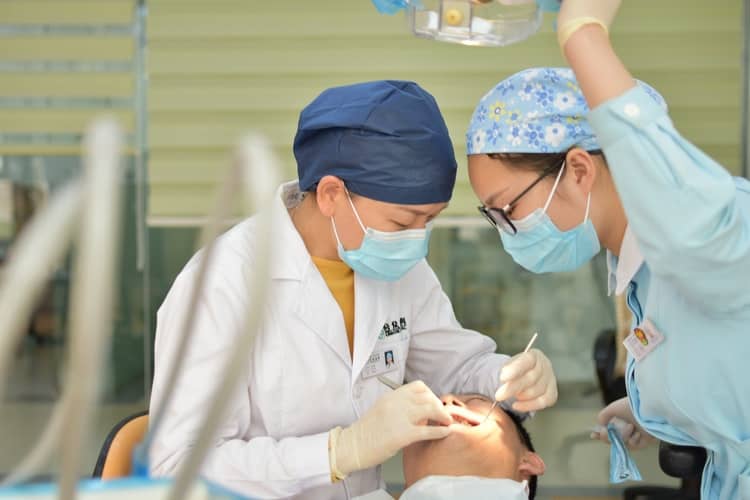 CNA is a certified nursing assistant who helps perform basic tasks such as caring for patients, including bathing, dressing, grooming, exercising, and eating. It includes various other tasks like assisting the nurses, collecting the blood and monitoring vitals of the patients through medical equipment, and reporting the patients' well-being. This article will give you an overview of CNA job description, the hiring process, and all the important information you need to know.
CNA plays a vital role in patient care at health care that includes long-term care centers, nursing homes, and hospitals. They provide home care facilities to the patients that come as a part of hospice care.CNA provides licensed nurses who are expected to be self-motivated to provide care to the patients. CNA's average salary is expected to be $30,000 per year, as the need for CNA is growing in the country.
They are the unsung heroes of the healthcare industry, wearing heavy boots to fly through clinics and hospitals, taking great care of their patients. Along with their routine task, they also administer many treatments. They act as a mediator between the patients and medical staffs. They possess a moderate ability to understand the basic aspects of the job and report to the supervisors. They become paraprofessionals who work under trained nurses, health care professionals to provide facilities for health care.
Generally, such training courses are usually offered by the institutes run by the government and private colleges/institutes, and many other vocational schools, hospitals, nursing homes, and technical schools. Nowadays, maternity homes and childcare hospitals provide training for CNAs for paid money as they work under senior professionals in their area of work. It requires up to 1 year of work experience.
CNA Job Description:
The job description varies dramatically, as their duties depend upon the work environment. They are usually found in clinics, hospitals, care for patients at home and living facilities. Responsibilities vary on the set of environments. CNA's major responsibilities include daily activities such as dressing, cleaning, assisting, grooming, and transporting the patients. The nurse directs them to take care of the patients.
CNA's are responsible for the comfort of patients to feel safe and to respond to their needs. They assist the medical staff in communicating about the patient's condition and their concerns. CNA's duties involve the following:
Assessing the patients: They check patients for wounds, bedsores, and bruises. They report to the nurse staff if anything is found unusual. They help change non-sterile wounds for dressing and provide heat therapy or ice packs to the patients depending on their requirements. CNA's monitor the reactions of patients. 


Patients' vital take: They monitor the patient's vitals such as pulse, respiration, and blood pressure when needed and communicate to the team as per concerns.


Communication: CNA's respond to the patient's call and their concern. Details are provided through handwritten or electronic services.


To help them move: They help the patients to move and to get them out of bed. Transferring patients to tables and prevent them from bedsores.


Patient's hygiene: They maintain patient hygiene by helping them to bathe and groom. Patients are given bed baths, and they help to change their clothes.


Assisting with toileting: CNA's help the patients to change their catheter bags, thus helping them to use the toilet. Few other duties involve caring for patients by changing their pads, diapers, and bedpans.


Helping patients to eat: CNA's assist patients to eat and drink as when needed. Their duty involves tracking of food and water intake of patients.


Cleaning patient's room: Cleanliness of patient's room is the due responsibility of CNA. They help with laundries, regular change of bed linens, keep the room tidy, and restock the room as per required medical supplies.


Prevention of infection spread: They seek safety devices to prevent the spread of infection as per standard precaution. They are guided to use the personal equipment appropriately, such as masks, gloves, etc.


Additional responsibilities of CNA: As per the request of superiors, they help with admitting and discharging patients. They also help with post-mortem and also able to administer the medication to patients as per guidelines.
CNA's are commonly found in adult care centers, rehabilitation centers, and residential facilities to work in a hospital setting. They are rarely found in offices of outpatient or clinical settings. CNA's are the liaison between the patient and the medical staff. Responsibilities may vary based on the employment location and the level of need. CNA's shall ensure that they are following the guidelines of the state. CAN's are the mysterious heroes who get the ray of hope to light and guiding to heal.
Apart from the above job description, many working as CNA provide emotional support and mental strength to the patient's family members. They help to overcome fear and worries and thus helping them to stay calm. Sometimes, they communicate with the patients at challenging times. As per the statistics of the U.S. Bureau in the year 2018, the certified nursing assistants employed were up to 1,564,200. The greatest numbers of nursing assistants employed by the nursing care were up to 38% and whereas in government sectors it is up to 4% only.
Educational and Essential Skill Requirements:
To become a CNA, one can enroll at colleges for programs, agencies for healthcare employment, and many other schools to learn the skill required to clear the assessments and certification exams.
In order to work effectively, CNA's require the following skills:
One has to understand the medical terms, physiology, and anatomy.
To record the vital signs requires nursing skills.
CPR certification.
Observation skills, one has to be alert to record the patient's behavior.
Being compassionate and friendly towards patients.
Requires basic computer knowledge
Verbal communication and writings skills
Ability to handle the medical situation effectively
The program covers the common duties that are to be fulfilled by a CNA. The training period is about 12 weeks and helps you to pass a certification exam. Most of the training includes the preparation of tests to clear the certification exam.
Soft skills: The critical part of duties requires soft skills such as Physically fit, dependability, time management, accountability, problem-solving, critical thinking, organization, empathy, compassion, and communication. These skills are just basic qualities, as the environment and situation may vary drastically. But these remain as a baseline for medical institutes that look forward to CNA. 
Job Outlook and Salary:
CNA's work in nursing homes and long-term care facilities. As they enter into senior years, there shall be growing needs for the growing population.
According to the BLS (U.S. Bureau of Labor Statistics), the average salary for certified nurse assistants in 2019 was $29,660 annually. CNA's working in government sectors shall receive the highest pay of $35,500 annually. The health care services at home receive the lowest pay of $28,590 annually. The average salary for CNAs in the United States is about $30,720, which makes an hourly rate of $14.77. Alaskan make the most, with an hourly rate of $19.38. On average, CNA's in New York makes about $18.66 per hour. In Hawaii, they make about $18.33 per hour, whereas they make $17.61 per hour in California. It is important to know that salary may vary depending on the area, settings, and environment.
The growth in nursing assistants is rapid, and it shall keep increasing in demand in the coming years. It is expected to increase by 9% in the upcoming years, which is quite faster. On the whole, CNA is quite an exciting job in medicine, where one can help the patients and enjoy the security of a job, as the field has huge demand in their growth.
They are having flexibility on jobs and balancing work-life accordingly. They can work on various schedules based on the needs. Some shifts may vary throughout the week, while few others have a proper schedule and earn annual salary. CNA's who are qualified can apply at clipboard health immediately. They shall start working as per required shifts at nearby clinics, hospitals anytime. The earning of an individual depends on their potential, which the hospital determines and ensures the CNA contract.
According to the BLS, the following states below have the highest pay scale per year:
| | |
| --- | --- |
| State | Annual pay |
| New York | $35,080 |
| Alaska | $37,950 |
| District of Columbia | $34,170 |
| California | $33,560 |
| Nevada | $34,480 |
Few of the highest paying cities for CNAs, based on the non-metropolitan areas, include Kansas, Piedmont, North Carolina, South Coastal North Carolina, and Northeastern Ohio.
Certified Nursing Assistant Education
CNA's require the following qualities:
Candidates must have completed a diploma/High school graduation.
Candidates must attain a minimum age of 18 years or more.
Candidates should have a certified license for nursing assistants that are approved by the state license board.
CNA's shall be caring, soft-spoken, and able to write, read, and speak in English to provide easy service to the institution.
If one has work experience previously, that shall be advantageous during hiring.
Nursing Assistant Certification and Training
It requires having secondary education, i.e., diploma or certificate from the nursing program for an assistant. The courses include CPR, clinical practice, and basic instruction in nursing. But before they begin to practice, the nurse assistants are required to clear the exam. In many other states, candidates clearing the exam earn the certified Nursing Assistant (CNA), and few other states require background checks.
CNA Programs
CNA (Certified Nursing Assistant) has to complete a training program that is approved by the state. These programs are found in colleges, technical schools, high schools, vocational schools, and local hospitals. Depending on the interest of the candidate, programs vary thoroughly. One has to find the best according to their needs.
Most of the program has requirements that are to be completed before acceptance. The CNA training program is run by the American Red Cross, which runs for about 4-8 weeks based on the class's location and size. Some of the prerequisites include:
Red Cross criminal background, which happens prior to registration.
Attendance at Orientation information. 
Completion of TB test.
Physical form completion from Red Cross.
Verification from diploma/high school.
Reading and math assessment.
CNA Online Program
Some vocational schools and colleges offer online training programs for CNA, while in Red Cross provides in-person classes. Few programs operate at local hospitals. There are many Pros and cons for the program conducted online. Simultaneously, few individuals obtain certification quicker, which is the main concern for an individual who is graduating shall not gain core skill and knowledge as in-classroom. The average time for course completion in a class schedule is about 4-12 weeks. The program includes class hours and clinical hours as well. The state organization has set up no hours for the course completion before applying for the certificate.
Post the training program's completion, i.e., approved by the state, candidates can take up the exam. The exam comprises two parts: a written exam consisting of multiple-choice questions and an exam based on practical skills. Once the candidates pass the exam, CNA's are placed based upon the registry of state, and one can start applying for jobs. Few of the institutes that conduct CNA program includes American Red Cross, Cochise College, Hutchinson Community College, Pratt Community College, Fox Valley Technical College, Elgin Community College, etc.
Tips for Interview
As CNA's have huge demand, one cannot expect to get hired without the preparation. Cna's shall showcase themselves as superheroes, and that one can act better in any situation. There are many exceptional cases for selecting a CNA job, as it requires endurance and physical strength for this position. Sometimes belonging to sports and engaging activities in regular workouts makes your abilities clearer. This, in turn, works in favor to fetch your job.
Also read: Masters in Nursing Salary
CNA Job Description – Salary, Duties & More