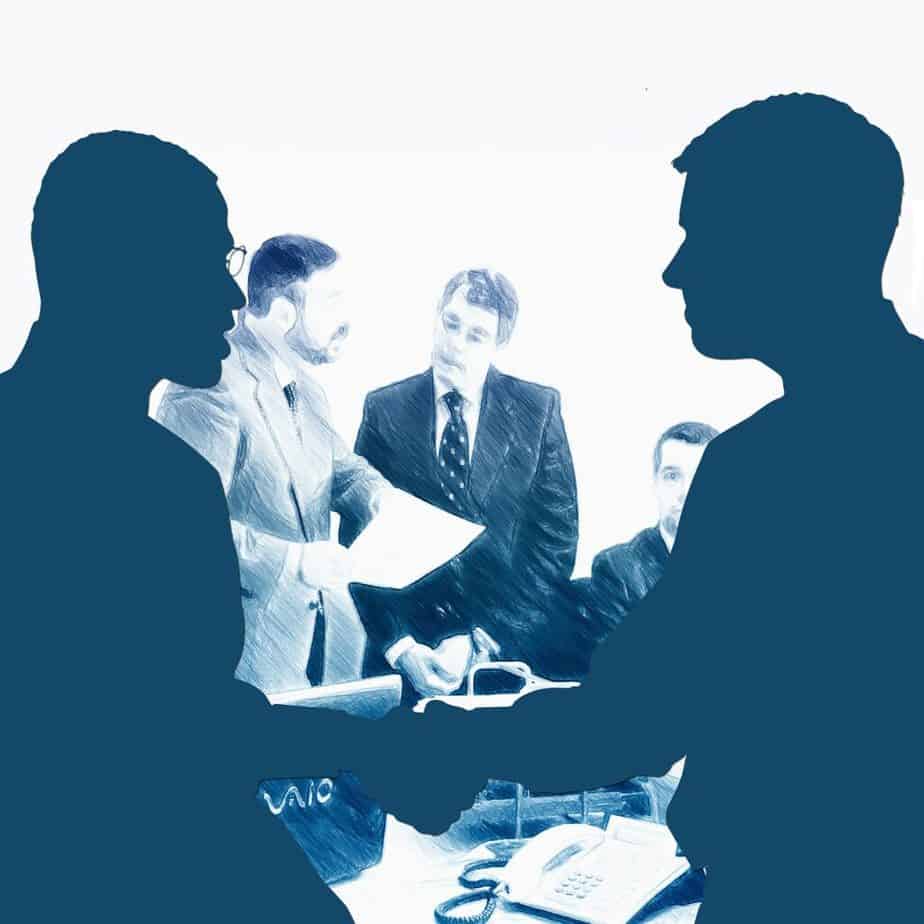 A Business Developer in any organization is responsible for overseeing and ensuring brand recognition and growth. We will discuss Business Development Job Description here. Therefore, the job description includes identifying leads, pitching products and or services to new customers. The overall goal is to maintain a good working relationship with potentials, propose new business ideas, and review new market trends. To become a Business Developer, the candidate must aim to diversify the clientele. They must also possess skills in several vital aspects of business development. Employers expect a degree in an accredited institution in the United States, experience, fieldwork, and certification. We discuss the details below. 
Business Development Job Description
What Does A Business Developer Do?
Business development revolves around having good communication skills. Hence, a typical business developer is likely to;
Follow up new opportunities and set up meetings – sales meetings are where Business Developers use their negotiation and sales skills. The skills must convey value and convert leads to clients.
Plan, prepare, and execute presentations –entails putting high-end deals together in slides and other sales materials.
Communicate new product to potential clients
Write reports and provide feedback.
Recognize new market trends and know how to respond to them
Duties and Responsibilities of a Business Developer  
Business Developers work to develop and maintain relationships. These relationships include relationships with other companies, existing clients, and prospective clients. To fulfill these duties, examples of their responsibilities include;
Identify and gather information about prospective clients
Developing and maintaining client relationships
Coordinate with teams (sales and executives)
Negotiate a contract with clients to develop mutually beneficial terms
Keep track of projects and see to their execution (as agreed in contract terms)
Business Development Lead Generation Duties
Identify new sales leads.
Pitch products and services through customer service and interpersonal skills
Research individuals and organizations to identify leads and potential new markets
Learn how companies make purchasing decisions
Stay in touch with potential clients, establish rapport, and set up meetings.
Business Development Job Description
Business Development associate
Business development executive
Business development representative
Business development specialist
Business development consultant
Business development manager
Business Development Skills
A development skill is the set of processes a business developer uses to implement and develop sustainable growth opportunities. The mode of operation in business development is a constant evaluation of current performances and improving them. As a result, Business Developers must possess; marketing, sales, communication skills, amongst others.  
Types of Business Development Skills
Communication starts from paying attention to details. A candidate must have an excellent command of spoken and written English. A business developer cold calls prospects to maintain existing relationships and share information. That means they must write, speak, and communicate clearly and effectively. To address concerns, they should possess;
Public speaking skills
Active listening
Assertiveness
Emotional Intelligence
Business Discernment skills
The job comes with a need to convince people to offer assistance, make investments, or buy an idea. Therefore, business development requires ethical and effective approaches to earning trust and getting a favorable option. That requires persuasion, collaboration, tactfulness, understanding, and problem sensitivity.
Business development includes strategy, assessing current strategies, and improving them. Therefore a business developer should possess a sense of priority and research skills necessary to understand the situation. This skill set includes Analytical ability, adaptability, critical thinking, decision making, tracking industry trends, etc.
Communication, analysis, and research at this age depend on computer literacy. Thus, a basic understanding of programs in Microsoft office and taking advantage of them is necessary. Additionally, the customer relationship software (CRM) is essential for effective and efficient work. Online meeting tools, email management, marketing automation software, SEO research, and mobile devices are inclusive.
Developing a business is projects as the work connote that only a successful project manager can develop businesses. A business developer will possess similar skills as a project manager. Some of these are setting realistic goals, establishing a workable timeline, managing risk, and managing teams. Of course, creating and maintaining a budget is a major requirement, alongside organizational skills.
Business intelligence requires understanding the competitor's business and yours. In gaining that understanding, a business developer must know the market as a whole. This is achievable via research and data analysis. The business developer must also know how to respond to market changes to give the business an advantage over the competition. That means;
Inbound and outbound marketing
Customer segmentation
Developing converting sales pitches
Developing a strategic proposal for projects
What an applicant can expect?
Anyone who doesn't like the idea of sitting behind a desk all day can work as a business developer. An applicant can expect to spend their working hours visiting clients and networking. Furthermore, attending business events is part of the job. Therefore, office workers could be part-time. Fortunately, the chances of moving up the ladder are appealing. A business developer could become a senior development manager or a business development executive.
Business Developer Education Requirements
With evolving business trends and requirements, there is presently no national education requirement for a business manager. Most employers consider applicants with a bachelor's degree in business administration, business management, finance, marketing and communications, and finance. Conversely, there are considerations for degrees in related fields. Although a master's degree is not often required, it could increase value and edge over other applicants.
Business Developer Training Requirements
Demonstrated experience in business development is often acceptable; in place of formal education. A business developer applicant with a non-degree background should have -Business Relationship Management Professional Certification or credentials or be a Certified Business Relationships Manager. Recognized certification include;
Business Relationship Management Institute
Chartered Institute of Marketing (CIM)
Sales and Marketing Management (SIMM)  
Career Development
Business developers with the certifications above have field experience in sales and business development. In addition to formal education, internships, junior roles, and additional level 2 qualifications in business principles are essential. After the industrial experience, familiarity with sector professionals could boost the resume.  
Business Developer Qualification and Skills
Business developer skills and qualification include;
Excellent verbal and written communication skills
Technical problem-solving skills regarding mutually beneficial solutions
Demonstrated experience and abilities in business-to-business sales
Project management methodologies and IT fluency
Proficiency in statistical analysis software and Microsoft office
Excellent organizational skills
What does the work environment look like?
Candidates should expect to spend their time behind a computer and on the phone. The work week runs from Monday to Friday and an average of 40 hours per week. Traveling is part of the job, so a driver's license and access to a car are often required. Depending on the size of the business, travels could be local, regional, national, and international. Therefore, flexibility and multilingualism are required.
How much money does a Business developer make?
Salary may vary depending on qualification, education, certification, geographical location, and level of experience. According to Indeed, the average salary expectation of a US business developer is about $60,281 per year. Employees also earn up to $15,000 in commission. In addition, certain benefits are thrown into the job, but this may vary depending on the organization.  
Business Development Resources
Sales and Marketing International -This global organization provides informational and useful resources on sales and marketing. They have online forums, digital webinars, and in-person conferences that could boost a candidate's profile. They also offer professional development workshops and certification.
B2B Lead Blog- A blog for business developers working in the sales industry. It has archived posts covering a wide range of relevant topics in the industry. The blog is updated at least once a month.
National Business Development Association- The NBDA is a relatively young professional organization for business developers. The association intends to build relationships, build trust, and build businesses. It is an opportunity for developers to gain experience on the ground floor.
Frequently Asked Questions
How is a Business Analyst different from a Business Developer?
A business analyst's role is to improve organizational operations by devising strategic approaches for productivity. In contrast, a Business Developer seeks new business and business opportunities that increase the company's revenue. Both can work in the same company. However, the business developer will follow up on leads while the analyst works to create onboarding programs for employees.
What are some daily duties of a Business Developer?
Business Developers could start a typical day reading emerging news and articles about their business niche. This entails reviewing competitor's data while devising better business ideas. A Business Developer also participates in meetings to present and discuss ideas and review reports. They reach out to leads, meet with company executives, and ensuring the approval of new projects.
Who does a Business Developer report to?
A Business Developer reports to the company's Business Development Manager. The Business Development Managers provide information on sales-related issues and potential leads. They also review business ideas, proposals and make the ultimate decision of acceptance or denial.
What are the qualities of a Business Developer?
An excellent Business Developer is innovative in their approach and mindset. They develop new ideas that will improve sales and benefit everyone involved. They are public speakers, observers, and avid readers. They stay abreast of new trends and how it applies to their business.
Also read Recruiter Job Description: Salaries, Duties, and More
Business Development Job Description – Salary, Duties