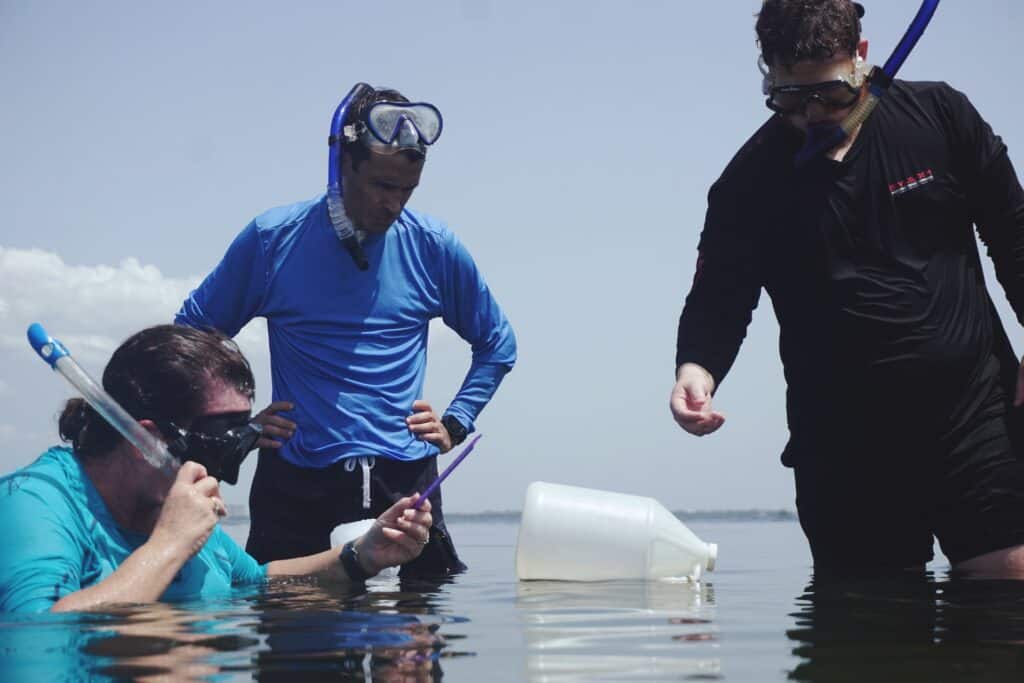 Is environmental science a good career – Do you love nature and wildlife? Are you passionate about the environmental issues that our world is facing, like global warming, deforestation, and extinction of species? Take up environmental sciences if your answer is yes. It is the job if you love and know the importance of the environment. If you take up this job, you can make a difference in the world by fighting for various environmental issues and play an important role in saving the natural environment around us. Make a positive impact on the world by becoming an environmental scientist.
Is environmental science a good career?
Environmental science is the study of the environment and its different facets. They study problems related to the environment and the effect of human activities on the environment. Fields in environmental science include chemistry, atmospheric study, a study of geosciences, etc. This work involves research and working with nature and animals. See if this is the job for you by reading about the pros and cons of the job below.
Advantages of a Career in Environmental Science
Here are some of the advantages of pursuing a career in environmental science:
With this job, you get to make a difference and work upon the problems the environment faces today.
The growth of this career is good
There are paid leaves and vacations
You can work amidst nature and wildlife and enjoy the sheer beauty of it.
You have the opportunity to change government rules on the environment
You probably do not need to work in a stuffy office
You will get a good salary
Job opportunities will grow
You will get the opportunity to head important projects
It is a field that is growing pretty quickly
You get immense job satisfaction as you are helping to save the planet.
Disadvantages of a Career in Environmental Science
Here are some of the disadvantages of pursuing a career in environmental science:
Not good for people who do not like outdoor work
You need experience, qualifications, and skills to get a job in this career
There may be hazards in the field of work
You will have to keep updating knowledge to stay in pace with advancements
A Ph.D. is usually required to get into this field, so you will have to continue your education.
This job needs training as well.
You may need to work in extreme weather and hazardous locations.
You will need to wear protective gear while working
You could encounter dangerous animals
Careers in the Field of Environmental Science
Some of the job titles are:
Environmental scientist-studies the environment and figure out solutions to environmental problems.
Wildlife photographer-photographs wildlife in their natural habitat.
Environmental Science manager-makes sure that the company pays attention to the environmental requirements.
Conservation hydrologist-solves problems related to water like its management and conservation
The waste management director-supervises the disposal of waste and recycling operations.
Conservation officers-They protect natural resources by working alongside conservationists.
Teacher-teaches students on the subject of environmental science
Marine biologist-studies life underwater and about life in the oceans
Environmental  consultant-helps in reducing a company's carbon footprint
Ecologist-studies human effect on the environment
Zoologist-studies animal behavior and impact of humans on population 
Environmental lawyer-takes up environmental cases before a judge and can make a difference in certain policies regarding the environment.
Salary for an Environmental Scientist
The pay for environmental scientists depends on the organization you are working for and your educational qualifications. For someone with a Bachelor's degree, the annual salary is around 3 lacs. For a Ph.D. holder, the annual salary can be up to 8 lacs. Those in the managerial field earn up to $78,600 annually. The pay in this field is usually good. 
Job Outlook for Environmental Science
Employment for environmental scientists will increase by 8%. Comparing with other occupations, it is faster than average. The need for conservation of the environment because of pollution, deforestation, Global warming, etc., is the reason for the rise in vacancies for this post. The world needs environmental scientists.
Work Conditions for an Environmental Scientist
Environmental Scientists work in laboratories and the outdoors, collecting samples for research and study. Their job may also include a fair bit of traveling. They will have to work under any weather conditions. Environmental scientists will have to wear protective gear while working because they may have to work in dangerous conditions and places. They may have to work for more than 30 hours every week. They will need to meet deadlines as well. Environmental scientists can also get the opportunity to work with dangerous animals.
Educational Qualification for an Environmental Scientist
To be an environmental scientist, you need a degree in environmental science or related subjects, which could also be engineering. You must have passed your schooling with chemistry, biology, and mathematics as your main subjects. Those who want to go into research must have a Ph.D. For those aspiring for managerial positions, you will have to take business courses. Technical and computer skill sets are also a must. You can also follow up with certification from prestigious organizations. Environmental scientists with certification tend to have a higher salary than those who do not have certification.
Skills Required for an Environmental Scientist
Here are some of the skills an environmentalist requires:
They must have analytical thinking skills
Must possess good researching ability
They must have good communication skills so that they can clearly state their ideas.
They must be able to think critically.
They must be able to troubleshoot and solve problems
They must be focused
They must be strong in statistics
They must be able to work as a team.
They must have the ability to gather and understand data
They have to pay close attention to every detail
Must have good mathematical ability as well
Responsibilities of an Environmental Scientist
Here are a few responsibilities that an environmental scientist undertakes:
Collect samples of soil, water, etc., and analyze them. Then create reports. 
Figure out solutions to the environmental  issues we are facing today
Find out the level of pollution of soil, water, and air by interpreting data and analyzing samples 
Research and prepare reports on discoveries
Advise organizations on how to adhere to environmental regulations
Work by clearing crisis areas like oil spills etc.
Help organizations manage waste and recycling operations.
Oversee work of lab assistants
A few more things about environmental science…
Taking up a degree in environmental science is a good step as it has many job opportunities. It is a degree that will help you get to the highest positions. You have a variety of great careers you can choose from when you take up this field. The world needs saviors in the form of environmentalists. Employers' in this field include agencies that deal with the protection of the environment, bodies that monitor the environment, animal welfare institutions, etc. This degree has great scope as you can get an excellent job and earn quite a lot of money. It is a job that is very rewarding as you are taking part in making the planet a better place to live and are saving the world by addressing issues like global warming, deforestation, melting icebergs, etc. Take up this job if you are willing to work for the benefit of the planet.
Wrapping up…
This is the job for you if you are a nature freak and loves wildlife. Environmental science has excellent job opportunities.  You are fit for this job if you want to make a difference and find solutions to the environmental issues the world is facing today. Environmentalists help save the planet with their work. Be it forest fires, deforestation, melting of ice, or oil spills, we are in dire need of environmental scientists. Get a degree in environmental science and become one now!
Also read Is Animation a Good Career For You?
Is environmental science a good career?