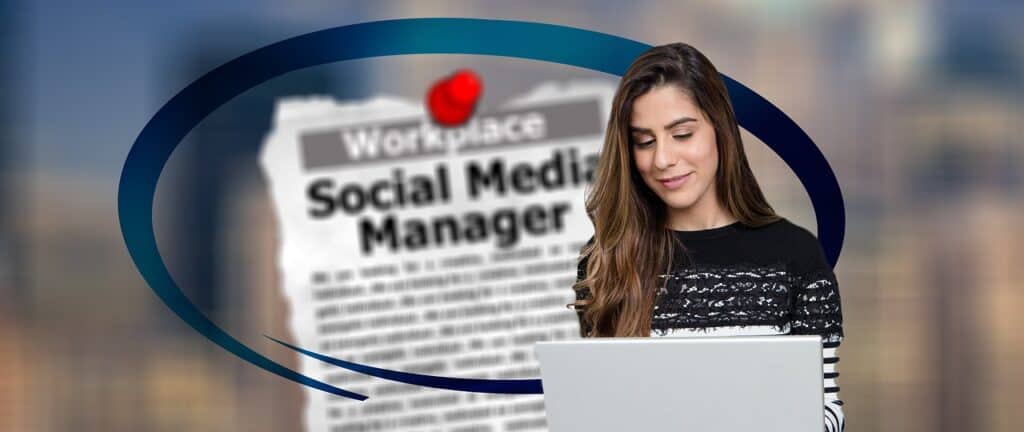 Communication, communication, and communication. We will present Social Media Manager Interview Questions and answers here. Broadly speaking, that's all there is to a job as a Social Media Manager. Sounds easy, right? Especially with today's millennials, who spend so much time online, something like that should be a breeze. But is it? Not really. While communication is key, as they say, being a social media manager involves a lot more than that. Somebody in that position is essentially responsible for handling their employer's image and can make or break it depending on what they choose to put out on their social media. It requires some serious experience, skill, and ingenuity, often with the ability to think on one's feet. Not so easy anymore, but there's no need to worry. We are here to help you out.
Despite the paramount importance that any brand's social media management enjoys today, it wasn't taken very seriously even a few years ago. Upcoming giants such as Facebook were seen simply as passing trends. Even though some companies did try to build a reputation online, it was mostly treated as a job for the interns or as an extra duty for an employee. Today, big companies invest millions of dollars into social media marketing and maintain entire departments dedicated to maintaining a positive image of themselves online. The rise in importance of the online image gave rise to the need for 'social media managers.' Although it is difficult to explain what is required of persons in this position, professionals with experience, customer service understanding, writing skills, business acumen, and knowledge about video making and graphics are preferred. College degrees in business, communications, journalism, or marketing are looked upon favorably.
Social Media Manager Interview Questions
So, for anyone wishing to apply for a job as a social media manager, we have compiled a set of questions you might be asked at the interview. Let's dive right in:
What is Social Media Marketing?
This is a basic question asked to determine the candidate's grasp of the elementary factors about social media marketing. A simple answer that outlines the candidate's understanding of social media marketing in this age without much-complicated jargon is well advised. Social media marketing is a broad process that involves garnering attention, building the brand, increasing website traffic, and, subsequently, its sales through social media. This is done by publishing engaging content on social media for everyone to see, engaging with followers, and running successful social media campaigns. Many such social media websites such as Facebook, Linked In, Instagram, Twitter, YouTube, etc. The different steps of social media management are; 
Strategy
Planning and publishing content
Engaging with followers
Analyzing traffic and sales data
Advertising accordingly
What is the impact of social media on marketing?
This is again a basic question, and its purpose is to determine whether the candidate knows what they are talking about. The consumption of social media both as a product and as a service is very high, with people using multiple social media platforms on a given day. Therefore, having a noticeable presence on diverse social media platforms can go a long way in reaching out to potential customers and converting them into loyalists. This involves publishing content and engaging with users on social media to answer their queries and keep them hooked. Social media makes it possible to reach target audiences at rates that were never considered possible before. It also increases social traffic to the brand website, improving their SEO ranking and brand credibility. Almost every company is investing heavily in social media marketing now, which means that any company that does not will be left far behind by their competition.
What online communities have you managed in the past?
The obvious purpose of this question is to know the candidate's experience in managing social media and building a brand. Simply creating a profile and then publishing good content is not good enough. The capacity to build and engage with a user base and turn them into loyalists is what companies look for in their social media managers. It is important to mention what websites, blogs, online brands, etc., the candidate has managed in the past and how they stayed in contact with their user base.
How can social media marketing help a business?
This is again to test the candidate's knowledge on how to use social media to meet the company's needs. Simply put, social media builds awareness for the brand among potential users. Social media posts cost virtually nothing, so it is an ideal tool for smaller companies. Paid campaigns on social media are cheaper than other online campaigns as well. It is full of active users across a vast demographic spectrum, and it becomes easy to engage with users on a personal basis, humanizing the brand. This, in turn, increases brand visibility and attracts more customers. 
How can tweets or posts on Twitter be boosted?
While this sort of question can be asked about any social media platform, its purpose is to see whether the candidate knows how to promote its brand image on the mentioned platform. Similar knowledge on all relevant social media platforms is advised. They may ask on any one or two of them.
The following steps are recommended in order to boost image productivity on twitter:
Coming up with an optimum time period when traffic is high, the posts must be made to increase visibility.
Connecting with influencers with considerable reach and entering into cross-promotional agreements with them.
Using paid advertisement services to reach out to target audiences quickly.
Using the right hashtags to ensure that the posts are trending.
Using images, links, and graphics to make the posts more attractive.
Conducting polls to make the content in the posts interactive. Interactive content attracts more users.
Optimizing the content to make it look relevant to the times. Twitter users love trendy content. Using the proper hashtags can help. Unnecessarily lengthy posts are not good. Tweets should be able to convey their message shortly and crisply.
 When is it not right to engage on social media?
This is a common question asked during interviews. It is important to understand that sometimes people post ugly comments simply for attention or 'troll.' It is unnecessary to reply to such comments, as they can result in bad online publicity for the brand. Therefore, it is necessary to monitor comments closely to understand which are to be replied to and which are not. If it becomes necessary to engage with such a nasty comment, then the answer must be polite and professional, nothing that could put the company in a bad light.
What makes a piece of content on social media successful?  
The primary reason for which users will share a post on social media is if it is found to be relatable by them. People share content with others, whom they think can also relate to it. Content that induces a powerful emotional response in the user, preferably positive, will have the highest chances of being shared widely. The emotions evoked can range from awe, wonder, laughter, and joy. Also, the user must feel like the content identifies them in some way. Content with a certain degree of shock value makes the user who shares it looks clever will also have a high chance of being shared widely, as people love attention on social media. In a way, the user will share the content to serve themselves, and the company will benefit from the increased visibility and outreach they get in the process.
What are the responsibilities of a social media manager? 
While it may seem like a redundant question as the interviewer is expected to know what responsibilities their company has in store for the applicant, it is asked to determine whether the applicant is aware of its needs and what it would require them to do if hired.
The responsibilities of a social media manager can be broadly classified as follows:
Understanding the company's business model, products, market, competitors, and goals.
Working with internal stakeholders to plan, strategize and implement measures to manage an online reputation.
Collaborating with other marketing teams and staying aware of trends.
Engaging regularly with users.
What are some common mistakes made by companies regarding social media management?
The primary mistake of companies in this area is not to have a social media strategy in the first place. Social media management allows companies to appear more humane to their users, and the absence of such a strategy makes them look like a group of bots. People like to think that the companies they buy from have a human side, and therefore, posting random and bland content only drives them away. Plus, not being active on social media takes away its ability to interact directly with its customers.
Which social media platforms would you recommend for our business and why? 
This is asked to understand whether the candidate has done their homework regarding the company they wish to work for and whether they know what tools would be best for that particular company. We recommend going through the company website before the interview to understand its mission and vision. Also, different products are advertised differently on different platforms, so it is important to have a proper understanding of the product and the market it aims for before recommending social media platforms.
 Ultimately, the candidate who meets the specific needs of the company will have the highest advantage. Since social media marketing is still quite young, experience and technical skills will matter more than degrees. We hope that applicants will find this article useful before sitting down for an interview. We also recommend having a good grip on the technical side of social media marketing, such as SEOs, to face the interview confidently, even though it is taken for granted that a candidate will possess technical knowledge anyway. You never know if they might ask a small question.
Frequently Asked Questions
What should I do if I'm asked to say something about myself?
Be sure to mention all the things you have done relevant to the job, such as running a blog or engaging with followers. The company needs to know you have some experience.
Do I need lots of followers on social media to be a good social media manager?
Companies are looking for managers, not influencers. As a manager, your job will contact these influencers and reach agreements to use their social capital. You don't need to be one of them for it.
Also read Top Social Media Manager Interview Questions and Answers
Social Media Manager Interview Questions and Answers