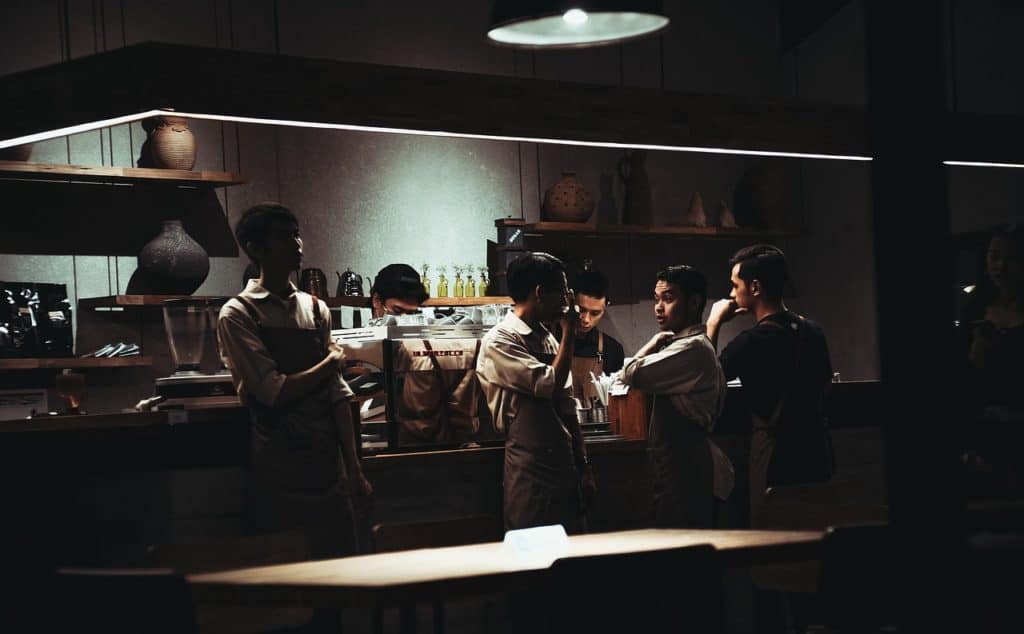 Dutch Bros Coffee is the largest coffee chain in the United States which was started in 1992 under the private ownership of Dane and Travis Boersma. Since then, it has expanded to 422 locations and is currently employing over Twelve thousand (12,000) people with its headquarters in Grants Pass, Oregon. In this article, we will discuss Dutch Bros Hiring Age for the employees.
Eligibility – Dutch Bros Hiring Age
The minimum age requirement to become a Barista is 16 years old. It provides a great environment for first-timers by providing a variety of entry-level jobs, thereby attract High School and College students to work in association with them.
Hiring Process
To become a part of the Dutch Bros the applicants can apply online by downloading the application in the form of a PDF document from their official site for the positions that are vacant and needs to be filled in as soon as plausible.
You need to fill in your Personal details in the PDF file by editing or by printing out and then filling it by hand. The form contains various sections besides Personal details like Educational Background and Work Experience which need to be filled out correctly.
If you want to apply for a position that is not open then you need to complete the application and send it to the official email address for considerations that might be made in the future.
You can even submit your application form in person to the outlet in your area and directly speak with the local management regarding the next steps.
The applications that are received are reviewed and the selected candidates are called in for the interview. All the Dutch Bros outlets are locally operated and have their own hiring process which contacts the various applicants who have made it to the next round.
For the interview you should wear something presentable and some of the tips to follow during the interview are not to speak too fast as you might appear to be nervous, make eye contact, sit straight in order to appear confident, communicate freely, and openly in order to create a good impression.
The interview process at Dutch Bros takes place in the presence of the Regional Manager, Stand Manager, and another Barista. The interview process is multi-level and people get eliminated as you move on to further steps.
The interview process is very simple. Some of the questions that can be asked during the interview are as follows:

What are your strengths? 
Why do you want to work at Dutch Bros?
How will you handle a difficult customer?
What does good Customer Service mean to you?
How would you describe a typical workday at Dutch Bros?

Within 1 – 2 weeks of applying you should be contacted regarding your selection or rejection and information about the next step of the interview shall be shared only after having interviewed all the candidates who had applied for the particular post. If you do not receive a call or email you can contact the store for an update without being harsh and being polite in tone instead.
The selected applicants undergo a paid warehouse training of four days along with 2 to 3 weeks of in-stand training before you take the test and only if you pass the test you officially become a Barista. Tips are given after completing the training period and after taking the test.
Dutch Bros performs Background Checks on all the applicants. No drug tests are conducted at Dutch Bros.
Working Hours
The operational hours at Dutch Bros stores are usually from 5:00 a.m. to 10:00 p.m., stretching from Sunday to Thursday while the hour extends on Friday and Saturday from 5:00 a.m. to 11:00 p.m. at night. A Barista shift is approximately for 6 hours while it can extend to 8-9 hours as well during busy days. Every week, the employees work for 29 hours mostly. 
Dress Codes
Generally, there is no dress code at Dutch Bros but:
The outer layer must be Dutch Wear, while the bottom could consist of a skirt, pants, or shorts.  
The clothes worn should not be dirty or wrinkled but should be clean and properly ironed. 
There should be no buttock, cleavage, belly button, or undergarments visible.
They do not have a strict policy against tattoos and piercings as long as they are not offensive. 
Hair should be properly tied back and natural hair color does not cause any problem.
 Acrylic nails must be short (one-fourth of an inch) and facial and body hair must be trimmed regularly and well-kept as the employee deals with food and drinks which cannot afford to have one of their hygiene policies compromised.
Benefits
Some of the perks that the employees at Dutch Bros experience are as follows:
Employee Discount 
Free Lunch or Snacks
Free Dutch Wear 
Sick Time Off
Free Coffee 
Salary
To mention a few positions along with their varied pay, read below:
On an average a Store Manager at Danish Bros makes $ 17 which falls under the range of $ 14 to $ 20 for each hour of work service that is provided by them.
On an average an Assistant Manager at Danish Bros makes $ 15 which falls under the range of $ 13 to $ 17 for each hour of work service that is provided by them.
On an average a Shift Lead at Danish Bros makes $ 15 which falls under the range of $ 10 to $ 15 for each hour of work service that is provided by them.
On an average a Dutch Bros Barista at Danish Bros makes $ 12 which falls under the range of $ 11 to $ 15 for each hour of work services that are provided by them along with additional tips.
On average a Barista at Danish Bros makes $ 11 which falls under the range of $ 10 to $ 14 for each hour of work service that is provided by them along with additional tips.
Responsibilities
Greeting and acknowledging a customer's presence as soon as you have eye contact with them with a beautiful smile.
Engaging in general conversations, only if the other party seems interested otherwise not and never arguing with the customer on any grounds so as to make them feel low or unpleasant.
Fulfilling the customer's order accurately and handling all queries and concerns regarding the food served so as to avoid any complaints whatsoever.
 Charge the customer correctly at all times whether they are friendly or not.
 Maintaining a clean and orderly working environment as hygiene is very important and looked forward to.
Maintaining punctuality by being on time for your shift and not leaving early as well.
Staying informed on the current specials for marketing campaigns in special events.
The employees are expected to meet the standard speed of servicing and quality of work provided by them. 
Physical Requirements 
The job does require standing and walking for a long time, up to 10 hours at a stretch sometimes, so one needs to be prepared for putting additional burden on their feet.
They might occasionally have to push, lift or carry up to 50 lbs. of weight as well.
Handling, making, and serving drinks may require frequent flexing and rotation of the wrists so be prepared for the task and keep your wrists and hands ready for pain-free services.  
Along with the above the employees need to constantly communicate, express and receive detailed information from customers as well as working staff. They might also need to constantly handle cash which requires quick mental calculations to be done so as to not keep the customer waiting and the heads disappointed at the same time. 
Dutch Bros Hiring Age 2021