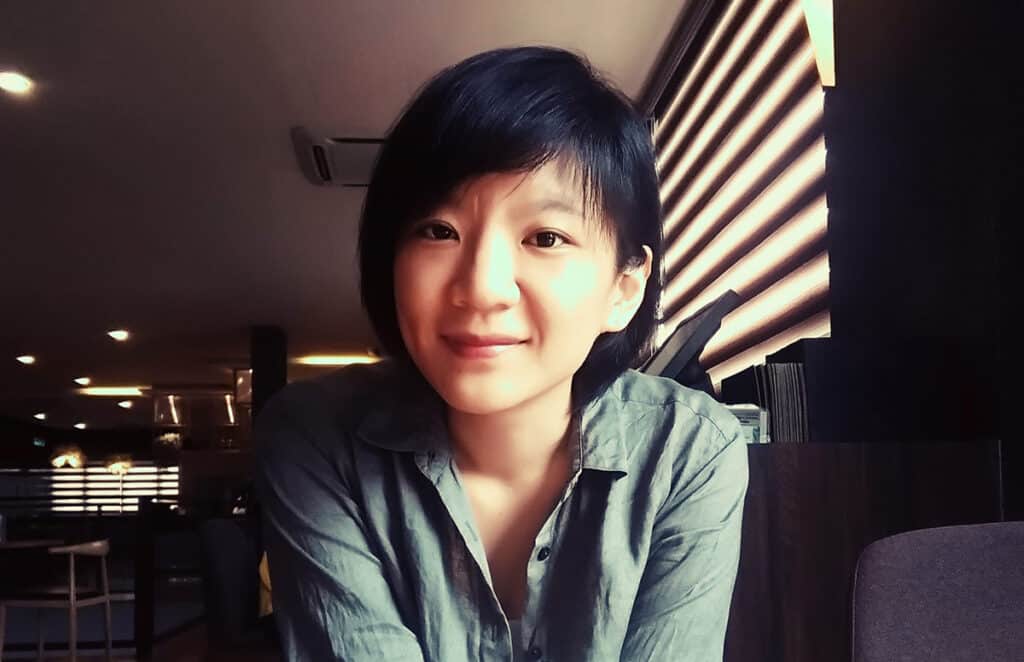 Wondering how to become a Freelance Graphic Designer? Read the insightful interview with Stephanie who says graphic design is my passion
I was born in Malaysia, but I grew up in Taiwan and spoke only Mandarin until the age of fourteen. I managed to pick up English during high school in an international school in China because my family had moved there. In hindsight, moving at a young age literally changed me as a person, because I learned in the early years of my life that life isn't always predictable, and change may be for the better. I discovered within myself the capacity and strength to persevere through adversity because going back literally wasn't an option. I learned there are so many beautiful things when I step outside of my comfort zones. Being able to speak English really opened up doors for me to go to California for university and gave me a great advantage when I returned to Asia for work.

How was your University time?
I was a psychology major at first, even though I've always enjoyed creative works since young, I went with what my family thought was better. During my freshmen year, I took drawing1 and figure studies1 as elective classes on my own initiative and was excelling in class. My art professor spotted my passion and talent and he kept encouraging me to change to Arts major. I knew creative works was something I could see myself doing for life, but I never thought about what specific field to be in and how I would make a living with it. I had this perception that I wasn't good enough and I must somehow become famous or well known in order to be successful. For about a year, I was hesitant to make a decision to change major. I remember one day before class, I asked my art professor what if I followed my passion now and found out it is not what I wanted to do later? He said, if you hit a wall, just turn and keep going. This obvious answer was what I needed to hear. I am a thinker, and I often think too much and don't take action. 
So with the encouragement from my art professor, I decided to changed my major to Arts in my sophomore year. I tried to branch out my focus and took classes to learn the foundations and principles behind different art disciplines. I knew immediately I made the right decision because I was so much happier.
How I got my first graphic design job? 
After graduating, I was connected to an intern graphic designer position at an American company in China, through the recommendation of my old high school principal. Connection is so important especially in the creative field. I really enjoyed the people I interned with, and I learned a lot from watching how my creative director managed the team. At the end of my internship, I took initiative to write a sincere and lengthy email to my creative director expressing how I could contribute to the team, and how I wished to continue as a full time graphic designer if there was ever a need. At first, he told me unfortunately they had just hired someone for the graphic designer position. But after the summer, he reached out to me again and said because the person couldn't come, he was wondering if I was still available to take the job offer. So I got my first job as a graphic designer at this American company. It never hurts to write email to potential employer, even if they weren't actively looking to hire. 
Adversity can be your greatest opportunity, graphic design is my passion

A year after, due to unforeseen circumstances and family needs, I moved back to Malaysia and lived at home with my grandmother. I kept in touch with the American company for a while by working from home remotely for them. Meanwhile, I also picked up some freelance design work from family business. When I have time, I would go to job fairs and introduced myself to people. I got a part-time lecturer job teaching foundation of painting at a local college in Malaysia through connection I made at one of the job fairs. During this time, I discovered the flexibility of working from home, and I loved every minute of it. From the lecturing experience I realized my passion was still more in design. So I began to think about becoming a full time freelance graphic designer. Because most of my design knowledge at that point was from experience and mostly self taught, I was not confident in myself to give advises to clients. I really felt the need to go back to school again. 
I had my eye on a two-year Masters in Commercial Design course in Taiwan, so I applied and got in. Upon graduating, I uploaded my design portfolio and resume on all the job searching websites I knew. Soon, I got a job offer at a start up ecommerce creative agency affiliated with Alibaba as a project manager in Taiwan. They were really interested in my working experiences in different countries, my studies overseas, and ability to speak Mandarin and English, so they offered me quite an attractive salary, and I took the job.
Three years later, the agency was not doing well financially, and I was let go. I took a break and then decided what better time for me to setup my own freelancing career than now. Initially all my projects came through word of mouth and networking from family and friends. After I had done a couple of projects, I created my own website to put my works on there, and continue to slowly build connections with clients and people I meet. There were ups and downs for sure. I am a Christian, in times of uncertainty, I always pray for guidance and assurance. Looking back, working in the start up agency really prepared me well for working on my own. I got to see how a company is run from the beginning and was doing different tasks that was unrelated to design. That experience had definitely pushed me outside my comfort zone for my development. I am so happy with where I'm at in life now as a freelancer. I now get so much more free time to do the things I like and to spend quality time with family. Yet, on average, I still earn as much as if I were to work in a company.
Advice for someone looking for a freelance graphic designer job?
I would say be patient and also do your homework to know about the companies you are applying for. Really think about what qualities / skills you have that could bring values to the company. First impression is crucial, speak with confidence and dress to impress for interviews. I once heard a couple shared how they got the job they were finally happy with after applying for 400 different companies. Their determination and efforts are definitely something we all can learn from. So don't give up, keep looking. Most important is to ask yourself if graphic design is your passion?
You can find out more about Stephanie and see her work at www.stephanieting.com
Also read other inspiring "graphic design is my passion"stories at How I became Freelance product designer
Graphic Design is My Passion – Stephanie