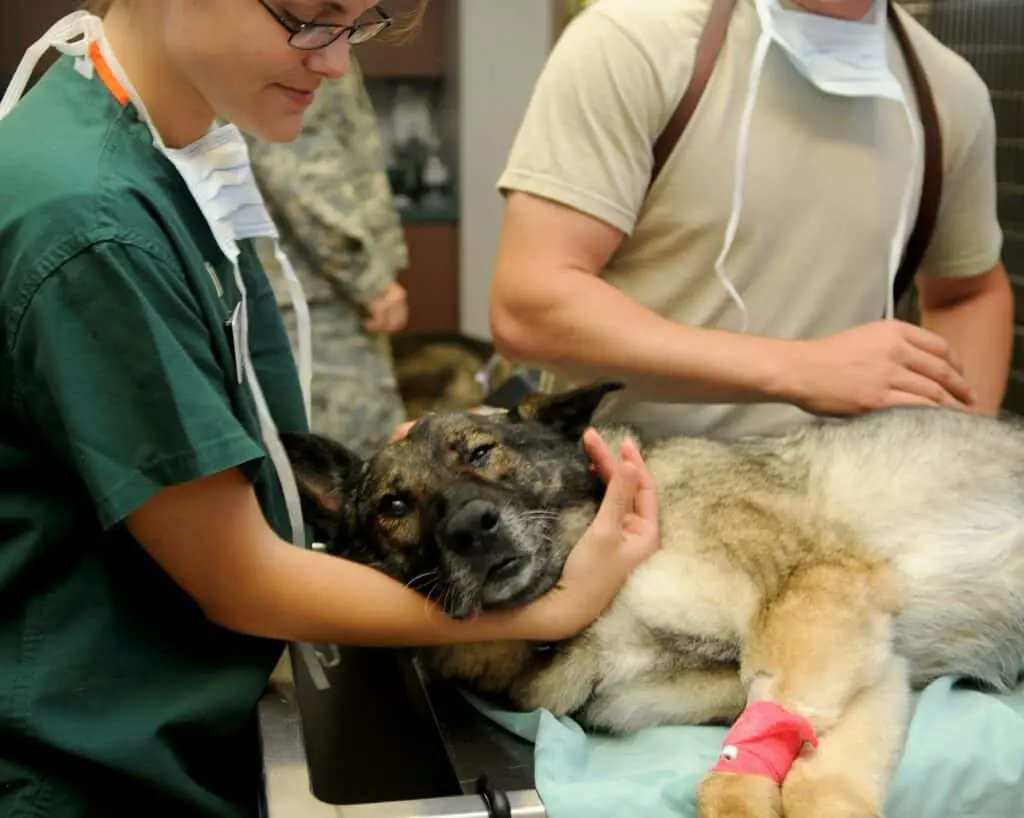 Do you have a strong desire to help animals and provide them with the highest quality of care? Then a job as a veterinary assistant could be something to think about. Non-farm animals are cared for by veterinary assistants in labs, livestock shelters, and clinics. They look after animals' health by performing regular activities under veterinarians, animal biologists, or veterinary technologists. Other routine duties may include administering medication, cleaning enclosures, or providing nursing services before and following surgery or other diagnostic procedures.
How to become a Veterinary Assistant?
There are several ways to become a veterinarian assistant, and requirements differ by state and workplace. However, the most common way to become a vet assistant is to complete a training program or gain experience on the job.
Step1.  Completion of High School Diploma. If you wish to serve as a veterinarian assistant, you must meet all academic standards. Students must achieve the 10+2 standard of school education in the science stream with a cumulative grade point average of 50% or equivalent from a recognized school.


Step2. Completing a veterinary assisting program OR being employed for on-the-job practice under veterinarians' guidance are all viable options. Many veterinary assistants opt to pursue a diploma rather than a degree, which may take up to a year to complete. The National Association of Veterinary Technicians in America (NAVTA) and the American Association for Laboratory Animal Science all offer qualifications. A two-year Degree Programme in Veterinary Technology is also available.
Although advanced training isn't necessary to work as a veterinary apprentice, many employers would rather not start from scratch with on-the-job learning. Learning the fundamentals of animal care from an accredited institution can aid in your job search.
What does a Veterinary Assistant do?
Veterinarian health centers and veterinary clinics often hire veterinarians. They can be required to work evenings, weekends, and holidays to satisfy their animals' needs.
Surveillance: One of the most important responsibilities of a veterinary assistant is to keep track of the animal's welfare. He or she must look after the animal's welfare by observing stuff like how the animal reacts to the medication or medications offered.


Helping Hand: A veterinary associate is in charge of aiding the doctor and the veterinary assistant through the recovery period. One must function in a manner comparable to that of a nurse in a hospital. He or she often bathes the animal pre and post-surgery, as well as anytime it is needed.


Inspiring: One of the most important job characteristics for a veterinarian assistant is supporting and console animals in distress. Before a doctor enters, he or she must further provide treatment to an animal. To relieve discomfort, a veterinary assistant must both relax and pacify agitated animals.


Keeping the Place Tidy: A clean environment is required for any facility that supports human or animal healthcare. A veterinary assistant's duty is to keep all of the equipment used to perform diagnostic tests sterile. Not just that, but he or she is still in charge of keeping the animal's living quarters safe.


Examining: Several screening examinations must be performed on the patient by a veterinarian assistant. It is the most critical and crucial task since successful treatment of the condition would only aid in finding the best cure for the animal.
Various Types of Veterinary Assistants
A Veterinary profession is divided into many sub-disciplines. We have mentioned the big positions for veterinary assistants that you may pursue when working in veterinary care below.
Veterinary Receptionist: His or her main responsibility is to do receptionist duties, but in an emergency or no medical assistant available, he or she will take over and support the animal by delivering first aid.


Veterinary Marketing Manager: A variety of sales agencies sells animal products. These firms tend to hire experts from the industry because they have a greater understanding and experience of animals and their needs.


Veterinary Supervisor: A Supervisor is in charge of keeping an eye on many veterinary assistants on the job. He or she is in charge of keeping track of job information and which employee is in charge of which patient. Not just that, but he or she frequently monitors the assistant's skills and recommends jobs accordingly.
Who Can Work as a Veterinary Assistant?
A vet assistant must have a strong affinity for animals. You're unlikely to be involved in veterinary practice if you don't have a sweet spot for animals. Take care, though, if you have any animals that you hate. Not all veterinarians can deal with animals such as snakes or dogs, so if you are allergic to them, you should avoid working in a clinic that does.
Although most people associate veterinary medicine with happier days, the truth is that sometimes animals end up in veterinarians' offices because they are seriously sick. To talk to someone who might be in danger of losing a pet, make sure you have patience and empathy.
Resilience in the Face of Adversity
Veterinary assistants work with all facets of a veterinarian's office, from restraining animals to working with owners to assisting at the front desk. It is important for a vet assistant not to get distracted when feelings are running heavy.
A large part of a vet assistant's role is to make the environment secure, safe, and sanitary. With germy animals in the house, now is not the time to cut corners. The best veterinary assistants know how to get it finished the first time correctly and take pride in the consistency of their jobs.
What is the Salary of a Veterinarian Assistant?  
According to the BLS, the national median wage for veterinary assistants and research animal caretakers in May 2019 was $28,590.
The lowest 10% earned less than $20,790, while the top 10% earned more than $39,800.In May 2019, the following were the average monthly salaries for veterinary assistants and research animal care workers in the top sectors in which they worked:
Universities and colleges 37,910 dollars
Physical, technical, and life sciences research & innovation 32,950 dollars
Veterinary assistance 28.150 dollars
Best Places to Work as a Veterinary Assistant
Since veterinary treatment is available in all states, there is no bad place to start a career as a veterinary assistant. However, in some cases, salaries and job prospects are greater.
| | | |
| --- | --- | --- |
| State | Employment | Employment per thousand jobs |
| California | 12360 | 0.71 |
| Texas | 6060 | 0.49 |
| Florida | 5410 | 0.62 |
| New York | 4890 | 0.51 |
| Virginia | 4320 | 1.11 |
Conclusion
There are many new career openings open for veterinary health care practitioners. Veterinary healthcare has progressed rapidly, and many veterinary facilities are now equal to human healthcare. In the coming years, the sector is expected to advance and expand ever further. While clinics and animal hospitals hire most veterinary assistants, others work in labs, schools, universities, and research facilities. 
Their jobs can be mentally or mentally taxing. They can experience animal cruelty or be required to assist in the euthanasia of sick, disabled, or neglected animals. Veterinary assistants may work full-time or part-time and often have the option of working flexible hours. Employees in 24-hour services, such as animal clinics, can be required to work hours, mornings, weekends, or holidays.
Frequently Asked Questions
What is the distinction between a veterinarian technician and a veterinary nursing staff?
Answer: A veterinarian assistant mostly deals with small animals like cats, rats, chickens, and rodents, but they can also deal with bigger animals like sheep, goats, and monkeys. A veterinary assistant serves under the supervision of a veterinarian who is professionally licensed. Veterinary technologists may work in a research facility.
Is a job as a veterinary assistant a decent one?
Answer: A veterinary assistant is one of the most common dream occupations for animal lovers, and many children express an interest in this career path from an early age.
Is it possible for a veterinary assistant to become a veterinarian?
Answer: A veterinary nursing degree does not require an individual to work as a veterinarian. However, if a person so desires, he or she can start over by completing a degree for the certification of a veterinarian.
 Do veterinary assistants have the authority to euthanize animals?
Answer: Euthanasia is not a legal act of veterinary medicine because it can be done by anybody if the veterinary assistant or specialist does not wish to do it, as long as it is done humanely.
What is the distinction between a Veterinary Technologist and a Veterinary Assistant?
Answer: Vet Technologist schools and Vet Assistant schools are almost identical. Animal care needs both positions. They are both in charge of supplying help with animal care. When compared to a Veterinary Technologist, a Veterinary Assistant is assigned more managerial duties. A Vet Assistant is a position that assists a Vet Tech. A Vet Tech always supervises the assistant. A Veterinary Technologist must complete further training in a medically accredited curriculum.
Also read Activities Assistant Job Description 2021 – Duties and Skills
Who exactly is a Veterinary Assistant?