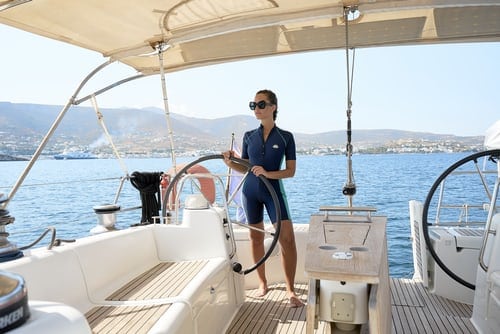 Namaste, We always get thrilled just listening to the word Yacht. It sure is a very fancy word, even Chandelier or Champagne; sound weaker in front of it. Yachts are sail-powered or otherwise powered water vessels used specifically for leisure, cruising, or even racing. It is not a vessel for crossing the water/ocean and is never called a boat or a ship. Therefore, it is costly, and a lot of money is involved from its creation to its usage. We will discuss how to become a yacht crew member.
Even the name "Yacht" is a Dutch word that translates to "Hunt" and was used to refer to the small, fast, and ferocious vessels used by Dutch Republic Navy to chase "Pirates." Yachts can start from 25-meter private yachts and extend up to 100+ meter luxury superyachts. These kinds of Yachts have a crew to cater to all your needs. Yachts smaller than this are mostly sailing yachts and have a sailing crew. They are mostly used for racing. Only to be considered if you are in that kind of sport and thrill.
Yacht Crew
Now taking into consideration Yachts ranging from 25 meters to 100+ meters, vacancies are filled. These vacancies range from Captain to a Deckhand. Depending upon the size of the Yacht, it will have facilities for accommodating guests. It can be one day stay or be used for longer journeys (around the globe). A small Yacht will have a Captain and a deckhand, whereas. A superyacht can have Captain, First/Chief officer, Mate/Bosun, Deckhand, Chief Engineer, 2nd Chief Engineer, Chief Steward/ess or Purser, Junior Steward/ess, Chef, Sous-Chef / Cook Crew / Cook-Stew, i.e., almost 100. So, you now see that the requirement is unlimited, and the skills needed are vast. Depending upon whether you would like to cook, clean the deck, manage the engine, manage the crew, or take hold of the whole Yacht and be a Captain.
Why would you become a Yacht Crew?
After all, it is not an easy job; you must be on the sea. Must be ready for anything that might happen and, above all, is courteous to your clients/customers. I will list some of the reasons,
The thrill and sheer excitement of being on the water and becoming one with it,
Unlimited opportunity to jump in and take a refreshing dive,
Being free from all that society has to offer (rules, regulations, social restrictions, etc.),
No Traffic Jams (almost),
Freedom of becoming your own Man/Women/etc.,
I also believe there is a lot of booze involved, 
No more Pirates or Explorers, but only Seamen and Crewmen.
And yes, the salaries are as lucrative as possible.
Salaries
We will start from a Captain and go down till a Junior Steward/ess, and the salaries will be for a 35 m yacht to a 70+ m yacht. The salaries mentioned are USD per month. Some crew members are not needed in a small boat, so their salaries are from the smallest yachts (they are in and up to 70+ m yachts).
Captain: 7,000 to 18,000
Chief Engineer: 4,500 to 12,000
2nd Engineer: 5,500 (45m) to 8,000
3rd Engineer: 3,500 (55m) to 5,000
ETO/AVIT: 5,000 (55m) to 6,500
Chief officer: 4,000 to 8,000
2nd Officer: 4,500 (45m) to 7,000
3rd Officer: 5,000 (60m) to 6,500
Bosun: 3,000 (45m) to 5,000
Lead Deckhand: 3,500 (60m) to 4,000
Exp. Deckhand: 2,800 to 3,500
Junior Deckhand: 2,000 to 3,000
Purser: 5,500 (45m) to 8,000
Head Chef: 5,000 to 8,000
Sous-Chef: 4,000 (45m) to 6,000
Crew Chef: 3,500 (45m) to 5,000
Chief Steward/ess: 3,500 to 7,500
Exp. Steward/ess: 2,800 to 3,500
2nd Steward/ess: 2,500 to 4,500
Junior Steward/ess: 2,000 to 3,000
So even if you are a Junior Steward/ess, you make 12,000 USD per year, and you are not paying any rent, free food, and booze. I also believe that a bonus is given to ports (whenever the yacht docks). Now that I have intrigued you towards thinking about Yacht Crew as an optional/part-time/full-time career, it is time to tell you how you can make this dream come true?
How do you become a Yacht Crew?
Many institutes, companies, marine colleges, etc., can get you the required training and certifications needed to apply and become an active member of the Yacht Crew. Depending upon what kind of job you are aiming for, which company you wish to work for and which part of the world you wish to sail, you categorize these institutions. They are just like the Flight Crew institutions, wherein you choose the school accordingly. Some institutions will also pay you stipends while you are still learning, but they have a stricter entry scheme. 
Basic or Kickstarter or Entry Level Program:



This is a simple program carried out both in the USA and Europe. It is called STCW Basic Training Course. 
It is for those who wish to experience the training and maybe engage in basic works on the Yacht.
With this training and selecting which part of the Yacht (you choose to certify in), you can work in Deck, Engineering, Galley, Interiors.
It costs you around $950 and is a 5-day course.



Online Courses 



In times of Corona Virus, institutions have started offering online courses as well.
These are beneficial both time-wise and money-wise.
One can opt for all the online material and training available in a particular field, such as Engineering or Deck. After going through the material and clearing the written exams for the certificates, you are just missing the physical or practical training.
You can club all your practical or onsite training so that you optimize your time, energy, and money once you go down to the Ports.
When you are done with your certifications and qualifications, it is time to start looking towards the Sea.
Becoming a Yacht Crew
Many places from where you are studying or learning Yachting will have campus placements and internal hiring. I would suggest that you go ahead and apply for those vacancies for people who do not wish to experiment. This will help you land a job, maybe even before you finish learning.
For people who are more of a thrill seeker and learn by experience, I suggest that they do not go looking for a job just yet. Learn whatever you wish to from these institutions and then come down to the ports nearby or your local ports. There you can get some more on the job knowledge. I would recommend the second option as Sea is the dangerous mistress, and it is better to get yourself fully acquainted with her before start acting as a Yacht Crew.
That is all for now, folks! Happy Yachting! ????
Also read NFL Waterboy Salary: How Much Do They Make?
How to Become Yacht Crew? | What & How?