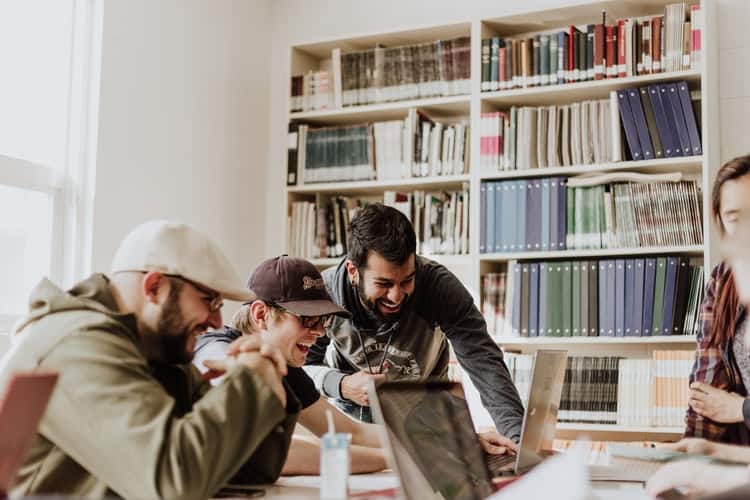 Books-A-Million is a giant bookstore chain with stores spread all over the country. The Company offers several jobs in various categories like retail, distribution, and corporate. Whether you are looking for some extra money, a part-time job to go with your studies, or a full-fledged experience in business, this could be the place for you. This article takes you on a comprehensive, step-by-step guide of Books-A-Million Career!: requirements, salaries, benefits, and the application process. You will find the complete guide below.
If you wish to go directly to the lists of careers offered by BAM!, follow this link:  https://careers.booksamillion.com/search
However, if you wish to get a general overview before moving on to the application, read along!
ABOUT BAM!
Most of us are familiar with the grand Books-A-Million retail stores (these also go by other names like, 'Bookland,' 'Books and Company,' '2nd & Charles'); known not only for the tremendous collection of books, but also toys, fancy gifts, endearing pop figures (from Harry Potter too!), and all sorts of comics, magazines: basic heaven for anyone who loves all things of the great Geekdom: games, pop culture, music, comics, books, and movies! 
Books-A-Million is a lot older than we could probably guess and has an inspiring back-story. Founded in 1917 by a fourteen-year-old Clyde W. Anderson, it initially started as a small news-stand
Today, the company runs about 260 stores in 32 states and the District of Columbia. As the company continues to expand, so does its workforce. Thousands of individuals across the country working for Books-A-Million have made it what it is today: the second largest book retailer in the whole of the U.S. 
If you love reading books, talking about books, and having access to coffee while you do the reading and talking, or you are simply looking for experience in retail, or distribution, or store-management; or you are a college student who needs a part-time job with flexible working hours; Books-A-Million is the place for you. 
Books-A-Million Career: FIVE BRANDS: THREE SECTORS
Books-A-Million does not just own bookstores (Books-A-Million and 2nd & Charles). These bookstores often feature Joe Muggs Café (sip along and read). The company also owns the American Wholesale Book Company (AWBC), the e-commerce division of BAM! (booksamillion.com), and a 40% share in frozen yogurt retailer Yogurt Mountain Holding. 
Naturally, a large company like BAM! needs several employees with different skill sets to run the chain in its entirety. When it comes to careers, BAM! seems to have the whole Christmas bag full of those. This section will give you an overview of the job opportunities at BAM! If you find something worth your interest, keep scrolling to know more. 
Across its five brands, the work opportunities at Books-A-Million can be divided into three categories. These categories, along with the usual position offered in each of these sectors, have been mentioned below: 
Retail: Bookseller, barista, café lead, associate, general manager, co-manager, assistant general manager, key holder, book lead, non-book lead, cashier, associates, etc. 


Distribution: Warehouse functionaries, inventory control functionaries, order filler specialist, customer service specialist, operations process analyst, maintenance tech, etc. Note that most positions about distribution are located in Florence, Alabama.  


Corporate: Shifts leader, associate, and manager at Yogurt Mountain; mid-range development manager, internal audit intern; and Human Resource positions, etc. 
Some of these positions are for part-time work, while others are a full-time commitment. 
SALARY AND BENEFITS: A GENERAL OVERVIEW
According to our research, the Books-A-Million salaries range from $7 per hour to $23 per hour. While the associates, sellers, baristas, cashiers, etc., are on the lower end of this salary spectrum, the managerial positions and specialists are higher. Specific salaries have been mentioned in the job descriptions below. However, some of these are just estimates, as the company provides little information in this department, on its website. 
General benefits associated with working at Books-A-Million include product discount, paid leave, dental insurance, vision insurance, health insurance, retirement plan, flexible working hours, and parental leaves. An analysis of employees' reviews shows a general approval of the work environment and satisfaction with the work culture. However, several reviews condemn the company for low pay vis-a-vis the workload and regret fewer advancement opportunities.  
The next section tells you everything you need to know about each of these jobs, focusing on basic requirements, minimum working age, salaries, perks, and benefits, along with a general review of the working conditions at Books-A-Million. For your convenience, jobs from each sector have been accorded a separate section.
RETAIL: BOOKS AND MORE 
The retail sector offers jobs in both Books-A-Million stores and 2nd & Charles Store, and the Joe Muggs Café is part of several of these bookstore chains. These positions are for both associate level and managerial level works. A major portion of your work will involve successfully selling products and providing customers with a good shopping experience. A friendly demeanor, a genuine interest in books/movies/gaming/comic/popular culture, attentive listening, and fast service will come useful. Basic computer and cash register skills will come in handy for the completing the selling process. 
You will also be required to sell company-sponsored programs like those of membership and magazine subscriptions etc., which can be taxing, but we are sure you will learn your way around successful marketing (smooth talkers: this is the job for you). You will generally need to be physically capable of carrying heavy things (like multiple books) around, and you will also need to move (walk) around those expansive stores a lot (my advice: make this your new gym).
For current openings in retail, follow these links:
https://careers.booksamillion.com/en-US/page/bam-retail
https://careers.booksamillion.com/en-US/page/2nc-retail
Below, we give a list of some the most common positions in BAM! Retail:
Booksellers: Books-A-Million and 2nd & Charles stores need friendly and efficient booksellers. Minimum educational qualifications include a High School Diploma or its equivalent, preferably (but not necessarily) a prior experience in retail. Positions for booksellers are usually part time and perfectly suited for students or individuals handling multiple jobs. According to PayScale (a trusted software for employers and employees alike), the average salary for booksellers at BAM! varies from $7-$11 per hour. 
Book Lead and Non-Book Lead: Leads are supposed to oversee the maintenance and merchandising in their respective departments. Thus, the Non-Book Lead is responsible for merchandising in non-book departments, including Pop culture, gifts, music, magazines, etc. Leads are also responsible for training associates and managers in their respective departments and products. Correct and effective merchandising, according to company standards, will be your key responsibility here. You will also ensure updating of product counts and coordinate markdowns and magazine processes. Leads need to be at least eighteen-years-old and hold a minimum educational qualification equivalent to a high-school diploma. Leads are usually employed on a full-time basis. As per employee reviews on Glassdoor, leads could earn up to $10 per hour.
Key-Holder: The Key-holder is responsible for the day-to-day functioning of the store as a Manager-on-Duty. The key responsibilities included overall supervision across several categories, including the store's security, customer satisfaction, customer complaints, sales, merchandising, housekeeping, intake supply levels, point-of-selling (POS), auditing cash handling procedures, and communicating supply requirements to the General Manager. The Key-holder should have a prior experience in supervisory role. You will need to be at least twenty-one-years old to be eligible for a managerial position like this and hold a high school diploma or its equivalent. Key-holder is a full-time position. The company website does not specify the salary; PayScale estimates an average salary for store management positions between $10-$18 per hour. 
Associate: Associates are responsible for dealing directly with customers. They are required to promote company initiatives, maintain merchandising standards, provide a fast and friendly shopping experience, and maintain the work environment's cleanliness (including restrooms). Associates should hold an equivalent of a high school diploma and be a minimum of eighteen- years of age. This position is usually offered on a part-time basis. As per PayScale, a sales associate could earn between $7-$13 per hour.
Barista: The Baristas will need to operate the Café at BAM retail successfully. You will need to be familiar with using café equipment like a blender, oven, expresso machines, cash registers, and so on. You will also need to keep the machinery, utensils, and café clean, as per the sanitation standards. Other responsibilities include the promotion of company programs and schemes. Barista is offered as a part-time job and requires minimum educational qualification of either a high school diploma or a GED, which takes the minimum age to 16. PayScale estimates the salary of Barista from $7 to $11.
Café Lead: The Café Lead is responsible for supervising the successful operation of Joe Muggs Café. The Lead is required to keep the beverages and the café up to the company standards, maintain visual merchandising at the Café, complete weekly inventory sheet and the café supply order, and provide excellent customer service. This is a full-time position that requires a minimum educational qualification equivalent to a High School diploma. The Lead must have a basic hold over the computer and cash register skills. The salary of Café Leads could be anywhere between $10 and $13 per hour. 
High Managerial Positions: There are usually three kinds of high managerial positions at Books-A-Million and 2nd & Charles bookstores: Assistant General Manager, Co-Manager, and General Manager. Managerial roles are essentially supervisory in nature. It is a lot of responsibility as in each of these positions, you will have to oversee the functioning of all the departments in the store. You must ensure maximum sales and profits for the store; supervise various operations like merchandising, housekeeping, customer service, and ensure that associates, leads, and booksellers execute their functions to the best of the standards. General Managers are also responsible for the recruitment of talent for running of the store. At the same time, the assistant and co-managers must assist her in training the entire retail team. It would be best if you were a minimum of twenty-one years old to be eligible for key managerial posts and hold a minimum educational qualification equivalent to a high school diploma. A prior experience in supervisory experience is usually preferred. PayScale estimates General Manager's salary to be between $10-$23 per hour, while an Assistant General Manager could earn $9-$18 per hour.
DISTRIBUTION
There is a wide range of job openings in distribution, particularly with AWBC. The Distribution Centre is the bridge between the people and the products. The distribution could operate both on-line and over the road. It deals with various functions, including stocking, receiving, delivering products, maintaining inventories, filling orders, making sure that customers' complaints are taken care of, and managing and improving the distribution process as a whole. 
To check the current openings in Distribution, follow this link:   https://careers.booksamillion.com/en-US/page/distribution-center
Some of the departments and jobs in distribution are mentioned below. PLEASE NOTE THAT AWBC OPERATES OUT OF FLORENCE, ALABAMA. HENCE ALL POSITIONS ARE OUT OF THAT LOCATION. Again, the list is not exhaustive and is based on an analysis of job openings at AWBC at the time of this article's composition. 
Warehouse Associates and Managers:  The warehouse sector has both associate level and managerial level jobs. These include Inbound PIT (Powered Industrial Trucks) driver associate, Inbound Trainer, Inbound Manager, Order-Filler, Order filling manager, operation manager, and so on. The Inbound functionaries deal with receiving and stocking products. Inbound trainers, also, are supposed to train the associates. The Order filler is responsible for picking orders, pulling merchandise, stacking products into carts, totes, or conveyor belts, remove products from shelves, add or remove labels from products, and so on. The managerial positions are supervisory in nature. These positions' minimum qualifications include a high school diploma or equivalent, basic math, intermediate computer skills, and prior experience in the warehouse. A prior experience in operating a forklift might be required in many cases.  However, the company also offers training for the same. The Warehouse jobs are usually full-time in nature. Warehouse associates' salary, based on reviews by employees (on various internet platforms), has been fixed at around $11 per hour, while the managers could earn $!2-$13 per hour.
Inventory Control Functionaries: An Inventory Control Team looks after various functions like cycle counts, receiving, stocking, fulfilling orders, verifying inventory on shelves, and shipping orders.  The entire process is supervised by the Inventory Control Manager, with associates and inventory control specialists' aid. Minimum educational qualifications include a high school diploma or its equivalent and intermediate knowledge of Microsoft Excel and Outlook. The applicants with prior experience in a warehouse, using RF scanner (Radio Frequency), and a willingness to be PIT-certified are given preference. 
Customer Service Representative: Primary responsibility of the Customer Service. The representative is to communicate with customers via e-mail about products, order status, cancellation, or complaints. It is an entry-level position requiring a high school diploma or a GED. Microsoft Office and computer skills are essential. 
Operation Excellence Department: The AWBC could offer several positions in this department, including associates and managerial level. The key responsibility is to improve the operation and business processes at AWBC. Ultimately, the Operation Excellence Department must maintain and analyze critical operation data, communicate with other departments, make recommendations for improvement to the management team, and draw up presentations for monthly facility updates. The jobs offered in this department require a higher level of qualifications. E.g., the Operation Process Analyst's position requires either a four-year business degree or a progression towards one whilst having three-years of experience in all departmental processes. This kind of work involves a thorough knowledge of data analysis processes, computers, and Maths; it will require associates who are also pursuing a business degree. Naturally, the Operation Excellence Manager would have to have both a business degree and a solid experience in Operations Management. These are full-time positions.  
CORPORATE
The Corporate includes functions related to supporting the employees of BAM! This involves departments of Human Resource, Internal Audit Team, and so on. The positions offered in this sector usually require degrees in related fields (e.g., finance or accounting for the audit department). However, the company also places store management and associate jobs at Yogurt Mountain Holding in this particular sector. 
The associate-level jobs at Yogurt Mountain require a high school diploma or its equivalent or a GED and are usually part-time. The applicant must have a basic cash register and computer skills, knowledge of operating café equipment (blander, oven, espresso machines, etc.), and good customer service skills. 
The Managerial positions at Yogurt Mountain require a degree in business or a related field and a minimum age of twenty-one years, and prior experience in management in the food-service industry. The work is supervisory in nature and demands good leadership skills. 
To check the current job openings in the Corporate sector, follow this link:  https://careers.booksamillion.com/en-US/page/corporate
APPLICATION PROCESS
If any of the above-mentioned job profiles are of interest to you, the next step requires you to submit a job application. This section tells you everything you need to know about the application process.
PICK A JOB OR A LOCATION: The first step of the application process is pretty simple to carry out. You need to pick a location and either a job type or a sector you want to work in. If you wish to work in retail, you can start by looking for store nearest to your desired location. If not, move on directly to the second step. https://www.booksamillion.com/storefinder?id=8122459119130 Scroll down on this link and type in your city/state/zip-code under the box that says 'Store Locator.'  In the 'Radius' section, you can type how far can the store be located in terms of your desired location. You can also specify the store by ticking one of the options given just below the box. Although this store-finder technique is meant for buyers, it can come in handy for you too. Now that you know the possible locations where you can work, move on to the second step. 
THE QUEST: The second step involves going to the career page of Books-A-Million. Scroll to the very bottom of the store finder page/ or home page of the company (https://www.booksamillion.com/), where you will find a link to "Career Opportunities" under the heading "Company." Follow this link to go directly to the careers page: https://careers.booksamillion.com/en-US/ Scroll down to find a few options on this page. There are three things you can do at this stage. You can either type in your preferred job type/category in the box under the title 'KEYWORD,' or your preferred city/postal code in the second box towards the right, under the heading 'LOCATION,' can type in both. Once you are done, press the search button, and your desired job/category type or job openings based on your desired location will appear. If you are not yet sure where you want to work or what kind of work you are looking for, click on 'View All Jobs at Books-A-Million,' located just below 'Keyword' and 'Location' boxes. Here, you will find all the current job openings at Books-A-Million: https://careers.booksamillion.com/search Scroll down, and on the left side you will find three sections, 'CATEGORY,' 'LOCATION,' and 'COMPANY.'  You can choose your preferred location/preferred category of work/ and preferred company from these sections. The numbers in the brackets are the numbers of current job openings in that particular area. 
NARROW DOWN THE JOB: Once you have narrowed down the job type and the location, just click on that job title from the list given in the middle. This will open a new page and provide you with basic information about the concerned job: responsibilities, requirements, skills, etc. Go through the job description and requirements carefully. On the right side, there is a section that says, 'JOB SNAPSHOT,' which will tell you whether the job is part-time or full-time. 
APPLY: If you are satisfied, and wish to move on to the application, just click on the 'APPLY' option, right above the 'JOB SNAPSHOT' heading or at the bottom of the page (just below the job requirements section). Clicking on this option will begin the application process. Submit your Resume, preferably along with a cover letter. It would be better if you have already prepared your resume in advance. It should not be larger than 1.5 MB, and must be in. DOCS/.DOX/.RTF/.TXT/.PDF format. Once you have submitted the Resume, click on continue. The next page will automatically fill the boxes based on information provided in the Resume. Fill in all the empty sections with relevant information. Fill in all the sections that have a small 'required' written in red in brackets. You also have the option of stating your preferred workdays under the section, 'AVAILABILITY,' and your preferred rate of pay. Make sure to re-check your information once the form is completed. Click on continue to go to the 'Questionnaire' section, which is basically a way to check if you fulfill the basic requirements for the job (minimum age, legally eligible to work in the U.S., submitting a background check, minimum educational qualifications, and so on). Once you have filled in this, you can move on to the final submission of the form! VOILA! You are done.
TALENT NETWORK
If you do not wish to apply as yet, or there are no current openings in your preferred job type or preferred location, you can join the Company's talent network and sign up for regular job alert e-mails.
https://careers.booksamillion.com/join
Follow the above link that will directly take you to the concerned page. Fill in the relevant details and submit your Resume. If your desired job opening comes up, the company will let you know.
Now, go get it!
Also read Citi Careers: A Complete Guide
Books-A-Million Career: Everything You Need to Know