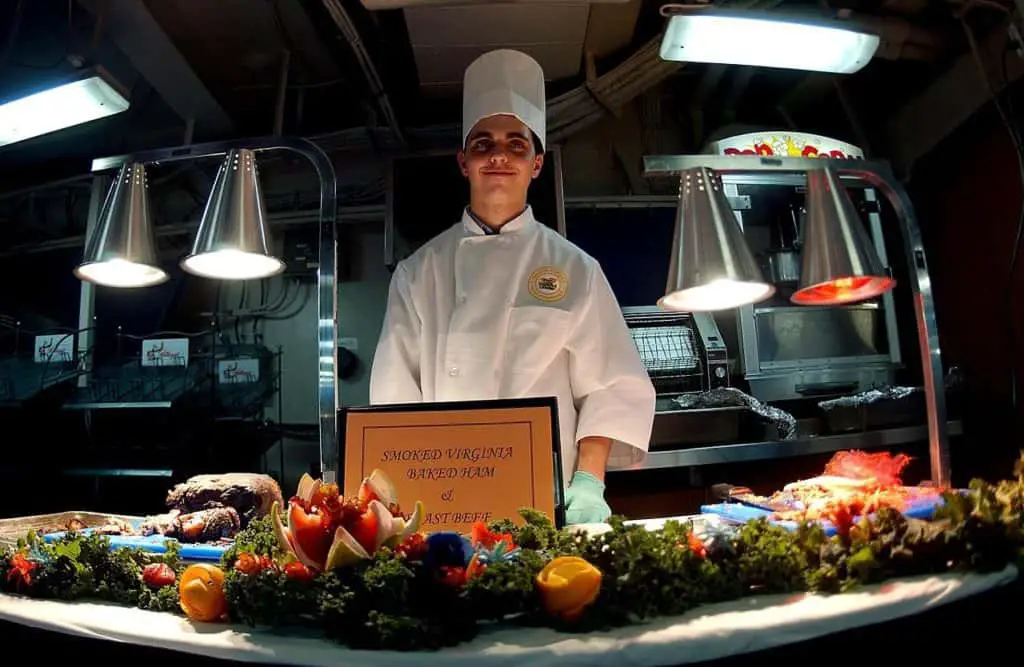 Being a Culinary artist requires passion and the art of making and decorating food. The heat of flames undoubtedly fuels the passion within chefs and people assigned in the kitchen. From chopping vegetables to the presentation on the plate, a chef's role is much in demand. Many people go to a culinary school and hone their skills there. Others learn and strive to work on their own. In both cases, getting a job required dedication and going through raging interviews. So, we will tell here what can be a Culinary Outfit for a chef.
What Does A Chef Wear? – Culinary Outfit
The white Chef Uniform is the Holy Grail if you would be working for a high-end restaurant. The Chef Uniform is a unisex piece of attire worn by almost all culinary artists and is a cherry on top for an interview. The various parts of the long-established uniform include:
A Toque or the huge chef's hat.
A double breasted white or black chef jacket made out of pure cotton
Black and white breathable check pants
Footwear can include converse, vans or even formal leather shoes.
A side or a full body apron is a must along with a side towel. 
A uniform is the ut-most clothing you should be wearing for an interview. A fresh, appealing, and welcoming costume serves as a bonus part to the interviewers. Dressing formally is considered a fundamental understanding. Chef Aprons are popular and serve the traditional formal look to the interviewers. Most chef interviews involve a cooking session. If that is the case, be sure to pack your things in your bag along with your utensils. For some people, wearing the formal white chef coat with the hat and trousers unleashes their true potential and makes them more motivated and mindful.  
What To Buy For A Kitchen Interview? – Culinary Outfit
The high-fidelity chef's costume should already be in your closet a day before your interview. However, if the restaurant or the company runs on a small or medium scale, which does not require a formal setting, you can skip the uniform and instead buy a suit. Irrespective of gender, a suit elevates your profile and casts a serious commitment towards your work. If the interview happens to be in your local restaurant and wearing a suit and tie would make it too formal, try on a simple shirt or blouse with a blazer on top with pants or denim. A blazer makes the overall look ritualistic while at the same time not too casual either. Remember to carry a handkerchief with you since you'll be sweating a lot.
What are the different roles in a kitchen, and what to wear accordingly for the interview?
Broadly categorizing the hierarchy in the kitchen leads up to:
The Kitchen Manager
The Executive Chef
Junior Level Cook
Bartender 
Waiter/Waitress
Server
Cashier
As the competition rises, what is it that will make you stand out in your interview? Interviewers are first going to notice you as a person before they go on to your skills. This shouldn't come as a surprise, but people who keep hygiene in the kitchen at the same time maintain it in their conduct have a higher chance of nailing in the interview. You don't want to seem clumsy or disoriented. For a job and your passion, you need to make changes to your lifestyle to suit it. Do not wear your hoodie or your fancy date night outfit. Go for a more subtle and powerful look that adds to your credit.
Things to Avoid Wearing to Your Kitchen Interview – Culinary Outfit Tips
A casual outfit, sweats, sportswear and outfits that radiate an informal invite.
Open hair; you don't want your hair to be stuck on your face or fall off while working. A bun is your go to for a better cooking game.
Heavy makeup; Some restaurants and cafes prohibit the use of makeup, however if you want to wear makeup, prefer natural foundation since makeup adds to greasiness on your face at the same time, there is a risk of it plunging in the food.
Accessories; Along with makeup, some companies do not allow their cooks to wear accessories as they only get in the way reducing momentum.
Frizzy beard/ hair; Adding to the heat they have a high potential of 
Heels; you'll be on your toes all day so make sure to wear the footwear you are comfortable in.
Gloves; they are scientifically proven to be more dirty than using bare hands. Avoid gloves since you don't want your mustard sauce to be mixed in the dessert you just prepared.
Touching your face and hair; Hygiene is an important aspect in a kitchen and hence cannot be overlooked. 
Conclusion 
Ever looked at the Chefs in movies and wondered why they always look mesmerizing and fancy? Thanks to the Chef's Uniforms that evolved hundreds of years ago and are still on the horizon. The outfit is just another glorification that adds to this profession.
Related Questions
Where can I buy a Chef's Uniform? You can buy them from dedicated Apparel shops for Kitchen workers available throughout the States, HedleyandBennett.com, Sharperuniforms.com, chefuniforms.com, chefwear.com 
Why can't I wear casuals to the interview? 'First impression is the last impression' as you might have heard the saying. Formal clothing depicts how earnest you are towards your work. It is best to wear an outfit that counterbalances your skills. Moreover, wear an outfit you feel the most confident in as it adds to your body language points.
'I am applying as a server, what should I wear'? Since your job is not directly related to cooking, there is no need to wear a chef suit. Note that servers are clear reflectors of a company. Your attributes, along with your neatness are important factors for judging your qualifications. A formal suit is your go-to with tidy hair and polished shoes.
The Culinary Outfit 101: What to Wear to a Kitchen Interview