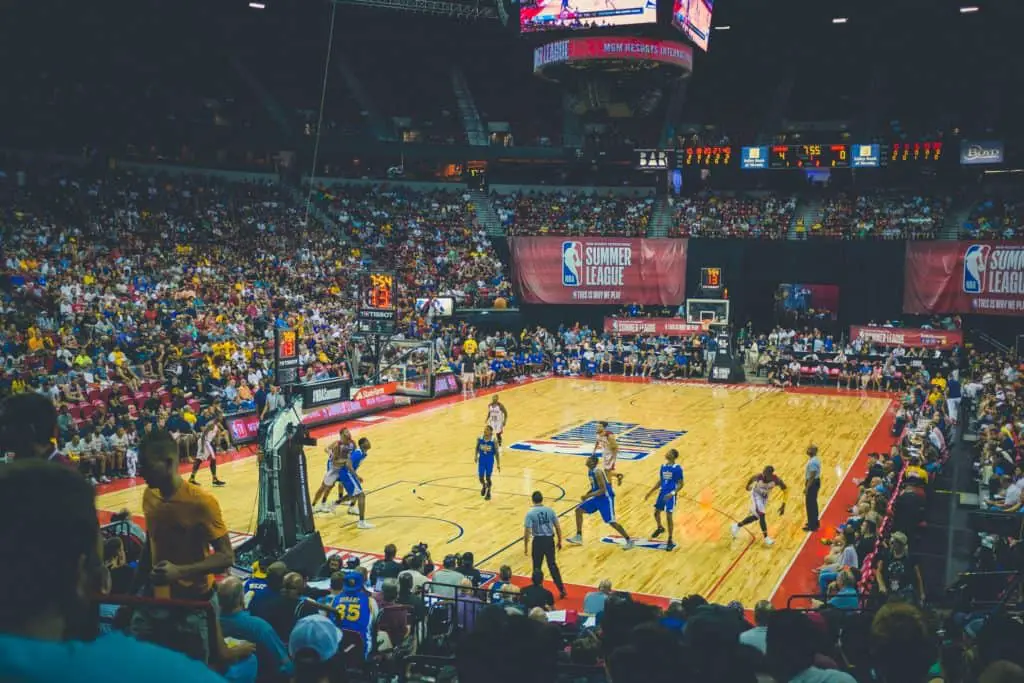 In our lives, we always like some sport, and the players of that particular sport are always our favorite. Be it cricket, football, or basketball, etc. We are always on one side, supporting our favorites, and want to join that team. Almost all of us play our favorite sport. But as we all laud or praise the front players, playing on the field in front of our eyes, there are people or a team behind the scene working for them and managing all the affairs so that these biggies can concentrate only on their game to win. We will tell you how to become NBA General Manager in this article here.
There is a team of executives, which plays the real role in winning a game. All the activities are done under their supervision. They select even the players who excel in the game after thoughtful consideration. So if you are a basketball lover, then you must have dreamed of joining the NATIONAL BASKETBALL ASSOCIATION (NBA), and it is the ultimate dream of some of you to become the general manager of the NBA. Unfortunately, there is no standard and clear-cut pathway to joining as general manager of the NBA. Some go through the route of being a player in the team, while some go the other way and get the job. This article will throw the light on various aspects of being a general manager in the NBA and guide you to the pathway of becoming the one.
Who are they?
Like a playmaker plays an important role on the floor, the general manager and his team play an important role in building a team and overall organizational structure. It is said to be the organization's brain, making all the crucial executive decisions about the team and organization that will lead to winning the trophies. His position is so powerful that he gets the authority even to expel a player from the team. He decides the course of action, negotiates with the members, handles other teams, provides the coaches to respective teams to build a winning team, and is the person behind handing all the organization's business. This is not all. There is much more, so let's discuss.
What do they do?
A general manager is a powerful position holder. He is the brain and architect of a team and the backbone of the organization. He is responsible for selecting and building a winning team, negotiating with players and other teams, convening meetings, creating projects, handling business and making it a success, and providing the solution to the problems.
As a general manager, with the team, they have to make sure that when the final day for the play arrives, everything goes well as planned, for that they spend many days and nights organizing and managing everything so that there is nothing to do for the players and coaches except to focus on their game. Due to the Herculean role played at this position, players can focus entirely on their game to make a big win. Apart from handling the human resource, they are also responsible for the business, as they negotiate with players, teams, and makes millions of dollars of deals.
Duties They Perform
NBA general managers perform the following duties as part of their job:
Building a Team: The most important role of a general manager in an organization is to select the players to form a team. They negotiate with players and coaches on various terms and make decisions. They also provide coaches, so the training should be on point. So they are basically for building a winning team. They also got the power to expel a player, so he is a key selector along with the coach.


Leading an Organization: A general manager is the brain of a team and the backbone of the organization. He makes all the executive decisions for the organization in its best interests. Milt Newton, Milwaukee Bucks Assistant GM says, "every day you have decisions to be made, managing your staff, managing the players, talking on the phone with other teams and, when a deal is made, it is not just that we made a deal on Thursday and spoke about it on Wednesday. It may be months in the making, circling back to other teams. You know: are you guys making any moves? Who do you like on your team? We'll tell you who we like on your team."


Convene Meetings: One of the most prominent functions a general manager performs is to convene regular meetings with other members, staff, players, and coaches to discuss and plan the future course of action. They have to arrange meetings also with other teams to negotiate on various terms. They have to build networks as these are important in this business. 


Negotiate with Players, Coaches: General manager is primarily responsible for dealing with the players and coaches in the negotiation. They negotiate business with the players and coaches, and responsible for evaluating player contracts and salaries. A general manager deals in millions of dollars of player's contracts. A manager must know the team, each player in the league, the team's needs, and the other team's willingness to trade on a particular player. As says Milt Newton, Milwaukee Bucks Assistant General Manager, "the overriding aspect of my job is putting a product on the floor that can be perennial playoff contenders. We are all in this to win a championship."


Negotiating with Other Teams: There is another very important aspect of this job is to negotiate trade with the other teams. General managers can be seen on phone every day talking to their counterparts. They are forecasters as well based on going on situations around, and they have to forecast right. They maintain and build a relationship with other teams. Newton mentions, "we are on the phone every day, seeing what is out there, what you are willing to do. If I notice that your team went down with an injury last night, I am calling you maybe the next day to find out if there is any way we can help you regarding getting a piece that you may need. Trade between the teams should be beneficial to both sides."


Managing Business: The ultimate goal of the organization GM working is to generate revenue. The whole game behind building a winning team, including players fans, come for, is to make a big win and success.
The Way to Become a General Manager
There is no standard way following which you can grab the position of a general manager. Everyone has their journey for making it to that position. However, you need to do certain things such as:
Earn a Degree: If you are so sure about your dream job to be NBA general manager, you should be prepared for them beforehand. You must know about the sports, it's all aspects. You can go for Bachelor's in sports management to gain whole around knowledge covering the social, ethical, economic, and legal aspects of sports. Along with the degree in sports, attach an extra feather in your resume with a business or law degree as it will complete your job arena. You will understand the realm of business which is the main focus area being a general manager.


Play in the Sport: Along with education, for gaining real, on-ground experience of the sport, go and join the team. It will help you to understand the game well that you need to understand for discharging your duties as a GM. A player gets an opportunity to develop contacts as a team member, which can help in his way up. Like Milt Newton, he played basketball for college at Kansas in winning the 1988 NCAA Championship, he played basketball professionally at the international level. After his playing career ended he worked as a scout for Philadelphia 76rs, for USA basketball. After that, he grabbed the position of vice president of player personnel at Washington Wizard where he served for a decade. He was then worked as general manager for Minnesota Timberwolves until 2016 when he joined as the assistant GM at the Milwaukee Bucks. So his way was a traditional one.


Understand the Game and Love It: if you love basketball, understand thoroughly all the facets and aspects of the game. The love and passion for the game of basketball may be proved very helpful on your way up. Daryl Morey, GM Houston Rockets never played like a high-level athlete, but he has love and passion for the game. After MBA, he was actively involved in the game making his way to the position of GM at Houston Rockets.


Learn the Scouting: A GM must know the players good. To learn how to scout good players, this ability may work beneficially for you. Milt Newton had also worked as a scout for Philadelphia 76rs before going up to the position of general manager.


Gain Bargaining Power: The primary duties of a general manager include negotiation with the players, coaches, and other teams on various terms, such as salary, trade, and game. For this purpose, you need to develop bargaining skills. The main purpose to earn a degree in business is to develop that business skills.
Apart from these, you need to have Good Communications and Interpersonal Skills
Management Skills
Problem Solving Attitude
Disciplined Approach
Leadership Quality
Time Management
Trustworthy
Energetic
How much general manager makes — salary?
The list of highest-paid general managers is topped by Masai Ujiri of Toronto Raptor, with a two-year contract extension of $32 million per annum.
Pat Riley of the Miami Heat is known to make massive earnings of $11 million per year at the end of his four-year deal in 2016. The position of a general manager is one of the highest-paid positions in the sports field. It generates a lot of money due to its worldwide large coverage covering an enormously large fan base. However, there is no standard pay. It varies and cannot be fixed considering the uniqueness and unpredictable nature of the sport.
A general manager at NBA earns an average of $1 million to $3 million per year. As reported by SB Nation, it may vary upwards according to the experience and work beneficial and value-added to the organization. According to the bleacher, In the NBA, general managers earn around $1 million to $3 million per annum, and in colleges, they earn an average of $89,240 per annum. According to Rookie Road, the average salary of an NBA general manager ranges between $1 and $3 million per annum. The salary of general managers is a little less than the coaches and more so less than the players who make a whopping amount of amount $7.7 million annually on average.
A Comparison
The comparative salary of general managers at other organizations is given below:
| | |
| --- | --- |
| Organization  | General Manager Salary (Average) |
| National Football League (NFL) | $1 to $3 million per year |
| English Premier League (EPL) | 4 million pounds to 5 million pounds |
| National Basketball Association (NBA) | $1 TO $3 million per year |
| Major League Baseball (MLB) | $59,214 annually |
The position of a general manager is of huge responsibility and comes with pressure and workload. Most general managers work for 40 hours a week during the regular seasons and playoffs. Again it varies according to the organization and its work. Still, workload speeds up in the gaming seasons, and you have to sometimes work overtime many game nights as your responsibility. You will not get to sleep during the gaming season, and there are many preparations in the preseason. But you will get time as the gaming season ends. So the environment, a general manager works in is sporadic, chaotic, fast-paced, and stressful yet rewarding as everything comes with a cost and not free.
The Future
General managers are always key parts of an organization in every industry as they handle their small ecosystems having few to a large number of people. So, their role is indispensable and always in demand and need, as they make the executive decisions. Due to the ever-evolving and changing scenario of the sports world, there is some job security. There are different teams you can work for at various positions. You can work for one team as assistant GM and for other as general manager. If you are putting your all into the game and bringing value to the organization by being good at your job, your position is secure.
Final Words
We see the players on the front, we are a fan of them, but executives are writing the success story at the back. A general manager the most prominent success creator. Whether it is win or loss, they are at the back of it. So general managers must be responsible persons as in unfavorable situations they will be pinpointed and criticized, so they must be tolerant enough to take and handle the criticism in the most efficient manner. Although there is no clear-cut or straightway up to the position of NBA general manager, this article provides you the necessary guidance which you can make your way. Historically, the way of the success of all the general managers has been different. However, the one commonality they share in their journey is their love and passion for the game, deep knowledge and understanding, and prior connections in the NBA.
Frequently Asked Questions (FAQs)
What does an NBA general manager do? A general manager at NBA is primarily responsible for the control of player's transactions and manages all the negotiations with all the stakeholders on the behalf of the organization.
How much a general manager make? The position of general manager is one of the highest-paid job positions in the field of sports. NBA general manager on average makes $1 to $3 million per year.
Who are the highest-paid general managers at NBA? Some of the highest-paid general managers at the NBA has been:

Masai Ujiri – The GM for Toronto Rapture has been the highest-paid NBA general manager who contracted for two years extension for $32 million per annum
Pat Riley who have recorded to get over $11 million by the end of 2016
R.C. Bufford – GM for San Antonio Spurs were expected to get $9 million in 2015-2016
Bob Myers -GM for Golden State Warriors was reported to have signed a contract to the amount of $8 million
Neil Olshey – Who is the current GM for Portland Trail Blazers was Expected to get $6.5 million

How to apply for the post of general manager at the NBA? There is no set pattern and procedure for the application of general managers. You have to become a part of the NBA through the game to make it to the position of general manager. It is explained well in the article. Do refer.
How to Become NBA General Manager in 2021?