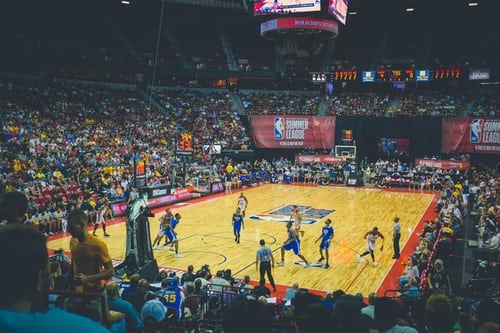 The Playmaker of the Organization
Basketball teams rarely ever truly function in its full potential when it doesn't have a player with the IQ and vision to pull the strings of running the game's point-making part: the offense. Historically, this role of "floor general" or "playmaker" was reserved for the "point guard," i.e., the stereotypically smaller player who brings the ball forward from the inbound and attempts to facilitate the offense by either executing the various plays taught by the coach or with a spontaneous, impromptu strategy of his own. While the game of the National Basketball Association (NBA) has evolved to allow forwards and centers to run plays more often, with players such as Los Angeles Lakers forward Lebron James and Denver Nuggets center Nikola Jokic being huge standouts for this mode of play, the importance of the playmaker has barely diminished, if any at all. In fact, the playmaker plays such a critical role not only for the team but also for the organization running the plays behind the scenes. This is where the all-important role and job description of an NBA general manager (GM) and his assistant general managers come into play and also how much NBA General Managers make.
While seeing high-IQ floor generals like Chris Paul run a sleek one-two play with little to no effort is indeed a sight to see, it is just as amazing to see an effective NBA GM execute a well-thought-out, long-term plan and develop an organization that breeds massive success for its fans and its city. Like the playmaker, the GM and its staff could be considered the organization's brains, dictating all the 'plays' or actions of its respective unit moving forward, and is the primary driver for developing the team or organization's identity. Like the playmaker, the GM plays a major role in planning its organization's present and future actions, taking into account all factors and possibilities in developing the strategy that gets either the organization's trophies and the team's wins. The only discrepancy between the GM and the in-game playmaker would be that the GM holds a role in being the prime decision-maker for all personnel who get to be a part of the organization. In contrast, the primary decision-maker for who gets to play in the court at any period in time during a game falls onto the head coach's responsibilities. The highlight of a GM's list of big decisions would be in managing the team roster: which would entail coordinating with the team scouts in choosing which players to sign, waive, or trade, followed by choosing which coaches and training staff would be put in place to develop said set of players correctly. These often herculean duties, along with a numerous handful of other delicate moving parts, are just a preview of what an NBA GM handles on a day-to-day basis to ensure that the whole organization runs at its fullest potential. You may expect that with such a task, NBA GMs and their Assistant GMs would get paid just as much as the players and the coaches for basically being the organization's behind the scenes point guard, but it may be more complicated than you think. Let us see.
An Accurate Job Description
An NBA General Manager's job description encompasses almost all facets of both the on court-team and the lesser-known parts of an NBA organization. It is primarily to negotiate player & staff contracts in coordination with other top personnel with great consideration for the NBA salary cap. The NBA GM manages personnel right from the team's biggest stars down to other essential needs such as medical personnel, trainers, and scouts. The GM is a major influence in a team's front office on deciding whether a team will opt to build and develop its core of young talent or go all in to try and compete for an NBA championship. Of course, an effective GM doesn't just merely take on-court performance as the sole determinant of his actions. Factors such as budgeting, fan satisfaction, and overall sustainability are just a few criteria that come into play in an NBA GM's decision-making. For this, the NBA GM also serves some form of a role under the organization's business operations, as well as being the team's liaison to the owner, the team's fans, the media, and the league in general.
The GM also works closely with the organization's players and senior staffers in developing and upholding the culture, core values, and overall identity of the team. For example, San Antonio Spurs' CEO R.C. Buford rose the Texas team ranks in 2002 to take GM's position. Buford, along with long time Head Coach Gregg Popovich, sowed the seeds and cultivated the team's now-unmistakable identity of unobtrusive, stoic, team-first philosophy, opting to build a team based on sound, no-nonsense strategies and going away with the often flashier, more colorful identities of other NBA teams. Buford was so persistent in renewing the team culture that a year after his tenure, the organization decided to redo the team's bright fiesta colors of maroon, orange and teal into a more sleek and professional black, grey and white outfit. Since then, the Spurs were able to bag four championships during Buford's tenure, with the GM himself even grab some silverware in winning Executive of the Year twice. Buford's success with the Spurs just shows how critical the impact of a new GM could mean to a team.
On the other hand, the assistant GM's job description is not just an insubstantial minor-league role despite what some people may think when hearing the term 'assistant' in a job title. An assistant GM is responsible for providing differing perspectives in the decision making processes of a front office that the GM may not initially be able to consider. The assistant GM is responsible for giving additional input to prevent front office decisions from being one-sided or derivative. The assistant GM is also tasked with reinforcing the front office's choices to the rest of the organization's facets. While assistant GMs do not receive the same amount of spotlight as his superior, much less in comparison to the players or the coaches, the value that assistant GMs bring to an NBA front office is just as critical in ensuring that its functions about the rest of the organization are executed properly and precisely. 
How much NBA General Managers make?
According to 'SBNation,' any NBA General Manager earns an average of $1 Million to $3 Million per annum but could be higher depending on the experience and value a GM may bring to an organization. Assistant GMs are speculated to earn considerably less than that but could vary, as information regarding an NBA assistant GM's compensation remains mostly undisclosed. Work info website 'Comparably' cites that most NBA executives earn an average wage of $155,777 a year. Therefore, it is plausible that the exact numbers for an assistant GMs average salary may fall somewhere in the middle of $1 million to $150,000.
NBA General Manager Salary: $1 million to 3 million per annum (disclosed sporadically)
NBA Assistant General Manager Salary: $150,000 to $1 million per annum (estimated)
One of the highest-paid NBA GMs of recent memory was Miami Heat's Pat Riley, who earned a whopping $11 million per annum at the end of his four-year deal in 2016. This would only be topped by Toronto Raptors' Masai Ujiri, who inked a $32 million, two-year contract extension with the Canada-based team after being the first GM to help bring the team to multiple conference finals runs, with its culmination being an NBA Championship win in 2019.
The average NBA GM's salary ranks slightly behind compared to the salaries of most head coaches, and even more so with the average salary of an NBA player. The average head coach earns around $3 million per annum, while the average NBA player makes about $7.7 million per annum. While this is not a massively surprising fact due to the vast differences of roles between a GM, a coach, and a player, there's certainly a gap. In a different perspective, this gap may be something that NBA GMs would not be too worried about either, as the aforementioned salary median is still comfortably beyond the median earnings of an average senior executive at a US-based company sitting at $167,066 per annum; an amount which would roughly be 10% of Masai Ujiri's previously mentioned salary in 2016. To put things into an even wider perspective, Adam Silver himself earns a lucrative $10 million per annum contract compensation for his all-important role as NBA commissioner. This gives us a good snapshot of where the NBA GM's salary stands compared to other senior positions in the NBA. 
Compared to the counterparts of the NBA GM in other major sports leagues, the job's salary may either be considered competitive or not very far behind if various factors such as currency difference and job description difference are taken into consideration. For example, the average salary of NFL manager fares around $1 million to $3 million, which is identical to the NBA GM's median, while the average salary of an English Premier League (EPL) Manager is around £4 million or about $5 million.  These are far cries compared to the average salary of an MLB General Manager, which falls just under $59,214 annually.
The Bottom Line
NBA GMs earn as much as they do for an excellent reason; because they make the most influential decisions under all the facets of their respective sports organizations to develop an effective and sustainable culture of success, while under palpable pressure from the fans, the owners, and every other major stakeholder of the team. While NBA GMs are mostly thankless due to the sheer competitiveness of the sport and are also undoubtedly overshadowed by the massive spotlights set upon both the players and the coaches, it is no surprise that they, along with their assistant GMs get paid a handsome fee for ensuring the success of an NBA team holistically.
---
Bibliography
Arnovitz, Kevin. "The Spurs' 22-year playoff streak is over, but their legacy is alive and well." ESPN, 14 Aug 2020, https://www.espn.com/nba/story/_/id/29656674/the-spurs-22-year-playoff-streak-their-legacy-alive-well
Carter, Dylan. "San Antonio Spurs: Are the fiesta colors making a comeback?" Fansided, 2019, https://airalamo.com/2018/10/29/san-antonio-spurs-are-fiesta-colors-making-comeback/#:~:text=In%202003%2C%20the%20San%20Antonio,the%20team%20for%2012%20seasons.
Huddleston Jr., Tom, "These are the highest-paid players in the NBA right now." CNBC, 22 Oct, 2019, 1:22 p.m., https://www.cnbc.com/2019/10/22/highest-paid-players-in-the-nba-right-now.html#:~:text=The%20average%20NBA%20player%20salary,season%2C%20according%20to%20Basketball%20Reference.
Keith, Harlow. "Job Experience Required for a General Manager in the NBA." Chron, (n.d.), https://work.chron.com/job-experience-required-general-manager-nba-25602.html
Nayar, Pranav. "NBA Head coach salary: What is the average NBA coach salary?" The Sportsrush, 21 Jul 2020, https://thesportsrush.com/nba-news-nba-head-coach-salary-what-is-the-average-nba-coach-salary/#:~:text=Now%2C%20the%20average%20NBA%20Head,out%20to%20secure%20their%20services.
Parker, Garrett. "The Top Five Highest Paid GMs in the NBA." Money Inc, 2017, https://moneyinc.com/highest-paid-gms-in-the-nba/
Wong, Glenn. "National Basketball Association General Managers: An Analysis of the Responsibilities, Qualifications, and Characteristics.", Vol. 18, no. 4. https://digitalcommons.law.villanova.edu/cgi/viewcontent.cgi?article=1033&context=mslj
VSabatel. "Nikola Jokic and the NBA's Lineage of Supremely-Talented Passing Big Men." OTGBasketball, 30 Aug 2020, https://www.otgbasketball.com/post/nikola-jokic-and-the-nba-s-lineage-of-supremely-talented-passing-big-men
Ziller, Tom, "The argument for paying your general manager lots of money." SB Nation, 30 May 2013, https://www.sbnation.com/nba/2013/5/30/4379182/nba-general-managers-coaches-payscale-masai-ujiri
"General Manager MLB Salary." Ziprecruiter, (n.d.), https://www.ziprecruiter.com/Salaries/General-Manager-MLB-Salary#:~:text=A%20General%20Manager%20MLB%20in%20your%20area%20makes%20on%20average,average%20annual%20salary%20of%20%2457%2C844.
"NBA Executive Salaries." Comparably, (n.d.), https://www.comparably.com/companies/nba/executive-salaries
"Playmaker or Point Guard." Hooptactics, (n.d.), https://hooptactics.net/premium/player/playingsmart/playerplaymaker.php
"Premier League Managers 2020-21 Salaries (Contract Details)" Sportekz, 10 Sep 2020, https://www.sportekz.com/football/premier-league-managers-2020-salaries/
"What Are the Salaries of NFL General Managers?" Reference, 28 Mar 2020, https://www.reference.com/business-finance/salaries-nfl-general-managers-7ee2dda0b94a6eb2#:~:text=General%20managers%20of%20teams%20in,against%20the%20team%20salary%20cap.
Also read NBA Mission Statement And Vision Analysis 2021
How much NBA General Managers make? – NBA GM Salary