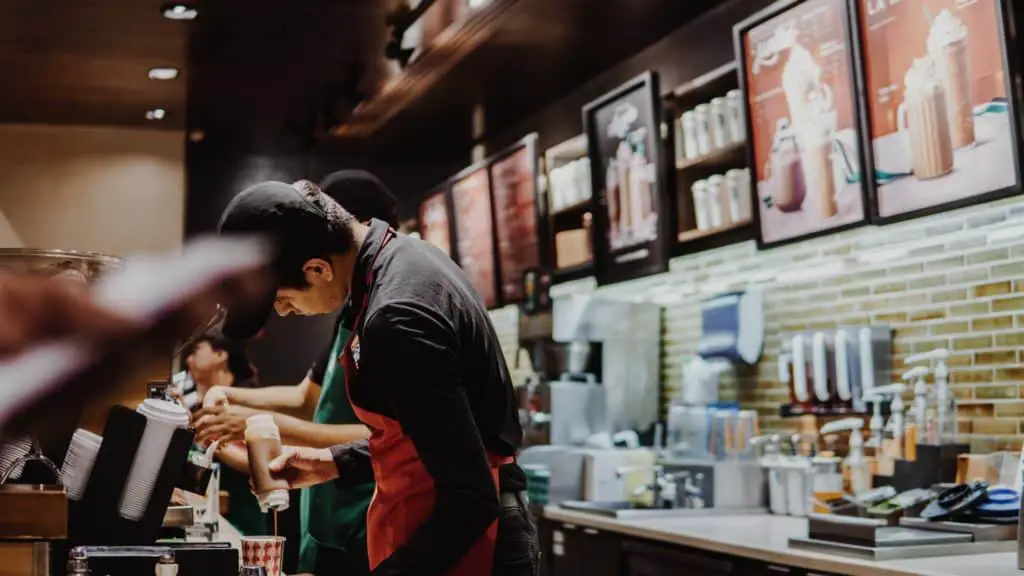 To work with the leading coffee company in the world is a good opportunity. Yeah, that's was Starbucks Barista is. But to be the face of it is the greatest. They are the face and soul of Starbucks. It takes some time and effort, but you can be one of them. Being a part of the Barista Squad is not easy. One has to go through different stages: the application process, assessment test, interview tests, and Starbucks orientation. You can easily apply online through the official website, https://www.starbucks.com/careers, or you can try in-person as well, though not recommended as it is not validated in their laws. If your application is selected, you will be notified of the assessment test.
It is usually a personality-based test that reveals the character of the applicant. When you pass the test, you will be considered for a phone interview, i.e., the first step of the interview process. It lasts up to 30 minutes, and like the assessment, it's done for studying the applicant's true personality. Once selected, you will be called for a face-to-face interview with the head council of the store. It is the last stage.
After cracking it, you will be assured of getting a response. It might be a spot-on invitation or might take a month-long time to get the call. It depends vividly on the performance shown by you. During Starbucks Orientation, you will be a trained in everything from coffee making processes to "how to deal/ treat customers."  Once you get the call letter, it's all on your capabilities, how fast you grab the knowledge, how well you are adjusting with the environment, how patiently you are dealing with every situation. 
Application Process – Starbucks Barista
On the official website, you will find the "jobs and career" page. You can choose your location there, and all the available options will be shown. Then you will be asked to fill in some necessary details, upload a resume, and be asked to answer some questions related to the company yourself.  Make sure you fill in the right information as it will make them take your application seriously.
Assessment Test
Here applicants are supposed to answer about 100 questions which come in different formats and varieties. Example- What would you do if you find yourself in this particular situation? What are your views on these current affairs? What if some people that you do not like walk into the store? Etc. 
Interviews
Once you get through the assessment test, you will become eligible for taking the interviews. As mentioned above, this stage is divided into two levels. First off, a telephonic interview is normally conducted by the HR team. They will be asking about your experiences, achievements, work limits, expected salary, and area of interest. 
When you pass the telephonic interview, you will be called in store for an in-person interview by the recruitment heads. You might be asked to take a 'Virtual Job Tryout.' Again the same type of questions will be asked, but now you have to answer them looking in their eyes. They will judge your confidence, honesty, social skills. Be yourself while answering. It is enough. You do not need to pomp and show off yourself. Soberly answer their questions. Ask some doubts of your own.  
Starbucks Orientation
Finally, after impressing the recruiters, you will get a call or a mail, maybe. The recruitment team then conducts an orientation program for the newbies.  It will your training stage. You will get to know about the company you're working in, your role in the company, your team. As a Barista, you will be trained with more intensity as you make the classic Starbucks taste in every drink. But you will have a lot of people to help you. So chill!
Key points to remember to get through these stages:
Prepare a decent Resume – Build an up-to-date resume and try to keep it simple and attractive. Too many complex and complicated resumes are not appreciated.


Prepare for the interviews – Do some surfing, get some sources, and practice the typical interview questions. Be prepared for some personal-level questions as well. Especially for girls, their relationship status may be a point of discussion during their hiring, to be honest. Be calm and honest during the actual interview. It will upgrade your performance.


Get some questions ready – You will be asked to share some queries of your own. And you must be having some as well. So prepare the query in your mind, write it down on a paper in the best possible manner and practice it/ them.


Work on your social skills – Barista is a job where one can deal with many customers in a day. Not everyone might be in a good mood. But that's the job; you are supposed to lighten up their day with the coffee and your behavior. Also, you will be working under big names with many teammates, and you have to show your professionalism during that time. So try to bring positive changes in your social skills.


Get to know the Coffee – Sure. You will be taught the coffee-making process during your trainee period. But still, they must be having some expectations from you, which is why you should be familiar with the ingredient. And it will help you learn sooner and better, so why not!
Job Opportunities
Many jobs are offered by Starbucks, but on the list of significant ones: Barista tops. Other job opportunities are as follows:
Shift Supervisor – He is the one who supervises the Baristas in the store. You can apply for this position if you have some previous experience relative to it.


Shift Manager – In some states like Massachusetts, there is a position of shift manager. He is the person responsible for the smooth flow of operations in the store during different shifts. He usually works under the Manager.


Assistant Store Manager – This job needs teamwork, organizing skills, stress handling abilities, creative and innovative thoughts. He is an assistant to the Store Manager and performs many of his roles.


Store Manager – The Store Manager is basically the store owner; hence he is responsible for everything happening inside. The duties of a store manager include managing the store operations, developing and leading large teams, and meeting the needs of a company.


District Manager – He leads the multi-stores of the area by managing and making teams and strategies as required.  
Salary
No company reveals the salary outside the family. But according to some legitimate sources, it is provided that the average hourly pay for a Starbucks Barista in the United States is $11.64 an hour. But it totally depends on your shifts, working hours, performance, and experience. And there is a reason why 'raise' is invented, right!
Requirements
As written on the official site, the following:
16 years or older
Not mandatory, but the experience will be weighed
Other basic requirements for a Barista should are:
Communication Skills – As customers will be looking up to you. You have to be good at communication. The agendas and values created by the company will be delivered to the customers through your efforts. And good communication is also the key to a healthy workplace. Correctly putting your thoughts and views so that the person in front of you understands your point the way you want him/her to, is very important. It helps in curing misunderstandings. Which can prove toxic at the workplace. 


Teamwork Spirit – Some sports like basketball and football needs effort by the whole team to win. And just one person can not lead the whole TEAM to success. Just like that, for the store to be successful needs the effort of the whole staff. From Manager to Janitor, everybody needs to be in the same rhythm. 


Positive Attitude – Positive outlook is important in life. It's proven now and then in many ways. Any company is successful only when the person running has a positive attitude. The person working in the company is supposed to be having that as well. And for a Barista, his/her company is his or her own store, and to make it a successful one, he/she should have a positive approach. Customers not so good may come in, but still, you should not be negative about it. Sometimes, you will have some toxic people around in the workplace, but you have to keep your calm and go on. Remember, tough times doing last, but tough people do. 


Hard-Working – Hard work is the key to success, an old quote but still in the running, and it makes total sense because nothing in this world is possible without hard work. Even if it's not the job of a Barista, it's some other job. Every job needs hard work even the job of a mother needs hard work. As a Barista, your hard work might seem like working on weird hours like at midnight or dealing with many customers at the same time, making weird and different drinks. 
Responsibilities
Welcoming and expressive behavior – As your customers should feel warmth and comfort around in your store. This will make them come back again. 
Preparing food and beverages – I mean, this is the basic job, right. 
Packaging of food and beverages – Starbucks also provides takeaway service, so you have to be quick and clean while packing food and beverages.
Selling tea and coffee – Selling Coffee is also a big part of the overall income of Starbucks. You must influence the customers to make them feel the need to buy and try your coffee and tea. 
Cleaning – Nobody likes to go to an unhygienic place to eat. You neither right. So have to be good at this cleaning job. Your kitchen, your counter, your utensils should be clean. Even a small unhygienic element might lose you a customer. 
Updating signage and displays – People are attracted to attractive signs and offers. Certainly, a Barista has to make sure of this job as well. 
Following rules – Working under any company requires you to follow their rules. The same is the case with Starbucks. You have to follow everything from the recipes to the green dress code. Everything. 
Work in a team and maintain the energy – From your part, you should keep up the energy and work to maintain a better team spirit every time. 
FREQUENTLY ASKED QUESTIONS
What to Expect Working at Starbucks? Firstly, you will be working at Starbucks. I mean, come on, the obstacles must be worth it. According to the people who work there, it is an amazing experience. Customers might be hard sometimes, but the workplace is amazing, plus free beverages during shifts.


What are the Pros of Working as a Barista? Name is enough; the Barista of Starbucks will be a star on your resume. Free food and beverages are always going to be the best perks of all. A healthy workplace where employees can work and have fun too—a very reasonable wage. Plus, you will know the secret ingredient they add, making their drink super yummy and addictive, of course.


What are the Cons of Working as a Barista? Sometimes there might be a lot of work, hard to manage, and stress. Sometimes maybe some rude customers come in your store, and you will have to serve them. 


Is The Selection Process Hard To Crack? Not really. A normal person like you and me can crack it with a normal amount of effort. It's just that one has to be serious about the job and work hard enough.


How Frequently the Vacancies come out for a Barista? Due to Covid, the number of opportunities has lessened, but they still offer many jobs. You can always check it out on the website. Also, the condition is getting better in the U.S.A., so soon, there will be plenty of vacancies.
Conclusion
Interviews may be a tough path, but you can overcome them. And with their beautifully designed training procedures, you will become a perfect Barista soon. Just try and stop not till you get it. 
How to become a Starbucks Barista?