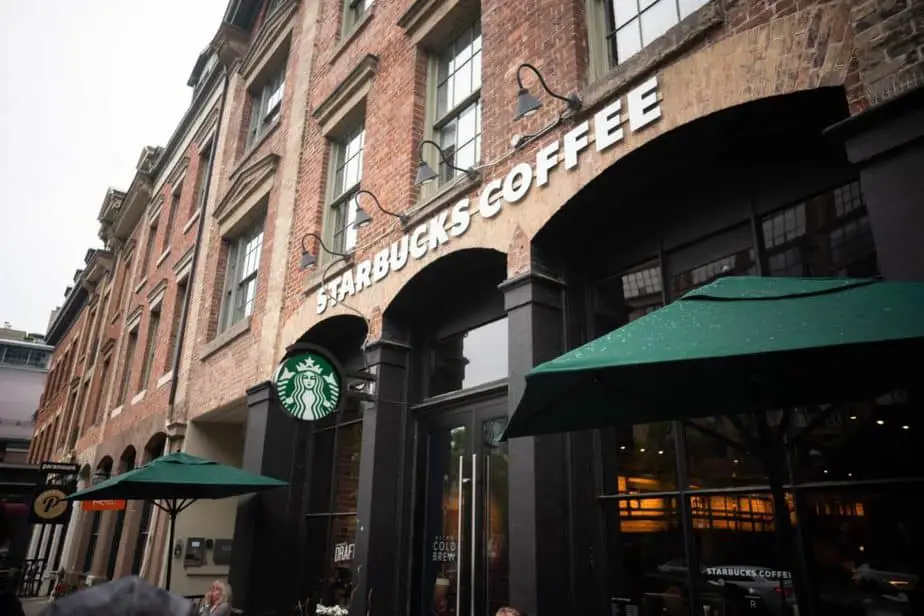 There are literally so many teens out there, who want to work at Starbucks. The reason is not just to make some money but to enjoy the work environment it has got. At Starbucks, you will get to interact with all kinds of customers and thus increase your social skills. So have you ever wondered what it feels like working at Starbucks? 
Well, in this article you will find out everything about working at Starbucks and also some bonus tips at the end. 
What is Starbucks?
Starbucks Corporation is an American coffeehouse founded by Jerry Baldwin, Zev Siegl, and Gordon Bowker on 30th March 1971. It is a multinational brand headquartered in Seattle, Washington. Starbucks has its stores in 83 countries around the world. It is popularly known for its varieties of coffee and smoothies. They also served tea, baked goods, and sandwiches.
What is the training at Starbucks?
You will be trained at Starbucks for a week after joining. You will be assigned a trainer who will have you go through a bunch of modules where you watch a video and answer a couple of questions. Then they will tell you the different positions you will be working in like drive-thru, lobby area or making a coffee, etc. Then they will walk you through the store and give you an overview of where you could find different things. Once you get all your modules done, they will ask you to perform what you learned. 
What are the different work positions available at Starbucks?
1. Barista
A barista works at a bar and makes drinks. It is one of the toughest parts of working at Starbucks. The reason is pretty simple, the amount of drinks Starbucks has is just absolutely insane. It is not just about how huge the menu is but aside from that how many customizations are possible. People often customize their drinks, and sometimes it is really hard to remember their order. The Starbucks app will be a great help for you if you're new to work and want to learn what goes into a particular drink (number of pumps of syrup, what kind of milk goes in it, etc.) For the majority of the part, once you learn the basics of your main drinks, it's not going to be that hard.
2. Drive-thru
This will depend on whether your store has a drive-thru or not obviously. 
Taking orders:
Taking orders in cafes and drive-thru can be stressful at first, but it is not that bad once you are familiar with it. You are going to have a screen in front of you with a million buttons on it, yes I know I am exaggerating. You have to learn where every single thing is on the screen. You can get it right away or it will take you a while, but that is okay because there are so many options. Just be patient with yourself.
At window:
If you're in the window at the drive-thru, all you have to do is hand out the drinks and food. Make sure that you're handing out the right drink, interacting with the customers.
3. Customer support position
So basically, you are going to be a person that gets everything that everybody needs. You are going to be like a backbone, you will be washing dishes, brewing coffee, cleaning the cafe, handing orders, calling out names, and things like that.
What are the perks of working at Starbucks?
1. The job is easy to get: 
To work at Starbucks, you do not need any prior experience or any educational qualifications. So for students, it is the best option to make money since it is easy to get hired. 
2. Free food and drinks:
You are allowed one free drink on each of your breaks and also before and after the shifts. For example, if you're doing an eight-hour, shift you'll get one drink before the shift, one drink after the shift, and three drinks during the breaks. That's a total of five drinks for free, isn't that cool? If you are doing closing shifts and a lot of food is marked out, you are allowed to take that home. So you can save up your money on coffee at least. And also, you get a free bag of coffee each week.
3. Starbucks is a very well known brand:
You can get a job at other cafes easily if you have Starbucks on your CV. They recognize that and assume that you are good at making coffee and stuff.
4. Starbucks is a global store:
They have many stores around the world and that's the reason the job availability at Starbucks is high. So you can transfer to a different city or even a different country and continue working at Starbucks. 
5. Starbucks offers health insurance:
It is nice for a minimum wage job to offer health insurance. 
6. Starbucks provides scholarships:
They have a whole program where they offer scholarships. You will get to know more about it once you are, hired. 
7. You will get so discount coupons for random places:
Yes, if you're an employee at Starbucks, you will get loads of gift cards for almost everything from hotels to shoe brands. For example, you will get 30% at Skechers you will get a free Spotify premium.
8. You get tips:
Yes, one best thing about working at Starbucks is you get tips along with your wage every week depending on the number of hours you work. 
What are the downsides of working at Starbucks?
1. Long working hours:
If you are doing full time, you will have to work early morning or late nights. You will have to sacrifice your weekends. Also, during the Christmas season, it gets extremely busy.
2. Low pay:
The minimum wage for working at Starbucks is $15 for an hour. This can be enough for a teenager but, if you're old and want to save money for a car or an apartment, this will not help you.
3. It is very tiring:
You are on your feet all day long and you are doing the same movements every day for hours. So you can get strains from your wrists and hands. 
4. Annoying customers:
So most of the customers are nice, but some are just so rude for literally no reason. They say bad things sometimes, which can ruin your day. 
5. You are not allowed to get your nails done:
This one might be so annoying for some girls but according to their guidelines, you are not allowed to have paint on your nails because it can get into the drinks or food.
6. You are not allowed to wear rings:
Yes, that means you are not allowed to wear wedding rings. You can only wear silicone rings which can be ridiculous to some of you. The reason for this is that it harbors bacteria.
Some tips for people who want to work at Starbucks:
1. Check what kind of customers come to that Starbucks
Before applying to the Starbucks you want to work at as a barista, I recommend you to look at what kind of customers come in that store. For example, if you're working in a small town, you get the same customers frequently and it is easy for you to vibe with them and build that friendly relation. But if you work in downtown LA, you will get a lot of tourists daily.
2. Make sure you have a lot of patience 
This one is for various reasons. One reason is that some people are really, slow and if the line is out the door, you may lose your patience and yell at them, "Come on man, don't you see the line!" Another reason is that some people are rude for no reason. 
3. Remember regular drinks
People will love when you know their drinks. 
4. Expect early mornings
This one is a bit of great advice that if you don't like mornings, please stay away from the morning shifts because, needless to say, that you will get loads of customers in the morning. Since Starbucks is a coffee shop, the peak time of the customers is considered to be mornings.
5. Be super nice at the interview
The hiring manager will test your behavior towards people by asking different questions. And the most important thing that matters for the job is your personality, how you interact and handle the customers because they look forward to excellent customer service.
6. Give your best at the Starbucks trial shift
Make sure you are smiley, friendly, and enthusiastic to learn. At a Starbucks trial shift, they will be not expecting you to know absolutely everything, but make sure you come across the characteristics Starbucks requires and make a good impression.
Conclusion
I would say that if you are thinking about working at Starbucks, go for it. At first, it's going to be tough, but you just got to hang in there. And then, over time, you will start enjoying it, trust me. Because of the work environment, you will learn a lot about interacting with people from working at Starbucks. And hopefully, you will make lots of friends!
Working at Starbucks- What is Starbucks?