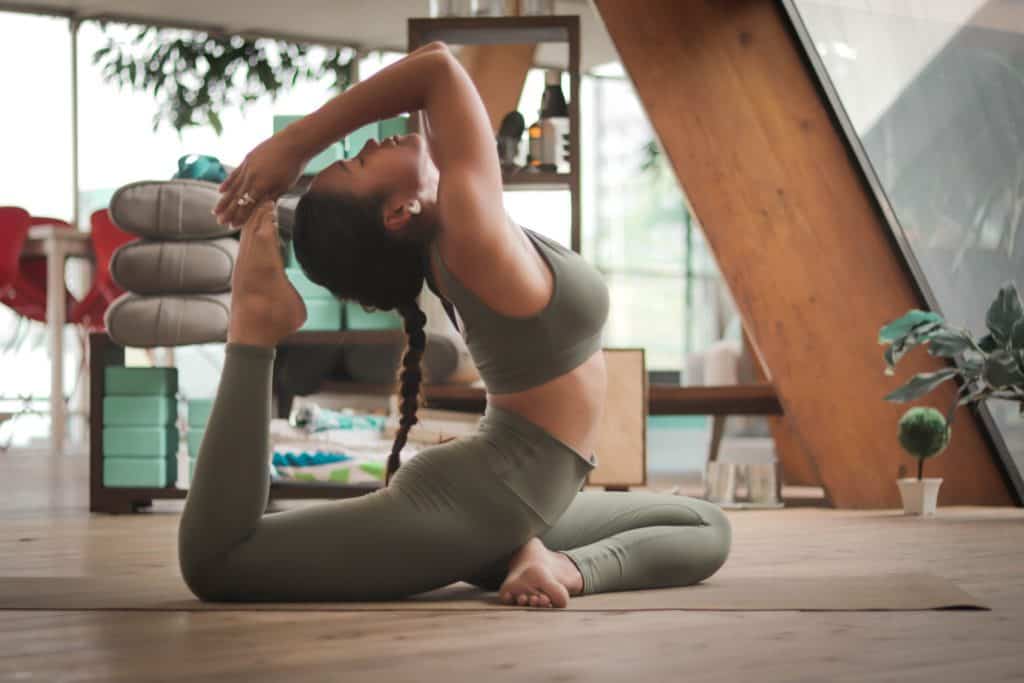 Introduction
Lululemon Athletica was founded in Vancouver, Canada, in 1998 by Chip Wilson. It is a well-established athletic apparel company that is in constant pursuit of betterment. It has its focus on individual well-being as well as the all-encompassing nature that a human inhabits. It deals mainly in workout clothing, equipment, especially yoga, and running, and training. The journey of Lululemon is inspiring because it started as a design studio during the day and a yoga studio by night. But now, it is a company known for its quality and sustainable practices and an intelligent marketing strategy. It has diversified its business into cycling clothes, training apparel, yoga mats, and yoga training sessions. Lululemon has expanded into over 491 stores internationally and continues to grow further. 
Importance of Yoga and Good Yoga Clothes 
While yoga and other exercises are beneficial for the mind and the body, good workout clothes are equally important. Be it yoga pants, shirts, jackets, good material, and great fit becomes necessary. Lululemon aims at providing sweat-free clothing which can enhance the workout experience. They also have a developmental lab called 'Whitespace,' which provides a space for experimentation to polish the quality of the fabric.  
Mission Statement and Analysis
The Mission Statement of Lululemon can be summed up in a line taken from their website:
"To elevate the world from mediocrity to greatness." 
This exhibits their motto of bringing in comfortable yet stylish clothing, which will inspire people to work out. In a mediocre world, where there is only focus on work and struggle, Lululemon comes up with an agenda to motivate people and provide them with a seamless working experience. When there is a balance between the mind and body, only a society can achieve new heights. Good quality clothing material and make people look forward to exercising even during their monotonous lives. With so much natural degradation, sustainable practices inculcated by this company make people and workers more sensitive towards the environment, thus leading civilization towards greatness. There is also a Lululemon Manifesto on their website, which has a series of inspirational lines which help people achieve their goals. 
Vision Statement and Analysis
"Our purpose is to elevate the world by realizing the full potential within every one of us."
Full potential can only be achieved when we look within our individual selves and also beyond them. Lululemon strives to create harmony between the individual and the universal. This could only be achieved by the making of a community hub of like-minded people who can inspire each other and also the rest of the population. The community can lead to people interacting with each other to create new ideas and discuss aspects of healthy living. This community and transcend even geographical boundaries by uniting all the fitness enthusiasts. More than a brand, Lulumelon is an example of a lifestyle. And people can bind to this lifestyle under the banner of Lululemon. Lululemon also provides people with resources, like training sessions, online workshops even during the pandemic, sports accessories, instructors so that people can have the means to achieve their full potential. 
Impact Agenda 2030
Lulumelon looks forward to a better lifestyle brand than it already is by synchronizing all three aspects of quality life – Be human. Be Well. Be Planet. 
Be Human

This aims to achieve inclusive growth of customers as well as workers and also provide a fertile ground for their development. 
It includes inclusivity and diversity in the communities they serve. They have incorporated sizes 0 to 20 in top women's styles. This will increase representation without compromising on quality. 
They also aim to achieve equality and gender pay equity by 2022. 
They want to create individuals who have leadership qualities and opportunities for the same. 
They are also looking forward to creating a safe and secure work environment for their workers. 

Be Well

This looks forward to creating a world of fitness and mental stability and overall well-being. 
It aims to provide wellbeing tools like mental health counseling, workshops to the communities by 2025. 
It is also striving to establish a center of excellence for social impact. 

Be Planet- Sustainable

Lululemon wants to create and sustain innovative practices to protect the environment. 
They also want to take steps against climate change and propagate renewable energy. 
Use of less water and decrease the waste. 
Reduce carbon emissions. 
Reduce Freshwater use. 
Core Values and Value Analysis
There are certain values that Lululemon abides by and wants the communities to practice the same. They are:
Personal Responsibility. Everyone should own up to their actions and decisions. They should be able to make their own choices and be responsible about it. They shouldn't play blame games and rather use a rationalistic approach. 
Entrepreneurship. Having Leadership skills is important. One should be aware of how to adapt and overcome certain situations. They should constantly innovate to improve. People should be aware of their strengths and weakness and also aid people in recognizing theirs. They should also be able to accommodate different perspectives. And they should be able to create new opportunities for growth. Lululemon has constantly demonstrated leadership skills which made the brand successful. 
Honesty. One should be sincere and transparent in dealing with important things. Being transparent removes doubts and questions and help in improvement. Owning up to our mistakes, taking criticism positively paves a path for development. A brand can only grow if it is honest with the customers. The trust and loyalty of consumers in this brand is proof of its transparent nature and impeccable quality, 
Courage. One should have the courage to pursue new things, to innovate, to experiment. We should not become complacent. The courage of Lululemon to innovate and diversify led them to achieve new heights. 
Connection. To be able to thrive, we need support and a community. Building trust in relationships, teaming up to brainstorm ideas, to taking the needs of everyone into consideration goes a long way in building a brand. 
Fun. Everything that we do should have an element of fun in it. Workouts would be boring if there are not certain fun elements in them. The color of clothes, the workshops, the yoga sessions, the community life, the connection all add up the fun in life. 
Using all these core values, Lululemon created a brand and a lifestyle observed by many. They wish to enhance people's lives with these same core values. 
New Lines Launched by Lululemon for sustainability 2021
'Earth Dye' – This collection is made with lower-impact dyes that are upcycled from wastes of oranges, beets, etc. They are sourced from agricultural industries. These dyes require less water and chemicals thereby reducing environmental degradation. Each print is unique since the result of the tie and dye are different each time. 
'Like New' – Products are made to last long reducing wastage. Innovation of new ideas and better materials that include renewing and recycling.
Lululemon is also a part of Mylo Consortium, a group of global companies looking forward to contributing their bit for sustainable environment and Planet Earth. 
Marketing Strategy of Lululemon
Lululemon has gone beyond merely providing athletic apparel; they have also included expanded lifestyle changes accompanying the apparel they sell. The customers come to Lululemon to buy products and look for lifestyle changes that will be with them even after the product gets expired. This ability to touch the overall needs of customers has helped the company to thrive amidst several brands. The company believes in word-of-mouth advertising. The salesforce gives personalized suggestions and recommendations to customers, which enhances their trust in the brand. The company mixes work with pleasure and leisure that appeal to the customers. They keep innovating new products and designs and focus on building a community that makes them popular. The community is called 'Luluheads,' which gives them an identity. The people of the community are there for each other, even in real life. Their brand ambassadors are also fitness enthusiasts, which makes them reliable influencers. 
Following are some commonly asked questions regarding Lululemon which will help the readers know the company better. 
Does Lululemon have representation internationally? It has a total of  491 stores internationally located in several countries. In 2013, the company was included for the third consecutive year on Fortune's Fastest-Growing Companies list.
How did Lululemon adjust to the COVID-19 Pandemic? It acquired Mirror, which is a fitness startup that sells cameras and interactive mirrors for home workouts. As many people are confined to their homes, this has made it possible for people to continue working out even in the comforts of their homes. It has also started meditation classes to help people reduce mental anxiety during such times. 
Why is Lululemon expensive? Lululemon is expensive pertaining to the high cost of manufacturing the products. The products are tested many times to testify the high quality that the brand promises. 
Is Lululemon's work culture diverse? Yes, the work culture is diverse of Lululemon. They have welfare schemes for each employee. There is also a feedback system where the comments of people are taken seriously to make the company more inclusive. It aims to improve upon the workforce rather than just sidelining the criticism. For people who find Lululemon expensive, the company has teamed up with nonprofit organizations to impart yoga and meditation lessons for the well-being of all people. 
Is Lululemon incorporating the boon of technology in its work? Lululemon introduced a wireless fitness tracker called 'Luup' to incorporate fitness technology into the community. 'Luup' helps in monitoring heart rate, steps, calories burnt- all through a Bluetooth connection. 
Is Lululemon responsive to customers? Yes, they are very responsive to customers who enhance their customer loyalty and satisfaction. Certified trainers are also given discounts on their purchases to promote the fitness culture. The company is also quick to react to problems and offer solutions. 
What is the structural organization of Lululemon? Lululemon believes in categorizing employees based on their specialization. The grouping according to common skill sets makes it efficient to work. There are separate groups for strategy, marketing, research, etc which enables it to run smoothly. 
What makes Lululemon products stand out? The style of the apparel distinguishes it from the lot. While offering comfort, the apparel is up to the trend too. This attracts the customers. The mesh and designs are innovatively placed so that there is a smooth passage for air which makes the product breathable. At the same time, the mesh makes the product look fancy and chic. 
What type of customers is mainly targeted by Lululemon? People who are passionate about fitness or about to start their fitness journeys are mainly targeted by Lululemon. People within the age group of 18-35 are included as main target market because of their fitness enthusiasm and desire for change. 
CONCLUSION
Lululemon is an example of a brand achieving success and popularity through its quality and vision. It has an impressive marketing strategy to appeal to the masses. The comfortability, as well as the functional quality of the products, pleases the customers. It has gone beyond the regular products to include accessories and other tools to aid the customers. It has also diversified its business from only yoga to all other sports and workouts, which has made customers show trust in this brand. The vision of Lululemon does not limit itself to the customers for profit but also to the workers and environment from where it takes the raw materials from. The vision is not for the present but also the long run. With many brands depleting natural resources, this brand indeed stands out. It focuses on sustainable practices, which is the need of the hour.  The brand also incorporates diversity which helps it make people feel at home without the fear of discrimination. 
Lululemon Athletica and Lululemon Vision, Mission Statement, and Values Analysis