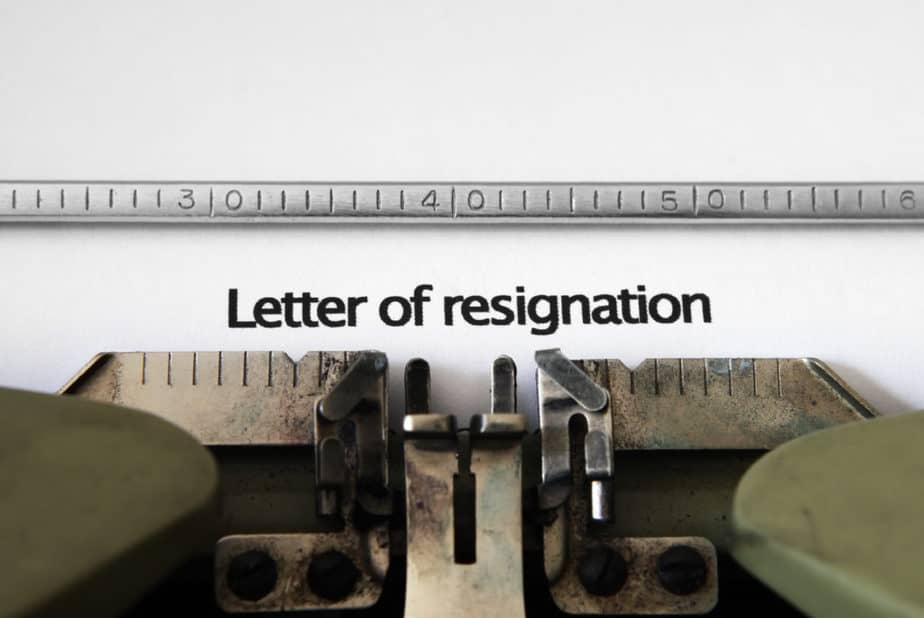 Whenever we find any new job or gig regarding our preference or tastes, after long and time-consuming interviews plus the selection process we get an offer letter that approves us to work with the particular company or brand with the contract. The contract binds to work for the particular company for several months or annually according to the duration mentioned for any individuals according to their preferences. So, similarly, a notice period is to be sent by the employee or the worker in the company if one wishes to quit the job before leaving that has certain terms and conditions with a reason to leave the job. The resignation letter depicts that the candidate or the person employed is no more working or part of the team for the job. Here is the Effective Immediately Resignation Sample Letter.
 In a resignation letter, you notify your workplace supervisor in writing that you will be resigning from your position. Your employer may ask that you submit a resignation letter in writing to maintain proper records of your work history. Minimum one week in advance before your last day, it's polite to give your employer a resignation notice. Due to exceptional factors, such as an unexpected move, individuals may be required to give a resignation statement in a brief span of time. The greatest way to leave a job is to tell your employer or boss why you're quitting with a reason that seems genuine. No explanations leave employees and managers guessing about the reason for your leave, which might lead to miscommunications and trouble in further communications in near future.  If you're willing to explain your reasons, it might help you retain close working contact and smoothness with your old company. 
REASONS TO RESIGN 
There are sometimes personal reasons to quit and it's quite natural that humans might change the decision of not working with the company further due to a few reasons. Your workplace supervisor or boss will appreciate knowing that you're not resigning because of them. A courteous explanation of your dissatisfaction may assist your company makes adjustments that will benefit not only you but also your previous coworkers. Start by stating the job you're resigning from as well as the date it will occur immediately, which doesn't need any dramatizing. While it's preferable to give at least two weeks' notification before departing from a position, this isn't always achievable. There are various good reasons to leave a profession without proper notice. These are some of them:
1) Personal problems: Personal crises can be a reason for someone not to continue their job as they might not be in their best mindset to continue the work over there. Losing someone close to their heart, drug abuse, paralysis attack, physical health, mental trauma, etc can be the reasons for losing such an employee from a company. 
2) Inadequate remuneration and a lack of communication: Fair remuneration is a critical component of lowering turnover. However, it's also critical to be upfront about compensation increases and to provide an explanation if a raise is denied. Employees will feel respected by their employer if they are given clear communication and clarity about compensation. They might not leave if they are provided with proper means.
3) Health crisis: Sometimes health issues, either short-term or long-term, can physically challenge the employee to continue their work and at that very moment, they might become a liability for the company as they cannot be as efficient as they were a few weeks ago. If the firm does not show its support to such employees, they might think of resignation with immediate effect.
4) Mental Health Reasons: Working for a firm that does not provide you a proper working environment can mentally torture an employee and make them leave with immediate effect. Other than that, if they are suffering from a long-term mental issue that can be a threat to the firm can make them take such bold actions.
5) Unethical or dangerous work: Being too much connected to a firm can make the owner of the company think only of the progress of the company. In the greed to earn more money and grow bigger, owners can make their employees do things that are either illegal, too dangerous to perform, or are unethical for the person. In either of the cases, the employee might not feel able to continue performing in such a dangerous environment and can lead to resignation with immediate effect. 
6) Without verbal coordination, management changes, and reorganizations: Businesses that fail to anticipate and manage organizational changes correctly potentially lose important staff. Mentoring people most affected by the change is an important part of change management since it helps to maintain morale and guarantee a smooth transition. Even if you don't know all the details, the more details you can supply, the merrier!
FOR IMMEDIATE RESIGNATION 
It is resigning immediately without prior notice in the workplace. The urge to resign from a job all without prior notification is not supposed to be without justification. A resignation letter should be brief and to the point. However, if you want to explain yourself more fully in conversation, you will benefit from a thorough understanding of the reasons for quitting.
FORMAT OF WRITING A RESIGNATION LETTER
A resignation is not any simple letter like other informal or creative letters but it is a formal letter that has certain typing criteria that look formal and legit.
Vertical structure of the body
The date on the present day
Address line 
Statement of resignation
Last day and date of work
Gratitude statements 
Next further future steps 
Thank you note 
Closing with a personal name and signature 
THINGS TO INCLUDE IN YOUR IMMEDIATE RESIGNATION LETTER
It's critical to submit a formal resignation letter so that you, your boss, and the human resources department may all have a documented record of your conversation. When preparing an immediate resignation letter, keep the following points in mind:
1) Write the date first: the date you will write in the letter should be the date you have planned for leaving the firm. As you are leaving with immediate effects, the date should be the day of your commencement. 
2) State proper reasons for your resignation: as you are going to leave the firm on such short notice, it becomes prominent that you give adequate details about your actions and be clear about the goals. In ideal conditions, the immediate resignations are sanctioned only when the circumstances are genuine and compelled. Maintaining minimalism is also a good strategy to show your boss that you value their time.
 3) Maintain professionalism: being professional in your letter is mandatory regardless of the number of years you have worked for the company or the reason for your departure. Also, try serving your two weeks' notice period as you don't want your relations to get spoiled whatsoever be the reason. Also, add your contact number and email to the letter so that they can contact you or deliver you your last salary.
4) Being thankful: it is always a good gesture even for the employer if you show gratitude towards them and thank them as you have served them for a significant part of your life. If the serving period was not quite positive in the company then list down that one or two happy moments on the letter. 
5) Re-check: the resignation letter might be the last thing you are going to give to your firm, so the quality of the letter might put the last impression on your fellow employees. Re-read the letter and try avoiding grammatical mistakes.
6) Submission: After the completion of the letter, print the copies and put your signature on each copy. Deliver the letter to HR and the boss yourself, in case they want to communicate with you regarding something. Keep a copy of the resignation with yourself for future use. 
THINGS NOT TO INCLUDE IN A RESIGNATION LETTER 
1) Lengthy reasons: giving a long list of reasons for discontinuing your work can show unprofessionalism to your boss. Sticking to the reason and giving minimum reasons will be a good strategy to show your boss that you value their time. Though you can show all the emotions and frustration on the day you meet them in person. 
2) Negative comments: no matter how difficult your job was, no matter how much you faced difficulties while working in that firm, don't write any negative comments about your job. Writing positive comments despite hating the job will gain respect for you in the eyes of your employer even though he already knows what kinds of problems and difficulties you have faced in the company. 
 3) Bitching about your boss: even though you are going to leave the company one day, you don't need to write any negative comments about your boss in the letter. If you change your mind one day and decide to come back, the words you have written in the letter might put you in trouble and cost you the job. The boss might not be there after a certain amount of years but the letter you have written will be kept there for years as they maintain records. You don't want your new boss holding that paper on the very first day. 
4) Future Plans: Listing down your plans might not be a good idea as your current boss does not care about it and certainly not about your future company, your new salary, and the new amenities you are about to get. These are unnecessary details that are increasing the length of your letter and can be a waste of time for your employer. It should be precise and must also include the last day of your service. 
5) Emotional statements: Even though you have a good work experience with your boss and your colleagues, being too emotional in the letter can make you look too unprofessional and unethical. Having a face-to-face conversation with them can make things look good and make things look better in the end days at your workplace.
6) Inappropriate language: That means no insults or vulgarity of any kind. A resignation letter must not contain any material that would be considered unsuitable for a working chat. It may sound apparent, but you'd be amazed at the words people use when they're upset. Finally, keep in mind that your statement will be saved in your personnel records. So that potential employers can read it. Don't put yourself in jeopardy by having an objectionable paper on your record.
7) Errors: an error-filled letter can create a negative impression in the latter part of your career at a particular workplace. A short and profound letter with a point to point statements leaves very little chance of errors and mistakes. 
SAMPLE RESIGNATION LETTER 1
Ross Taylor,
420, Macaulay Street, 
Princeton, New Jersey, 56001
July 29, 2021
Carol Danvers, 
Manager, 
Ministry sound Tech, 
233 Senator Avenue,
Princeton, New Jersey, 56001
Dear Ms. Danvers, 
Please accept this letter as formal of my immediate resignation from Ministry Sound Tech's job as Events Technician, effective July 30, 2021. Unfortunately, I will not be able to function or come into the workplace after that period.
Volunteering for the Ministry has allowed us to begin a profession as a sound technician, for which I am eternally thankful. I can't think of a company that could have done a much better job with the coaching. All of my colleagues, in both the field and in the administration, have always impressed me with their professionalism. I aspire to continue my career in this manner, and I appreciate all of the things you have taught me.
It would also be deeply appreciated if you can somehow provide my job record as well as any outstanding payments to my home address by September 1st.
Collaborating with you and the remainder of the Ministry Sound team will be missed. Please do not hesitate to contact me if you have any queries or have to talk with me for any reason.
Thank you for your valuable time and for reading this letter.
Sincerely,
Ross Taylor
(555) 555 – 5555
SAMPLE RESIGNATION LETTER 2
Steve Rogers, 
432, Laurence Street, 
New York 54321
July 29, 2021
Tony Stark,
Chief Executive Officer, 
Stark Industries,
233, Business Road, 
New York, 54321
Dear Mr. Stark,
I apologize to notify you that, due to some personal reasons, I am quitting my position as business manager. Tomorrow will be my last day of work here. I recognize that it will be difficult for either of us, though I am happy to assist you with the process of transition.
I can't praise you enough for all the changes you've given me through this firm. Working here for the past seven years has been really beneficial for my self-improvement. I'll never forget the friends and coworkers I've met here. I shall greatly miss both the customers and employees.
Please let us know whether there is anything I can really do to make this transfer simpler. I apologize for bothering you with the announcement, and I hope you will accept my heartfelt apology for making July 30th my last day at this organization. If it is essential For the week following my departure from this organization, I will also be accessible for cell phone and email questions from home on a short-term basis.
Thank you very much for your patience in this situation. During my time here, I have always enjoyed my job and have many fond recollections.
Sincerely,
Steve Rogers 
455 (234) – 4443
SAMPLE RESIGNATION LETTER 3
Mr. Jeremy Renner,
1514, Greater Medallion Road,
Anchorage, A K, 99523.
July 29th, 2021
Mrs. Scarlett Johansson
Owner and Manager, 
The Blue Ridge Survey Company,
12 park street,
Anchorage, A K, 99523
Dear Mrs. Johansson,
I am writing to inform you that, with heavy hearts, I am offering you a letter of my resignation, which will take effect immediately. Due to personal reasons, I am quitting my post as a professional accountant in your company. I sincerely apologize for not being able to provide you with further notice, and I respectfully request that you accept my resignation as Accountant and Co-Manager on this day, July 30th, 2021.
But I am still aware that this is a violation of my contract of employment, I respectfully request that you overlook this provision due to some personal situations. Please rest assured that almost all files and information are accurate and up to date. I feel convinced that anybody you recruit to substitute me will indeed be able to pick it up where I left off with little trouble.
I heartily thank you for all that you do to make the Blue Ridge such a wonderful place to live and work. I will remember you and the rest of the company forever. Working for you for the past four years seems to have been a thrilling experience. I am sorry I will not be able to depart on reasonable terms.
I'm hoping we will be able to keep in the connection. Anyone could contact me either by email or phone at my personal number.
Thanks, Sincerely,
Jeremy Renner.
555 (555) – 5555
SAMPLE RESIGNATION LETTER 4
Zayn J Malik,
123, the Blue Bird Lane, 
Columbus, OH, 43226
July 29th, 2021
Harry E. Styles, 
Manager, HR,
One direction Company, 
123, the Red Rock Road, 
Columbus, OH, 43226
Dear Mr. Styles,
I am bringing you this letter to let you know that I will be leaving One Direction in the coming days. Please consider this letter as my withdrawal notification for two weeks. My retirement is effective as of August 13, 2021, and I will no longer serve as an assistant in your company. I have always cherished my years at One Direction and therefore I will miss all of my comrades and the work atmosphere, but I am confident that taking this next move will assist me to get closer to my ultimate career aspirations. I appreciate all of our collaborative work over the last five years.
I've already spent some time sharing my plans with the rest of the crew. Mr. Liam Payne will be handling my final assignment, and I am certain that he will complete it with competence and efficiency. Please let us know whether there is anything I could do to make the learning process easier on the crew.
I will appreciate you and the rest of the squad here in one direction a lot, although I am very excited as to what the future will bring ahead for me. If someone needs to reach me with issues or queries, please use my cell phone number and email address. I will answer you back as quickly as I can. I really appreciate your patience and assistance in this subject and thank you from the bottom of my heart.
Yours sincerely,
Zayn Malik
555 (555) – 5555
Everybody's job includes departing at some point, and you may experience it multiple times throughout your profession. When drafting a resignation letter, the golden guideline is to remain professional. Remember that what you write and how you act throughout the interview process can have an impact on your career prospects in the future. Check out these sample resignation letter templates if you need to compose a nice letter which is listed above. They will assist you in writing a proper letter that safeguards your identity and reputation as you go on in your profession.
Few tips for the immediate resignation letter:
Before sending the resignation letter for immediate leave, it must have all detailed information and a legit one to make it look pretty professional considering the formal workplace.
Quit your job with inner dignity 
Avoid burning bridges and be positive in maintaining relations with former workplace staff.
Maintain minimum awkwardness 
End the note with good self-impression 
Walk-in and out with a smile and normal gestures
In the end, use the opportunity of resignation to develop and prosper in life.
Effective Immediately Resignation Sample Letter- Examples