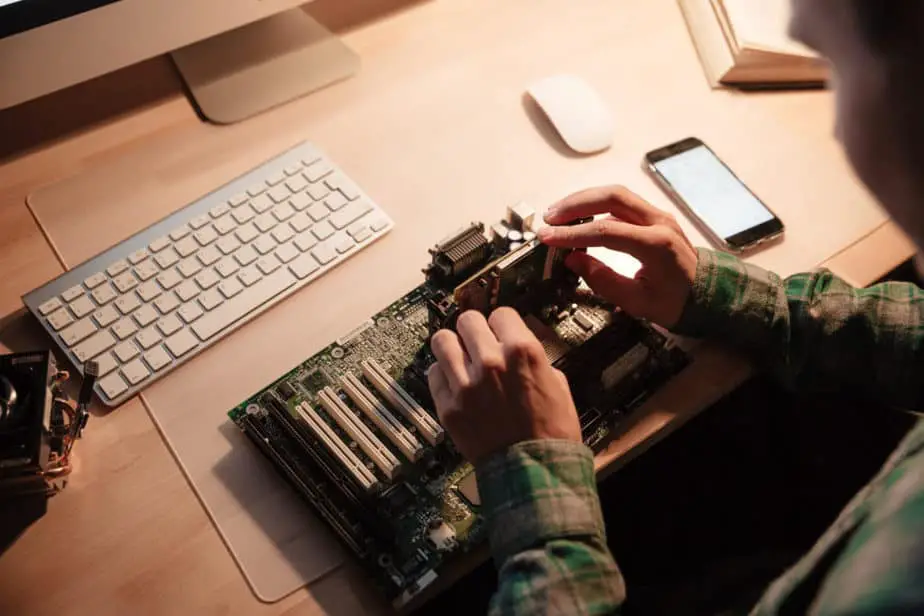 If you have a passion for developing new technical systems to make human lives much easier while also having a strong command of maths and science, you can opt to become a computer hardware engineer. Here is the writing guide for Computer Hardware Engineers Experience Certificates.
To become a computer hardware engineer, one must focus on their education, striving towards getting good GPAs in their higher education while also applying for specialized courses to attain a top position in this field. We will delve more into details below about the job description, qualifications, and salary one might receive if one decides to pursue this career.
Who is a Computer Hardware Engineer?
A computer hardware engineer is an individual who conducts the appropriate research needed to design and develop new computer systems and their variants, like routers, memory devices, circuit boards, and so on. These individuals identify the need for a new type of product that works well with the current software, thus often working near software developers. Their main duty is to develop systems and carry out the required tests on them to meet the guidelines specified in the company's policy. Due to the requirement for a high level of systematic and evaluative skills, the job of a computer hardware engineer is tough. However, the benefits and the income make up for the hard work.
What are the duties of a Computer Hardware Engineer?
A Computer Hardware Engineer is held accountable for a variety of duties. Some of them are:
They are required to create and design new products in the digital world.
They are required to keep maintenance on all the electrical boards and their components, circuits, and so on.
They are required to create new product designs that are production friendly while also paying attention to quality and the company's standards.
They are required to manage all the technological systems in the firm and also ensure the proper deployment of new ones.
Analyze the test results to make appropriate changes accordingly.
Work in close coordination with the product development department to perform the various Design for Testability examinations.
Complete all the tasks within the time frame provided to ensure the smooth functioning of the firm.
They are required to prepare the needed reportage to present it to the higher management for approval of any new development.
What are the qualifications required?
To become a successful Computer Hardware Engineer, one must dedicate a good amount of time to educational edification. The candidate must have the following boxes checked:
Obtain a Bachelor's Degree: Job-seekers are required to complete a four-year course in the fields of electrical engineering, computer engineering, or any other related course with an adequate GPA.
Get graduated from an accredited program: Companies look for individuals who completed their education through engineering programs that were fully certified and held adequate value to be held as legible.
Go for a Master's Degree: Candidates looking for specialized jobs should first opt for a Master's degree in computer engineering or maybe even business administration, in order to get preferred and selected by high-end companies in top positions.
Along with the above academic qualifications, an individual must also focus on developing the following skills:
Problem-Solving: Candidates are required to provide practical solutions to difficult computer hardware problems and also plan a method to implement them efficiently.
Critical Thinking:  Job-seekers are required to inculcate the habit of using logical reasoning in order to identify, examine and propose alternatives to various hardware issues.
Communication: Individuals are required to develop adequate speaking skills in order to facilitate proper communication with their teams and other departments for the efficient functioning of the firm.
Analytical Advancement: Candidates should be aware of the usage and analysis of appropriate computer programs in order to design the relevant designs.
A good employee needs to inculcate several disciplinary habits. However, the above-mentioned skills are a mandatory requirement for one to pursue and get employment in the career of a computer hardware engineer.
Salary
According to indeed.com, the average salary of a Computer Hardware Engineer is about 103,107 American dollars annually in the year 2021. The average base salary range for this type of field is about 7,300 American dollars per month, which includes many additional benefits like referral programs, relocation assistance, and so on. Presently, in the United States, Cupertino in California is the highest paying state in the nation at an average of 170,415 American dollars, whereas Nihon Housing Company pays the highest salaries to their computer hardware engineers at about 172,353 American dollars annually. Statically, more than 50% of American Computer Hardware Engineers are satisfied with their pay. Please take note that the level of income differs according to the expertise, skills, and qualifications of a prospective individual and the state he applies in.
Computer Hardware Engineers' Experience Certificates
To whomsoever concerned,
This certificate is regarding the employment of XXXX (employee's name) who was part of our organization (company's name) at the position of a Computer Hardware Engineer from XXXX (date of joining) till XXXX (date of leaving).
During the tenure, the employee carried out all his responsibilities with utmost dedication and sincerity. He/she/they performed their duty with the best of their abilities, maintaining the workspace ethics. His/her leadership skills were commendable and highly valued at our firm. According to our observations, he/she/they performed all their tasks efficiently, thereby meeting our organizational goals and policies.
We thank XXXX (employee's name) for their generous contribution and wish him/her all the best for their future career prospects.
XXXX (Employer's name)
XXXX (Employer's title)
XXXX (Organisation's stamp)
Conclusion
Computer hardware engineering is a challenging career field that requires you to sacrifice a good amount of time and effort for effective results. However, no job in this world comes off as an easy task. Individuals must understand that through perseverance, anything can be achieved. So, if you are in the position to balance academics while also developing the required overall interpersonal skills, you can become a successful computer hardware engineer, earning enough to earn a comfortable living.
Computer Hardware Engineers Experience Certificates- Sample