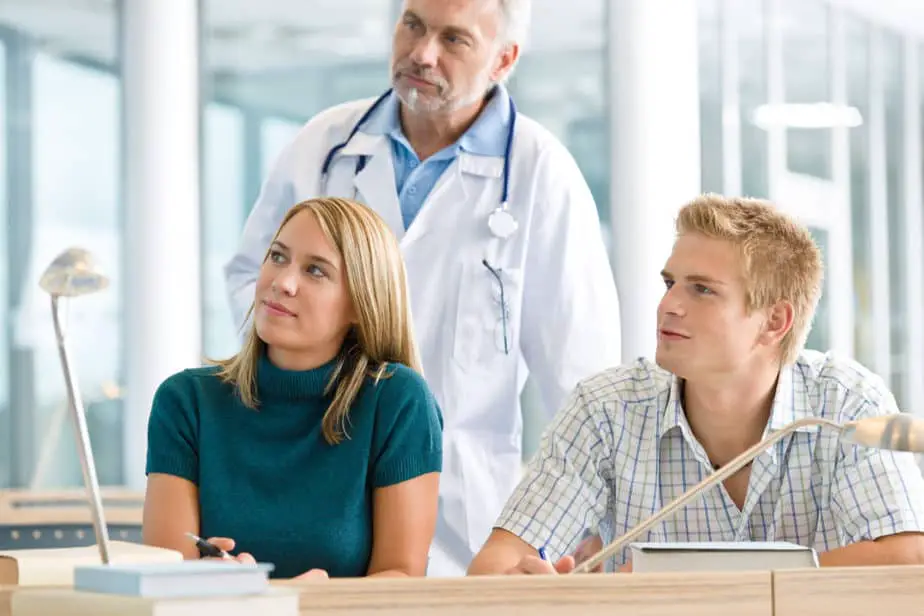 The debate between the roles of a Nurse Practitioner and a Nurse Educator is still going on in many areas of the world. Because many individuals are unfamiliar with the phrase Nurse Educator, the number of nurse educators in the United States remains at 22,693, while the population of nurse practitioners in the United States exceeds 3,25,000, according to sources.
The qualifying criteria for becoming a nurse educator begin with being a registered nurse (RN) with a valid license and many years of experience in the profession. Then, enroll in a nurse educator program, do your clinical, and graduate. Finally, the CNE certification test must be passed. Following/during which, the candidate must go through an interview procedure in order to be chosen. Will you be taught how to prepare for questions and how to answer them in a concise and concise manner?
An interview is essentially a formalized question-and-answer session with an employee/student/etc. There is a specific protocol that must be followed before/during an interview.
Here are a few pointers to help you ace your nurse educator interview
1. Practice! This will assist you to avoid stumbling when speaking.
2.Arrive at the site at least 30 minutes before the scheduled time. PLEASE DO NOT BE LATE.
3.On the internet, look for videos of nurse educators answering interview questions.
4. Keep a confident smile on your face and your eyes on the task at hand. Body language is constantly read by interviewers.
5.Always address your interviewer in a specific manner. For instance: Sir/Madame.
6. Do not respond with lengthy or quick responses. Keep your responses brief, succinct, and to the point.
7. Begin reading books. It will help you improve your vocabulary and grammar in the long run.
8. Do not be afraid to pause for a few moments before responding. But keep in mind not to go over the limit.
9. You must sell yourself. Your words are everything that will help you get into school, so make them count.
10.If necessary, provide them with examples of hypothetical circumstances in which you are dealing with an XYZ student in an XYZ situation. This will be the icing on the cake.
(You may refer to these answers for a better understanding, or you may add your own responses that may better justify the question.)
Q1. Tell us a little bit about yourself.
This inquiry essentially asks what brought you to this place. Answer this question by providing your full name, age, place of origin, and a few other personal data, if applicable.
Q2. Why do you want to work as a Nurse Educator?
I've heard excellent things about folks who work in the field, or…
It's something I like doing, or…
I haven't seen many people get into this profession, so… 
I have seen my relatives working in this program, and it piqued my curiosity, etc.
Q3. What are your greatest strengths?
Prepare three or four strengths, one of which should be connected to the nursing sector. For example: "My biggest strengths are critical thinking, flexibility, and high-stress tolerance; and this is why I need to be in your program because I am perfect for your program."
Q4. What are your greatest weaknesses?
Always bring out your flaws. NEVER call yourself a "perfectionist." For instance, "I overthink things." In the past, I suffered from overthinking things, but it is something I have worked on, and it is now something that is truly NOT an issue for me." By doing so, you will transform your negative perspective into a positive one.
Q5. What was the biggest blunder you ever made in your life? What did you take away from it?
In response to such a question, attempt to provide an example of a mistake that occurred in your job. For example, "I screwed up in executing my task one time owing to one stupid error that may lead to my suspension, therefore I contacted my employer to apologies." I was able to confess my error and attempt to correct it as soon as possible."
Q6. What are your most notable accomplishments to date?
Describe your accomplishments in relation to the nursing position. Provide clear instances of how your strategy benefited the patient and/or facility.
Q7. What is your perception of your time commitment to this program?
This is a personal response question, so respond appropriately. For example, "I recognize that this will be my entire life and that this is what I have wanted to accomplish for an 'X length of time," and so on.
Q8. Do you have a backup plan in case you don't get into this program?
This is one of the most crucial questions in the whole series. You might prefer to respond to this question with something like, "Because this is something I know I really want to do, I would definitely take your feedback into consideration and apply next year for the same because this is where I want to be and this is the career path that I know has chosen for me."
Q9. Why did you pick nursing as a specialty?
The key to addressing questions about your nursing profession choice in an interview is to be extremely clear about why you picked it. What factors impacted your decision? How did you investigate your options? Also, explain how your strengths are best exploited in this area and how it corresponds to your own skills.
 Q10. What motivates you to work at our hospital and/or community?
It is advised that you use your background research to back up your answer. Consider factors such as the organization's dedication to healthcare delivery, patient-care advances, the community it serves, and others.
Q11. Do you have any questions for us?
This is a critical time to share your thoughts. So, ask anything that you believe will enhance your chances of being chosen. For example, "What kind of candidates do well in your program?" This sort of inquiry indicates that you want to be successful in that program and that your mind is guiding you in that direction. Allow for an honest, brief, and genuine query.
Q12. What are the most pressing issues confronting the nursing profession today?
This sort of inquiry will need some broad knowledge on your part. Your response may be something like, "Globally, healthcare systems are straining to fulfill the expectations of the communities they serve." The primary issue is the present scarcity of qualified nurses, etc…." Use your interview response to indicate that you have considered this topic and provide some explanations for why there is a shortage.
Nurse educators are teachers who educate about the nursing field to students in community colleges and technical institutions. They work as faculty members at nursing schools and teaching hospitals, where they share their knowledge and abilities with the next generation of nurses to prepare them for effective practice.
There are several forms of nurse education that are provided by diverse nursing faculty members that teach broad courses and specialize in an area of expertise. For instance, pediatric nursing, critical care nursing, n nursing, adult health, nursing informatics, and so on.
A Nurse Educator spends most of their day in an office or a classroom, preparing for classes, giving lectures, counseling students, grading papers, attending faculty meetings, doing administrative work, and staying current on nursing knowledge. Educators who supervise students in clinical settings spend half their time on campus and the other half at a hospital or other health care clinic/faculty.
Q1] What kind of attire should be worn for the interview?
Ans: Wearing anything other than Formals is a no-no. It is recommended that you wear a shirt-pant suit with a jacket on top to complete your professional appearance.
Add-ons (women): hair fastened or at the collar, excellent footwear, avoid wearing jewelry/minimal, avoid wearing cosmetics, no dark lipsticks, trim your nails, ironed clothing, sit straight.
Add-ons (men) — Properly styled hair, comfortable shoes, clean nails, and a straight sitting position.
Q2] Several of the finest nursing schools in the United States?
Ans: 1. Johns Hopkins University.
2. Duke University.
3. University of North Carolina – Chapel Hill.
3. The University of Pennsylvania.
4. Emory University.
Q3] How much does a Nurse Educator make in the United States?
Ans: Salary is determined by your years of experience and how well you have established yourself in your profession. According to statistics, the average income for a nurse educator in the United States is $75,176. Many nurse educators supplement their income by caring for patients.
Q4] What are the prospects for Nursing Educators?
Ans: Nursing educators are expected to have a 19 percent increase in employment demand by 2020, which is equivalent to the rise in demand for registered nurses (RN) and other medical departments, but it is still much greater than the average growth rate of other professions in the United States.
Nurse Educator Interview Questions- With Simple Answers