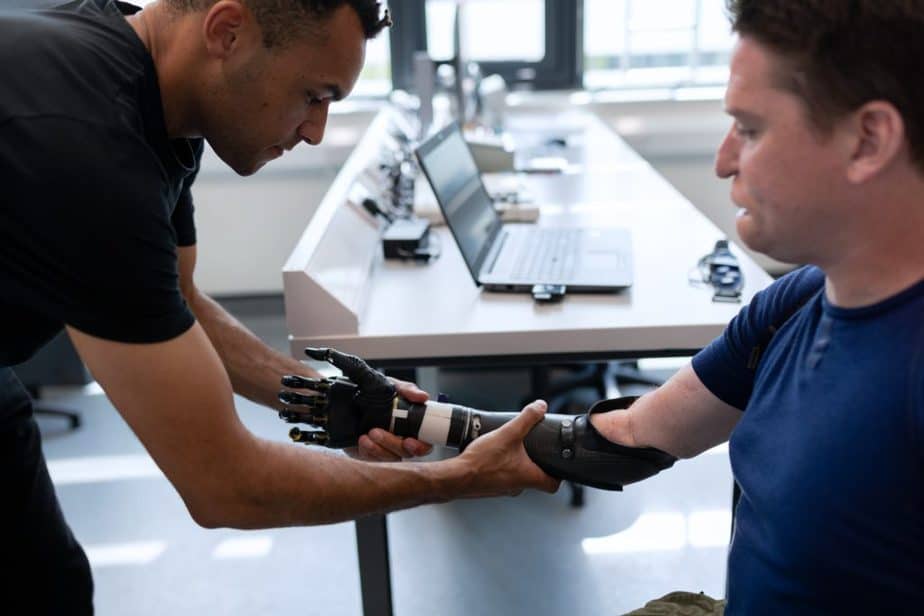 Biomedical engineering is an amalgamation of biological and biomedical sciences with engineering. Biomedical engineering is a field that aims at improving the healthcare system through developing machines, diagnostic kits, and other medical tools with the aid of engineering. Biomedical engineering is a wide interdisciplinary field that has a wide broad spectrum that involves medical imaging, prosthetics, wearable devices, implantable and drug delivery systems. Biomedical engineering combines many subjects and disciplines such as biology, chemistry, mathematics, physics, electrical engineering, and material science. Today's topic- Is biomedical engineering hard?
They work to improve the quality of human life by designing and improving healthcare technology and system. They use their engineering skills to form useful products and are lifesaving for patients. Some of the great biomedical inventions like CT Scan, MRI, X-Ray, PCR, and many more have revolutionized medical history. Biomedical engineers practice various fields and therefore are also involved with computer and information technology to analyze and understand complex protein, nucleic acids, and other biological structures. For instance, the structural analysis of a protein in either laboratory or drug development in industries requires a robust bioinformatics system that works on high programming software. Biomedical engineers assist healthcare professionals and practitioners through engineering techniques and devices, that are even useful for rehabilitating patients. 
Educational requirements and Eligibility
Biomedical engineering is a branch of engineering and the educational degrees for this specialization are the same as any other branch of engineering. Bioengineering has gained popularity in the U.S in the last few years among the students. In this section, we will cover the various programs that are available in the field of bioengineering and the best schools to pursue these courses. The subjects covered during the coursework will also be discussed briefly. 
Typical programs from the biological system include molecular biology, cell, and tissue engineering, qualitative physiology, bioinformatics, genetic engineering, nanotechnology, and other subjects that may vary from university to university. The engineering subjects comprise fluid mechanics, organic chemistry, biomechanics, biosystems and circuits, biomaterials, mathematics, and thermodynamics.  
Bioengineering is a major that covers the STEM field which is structured as an intersection of computing, traditional engineering, physical science, life sciences, mathematics, and biomedical science. It is an ideal choice who wants to study maths and science or have a keen interest in medical research. Students who wish to pursue medical research or innovation also choose this field. Innovation and creativity are the pillars of bioengineering. This module allows students to advance in engineering management along with leadership, writing, communication, and business skills. 
Where to earn a bachelor's degree from?
Bioengineering or biomedical engineering has seen tremendous growth among students in recent years. This field is expected to grow along with the increasing population and need for biomedical engineers. Therefore, a lot of prestigious universities have been enrolling students in bioengineering in their STEM fields. The renowned institutes for biomedical engineering have program diversity and some of the best faculty, research facilities, well-developed types of equipment, and labs, and medical facilities. 
Duke's University: A private research university in Durham, North Carolina offers an undergraduate, graduate, and doctoral degree in biomedical engineering. The university is ranked fourth for undergraduate biomedical engineering program by the U.S News and World Report. The Medical Product Manufacturing News gives a third-ranking to Duke University in highest median starting salary for biomedical engineers i.e. 70k. Beginning with the undergrad program, the first semester at the uni is immersed in hands-on design practices for students, data science, research, entrepreneurship. 
The university also offers an opportunity to the students to modify or customize their degree programs to suit the interests of the students. The students are given the advantage of opting for a double major in biomedical engineering which can be chosen from the list provided by the university. They are also allowed to take an elective course that is more biomedically focused. The university offers great placement and career options to students wishing to go for a job or to a graduate program or opting for medical or dental school.
Georgia Tech: Among the popular choices of students for education, Georgia tech made its place on the top charts. One of the nation's top public universities situated in Atlanta is the best choice for all engineering disciples. The institute offers all levels of degree education in biomedical engineering and also offers it as a minor program in full-time degrees. The program at Georgia offers mathematics, life science, and engineering fundamentals expertise to medical science so that biomedical engineers can take leadership roles. To enroll in Georgia for a bachelor's degree in BME, the student must have an average of 2.0 for BMED coursework and MATHS, PHYS. 
Georgia tech offers a co-op undergrad program of five years combining theoretical and paid practical work experience related to a student's major. They have a specialized direction for international, cooperative, and research plans for BME. More information on this could be accessed from Bachelor of Science in Biomedical Engineering < Georgia Tech (gatech.edu).
John Hopkins University: JHU tops the list by ranking the number one university for biomedical engineering. The university has been known for its biological and health sciences modules offering undergrad to doctoral degrees. The prospective students can expect a diverse research faculty that combines medical and engineering strengths to develop a problem-solving approach. The research areas of BME at JHU include biomedical data science, computational medicine, genomics and systems biology, imaging and medical devices, immunoengineering, neuroengineering, translational cell, and tissue engineering.  The five-year program at JHU aims at developing five design projects over the complete course to highlight the strengths and innovation of students. More details about the course at JHU can be found on their website Home Page – Johns Hopkins Biomedical Engineering (jhu.edu). 
Salaries of a Biomedical Engineer
Engineering is a highly well-paid profession that receives the highest salaries of all other professions and the same is for a biomedical engineer. The graduates from well-known universities such as Duke, MIT, Stanford, Georgia, JHU are offered a starting salary of $70,000-$75,000. PaySacle.com indicates that the average annual salary of a biomedical engineer is around $66,000 which can rise to $110,300 during mid-career. The Bureau of Labor Statistics has stated $88,040 to be the average salary of a bioengineer. The data of BLS also tells that there has more than 21000 employment in 2017.   
How difficult is biomedical engineering?
Biomedical engineering may be a difficult subject to study if you have a weaker interest in maths or biology and are not willing to improve. Every subject needs dedication, time, and effort. If you will not study, yes you will feel that the curriculum is hard. The field combines the knowledge of both medicine and engineering so it is natural to feel that the subject will become complex to understand. Biomedical engineering is a different field from medical and engineering where students are not supposed to mug up on the information and rather explore free mind creativity and thinking.  The designs and systems are aimed at improving the quality of life of humans and serving the medical sciences. A biomedical degree is usually four to five years in duration, however, it may change in different countries and institutes. 
Biomedical engineering is directly linked to human health and is a service to the common people. To be able to become a bioengineer one must have to go through long study hours and rigorous training to gain vital skills. The vital skills of biomedical engineering students are very significant involving, analytical, problem-solving, innovation and communication skills. BME is a wide field that cannot be generalized on the level of its difficulty. The BME degree may require you to study in-depth anatomy and physiology and some basic engineering principles. The engineering subjects would be basic and intermediate in level and you may not need to study upper-class levels. 
The quality which separates BME from other engineering majors is that it is a lot more fun and fascinating subject to learn and study. The challenges of disease and the curiosity of overcoming that disease or disorder through your invention are unmatched. It is a field that will allow you to serve mankind and human health.
Frequently Asked Questions
What kind of subjects are there in biomedical engineering?
Biomedical engineering is a mixture of mathematics, physics, and life sciences. The subjects and modules may vary according to the universities however, some core subjects include physics, material science, computer science, molecular biology, fluid mechanics, mathematics, and, biomechanics.
Is it a good idea to pursue bioengineering?
Biomedical engineering is one of the highest paying salaries, even more than mechanical and electrical engineering. There is an increasing demand for bioengineers which guarantees your employment at the end of your degree. Universities have high placement scores for BME graduates. 
How is biomedical engineering different from biomedical science?
Biomedical science is a combined study of human physiology, pathology, and pharmacology that are aimed at developing pharmaceuticals and therapeutics for various diseases and disorders. Graduates of BMS become doctors, researchers, scientists, and pharmacists. The BME is a technical course oriented towards medical and engineering studies. Bioengineers develop medical devices, prosthetics, and many more. 
Is biomedical engineering hard?- Career Guide