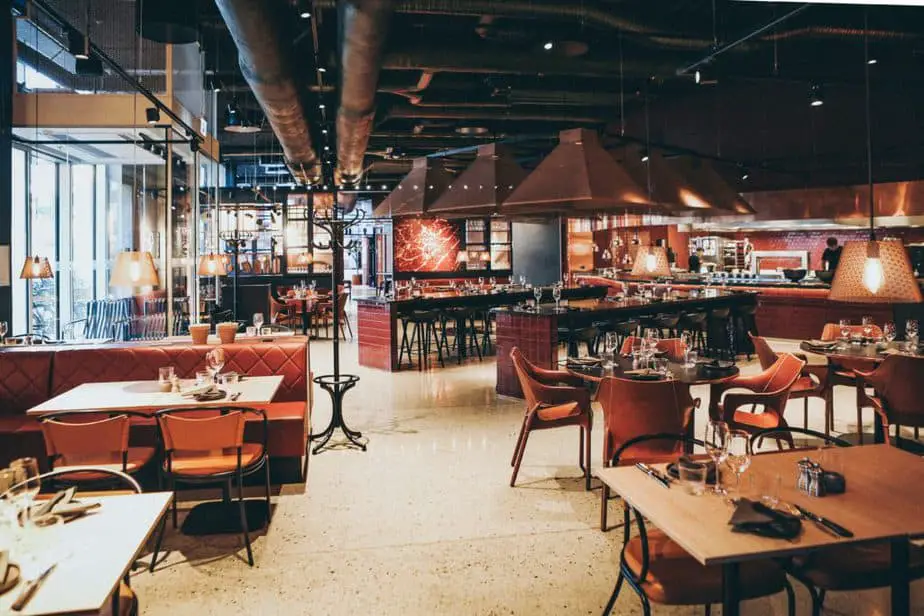 Introduction
Golden Corral is an American-based private restaurant chain. It offers varied food items including grill and buffet. It has headquarters in Raleigh, United States. It has altogether 498 locations with approximately 9,000 employees working in different locations. In this article, we will see the Golden Corral Careers also its Job opportunities and salaries.
The Vision of the Golden Corral Organization
To become a leader in family dining by making dining affordable and ready for every customer at every place and at any time.
Aims and Objectives of the Golden Corral Organization
1] To promote good health, a free enterprise system, high self-integrity, and good citizenship to all the employees and the team members.
2] To take genuine care of the customers/ guests and meet to their satisfaction.
3] To maintain strong work ethics, maintain good standards, and promote good food quality to the guests and customers.
Popular food items sold by the Golden Corral Store
1] Dinner Menu.
– Meatloaf, Fried Chicken, Bourbon Street Chicken, Signature Sirloin Steak, Carving Station, Golden Delicious Shrimp, Carved Bone-in Turkey, Awesome Pot Roast, Featured Pork Entrée, etc.
2] Breakfast Menu.
– Omelets, Sausage, Buttermilk pancakes, Crispy waffles, Cinnamon rolls, French toast, bacon, etc.
3] Lunch Menu.
– Baked fish, Pizzas, Fried Chicken, Noodle Dumplings, Steakburger Bar, Manager's Choice, etc.
Locations of Golden Corrals in the United States
          There are almost 781 locations of Golden Corral in the United States, some of which include:
| | |
| --- | --- |
| NAME OF THE LOCATION | NUMBER OF GOLDEN CORRAL STORES |
| Alabama | 12 |
| California | 17 |
| Delaware | 3 |
| Idaho | 6 |
| Florida | 81 |
| Georgia | 46 |
| Arkansas | 4 |
| Connecticut | 1 |
| Illinois | 18 |
| Indiana | 30 |
| Kentucky | 25 |
| Maryland | 16 |
| Michigan | 10 |
| Montana | 4 |
| New York | 6 |
| Tennessee | 16 |
| Washington | 4 |
| Wyoming | 3 |
| Virginia | 34 |
| Texas | 118 |
| South Carolina | 15 |
| Pennsylvania | 15 |
| New Jersey | 2 |
| Nebraska | 8 |
| Massachusetts | 1 |
| Louisiana etc. | 9 |
Job positions at the Golden Corral Store
Buffet Attendant.
Meat Cutter.
Local store Marketing Coordinator.
Grill Cook.
Display Cook.
Line Person.
Server.
Utility Person.
Guest Experience Attendant.
ProStart Intern.
Cashier.
Hot Cook.
Assistant Manager.
Crew Leader.
Kitchen Manager.
Hospitality Manager.
Kitchen Assistant Manager.
Franchise Business Consultant.
Operating Manager.
District Manager etc.
Job Opportunities at the Golden Coral
The interested candidates need to fill the application form on the online Golden Corral Organization portal. Wait for the HR/ Manager's call and practice the interview questions
Some of the job positions and duties
Kitchen Manager
The job duties involve performing the regular restaurant tasks, look after the functioning of the particular department, etc.
Train the other cooks in cooking the required food items of the Golden Corral food store.
The Kitchen Manager must possess good Managerial talent.
The average salary ranges from $36,000 to $ 68,000 every year.
Host/ Cashier
The prime job responsibilities involve looking after the monetary transactions, online transactions, etc.
The duties include answering the questions about the food menu items, ringing up the buffet tickets, etc.
Cashiers must have profound computer knowledge and talent.
The average salary of the Cashier increases from $9.00 and above on an hourly basis.
Server
The job role involves taking the customer's food and drinks orders, properly serving food, assisting the requests of the patrons, etc.
Some other duties also involve clearing tables, maintaining cleanliness, etc.
The hourly average pays ranges from $3.00 to $8.00.
Fry Cook
The available job opportunities include display cook, grill cook, hot cook, etc.
They need to operate kitchen types of equipment, create menu listings as per the Golden Corral Store's needs and requirements.
They must have a good cooking experience.
Other job duties involve cleaning work areas, washing dishes, organizing inventory, etc.
The average pay generally starts from $8.00 to $10.00 per hour.
They also avail different job benefits from the Golden Corral Store.
The average salary given to the employees/ team members at the Golden Corrals Organization are as follows:-
| | |
| --- | --- |
| JOB TITLE | AVERAGE SALARY RANGE |
| Server | $2.00-$10.00 per hour |
| Baker                                                          |               $8.00-$15.00 per hour |
| Hospitality Manager                                       | $14.00-$22.00 per hour |
| Dining Room Supervisor | $16.00-$22.00 per hour |
| Kitchen Worker | $10.00-$16.00 per hour |
| Buffet Attendant | $27,000 per annum |
| Kitchen Manager | $45,000 per annum |
| Cashier | $7.00-$14.00 per hour |
| Line Cook | $9.00-$14.00 per hour |
| Restaurant Manager | $10.00- $18.00 per hour |
| Dishwasher | $7.00-$14.00 per hour |
| Grill Cook | $6.00-$12.00 per hour |
| Office Manager | $10.00-$18.00 per hour |
| Kitchen Worker | $10.00-$12.00 per hour |
| Fresh Produce Processor | $9.00-$14.00 per hour |
| Poultry, Meat, Fish Cutter/ Trimmer | $10.00-$15.00 per hour |
| Hospitality Manager | $14.00-$21.00 per hour |
| Crew Leader | $9.00-$15.00 per hour |
| Dining Room Supervisor | $14.00-$21.00 per hour |
| Cake Decorator | $10.00- $15.00 per hour |
| Assistant General Manager | $15.00-$25.00 per hour |
| Preparation Department Manager | $10.00- $18.00 per hour |
| Prep Cook | $8.00-$14.00 per hour |
| General Manager | $56,000 per annum |
| Waitress | $24,000 per annum |
| District Manager | $51,000 per annum |
| Product Manager | $120,595 per annum |
| Group Manager | $12.90 per annum |
| Associate Manager | $50.864 per annum |
| Shift Leader | $12.90 per hour |
| Benefits Administrator | $36,000 per annum |
Qualification requirements
High School Diploma or Degree in Hotel Management and Hospitality.
Training or experience in Business Management.
Must have completed the training program in Golden Corral's Comprehensive Management.
Should possess a valid driving license.
Must have certification training in the Customer and Food Policy-related courses.
Certification course in Food Safety and Sanitation is more preferred.
Must possess basic knowledge/ training about the types of equipment, appliances, etc.
Computer knowledge including MS Word, Excel, Outlook, etc.
Food Handler Certification can be preferred.
Experience in Field Sales, InsideSales, etc. is also preferred.
Must be able to work with different software such as Oracle Sales Cloud, Microsoft Office Suite, Salesforce.com, etc.
Experience in the Foodservice industry, restaurant business, etc.
Basic knowledge in Mathematics and Statistics.
Skills required to get easily hired at the Golden Corral Stores
The skills and talent involve good Confidence level, multi-tasking ability, courteous behavior in interacting with the guests/ customers, etc, honesty, good communication skills (oral, written, and interpersonal interaction), excellent Management skills, good leadership qualities, eagerness to learn new things, positive nature, profound hospitality in behavior, energetic personality, professional attitude, time management skills, must be ready to accept the challenging tasks, ability to work under stress and pressure, able to work independently or in teams as needed, have profound knowledge in food cuisines, varieties, etc, must be every time updated about the latest trends and technology in the restaurant business, must be highly trained in cooking, serving, baking skills, etc. passion for food-related jobs and commitment towards work.
Job responsibilities of the employees hired at the Golden Corral Stores
Ensure total guest/ customer satisfaction.
Monitor the Golden Corral store functions.
Provide high-standard services and treat the customers/ guests with courteous behavior.
Provide training and mentoring sessions to the subordinate employees or other team members.
Be multitasking in taking orders, receiving storage, menu planning, serving ordered food menu, etc.
Work efficiently to gain sales and maximum profits.
Maintain cleanliness, hygiene in cooking food items, handling food, etc.
Look after the finances, monetary transactions, and online transactions in a proper and alert way.
Work for good quality food production.
Ensure the optimal and best restaurant performance.
Should use the administration forms to maintain inventory policies of the chicken, meat, fish, etc products.
Must follow safe work practices to ensure personal and assets safety.
Properly understand the product specifications and look to the guest's receipts and match the number of guests dining in the party, event organizations, other ceremonies, etc. 
Application for the job position at the Golden Corral Organization
What is the minimum age criterion required to work at the Golden Corral Store?
The minimum age to work at the Golden Corral Store is sixteen (16) years for entry-level jobs. For upper-level job positions, the minimum age requirement should be eighteen (18) years.
Typical hours of operation at the Golden Corral Store is s given below: –
The everyday Golden Corral Store timing is- 7.00 am to 10.00 pm.
Benefits offered to the employees/ team members
The benefits include flexible working hours, satisfactorily pay and benefits, training is offered to the employees for the advancements, friendly and cooperative team environment, comprehensive medical plans and benefits, discounts on meals, health benefits involving dental plan, vision plan, life insurance plans, paid vacations, non-interest college loans, educational fund, prescription drug benefits, retirement income plan, Employee Assistance Program, Adoption Assistance Program, both part-time and full-time employment, bonus and discounts based on the performance and experience, etc.
Questions asked during the interview process at the Golden Corral Stores
1] Tell me in short about yourself?
– The interviewer wants to check your background, attitude by asking this question, even though mentioned in the Resume/ C.V. The candidate can speak out his/ her education, skills, interests, knowledge, etc. related to the applied job position.
2] How did you come to know about this job position in the Golden Corral Company Store?
– The relevant answers include- online portal, from the friend/ relative, advertisement, etc.
3] What are your previous job experiences?
– One can describe the previous job roles and duties.
4] Mention your Management Style?
– The candidate can describe the leadership qualities to the interviewer.
5] Could you name some of the Goldencorral popular locations in the United States?
– The candidate needs to research the Golden Corral restaurant's details and information related to its various branches/ locations.
6] Tell us your greatest strengths?
– Be frank about mentioning your potentials, skills, etc. One can also speak about the previous job experiences as they upgrade the strengths.
7] State your weaknesses?
– State the weakness, but be sure to show your willingness the improve those weaknesses.
8] Mention the type of skills is needed in Hospitality Management?
– The qualities include teamwork, flexibility, attention to detail, time management, etc.
9] If the guest/ customer is not satisfied with your service then, how will you handle this situation?
– Customer service and care are of prime importance in the Hotel and Restaurant Business. The recruiter wants to check the qualities and skills of the candidates. The best way to respond is to convince the customer/ consumer in a way such that he/she becomes a regular customer in the hotel/ motel.
10] Mention some of the best Hospitality Practices?
– Welcoming and greeting the guests. Keeping the customers/ guests happy. Communicate with the guest every time and feeding them a good meal/ menu.
11] Could you state the top 3 skills required to become a Restaurant Supervisor?
– Restaurant Supervisor needs to mainly possess good leadership qualities, must be customer-oriented and must have a knack for food service perfection.
12] Tell us about what irritates you about the co-employees, and other team members?
– The answer to this question is Inefficiency in work.
13] What are your interests, hobbies, etc.?
– He/ she can describe the interests related to this field and other related activities.
14] Do you have any sort of experience working in a hotel/ motel?
– The interviewer already has the C.V./ resume in hand but wants to know from the interviewee regarding the experiences. Explain about your previous work, things you learned in the hotel/ motel in short. Also, keep a smile on your face while answering this question to show the hospitality in you.
15] Why should we hire you for this job position in the Golden Corral Restaurant?
– Share the information related to the described job description. He/ she can speak about his/her importance by stating the skills, qualities, and experiences. Also, one can state how he/she can fit best to this job position.
16] What are your salary expectations from this job role in the Golden Corral Restaurant?
– In this, the candidate can't ask for a very less or extreme salary. If fresher, the candidate cannot demand a high salary. But if experienced, then one can say that "the pay-scale which best fits my job position and the previous job experience.
Golden Corral Careers-Job opportunities and salaries