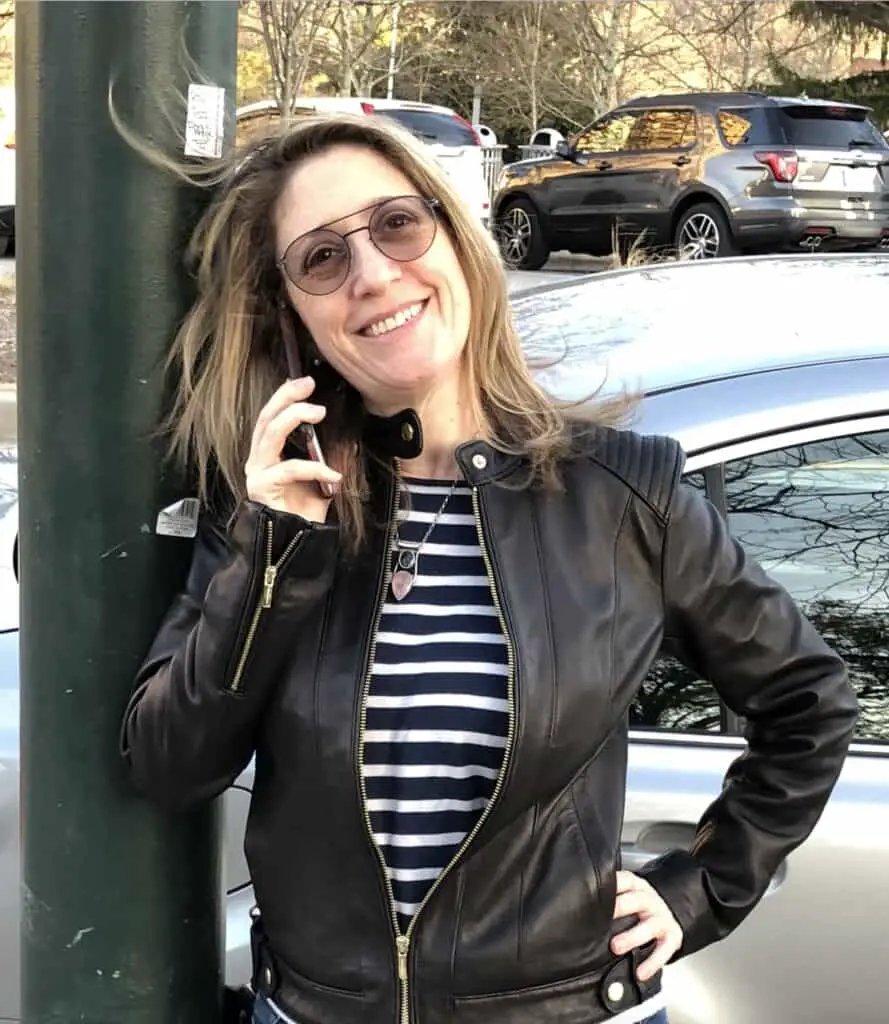 At Adoratherapy, Laura is the "Chief Mood Booster". A manufacturer who is making the pivot to a Direct to Consumer brand, Adoratherapy is disrupting the aromatherapy category with essential oil blends designed to shift mood.

A Tory Burch Fellow and a past winner of the Western Woman Small Business award, Laura is a seasoned consumer product veteran who goes beyond business to make an impact.
A well-rounded entrepreneur with a proven record of success in Beauty, Fashion, and Technology, she graduated from Parsons' School of Design in the late '80s.  Laura started her journey as a serial entrepreneur in New York City, whereas a fashion designer, at the age of 28, she founded Fashion Express and International Product Options, global apparel buying agencies. In 2000 she founded Zweave the first SaaS PLM platform for fashion, and later her consulting agency WYSWYGllc.

A mother of two adult children, a pet lover, and an advocate for learning to love oneself, Laura is active in mentoring and investing.
What's a Chief Mood Booster you might ask? Is that even a title? Indeed it is. But it's not my only job. You see I am the CEO & Founder too. My mood boosting job is the one where I put on my customer facing, life coach/ healer hat. It's the reason I am in this business. But where did it start? Was I always an entrepreneur? Did I know this was my career path?
I come from a long line of entrepreneurs. My grandparents and their parents were immigrants from Eastern Europe. When they came to this country, they had to work for themselves to create the opportunities they were not given. This DNA was passed on to my parents and now to me and my siblings. We are all self-directed and have started businesses more times then we can count. 
How is an entrepreneur formed? I can only speak for myself. As a child my first job was acting. I was hired to perform in plays and then in movies and commercials at the age of six. I continued acting into my teens. From this skill of make believe I was able to very early on find my way into an adult word and make money before I could even spend it. Being a child actor can be a gift or a terrible thing. Resilience, confidence, and strong family values are required to stay in the right lane. Too much success and you can go off road, too little you can find yourself feeling not enough. Then my parents divorced when I was seven. To make things even more interesting, my mother moved herself with me & my siblings from Miami Florida to Paris France.
Imagine being put into public school with not a word of French spoken and figuring your way through the maze, not only of culture but language. Living in a city where you could walk to school, take the subway and be in the most beautiful capitol in the world had its impact. Today they call someone like me a third culture kid. An American kid in Paris. I would not be the first, but I certainly was one of the only ones who became a movie star at 16. At this point you are probably wondering why I am not an actress? Perhaps being a CEO & Chief Mood Booster is very much like starring in a movie, it's just one you write, direct, distribute and cast yourself in.
My parents did not think my success should get in the way of education so to college I went. I did want to study acting but why if you are already succeeding? So, then what? Fashion. It was my side passion, something I loved, not the dressing up, but the making. My grandparents who had been tailors in their youth taught me to sew. So off to Parson School of Design in New York I went and a career in fashion was started. Unlike many of my classmates, upon graduating, I chose Broadway instead of Seventh Avenue, right priced instead of designer priced. This allowed me to travel to the Far East to factories to make samples, learn supply chain and manufacturing and take on multi-faceted roles in smaller companies rather than small roles in well established brands. In retrospect this was a game changer.
My career went towards heavy lifting and more responsibilities allowing me to move fast up the ladder. It did not hurt that the Fashion industry was female-friendly, not to say there weren't all the challenges women typically find in the workplace, let's just say there were plenty. I started my family younger than most. Every company I worked at felt they owned my time, so as a young working mom, I had a choice to make. Work for them or work for myself.
Fate would provide me with the opportunity to start my entrepreneurial journey. I started my first business, a buying agency at 28, when my daughter was two years old. I was able to grow that business and became quite successful. We designed and sourced clothing for major retail brands. It was an incredible learning experience. It was also the most stressful time and in retrospect I have a hard time imaging I actually did it all, work, family, and raising myself as a CEO with no business background.
Since then I have founded 4 businesses. I am what you now call a serial entrepreneur. 
I mentor start up founders and provide advice and wisdom. I still focus on learning and growing. Along the way I share what lessons I have had to learn. I point out where the best information is hidden, and which paths are an option. At one point I did go to work for a few companies, but it was short lived. I think of these jobs as my "summer abroad". Watching someone else lead a company is amazing and each time I came back to build my own business with renewed insights on how to leverage myself for success. Don't get me wrong, when I say success, I don't mean monetary. To me success is much more then that. It's a mindset.  
With kids in their late twenties, my experience hiring and firing people makes me a great job, resume, and interview advice giver. I have often had to give my children perspective and insights on what it looks like from the CEO's desk. My 1st advice has always been to do internships, gain real experience, take any job you can get, and learn. If you have to work for free for a bunch of companies, do it. Remember they are training you and more often than not unless you come with real-world skills, this is a win-win, your time and interest for their experience and reference. Most of the first out of college people I have hired have had little to no business know-how, except for those who have worked during the summer, or for their parents or for themselves.
My 2nd advice is to really understand how each job puts you on a path and gets you in a certain lane. If you don't want to work for big companies then go into that lane. But if you do and want to then work for a smaller company you might find it quite shocking how much is asked of you and how few resources there are. If you choose scrappy companies, it may be impossible to then work for a big brand. Typecasting is what I call it, and it happens to actors and to employees.
My 3rd big share is to make sure you work on yourself. Personal development is not taught in school, or by most parents. So it is up to you to go figure out who you are, what you want, and what is in your way. Where? Check out Mind Valley or read anything by Joe Dispenza. What have I learned from my explorations of self? Entrepreneurship provides a window into your soul like nothing else. Since it is self-activating and there is no room for the victim role, you must work on yourself to create what you desire in all aspects of your life. You also must learn, and this takes years, to love yourself. When you finally learn to do this, you can shift and transform into your best self-elevating you and humanity. Isn't that the goal anyway!
Also read: 14 Excuses to Use When You're Not in the Mood to Hang Out
How I Became Chief Mood Booster at Adoratherapy