Story: How to create your Own Business Consultancy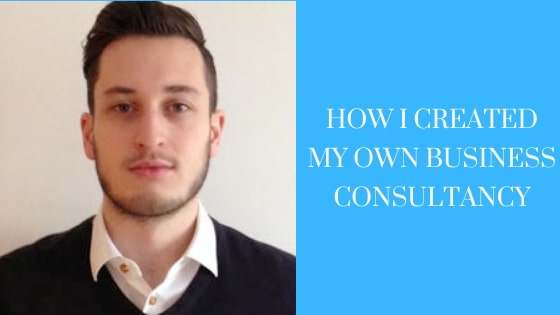 My story starts in 2005 as I enter the final year of my Computer Science degree. I'd had an interest in Computer Science post completing my IT qualifications at college, I anticipated there would be a rising demand for Artificial Intelligence and Machine Learning within businesses and marketing, computers were evolving and at the heart of online growth.
I wrote my dissertation on the impact of PPC and SEO for businesses – this led me to look for a local business who would be willing to permit me to use them as my case study – that company was Walls & Floors.co.uk, I proved a real business success with one of their subsidiary websites.
As a result, they asked me to come on board full time – at the time, my job role entailed publishing products, content, and photography online – I didn't care; I was thrilled to have a job within the online industry! Fast-forward 18 months, and I had the opportunity to become a manager and build my own web development department. Fast-forward 5 years and I headed up a team of 10 forward-thinking marketers, taking the company from strength-to-strength online – we were becoming market leaders, overtaking the competition – with development, technology, and digital marketing at the forefront. A digital transformation was happening. We embraced it and did not stop striving for more success; every day, every week, every month – we wanted to be the first, and we wanted to be the best. That's exactly what we achieved.
My career advice, if a good opportunity comes along, take it – believe in yourself. In an interview, show your willingness, display ambition, demonstrate your drive, articulate your passion, and back it up with the expertise and/or experience you have – drop in your own facts and figures.
Over a ten year career at Walls & Floors, I later became Ecommerce Director, completed qualifications to become a certified Google Partner, speaking at various Google Events in London; the website had won a prestigious industry Ecommerce award and had entered into the Top 500 eCommerce websites in the UK – a true story of entering a company at the bottom, and exiting at the top!
My advice for CV writing is to keep it short and concise (2 pages max), clear headlines, and a clear layout demonstrating your impact and backing it up with stats. Show your experience, show your expertise, and show how you've influenced businesses and people.
I kept my finger on the pulse within the industry by keeping up with my Google Partner exams (outside of business hours!), regularly attending Ecommerce industry events to learn as well as building relationships and subscribing to key industry figures and leading brands to hear about their problems, solutions, and news via email subscriptions and Social Media (like LinkedIn, Twitter) – it's also important to make sure you take yourself away from your desk and put yourself in your customer's shoes. I'd regularly make sure I'd take time to talk to customers, listen to their opinions, listen to their challenges, and strive to help them by making their journey easier online.
After ten years at Walls & Floors, I left the boardroom of a company now turning over £32m and created my own business consultancy – Ada Digital. I felt it was time for a change, time to experience something new, time to test myself at something different, a fresh challenge – using all my previous experience, and contacts.
Ada Digital is about to become one year old – I've found a new passion, new energy, and a further drive for creating success (and success for others). The businesses have survived and thrived during a worldwide pandemic, and itself is going from strength-to-strength – people and businesses need effective marketing solutions now, more than ever.
I'm still learning every day, and I love it – I rediscovered a hunger, and I'm completely in control of driving the business forward. Launching and owning your own business has taught me different dynamics – you're the accountant, the Chief Financial Officer (CFO), the Chief Executive Officer (CEO), the Chief Operating Office (COO), the Chief Marketing Officer (CMO), the Chief Technology Officer (CTO), the face of the company and the developer… You're the dreamer, the visionary, and the doer!
The joy and buzz I get by identifying and helping a business grow via my business are unparalleled. It's an incredible sense of satisfaction and pride.
My mission at Ada Digital: Empowering people to build their business online and inspiring people to achieve business growth.
My final advice in today's ever-growing digital world – do something you love, find your passion, become the expert, and then do not stop driving for success. Keep yourself educated within your evolving industry – identify trends, explore developments, and uncover insights. Listen to others, take all the advice you can from experienced professionals. Make sure in any business that your objectives align with the board of directors and owners.
Have a goal, and have a vision. Carpe diem."
Bio – Tom Murrell is a results-driven and passionate Digital & Ecommerce expert with extensive knowledge of online media, combined with strong marketing skills and analytical abilities, based in Warwickshire.
I work closely with emerging brands and established companies, helping marketing teams create new branding campaigns or take the next step in web design. I provide marketing solutions for different types of digital engagement goals. With an experience of over 15 years, I have helped multiple businesses transform their market presence, helping them reposition their product and services.
Specialising in marketing analysis and retail research, I pioneered the digital transformation of Walls & Floors.co.uk, becoming one of the leading tile specialists online, and the largest independent tile retailer in the UK. I now run my own digital marketing consultancy, Ada Digital.
Also read: How I Built A Career In Data Analytics