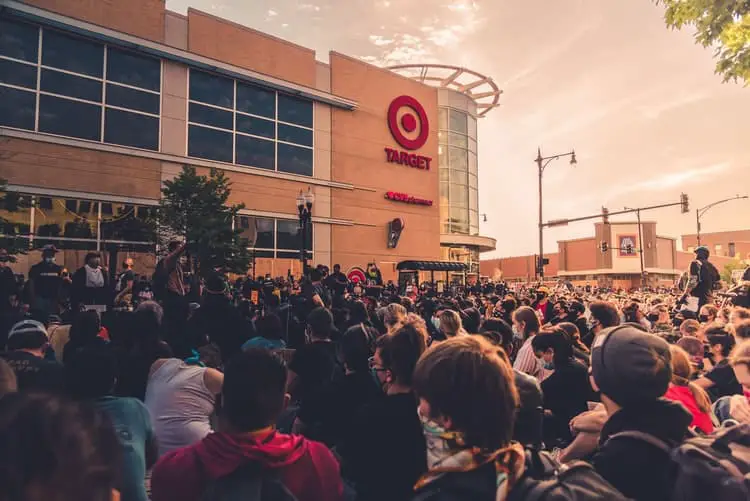 Target is the most well-known supermarket company in the United States, but its impact has reached worldwide. The company was created in June 1902, over a hundred years ago, and has a lot of business experience and the fair treatment of employees. This company is an important component of the S&P 500 indexes. Through this article, we'll know about Target's Mission and Vision statement with values analysis.
Target's mission statement makes sure it is the top brand in the United States and is preferred by every household for their shopping needs. They hope to provide more for less and put their customer's needs above all the others. They have learned the way of integrity throughout their years and have applied it to get more customers and make a name for themselves. They are one of the best companies for having a variety of products under one roof, so you don't have to visit other companies while looking for items.
Target's vision statement gives the message of guidance to the whole community. They hope to ensure that the customers do not regret coming to their stores and not finding what they were looking for. That's why they offer diversity in different brands of the same product to satisfy the customer's needs. This tendency to have multiple brands under one roof has made their profits skyrocket due to people believing in the products' brand image more than the quality itself in most cases today, even though the brand defines quality in most cases.
Their values revolve around providing their best to the customers and treating them with respect above all else. That is why most of the returning customers are permanent, and new customers are attracted by word of mouth. Their tendency to be nice has made their products sell and keep their income in check. There are core values they teach their employees to uphold every day, and that is why most of the consumers like shopping there due to the nice behavior of their employees. 
We looked at all of the statements presented in brief. We will then analyze all the statements and their elements in-depth to determine the hidden meaning from them and look at a couple of important questions. This will allow us to get a grasp of what the company is striving towards for the future.
Target Mission Statement Analysis:
Target has a mission statement that helps its employees act better and help customers to the best of their abilities. Target mission statement is "To make Target the preferred shopping destination for our guests by delivering outstanding value, continuous innovation and exceptional guest experience by consistently fulfilling our Expect More. Pay Less. Brand Promise."
There are 3 main elements that we need to analyze to properly derive the meaning of the mission statement. They are:
To make Target the preferred shopping destination.
Delivering outstanding value, continuous innovation, and exceptional guest experience.
Expect more, pay less brand promise.
Target has always prioritized being the best in providing quality, which is why it aims to be the preferred shopping destination for all of its called customers. It prides itself on delivering the best customer experience and wants its customers to get everything they desire under their roof. They have always been proud of their mission to help as many people by providing for their needs by maintaining their standard of service in a  quick and timely manner. This has led to an increase in customers in recent years.


Delivering value to the customers is an important part of any retail store, and Target strives to give the best quality groceries, curse meats, and ingredients to its customers. They also innovate by changing their shelves and replacing them with other brands to switch things up and try new strategies with their products. Their employees are taught to behave honestly and guide the customers in the best way possible to improve their buying experience and save their precious time. These two core beliefs of value and innovation have set a bar for the other retailers to cross, which they haven't done yet. Target continues to please everyone with their prompt service.


Expecting more and paying less is what the customers look for in every product they buy. That is why budgeted shopping centers and supermarkets that give discounts on brands are now popular than other retail stores. The customers are saving money while also getting the same quality they would get by paying more at some other shop. Target regularly offers discounts on brands and supplementary ingredients one might need for daily survival. This is part of the reason why this company is so successful in its endeavors. They know how to attract customers.
Target Vision Statement Analysis:
Target's vision is much more diversified than another company's vision. It aims at bettering the customer experience and values them above everything else. Therefore they have had tremendous success in sales for the last two decades due to their consistency. Target vision statement reads, "Guided commitments to great value, the community, diversity, and the environment." There are 5 elements we need to analyze in this vision statement. They are:
Guided commitments 
To great value
To the community
To diversity
And to the environment
Guided commitments refer to their locality and medication in providing the customers with help regarding purchasing different products, informing them about policies, and letting them know of the products' added benefits to better their shopping experience, allowing them to generate the value for every product. The word of a supermarket to provide the best goods can attract customers and bring them more profit, but it can also be a double-edged sword.


The second element talks about value. Every product purchased must have value for the money invested in it. Target strives to keep those products on their shelves that generate value towards their customers by providing them with a pleasant shopping experience. They have included various products and brands that they seem fit to provide customers with value for investment. Generating value for the products is the foremost responsibility of any brand and making sure the customers get exactly what they paid for when buying it. Target ensures that the shelves' goods have these qualities to please the customers and keep them returning.


The third element talks about serving the community through their education and the quality of products to better their lifestyle. This element is an important part of the statement since it talks about serving the customers consistently and never disappointing them whenever they visit the supermarket. This is where heaving many brands and products under one roof help a lot. It changes the way people shop and also saves a lot of time and money invested.


Diversity is to have employee diversity and give everyone opportunities and brand diversity by offering multiple options for the same product choice. This helps the customers choose from the best product that suits their needs and occupies their budget properly. Having a diverse shelf is also important as it complements customer's requirements to have different types of products perfectly and gives them an option to select for themselves.


The environment means using and selling products that do not severely impact the environment and operating in a way that does not harm the environment. Not using plastic and encouraging paper bags and recyclable items helps Target be the ideal shopping environment for the customers and nature itself. Due to a lot of recent harm taken place in the environment, Target has raised a lot of awareness by following strict protocols to protect and conserve nature and the way of life by using and promoting environment-friendly goods.
Target Values Analysis:
Target holds a high place for all of the values imparted on the seniors' employees, and there is a strict code to follow these rules to ensure a pleasant experience for not only the employees but also the consumers. There are four core values that Target believes in to ensure success in the field of business along with the satisfaction of the consumer.
The values are:
One Team
Do the right thing
Keep it simple
Deliver on promises
One team refers to the meaning of the team being united in everything they undertake. They ensure there is no lack of communication between any members as it can hinder the customer experience. They have many team-building exercises, and their employees are always friendly when dealing with situations and ensuring the shopping experience is smooth. Their teams and employees are divided into sectors to help manage the work and divide the work into sectors to help ease the pressure.


Doing the right thing means being honest, respectful, and polite to the customers whenever they visit the store. It also means making decisions that they wouldn't make daily to ensure the customer has a good experience. It involves making sacrifices in break times and overworking to ensure everything runs smoothly. It means making decisions that involve behaving with integrity preserve the respect of the customers and the employees.


Keeping it simple means providing the customers with the best service and making sure they have a time-saving and easy shopping experience. It involves simplifying patterns and rules so that both employees and customers can follow them easily without any haste involved in factoring both parties. They have worked hard to ensure the best customer experience through the decades.


Delivering on promises is the foremost duty of any retail store. A good product and a price offer should be delivered upon if it is advertised. This keeps the respect of the company intact while also giving them a complete increase in media presence. It also widens their horizons and gives them a chance to bring in more customers by offering schemes and discounts.
The Takeaway:
The takeaway from this article is that a company like Target puts its customers first before their gain is here to stay as long as it operates within its promises which they have kept through the decades. Their vision and mission statements prove that evolution from being a small-time company to being on the list of Fortune 500 companies. They have kept up with their promises and delivered the best goods that the brand shave to offer at economical prices to ensure the customers get value for their money. They also provide all products under one roof so busy and working individuals can save time on their shopping and focus on running their home.
FAQs:
What is Target's target market?
Target's target market involves aiming their services towards kids, teenagers, single people, young adults, and working individuals. They have thrived in pricing the goods just for their budget and give them a place where they can shop without any restrictions. This allows them to be at the top of business because they keep an eye on their interest.


What is Target known for?
Target is especially known for its attractive shopping prices since it helps save its audience money on buying the goods. Many consumers have mentioned that they end up buying more goods and products than they originally intended to buy. This is the reason why Target is so successful, attractive prices and excellent service.


Is the Target stock a buy?
Yes, the Target stock is bought due to its immense success in the last few years and ever-growing franchises in every state. Their policies and practices make sure they are trending, and their reasonable prices attract customers of all ages, increasing their profit margin. They have exceeded all expectations and have given the signal of buy to the investors. This has been evident since it's an S&P 500 company.
Also read Tesla's Mission, Vision Statement & Values Analysis
Target Mission Statement, Vision & Value Analysis