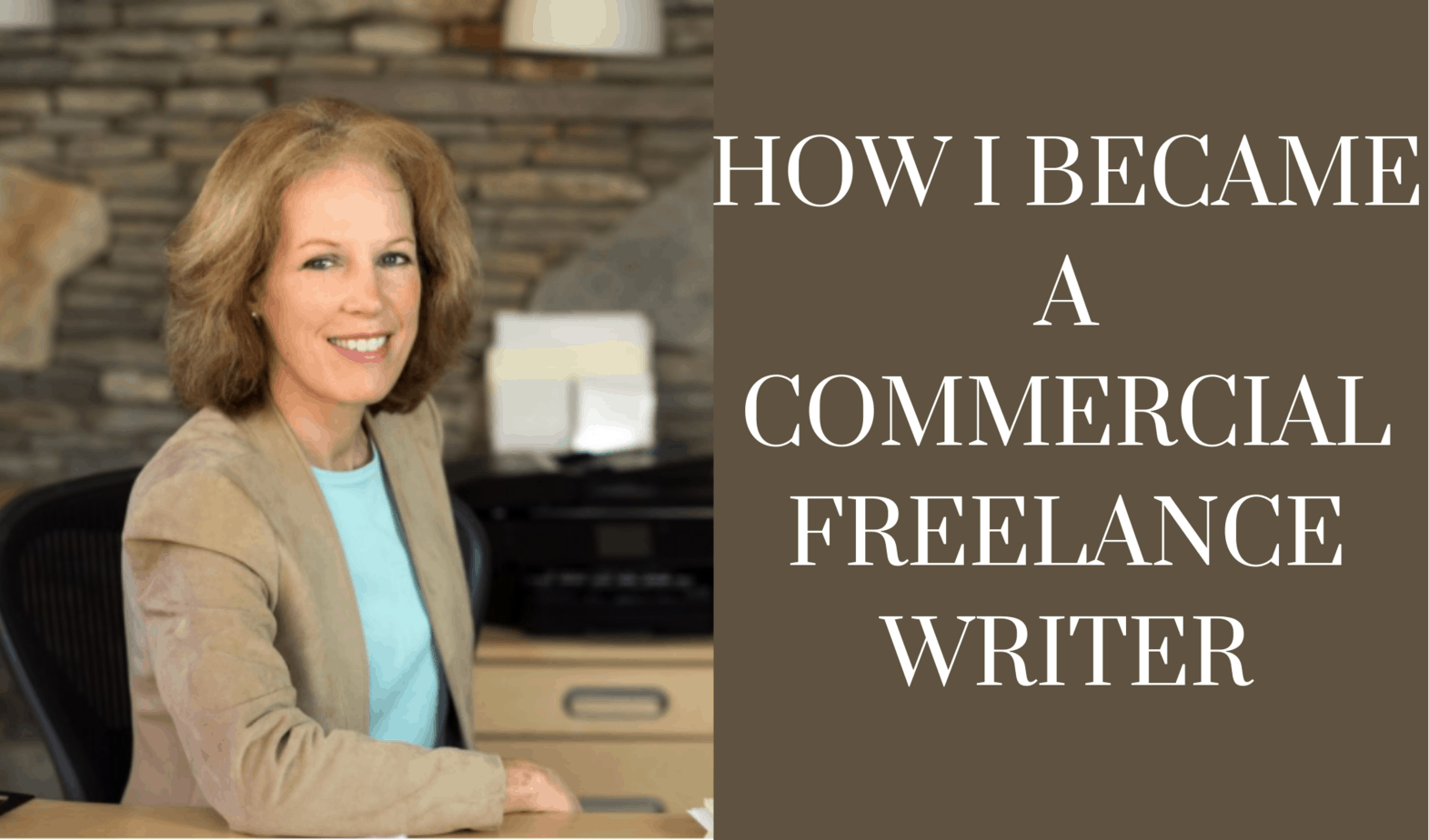 Thinking about a career that involves freelance writing? Have questions on how to become a freelance writer? You have many options.
You can write for a magazine or another publication. You can write books or screenplays. Or you can choose the same route I did: commercial freelance writing, where your client is a business or some other commercial entity.
Commercial freelance writers produce materials to help sell products, services or ideas. Website content, e-marketing pieces, brochures, annual reports, blog posts, flyers, white papers, video scripts and newsletter articles are just a few examples of the types of assignments that may come your way.
I first came across the term "commercial freelance writer" when I read Secrets of a Freelance Writer: How to Make $100,000 a Year or More by Robert W. Bly (a good read, by the way). At the time, I was researching how I could make money from freelance writing without going into an office every day.
Like many freelance writers, I came to the field after doing something else. I had a long career in public relations, including 17 years in financial services PR. I enjoyed my work but grew tired of a roundtrip commute that, on some days, took three hours. I began thinking about what might be next for me.
A turning point occurred in 2010, when I moved further from my office and faced the prospect of an even longer commute. That year, I left the traditional work world to write a book called Late Blooming Entrepreneurs. I also started a blog on the same topic.
I chose to write about 40-and-older entrepreneurship for a couple of reasons. As a baby boomer, I knew I would benefit from what I learned. I also wanted to help and inspire my peers who dreamed of starting a business but thought they were "too old."
Initially, I spent most of my time researching and writing the book. While I didn't know it at the time, that experience proved to be a good precursor for the types of freelance writing I would do later. It taught me how to take good notes, organize information, conduct thoughtful interviews and many other skills that I use now.
I published my book's print edition in 2014, the same year I began freelancing. My first paid assignment resulted when a friend asked me to write an executive summary about his business. That gig led to several more with the same company. Today, I have a small group of local clients who generate a steady stream of work.
What's the best part about being a freelance writer who works with business owners? For me, it's the interviews. Over the years, I've spoken with a cybersecurity expert, an organic mattress manufacturer, a construction cleanup specialist, a pond supplies distributor, a baker, a licorice importer, a lamp designer, a limousine driver and several inventors. Freelance writing has given me the opportunity to meet so many inspirational, accomplished and knowledgeable people who I wouldn't have met otherwise.
Here are a few other pluses:
You set your own schedule.  I love having the flexibility to schedule my work around family and other priorities.
You can work from anywhere. No more sitting in traffic to get to an office somewhere.
You learn a lot. When you work with a variety of clients, you become educated about all kinds of industries, issues and events.
You can work with clients from all over the world. Plenty of Internet-based platforms provide this opportunity. The flipside, however, is that you're competing against freelancers from all over the world. Some will work for extremely low pay, which can make it difficult for you to win jobs that pay reasonable rates.
While freelancing can be fun, any would-be writer needs to be aware of the potential pitfalls. Here are some of them:
It's feast or famine. Some weeks, you have no work. And some weeks, you may have more work than you want to handle. An erratic work schedule can lead to erratic payments, which creates cash flow problems for some writers.
It's a business. You have to send invoices, process payments, track expenses, pay taxes and do other not-so-fun things that any business owner has to do.
It won't happen overnight.  It takes time to build a portfolio, relationships and a good track record. In the beginning, you may need to work at a reduced rate – or for free – to get experience and referrals.
It can be lonely. Writing is a solitary activity. On some days, you spend hours by yourself in front of a computer. When you are a solopreneur, you have to possess the discipline and focus needed to get the work done.
 The bottom line? Establishing a freelance writing business may be one of the most challenging things you'll do.  But if you're undeterred, go for it.  It's also likely to be one of your proudest achievements.
Lynne Beverly Strang is a freelance writer who helps business owners meet their marketing and communications goals. She is the author of Late-Blooming Entrepreneurs: Eight Principles for Starting a Business After Age 40.  Her award-winning blog, also called Late Blooming Entrepreneurs, covers topics of interest to aspiring and new entrepreneurs who are age 40 and older.
How I Became a Commercial Freelance Writer