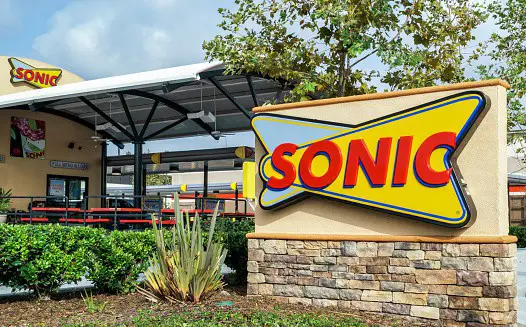 Sonic is an American drive-in restaurant chain owned by Inspire Brands. 16 years of age is the minimum Sonic Hiring Age to work. So no 15 years old or below should apply. It operates in more than 3500 locations. Instead, you must wait for a year to attain the minimum age barrier as set by the company. In order to know more about the hiring process, the dress code of the employees, the hours of work required to be done, the benefits an employee is provided with, the responsibilities and positions of work along with the hourly pay rate, you must scroll down your screen and continue reading to stay updated in all these spheres and more. 
Sonic Hiring Age
An online application can be submitted by visiting Sonic's career page by filling in your location and position of preference to get the best deals of job applications. Attach your personal details such as name, education, address, and contact information accurately, along with work experience, if any, and relevant skills and capabilities which highlight your aptness for the position you have applied for. 


Add a cover letter for better consideration, and don't forget to do the most important step, which is uploading your resume. 


There are printable applications to avail as well from the online website itself. So if you, please fill your application form with a pen and then submit it physically at the store for better consideration, you can pick this option. 


You shall be asked to assess to prove that your mentioned abilities match the job profile you have applied for. There is nothing for you to panic, because it is a simple way for the hiring team to evaluate.  


Once the screening of applications is done, the short-listed applicants shall be contacted for a face-to-face interview at the store, where you shall be asked several questions to consider you worthy of the position. 
Interview questions
Why did you choose to apply to our company?
What do you know about the company?
Have you been referred?
What are your strengths and weaknesses?
Can you add value to the company with your services?
Where do you see yourself in the next few years?
What has your previous work experience been like?
What are your availability and salary expectation?
It is important to prepare these basic questions and keep them ready to stand out in the interview. Also, you can prepare a list of questions to ask the team in case they approach you saying, "Do you have any questions that you would seek answers from us? Do grab this opportunity and show your interest, as shall be proved by your research and quickness in providing answers.
Post your interview. You shall be contacted at the earliest for orientation and training if selected, followed by which you shall be given the offer letter and asked to begin at the position formally as part of the team. It takes around two to four weeks before the offer letter is finally approved by HR. No drug rests are required to be done. However, background checks are common to check any felon's background. If you have been wondering what to wear on the day of your interview, read below to get your answer.
Formals are usually picked for any interview one goes, but you can also choose business casuals and look professional while having some comfort in the attire. It is indeed heard that first impressions carry a hold of their own, but you definitely won't consider that to be the sole reason for being hired. At the same time, you won't let your dressing skills make you lose an opportunity at hand. So dress well and look stunning for an interview.
How long does the entire hiring process take?
This is a question of many applicants about how long they will need to make a time investment for the entire process to be held. According to a report from the Glassdoor Economic Research, it takes an average of 23 days to get hired by any company in the United States, some may have a speedier hiring process and still extend to 10 days as the minimum, and some that are really laid back when hiring employees, making the applications wait for around 53 days as the maximum waiting period before hiring.
However, Sonic applicants should be pleased to read this piece of information that there have been records of as less than 3 days of the time that has been taken for the applicants to get hired and has extended to over a month as well. Feel free to contact the store in case of any unwanted delay. However, do not begin poking and inquiring until a week to be on the safe side.
What are the various shifts at Sonic?
There are various shifts and schedules to be availed by the employees of Sonic. There is an early morning shift that ends by 10 am or 11 am, followed by a day shift that ends by 4 pm or 5 pm, and lastly, a night shift that goes on till 10 pm. One can expect a maximum of 5 days of scheduled work for around 30 to 40 hours a week at sonic stores. However, these time allotments depend on the manager and the employee's discussion on the parameters of availability and work requirement.30 minutes of break for 8-hour shifts are the usual criteria, but this may vary from store to store.
What are the various pay rates of different positions at the sonic store?
The average pay per hour of various positions has been mentioned below:
Cashier receives $7
Carhops earn $10 
Unit leader receives $14
The server receives $7 ranging from $3 to $13
Crew leader receives $9 ranging from $7 to $10
Cook receives $9 ranging from $7 to $11
The restaurant manager receives $11 ranging from $9 to $14
Payments are made every two weeks, more specifically on the fifth and twentieth of each month. They are directly deposited to your account by 12 pm. 
What are the various benefits to look up to be working at Sonic?
Employees can avail wearing Casual dress, win free drinks and 15% discounted food as well although managers get free sonic food all the time. They have a Flexible schedule to follow, with Paid vacations and paid sick leaves too. Along with these, Sonic provides scholarships as well. Employees are allowed to keep the tips that have been offered to them.
Do the employees have a certain dress code to follow?
The company provides uniforms and insists that a particular dress code has to be followed by all the store employees. The company provided a sonic shirt, hat, apron, name tag, and non-slip on shoes.  For fear of fake nails or long dirty nails getting into people's food, it is required to either not wear fake nails or keep long nails at all, which is more preferred, or have gloves in your hands for the entire shift. 
Also read Hobby Lobby Hiring Age: What Age Does Hobby Lobby Hire?
Sonic Hiring Age: What Age Does Sonic Hire?