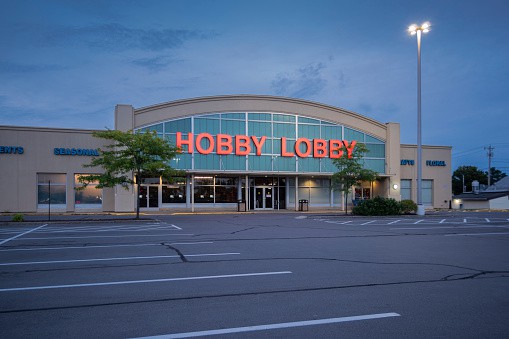 Hobby Lobby Hiring Age
The largest private retailer in art and craft, Hobby Lobby is a company with 43,000 employees distributed under 900 locations. Hobby Lobby minimum hiring age is 16. You have to be 16 years old for any applicant to forward their application and be considered for the job. No 15 year old or younger age candidates shall be hired by the company store.
Hobby Lobby Hiring Process:
Interested candidates can apply online or offline as they wish to by providing their personal details such as name, address, contact information, education received, work experience if any, and applying to their nearest store with the position they desire to serve.
An application form can also be printed from the online site and submitted in person at the store for better impact. 
Once you have passed the application screening, you shall be contacted for an interview that lasts for around 20 to 30 minutes. You shall have to prove your worth and capability by answering the questions asked with enough confidence to satisfy the hirer's psychology. 
You can jolly well contact the store for any update on your application and find out if there is an unwanted delay for no real reason. 
No drug test is required to be conducted unless there are some real doubts about the concerned applicant. 
A background check is a mentioned step in the hiring process.
They hire felons as well.
How Long Does The Hiring Process Take?
Two weeks is the average duration that is required for completing the entire hiring process. However, these may vary as and upon the hirers' interest and the company store's need. Sometimes there could be a lot of applicants to deal with, thus delaying the hiring process drastically. So be patient and wait for your turn to be contacted and updated about your application profile.
What Is The Pay Structure Of Various Employees In The Company?
Employee payments are made biweekly via direct deposit. On average the various pay rates per hour of different positions are as follows:
Hobby Lobby cashier is paid $10.87 /hr
Hobby Lobby Stockers receive on an average $11/hr ranging from $10 to $17
Hobby Lobby customer service manager receives on an average $14/hr ranging from $10 to $18
Hobby Lobby assistant manager receives hourly pay of $17 ranging from $14 to $30
Hobby Lobby Bookkeeper receives on an average $13/hr ranging from $9 to $18
Hobby Lobby Sales associate receives on an average $12/hr ranging from $10 to $19
Things one should know about the company stores:
The stores are closed on Sundays to relax the employees and give them a day off to spend and cherish with family and friends. 
On orders above $50, the company stores offer free shipping.
The company stores offer curbside pickup as well to refrain from shipping charges. One can easily choose their products online and have the items delivered to their car trunk at their preferred schedule.
One must be fit enough to stand or sit in one position for hours at a stretch because the job might expect you to do so along with lifting baggage and products.
What Are The Operational Hours Of The Store?
Monday to Saturday the timings of the store are from 9 am to 8 pm. 
40 hours a week is the required serving hour for a full-time employee, ranging around 4-8 hours of a shift. 
Overtime payments are made to any employee working more than 40 hours a week.
The Dress Code For The Employees Is:
Black pants, khaki pants, or skirts are worn with polo shirts with company logos or vests. This is the general attire of all employees. Two ear piercings are allowed, but no other body part should be pierced while tattoos can be there, but they must be covered without hurting anyone's sentiments. 
The Perks And Benefits Of Working As A Hobby Lobby Employee Are That If Offers:
15% of Employee Discount 
Life insurance, 
Dental Insurance,
Medical Insurance,
Paid Vacations 
Paid Sick Leaves,
Part-time employees do not receive any benefits.
Also read AMC Hiring Age: What Age Does AMC Hire?
Hobby Lobby Hiring Age: What Age Does Hobby Lobby Hire?