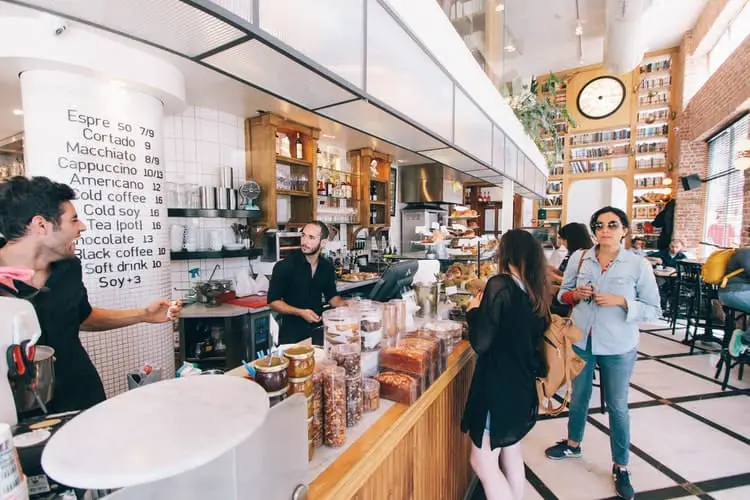 A restaurant cashier is a vital job position in any restaurant. This job holds important responsibilities that will make the restaurant business operate smoothly. Anyone who wants to apply for this job position should know the different duties and responsibilities they will handle once hired. This article will give information on restaurant cashier Job description, the importance of a restaurant cashier in a restaurant business, their duties, responsibilities, skills, and salary range.
Restaurant Cashier Job Description
A restaurant needs trusted personnel to handle money, and this person is often called a restaurant cashier. This personnel is in charge of the cash that comes in and out of the restaurant daily. They are the ones in charge of the cash register. Therefore, all monetary transactions that happen in the restaurant are handled by the restaurant cashier.
The restaurant cashier will be responsible for computations and calculations of the cash in the registry. They will also keep safe checks that come in and out of the restaurant within the day. Their computation reports are required daily. This is to ensure accurate computations of the money coming in and out of the restaurant. They will need to be knowledgeable with operating check authentication appliances, money counters, cash registry machines, and credit card machines.
After every meal or order, the restaurant cashier should accept payment and immediately enter the payment system's cash. This will help achieve instant calculations and prevent confusion at the end of the shift. Managing all cash coming in and out of the restaurant will be their primary duty. However, their work should not be limited to the cashier registry. Restaurant cashiers should also be flexible to work on other areas of the business. Therefore, they should also be knowledgeable with filing orders, attending to customer concerns, front desk duties, and even serving orders. These duties should be carried out effectively with all courteousness and smiles.
Restaurant Cashier Skills
Many people aspire to be a restaurant cashier, but not everyone will be qualified for the job. How does one qualify to be a restaurant cashier? Someone who wants to work as a cashier in a restaurant, whether big or small, should fit in these qualifications:
Education: Most restaurants accept high school graduates. Therefore, there are a lot of college students who are working in restaurants. Some owners would give jobs to college students to help them in their finances for their studies. However, some restaurants require applicants to have reached a junior year in college or even a college graduate. Restaurants have varied preferences with the educational attainment of their restaurant cashiers.


Skills: One should have excellent multitasking, mathematical, and computation skills. They should also have good communication and customer relations skills, as they will also be required to deal with customers at some point. Customer service skills are important in a restaurant cashier. Keep in mind that they will not just deal with the cash register all the time. They will also deal with their co-workers, management, and most of all, customers.


Knowledge: A restaurant cashier should know how to operate machines for a payment system, credit card, and computations. It is better to know how to record cash-ins and outs using different programs and applications. They should know the menu and how the restaurant operates. Knowledge in dealing with customers is a must, especially in service-oriented businesses like restaurants. They should know the ins and outs of the business, especially with the finances.


Physical abilities: One should be able to manage time as some restaurants work on shifts. One may be assigned in the early morning or late evening shifts. They should also be able to perform the tasks for the entire duration of the shift. There will be times when the restaurant is full and will require more people to serve. The restaurant cashier should be able to handle these tasks physically and mentally.


Honesty: A restaurant cashier should be honest. Keep in mind that they will handle the financial transactions of the restaurant daily. They should be honest enough to remit all the cash that the restaurant has profited from the customers and enter the correct amounts in the business's financial system.
These qualifications are the most common ones required by many restaurants. Some may give exemptions or additional requirements and qualifications based on the restaurant owner and management specifications. A few restaurants look for other qualifications in the applicants. The most important thing is that one can prove that they are the right person for the job.
Hiring Assessment
When applying for the restaurant cashier position, the usual hiring procedure is followed. The applicant may have to submit a resume and other credentials required by the restaurant owner or management. An interview will also be conducted. The successful applicants may be required to train themselves to familiarize themselves with the job and its duties. Some restaurants require more processes in hiring a restaurant cashier. Applicants these days are lucky, as there are now online application and hiring assessments they can use. Instead of heading to the restaurant to submit their resume and other documents, the hiring process will be done online.
Though the hiring process is online, applicants still need to work their best to impress the employers. This is by providing impressive documents and a resume. One should also ace the interview to pass the screening.
Restaurant Cashier Salary
A restaurant cashier's salary may vary depending on the type of restaurant, location, and business stability. Most of the time, restaurant cashiers get an hourly pay ranging from $7 to $12. This is for countries that are used to pay hourly. But some countries pay monthly or semi-monthly. The salary will also depend on the number of days and hours a restaurant cashier is given. Some have an eight-hour shift, while others only have five or six hours. The type of restaurant and how steady it is will also be a factor in the cashier's wage. For top class, well-known, and established restaurants, the salary can be higher. Salaries are discussed upon the success of the application.
Restaurant Cashier Duties and Responsibilities
Before applying for the restaurant cashier position, it is important that you know what your duties and responsibilities will be once you are hired. This knowledge will help you become a productive and effective employee for your position. The following are the duties and responsibilities of a restaurant cashier.
Takes care of all transactions with the use of the cash register
Ensures that the prices of the meals are correctly inputted
Collects payments, whether cash, credit card, or debit card
Issues change or receipts
Becomes a customer service representative of the business
Courteously greets customers upon arrival and leaving the premises
Maintains accurate and correct transaction amounts at the end of the shift
Records transactions daily so they can be easily tracked down in case of discrepancies
Career Move
Every employee would aspire to take a level higher in position. From a restaurant cashier, one can be promoted to restaurant manager or administrative staff of the restaurant. Big restaurant businesses have branches in other areas where a restaurant cashier can be promoted and assigned to. If one has finished a business course in college and has experience as a restaurant cashier, then they can easily conceptualize a business plan and invest.
Conclusion
A restaurant cashier is a well sought-after job, especially for college students and those who are just starting with their careers. However, landing on this job is not as easy as you wish. There are screening processes that one must go through to be qualified for the job. A restaurant cashier is an essential part of a restaurant business since they are responsible for all transactions going on within the restaurant. All financial transactions go through the hands of a cashier. So, one must be highly competent for the job. When one is proven to be an effective, honest and productive restaurant cashier, a boost in your career will not be far behind. 
Also read Jobs for 17 year olds
Restaurant Cashier Job Description, Duties, Responsibilities, Skills