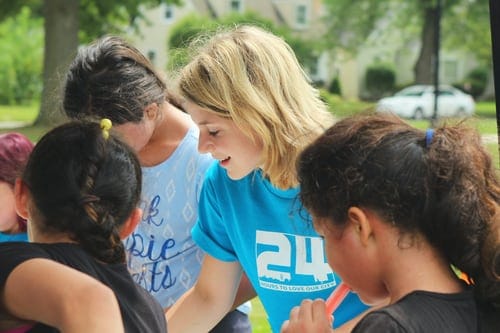 An outreach coordinator can be described as someone who initiates, manages, oversees, and execute a project in a community to achieve a set goal of making living better for other people. An outreach coordinator is a social worker and predominantly a project manager. This article talks about OUTREACH COORDINATOR JOB DESCRIPTION. An individual in this field works for nonprofit, health, religious, communities, or outreach organizations. Coordination of outreaches, organization of events, fundraising, initiation of programs, and the improvement of community engagement in social activities are vital responsibilities of an OUTREACH COORDINATOR JOB DESCRIPTION.
Today, outreach coordinators are sought after because they play a major role in developing any nation. The National Bureau of laborers estimated that outreach workers' demand would increase by 11% to 2024. Therefore, the importance of an outreach coordinator in an organization or community cannot be overemphasized. Leadership is the most outstanding role of an Outreach coordinator. An outreach coordinator is a representative or a spokesperson who is out there to coordinate an organization or a community's outreach activities. 
Outreach coordinators help people with diverse kinds of challenges by creating or promoting initiatives that would proffer solutions. Individuals or organizations' desire to give back to their community can be achieved through an outreach coordinator. Anyone that would assume this challenging role needs to be enthusiastic, community-driven, and self-motivated.
OUTREACH COORDINATOR JOB DESCRIPTION.
In a conventional system, anyone can be an outreach coordinator, irrespective of the course of study provided there are knowledge, passion, and experience in the social work sector. Generally, recruiters allow career path in public relations, social service, marketing, mass communication, journalism any other related fields. Hence, a Bachelor's degree in any of these would be an added advantage. Minimum of 2 years' experience as a volunteer and a social worker. 
DUTIES AND RESPONSIBILITIES OF OUTREACH COORDINATORS
An outreach coordinator will be in charge of initiating, organizing, coordinating, and executing projects beneficial to the community. Ensuring the seamless and flawless execution of initiated projects and the timely delivery within the scope and budget. Any event is a project, and it requires a proper understanding and application of project management principles to achieving the desired result.
Assumption of administrative roles in executing tasks. Work with the secretary to formulate agenda, date, venue, and time of organized meetings. Write proposals to strategic and relevant organizations for liaising and support. Proper record-keeping of events and activities for reference. Schedule outreach activities such as workshops, community events, and other projects in a calendar. Initiation and overseeing of the communication platforms, content creation are the responsibilities of an Outreach Coordinator. 
The service of an outreach coordinator is to the people. Therefore, the interpersonal relationship has to be a top skill. Build unity in the community by encouraging the active participation of members through initiatives. Disseminate information both internally and externally to members of the team and community, respectively. Ability to communicate with stakeholders and community-based organizations when required for the speedy accomplishment of a set goal. Maintaining and establishing a strategic relationship with team members, answer questions, and proffer solutions.
An outreach coordinator will contribute to human capital development by organizing training and workshops essential to the growth and development of a community. Also, programs will be initiated to improve the standard of living of community members or organizations. Handle the recruitment and mobilize volunteers to their respective areas of interest such as outreach work, social work, or religious gatherings. Oversee training and recruitment as well as seek development opportunities for team members
Able to network to identify potential contributors and investors willing to liaise to achieve a community set goal. Negotiate with stakeholders and persuade them into seeing the relevance of a proposed project. Highly sensitive to strategic relationships for the exchange of data, ideas, and information that would hasten collaboration. Expand the sphere of influence through networking. Maintain old and new relationships with partners, stakeholders, and community-based leaders.
An outreach coordinator is a leader of several teams across the different areas of engagement. Plan regular meetings and preside over every meeting that would be held by each of the teams. Assign specific roles to team members for effectiveness and efficiency of operations. Oversee weekly and monthly review of goals with team members to ensure alignment. Lead every event organization, such as outreaches, training, recruitment, and mobilization. Be mindful of the member's need and willing to proffer solutions.
Collaboration with the financial arm of the team to prepare a budget for any event or project. Set realistic fundraising goals and accurately make plans towards achieving the goals. An outreach coordinator is responsible for budget review and auditing to ensure transparency and accountability. Properly keep accurate records of all the financial transactions. Initiate means such as fundraising, business, investment to generate income for the smooth running of activities. Formulate probing executive to minimize and curb any mismanagement of units and subunits
An outreach coordinator will be in charge of research, getting data, and analyzing it. Collect data, analyze using relevant technology and make informed decisions from the analysis. Find out the community's dire need through research and records; create and execute plans to meet the needs. An outreach coordinator will formulate data that are helpful to other social organizations from internal resources. Develop results from the analyzed data, and present them to the relevant organization. From research, obtain a vast knowledge that will guide them to making the next decision and planning. 
Skills and Proficiency
Project Management
Outstanding writing and communication skill
Data analysis and data formulation
Vast knowledge in people management
Emotional intelligence, persuasion, and negotiation skills 
Passion for people and an excellent team builder
Ability to properly manage finance
Budget auditing
Public speaking
Strong and excellent work ethics
A detailed record of all events, training, and programs
Excellent interpersonal skill
Customer service
Outreach Organizational skill
Listening Skills
Organizational Skills
Also read How I Got a Project Coordinator job
OUTREACH COORDINATOR JOB DESCRIPTION