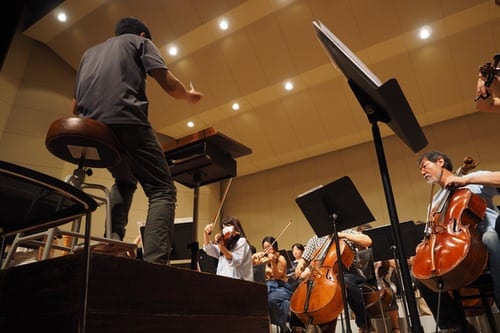 Orchestrating the band, maintaining the flow of consistency for various purposes, assuring the audience a fantastic performance. Thus, making all these events happen on time without any interruptions in the Music Director Job Description. Music directors play extremely crucial and important roles in the flow of operating music systems, playing the musical instruments harmoniously, composing music of any performance, organization. The main terms that fall under a music director's title are to compose, orchestrate and arrange. 
This role includes the music director to choose repertoire, i.e., setting goals for ensemble the sound, deciding how much time to allocate to each piece of sound and music during each rehearsal and working on corrections each time, devising different types of exercises for the development of ensemble's sound effects, to teach the different parts of music which have difficulties present in them, to communicate the tempo, breathing and the other aspects of communication via gestures and lastly, to teach the ensemble how to interpret the director's gestures. He also determines how the vocals are to be recorded from structuring, arranging, and composing all types of different musical instruments in a song and how one should go forward with the particular soundtrack.
Who is a music director?
A music director is the one who selected pieces of music that someone else has composed to put into the orchestra's seasonal lineup, or it can even be a movie soundtrack or anything related to this industry. Many often get confused in thoughts of what a music director and a music composer is. In simple terms, they both are equally talented; however they play different parts in various musicals, music composers usually only arrange original kinds of music and lay them out in different styles of music, while the music director manages to orchestrate the entire band of musicians and makes sure that everyone is inflow and sync in events and recording sessions.
For example, famous music composers are Beethoven, Alfred Newman, Jerry Goldsmith, and many more have rendered their life's work into the music industry. In contrast, famous composers are John Lennon, Madonna, Alva Noto, and many more to have rendered in dedication to the music industry. To be a successful music director, one must acknowledge the musicians' strengths, skills, and weaknesses under them to know how to orchestrate the band. 
Music Director Job Description
To understand the specifications and the constraints of a platform and work with available resources to plan performances.

To conduct auditions for new musical talents and to assign different parts to different musicians.

To assess the rhythm, voice, skills, and tone of each musician in the band. 

To develop an understanding of their individual abilities.

To provide instrumental and vocal demonstrations when required.

To schedule staff meetings and to simultaneously provide scope or suggestions for improvements and feedback.

To prepare budgets and to ensure staff work within the given budgetary constraints.

To select music, to organize interviews, PR opportunities, and for radio and television.

To lead and supervise performances and rehearsals.

To arrange regular maintenance to all the musical instruments used.

To stay updated on the developments taking place in the music industry and trends followed by different music industry professions.

To engage with different composers to write down the scores.

To plan and implement promotional and fundraising activities. 

To confer with the clergy to select musicals for church services.
Requirements to Become a Music Director:
A bachelor's degree in the field of music is required.
It is also most preferable to have a Doctorate or a Master's degree even.
To have exquisite knowledge in different types of music techniques, performances, and various theories of music.
A great amount of organizational skills, communication skills, and intrapersonal skills is required.
Having strong leadership skills, the ability to multitask, and incredible time management.
The ability to make quick and wise decisions under heaps of pressure and to render clear instructions to the band's musicians.
Given below, is a sample job description of a music director rendering services in a church.
Job Description For Music Director
Purpose: To coordinate and oversee music for this year's congregation's worship experience, so the music presented is a pathway for praise, prayer, and thanksgiving by the congregation. The music director will be formally expected to support this congregation's team leadership approach and style.
Time to be Committed to: Approximately 20 hours per week.
Duties and Responsibilities:
To plan and coordinate traditional music programs, to providing leadership and resources to other music leaders of the congregation.
Play the piano or the organ for all the traditional services happening on Sunday.
As requested by the pastors, the music director must coordinate music for weddings and funerals conducted at the church.
To direct and conduct regular rehearsals for choirs and ensembles included, however not limited to Chancel and Cherub choirs, brass choirs, and handbell choirs.
Make new available resources and ideas to program participants.
Assist with the music for the annual summer vacation bible school.
To provide recommendations of new music and liturgy for worship, to assist the congregation and learning process in these new settings.
Worship Planning:
To schedule choirs, ensembles, soloists, and instrumentalists.
To be an active member of the celebration team.
To search and figure and recommend hymns, liturgies, and worship styles for consideration by the Celebration team.
To take an active part in assisting pastors and the celebration team in developing, planning, and most importantly, implementing worship experiences for all the scheduled traditional services and not limited to only hymn selection.
Required Services:
Be available as the resource congregation team members are in the areas of music and worship as well for weddings, funerals etc. taking place.
Also read How to Become a Music Therapist
Music Director Job Description, Duties, and Salary