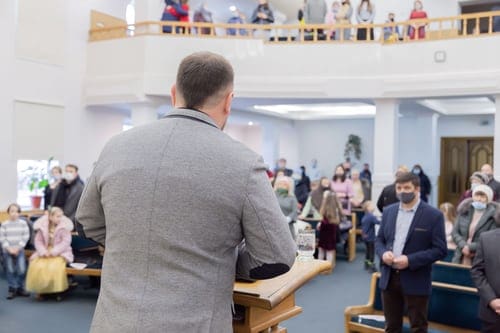 Article written by Joy Therese Gomez
An Associate pastor is the second person in charge of the Senior or Lead pastor. On the other hand, an assistant pastor is usually responsible for a smaller church's ministry, as the youth or couples for Christ ministry.
A pastor's role in leading and tending to the church requires a lot of community and relationship building—which is why many churches have multiple pastors. Some have 'co-pastors,' while others have a more organized hierarchy to the pastoral staff. They are God's helpers, whichever way we put it, as they help carry out and fulfill His will. Both associate and assistant pastor are essentially in charge of their church or congregation's aims and activities. But even though some of their tasks can overlap, there is still a division in the scope and weight of their responsibilities. Knowing their position's differences can help you turn to the most appropriate person for your concern in the community. And if you're thinking of being one yourself, it is crucial to know the nuances and even qualifications of the role you are going to fill. Here is a guide to help you distinguish between these two kinds of God's helpers.
What Does An Associate Pastor Do?
An Associate pastor is essentially the primary support person for the Senior pastor. He can either be a part-time or full-time church employee who assists the Lead pastor. The qualifications may vary based on a specific denomination, but here are some common qualifications to become an Associate pastor:
A seminary graduate/ had a formal seminary education
An ordained minister
Proven ministry record
Comfortable leading and teaching youth ministries, religious studies, and other groups
As the Associate pastor is usually the second person in charge, he is expected to fill in for the senior pastor. The most critical of the Senior pastor's duties to be fulfilled in his absence is, of course, to deliver sermons. Therefore, the Associate pastor should always have an "emergency sermon" ready at hand and be prepared to function as a backup speaker for the Senior pastor. The Associate pastor also serves as the primary person on stage for welcoming remarks, offerings, announcements, and closing comments during official gatherings. The Associate pastor also manages other assigned tasks and oversees the ministries designated to him by the Senior pastor. Regardless of the ministry, he may be in charge of planning and managing events for church ministries such as catechism initiatives and community service projects.
He may have to supervise church volunteers and counsel church members as well. His other duties include training church volunteers and tackling topics ranging from hospitality effective evangelism and even raising awareness on community development issues. Depending on the congregation's denomination and size, other tasks might also include attending inter-church activities such as taking part in fellowships or coordinating and leading mission trips. He may also have to assist with church services and ceremonies, like baptisms, weddings, and funerals.
The Senior pastor can also assign him to lead outreach groups and choirs or work alongside clergy and lay ministers as a team member. He will also collaborate with the Senior Pastor and the rest of the church board during their meetings. Inevitably, there is a technical side to the church. Here they strategically plan and set goals that ensure the church's spiritual relevance and financial viability as an establishment. All of this would serve as an effective training experience for an Associate pastor. Though an Associate pastor may be new to the ministry, ministering under a senior pastor will provide meaningful training experience and allow a safe place for him to mature. In fact, denominations even consider this as a preparatory role to become a Senior pastor. Above all, in doing this, the Associate Pastor will serve as a pioneer in cultivating God's church and being immersed in all the good things in between.
What Does The Assistant Pastor Do?
An Assistant pastor can be a full-time, part-time, and even volunteer job. Because he will be one among many Church staff members called to lead a designated ministry, several people hold the position of 'Assistant pastor.' They also report to the senior pastor but only assist the pastor in a specific area. Each one is assigned to supervise a department or arm of the church as Assistant pastors serve as additional help in the congregations. Again, the qualifications may vary based on a specific denomination, but here are some common qualifications to become an Assistant pastor:
A degree from Bible college or seminary is usually preferred, although two or more years of related experience/education or training can also be considered.
Basic administrative knowledge and clerical skills
A keen understanding of Servant leadership and the drive to empower communities
Progressive, collaborative skills or the ability to cooperate and work well with other church staff 
Compared to an Associate pastor who oversees a huge chunk of the Church's activities, an Assistant pastor will focus on a specific line of work. He can be assigned as a youth pastor, a worship leader, a catechism supervisor, or may even be asked to perform administrative tasks in the church office and so many more, depending on his specific denomination. 
The Senior pastor may also require the involvement of an Assistant pastor in worship and prayer groups, event planning and organization, and facilitating small group studies. Through this, an assistant pastor will work more closely with individuals like kids, parents, or couples.
The church often seeks assistant Pastors out when pastoral help and specialization is needed immediately. Because of this, they are also often regarded as 'Volunteer pastors.' Every time one steps up to fill this role, it becomes a great opportunity to use one's gifts that fit the church's ministry needs. Somewhere along the way, his faithful service may even be recognized by the congregation and can get him promoted to an Associate pastor. 
Like all church leaders and elders, Assistant pastors help support and nurture the goals of the church. Aside from taking some load off the Senior pastor's shoulders, they are given an important role in leading others towards the church's goals by guiding and strengthening the relationships in their respective ministries.
Despite their place in the hierarchy of the pastoral staff, Church members will nonetheless turn to them for valuable teachings about the Word of God and as examples on how they should be living it out. 
Also read How to become a Pastor
Associate vs Assistant Pastor: What's The Difference?