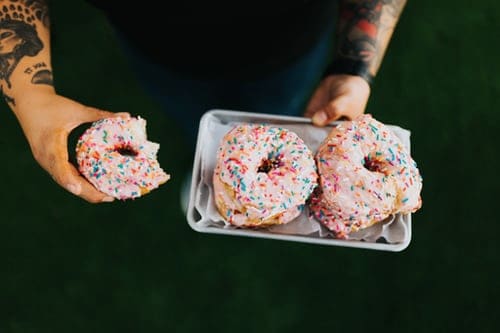 One must be 16 years of age to be allowed to work at Dunkin Donuts. The company abides by the Equal Employment Opportunity Law. Also, it does not discriminate on gender, color, or religious grounds. 
Dunkin Donuts Hiring Age Process
The Dunkin Donuts Hiring Age Process is as follows:
There are three ways to fill in an application for consideration of a job:


The first is online, which takes a little longer than the expected duration of 1 week to receive a schedule for being interviewed. 
If you apply in person at the store, the chances of being instantly interviewed and selected or unselected increase greatly. 
You may also get a chance to fill in by the referral method, which is the quickest way to be considered for the job. 
Availing the offline mode of application shall bring in your interview schedule way earlier than it would have brought in if applied through online mode. The difference in time duration could range from few days to few weeks, so it is always recommended to apply in paper mode and get further procedures as early as possible. 
Followed by a reviewal of the application, one may or may not be asked to sit for an assessment test to acquire knowledge of your capabilities. 

Next is the interview session wherein one is asked to answer several questions regarding your knowledge in various subjects.  

Next in the queue is the orientation and then the paid training (two days of video training and three days of on-floor training). 
Depending on how early you can grab the provided information and process it to use, one or two weeks of further training involving verbal communication skills or any other area of your lack might be provided.  
Different Positions and Their Responsibilities
Cook is responsible for preparing the deemed menu in the required quantity and quality and looking into the cleanliness and sanitization area without any negligence. Maintaining stock records and all required products is the complimentary duty of the cook. They are expected to meet the work requirements without any delay. 

Baker is limited to preparing delicacies from the bakery department and serves them with love to the guests and customers. 

The cashier is assigned the responsibility of collecting cash and maintaining accounts of provided services. They take in the customers' orders and direct them to the cook and crew members to prepare and serve them. They must have an excellent qualification in their communication skills, calculative skills, and customer services.

Shift Leader is solely given the duty of directing, assigning, leading, and motivating the employees under their guidance to keep them going with their responsibilities and help them achieve their set goals. They must also provide necessary feedback to ensure their strive towards perfection.

The manager provides the entire direction of the store either directly or through assistants and shift leaders. 
Payments
The average pay per hour varies as per the position of the employee's work. Some of which are mentioned below:
Cook $9
Cashier $10
Baker $10
Shift leader $11
Manager $13
Employees are paid twice a week through direct deposits.
Dress Code
The manager provides you with the apron, hat, and name tag. While you shall be expected to wear a white shirt, khaki pants, and black slip-resistant shoes. You are allowed to have colored hair, but no nail polish or fake nails are allowed, along with no earrings.
Famous Healthy Cravers
One of the store's healthiest drinks is Iced Green Tea, with no calories and sugar in it, available in raspberry and peach flavors. French cruller is the healthiest donut with 10gm of sugar and 220 calories. Their coffee has attained fame for exclusively bringing in Arabica beans from Central and South America. 
Preparation and Availability
Their famous donuts reach the stores as early as 5 am and are served all day while coffee is brewed every 18 minutes. 
Timings and Shifts
The shifts could range from 4-8 hours each. One may be given a chance to work one or two days a week for several hours. However, 40 hours a week is the need for a full-time employee. One may avail a break of 15 minutes if you are working for a shift, and for more than one shift, you are given an additional 30 minutes to relax.
Perks and Benefits 
Medical benefits
Tuition discounts
Meal discounts
Paid time off
The disadvantage is that they do not offer maternity leave.
Also read What Age does Walmart Hire?