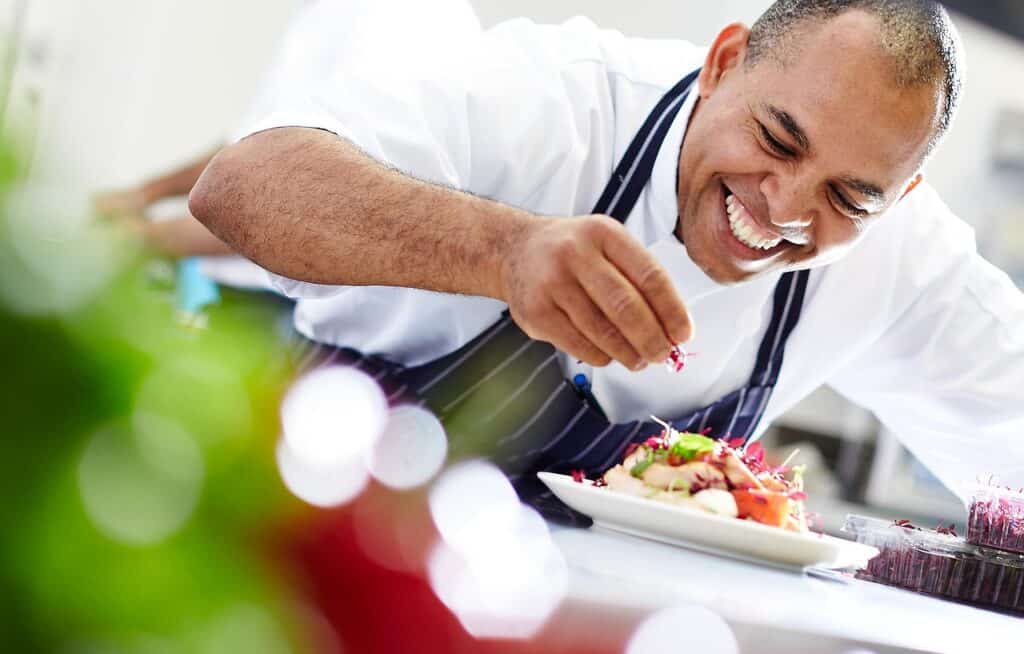 Do you love cooking more than anything? Are you thinking of pursuing your passion for cooking as a career? We will discuss Catering Assistant Job Description here. Then this job is definitely for you. You can be a catering assistant without any doubt if you have an interest in cooking and catering. Catering assistants help the chefs and maintain the cooking process with making foods, tasting them, checking prices and stocks, monitoring the delivery sections, and serving foods to the customers. Catering assistants can work in various places. They can work in schools, hospitals, hotels, offices, waterparks, restaurants, functions or events, etc. Working as a catering assistant can help one learn new skills and gain experience in the workplace, which will surely drive you to more of you.
Nowadays the food businesses have become more profitable than before. Anyone can start a small business catering just with their cooking skills being in this profession. Catering businesses in the United States are growing rapidly. So the vacancies for catering assistants are also increasing. Being a catering assistant can be one of your wisest decisions as it will help you develop yourself more in your career. During this covid-19 period, the delivery service of catering can be a very successful way of earning. Catering services are seen in our daily life for various purposes. The catering assistants have to work in shifts including holidays and weekends. But the working hours vary from place to place. 
Catering Assistant Job Description
Duties of a Catering Assistant
A catering assistant has to perform a bunch of tasks in his/her workplace. They are:
Proceeding orders from customers 
Keeping the kitchen clean 
Helping in the process of preparing foods (peeling, cutting)
Washing the utensils of the kitchen
Plating and decorating foods
Serving foods to the customers 
Monitoring and loading-unloading deliveries
Making the dining ambient more beautiful
Keeping track of the stocks
Making certain that all the necessary staffs of cooking are available for the chef 
Running machinery items to assist in cooking
Salary of a Catering Assistant
A catering assistant gets a very decent salary to lead his life. The salary of a catering assistant varies. The starting salary of a full-time catering assistant is nearly $12000. However, it can rise to $16000 with time and experience. If the salary is hourly based, you can earn $5 to $8. Basically, it gets decided by age and skills. This job is offered part-time, full-time, and also seasonally.
How to Become a Catering Assistant
One can get into this job by doing a hospitality apprenticeship. This can be done with GCSEs based on the level of apprenticeship. While gaining these qualifications, all the responsibilities of a catering assistant will be covered. All the relevant knowledge will be shared in this process with the person who wants to become a catering assistant. Apprenticeship payment is much lower. It will go up going as soon as the apprenticeship is to be completed. 
There is an alternative to an apprenticeship. You can also gain full-time basic qualifications regarding the food industry for applying as a catering assistant. Higher qualifications can be gained working as a catering assistant at the same time. Recruiters focus on the interest of the candidate in the candidate industry. They check if you know the basics of food safety and hygiene. If the above goes right with you, the job is yours without any doubt. 
Academic Qualifications
Academic courses can be done to get into corporate catering. Specially courses done in catering and hospitality can be a plus point. 
Award or certification in food safety in catering (Level-2)
Certification in food preparation and service (Level-2)
Certification in General cookery in hospitality (BTEC Level-1)
Emotional Intelligence
Having soft skills in doing this job is also required. It is a common rule seen in every job to perform well in the organization. A catering assistant also needs to have these kinds of skills. Top catering companies are also enforcing their employees having these skills in corporate work culture. Followings are some of the skills-
The ability to work in a team
Following instructions
Communication skills
Working under pressure
Maintaining customers
Hygiene conscious
Sheer dedication towards work
Working Areas
A catering assistant basically works in a lot of places. But their workplaces are defined into two major areas:
Kitchen areas owned by a company: It can be a nice start for an assistant from a kitchen to discover his creativity and more. Catering companies mainly provide these kinds of opportunities.


Event area and ventures: Catering services are largely seen in events. Best catering places focus on the services to make it better for the customers. Working in this area, one can gain valuable experience and work knowledge.
Catering Assistants Job Opportunities
Catering assistants can work in schools, hotels, restaurants, hospitals, pubs, armed forces, office catering, home catering, etc. Almost 400,000 catering assistants are working in the United States as part-time jobs or full-time jobs, and the vacancy number of this job is available constantly. Renowned hotels, pubs, restaurants in the United States are now employing catering assistants hugely. A person can acquire more qualifications in hospitality and food preparation while working as a catering assistant. It will help him to relate through practical knowledge by experiencing corporate catering. But what if you don't have qualifications in this field!
No worries, you can gain knowledge and certifications in this field by doing courses regarding food safety and hospitality. Courses are available both online and offline. Some of the online sites offering these kinds of certifications are- Train4food, Global-Id consulting. They offer other relevant courses in the food industry, including food hygiene. Different roles are also available in the catering field. Kitchen supervisors, managerial positions in hotels or restaurants, trainee chefs are some of the roles in catering. But one can work in bars or waiting if he wants to keep good communication with the customers. 
Also read How can you become a catering assistant in 5 simple steps?
Latest Catering Assistant Job Description – Duties, and Salary