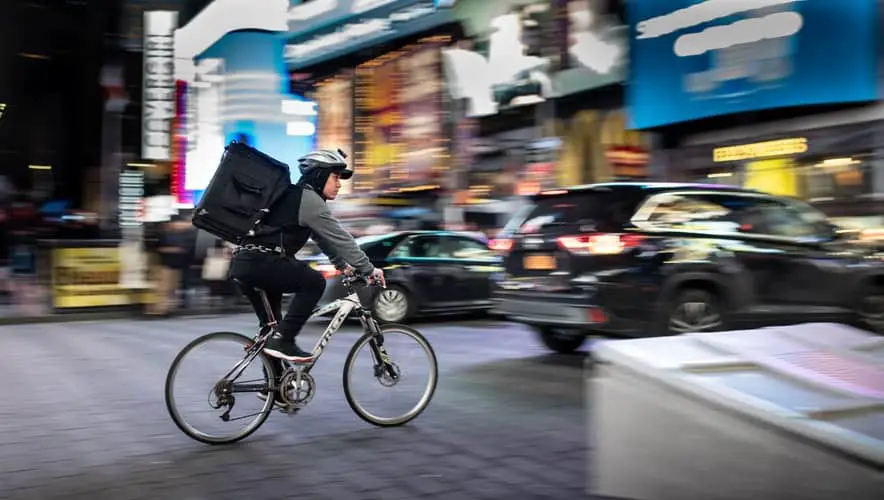 Covid-19 threw the world into a search for little to no contact services. The food delivery agencies, which became pivotal in recent years, unsurprisingly spirited into a new dimension because of the need to decongest restaurants. This created an increase in demand, hence the need for a consistent, fast, and reliable workforce. 
If you live in the United States, and you're looking to explore a viable work option, or you own a food outlet, and you'd like to expand your reach to an online community that guarantees your customer retention, this article will tell you all you need to know about DoorDash. DoorDash happens to have many job openings and opportunities, ranging from administrative duties to become a Dasher – a delivery agent who gets the food and other items from the restaurants and pick up points and gets it delivered to the customers. DoorDash job applications vary in requirements. These requirements include: being an adult, having a registered vehicle, and meeting certain work conditions required by the company. Work hours, pay, and benefits vary for different work positions at DoorDash.  You will get more details about the requirement below.
What Job Opportunities does DoorDash provide?
DoorDash career opportunities are broad and thereby give opportunities to a wide range of people willing to work. Topping the career options because of its constant availability is the Dasher position which allows you to become a delivery driver who gets to pick your work schedule and operation area. The exciting thing about this option is that it does not require you to have a college degree or certain hard skills like many jobs require.
Other career options at DoorDash come as positions in various departments, they include:
Accounting (Accounting Manager, International Controller, Manager, Director, Senior Manager)
Ads and Promotions (Business Analyst, Associate Manager, Operations Associate)
Analytics and Data Science (Data Scientist, Manager, Senior Data Engineering Manager)
Business Development (Associate Manager, Senior Manager, Director, Engagement Manager)
Communications (Manager, Director, Senior Manager)
DashMart (Launch Trainer, Shift Supervisor, Supply Chain Analyst, Warehouse Associate, Operations Manager)
Dasher Experience Team (Dasher Insight Senior Agent, Dasher Support Labs Agent) 
Design (Design Manager, Design Technologist, Internal Tools Design Manager)
DoorDash Drive (Director, Manager, Senior Associate, Senior Manager)
DoorDash Lab (Senior Robotics Software Engineer, Autonomy Engineer, Robots Operations Specialist)
DoorDash for Work (Senior Advocate, Enterprise Corporate Account Manager, Executive)
Engineering (Operations Research Scientist, Software Engineer, Technical Program Manager, Engineering Manager)
Finance (Analyst, Manager, Senior Associate, Senior Manager)
IT (Audio Video Engineer, DevOps Engineer, Solutions Architect, Service Desk Engineer)
Inside Post Sale (Account Executive, Account Manager, Inside Sales Manager)
Inside Sales (Account Executive, Sales Executive, Junior Account Executive, Sales Development Representative)
Kitchens (Dishwasher/ Prep Cook, Line Cook, Operations Associate, Shift Supervisor)
Legal (Regulatory Counsel, Senior Employment Counsel, Corporate and Securities Counsel)
Marketing (Creative Strategist, Director, Partnership Manager, Senior Manager, Associate Email Developer)
Marketplace Operations (Real-Time Analyst)
Merchant Operations (Activations Associate, Merchant Services Representative, Senior Manager)
New Business Verticals (In-Store Shoppers, Area Supervisors, Manager, Regional Manager)
Operations (Senior Manager, Operations Manager)
Outside Sales (Business Development Manager, Regional Account Executive, Regional Account Sales Executive)
People (HR Business Partner, Executive Business Partner, Senior Director, LOA Case Manager)
Product (Solution Architect, Application Engineering Manager, Senior Salesforce Administrator)
Public Policy (Government Relations Lead, Head of Federal Government Relations, Senior Manager)
Recruiting (Recruiting Manager, Leadership Recruiter, Recruiting Coordinator, Senior Sales Recruiter)
Regional Merchant Strategy and Partnerships (Regional Merchant Associate, Strategic Partner Manager, Associate)
Sales Operations (Associate Manager, Business Systems Analyst. Business Systems Program Manager)
Sales Strategy (Director, Manager, Sales Enablement Lead, Senior Associate)
Strategy and Operations (City Specialist, Associate, Manager, Operations Manager, Strategy and Operations Manager)
Support Operations (Real-Time Analyst, Support Trainer, Training Manager)
Workplace, Real Estate, and Security (Real Estate Transaction Lead, Transaction Coordinator, Facilities Operations Project Manager)
This is a long list of departmental options, which are further broken down into specific work positions, and the specific geographical locations where this personnel is needed. These job opportunities are open to applicants who meet up the application requirements and eligibility status. The list which is available on the DoorDash official website is accessible to everyone. You can visit www.doordash.com/careers/, click on the specific job opening you're interested in, and follow the instructions. 
How old do you have to be to apply for a DoorDash position?
Aspiring candidates for DoorDash career positions, including the Dasher option, are expected to be at least 18 years old. While certain departmental positions require certain experiences and specified years of experience, there are no age brackets for the many DoorDash career options. 
Requirements for DoorDash Job Applicants 
The requirements for the different job positions at DoorDash vary depending on the expected skills, and experiences applicants must possess.
To become a Dasher (a delivery driver), applicants are required to:
Be 18 years or older.
Own a vehicle (car, scooter, motorcycle, bike, etc.)
Have a driver's license number
Have a social security number
Consent to a background check
Own a mobile phone that allows them to access the DoorDash application and/or website
Dashers are expected to be within geographical locations that have DoorDash services. Hence aspiring candidates must be living in nations where DoorDash is available and accessible. The online application form to fill to become a Dasher is available on the official DoorDash website; visit www.doordash.com/dasher/signup/
To apply for departmental positions, applicants are required to:
Be 18 years or older.
Have a mobile phone or device that allows them to access the DoorDash Application/or website for updates 
Provide basic identification (First name, Last Name, Email, phone number)
Own the specific educational requirement for the position he/she is applying for (For example, Bachelor's degree, MBA, etc.)
Possess the required skill set that fits the job description of the career option. 
Submit a Resume/CV in the application process (can be submitted as an attachment, via Google Drive, Dropbox, or pasted)
Submit a cover letter as a part of the application process (can be submitted as an attachment, via Google Drive, Dropbox, or pasted)
Submit a LinkedIn profile (Optional)
Answer questions on their Eligibility Status
Fill a Self Identification survey containing gender specifications, ethnicity, sexual orientation, pronouns, Protected Veteran Status, and Disability Status. 
(Applicants are provided with the option, "I do not wish to answer" for each of the questions provided in the Self Identification Survey).
Applicants for the various departmental positions at DoorDash are expected to be within the geographical areas where those job openings are available. Successful applicants usually would be contacted for a physical or online interview and subsequent communication.  The online application form for the different job openings at DoorDash is available on the official DoorDash website. Visit www.doordash.com/careers/.
To become a partner restaurant, applicants are required to:
Fill an online application form providing the restaurant's name, address, email address, mobile phone number.
Restaurants wishing to apply to become a partner restaurant with DoorDash are expected to be within geographical reach. Hence the address must be accessible by Dashers if the application would be considered. The online application form for applicants wishing to become partnered restaurants with DoorDash is available on the official DoorDash website. Visit www.get.doordash.com. The various requirements for the many job options at DoorDash are explicitly spelled out on the application forms. Hence applicants can read through, take out time to construct, and get the expected documents they need for the application before filling the application forms. 
Application Process for DoorDash Job Openings
DoorDash communication is mostly done online, and apply for job openings is not exempted. This means that for many of the career options at DoorDash, applicants are expected to fill online application forms, be available online when contacted via emails or when messages are uploaded to applicants' pages. 
To apply for a Dasher position, applicants are expected to sign up. To sign up, applicants need to:
Visit the official DoorDash website, www.doordash.com.
Fill in a valid Email address. 
Fill the form that follows.
Choose driver orientation
Complete sign-up process and submit.
Wait for the process of a background check. 
(While the signup process takes only a few minutes, applicants have to check the application's status after 1-2 weeks to get the account activated. To check status, applicants should attempt logging in using the registered email and phone number. If a pop-up message displays indicating that there is missing information, then the application is still undergoing processing. However, if the said pop-up message doesn't appear, the applicant's entry has successfully been activated and can proceed to get the application and log in).
To apply for a DoorDash departmental position, applicants are expected to:
Visit the DoorDash official website, www.doordash.com.
(At the end of the page) Click on Careers
Read through the two-paragraph message and proceed to click on "See jobs."
Select a department and location
Click on the specific job opening you wish to apply for
(After getting redirected to the new page) Read through the job description and requirements.
(On the same page) Fill the "Apply for this job" forms 
(At the end of the page) Submit Application  
Successful applicants would be contacted to begin an interview process.
To register a partner restaurant, applicants apply via the following process:
Visit the official DoorDash website.
(At the end of the page) Click on "Be A Partner Restaurant"
Fill the form
Click on "See Pricing"
Successful Applicants get 0% commissions for 30 days.
Salaries
The payment structure for DoorDash careers is wages. Dashers make an hourly wage starting from $10 and having no maximum limits. Wages for Dashers depend on the location they are expected to deliver to. While pay rates aren't specified on the application form for departmental employees and sales development representatives, online researchers estimate that DoorDash employees make a minimum hourly pay of $18 to $22. 
Benefits
DoorDash provides a lot of benefits that range from flexible work hours, tips, and incentives. These benefits are available and enjoyed by Dashers, departmental employees, partner restaurants, and the various teams at DoorDash. 
For Dashers, benefits range from:
Being able to choose work hours
Ability to deliver to the desired location (e.g., close to one's home or work) 
Clear and concise pay models (Dashers know how much they'll be earning on delivery before accepting the order) 
Tips
DoorDash credits
Car insurance for any accidents that happen during delivery
Ability to choose not to work for a period of time (e.g., Take leaves, vacations)
For departmental employees, their benefits include:
Various geographical locations for job opening hence providing ease of access
Benefit programs
Job training
Sick Days
Insurance
Occasional Meal plans
For partner restaurants, the benefits come in the form of:
Additional revenue from online customers who would rather not visit physically
Reaching a wider audience and the ability to get new customers
Promotional ads on the DoorDash website and Application
Frequently Asked Questions
Do I have to wear the DoorDash shirt? No, you don't have to wear their T-shirt as an independent contractor. Although DoorDash may give you custom red DoorDash T-shirts, you are not required to wear them.
Can someone ride with me while driving for DoorDash? Yes, anyone can ride with you, as DoorDash does not monitor whether or not you've got anyone in the car with you.
Does DoorDash pay if I don't get orders? No. you are paid after an order is received and delivered. However, you may receive a partial payment if the delivery could not be completed.
Becoming a DoorDash Employee
This article has provided you clear and detailed information on all you need to know about DoorDash careers – their specifications, requirements, and expectations, as well as how to go about applying for the different positions. It is expected that an individual applying to become a DoorDash employee has the required documents and meets the eligibility status. Applicants who meet these criteria and are comfortable with the work specifications spelled out by DoorDash can then proceed to fill the online application forms and hope to get a response. The wages, salaries, and benefits that DoorDash provides are available to successful applicants who become a part of the DoorDash family. If you have any comments, further clarifications, questions, or reactions, please feel free to leave them in the comments section below.  
Also read Banana Republic Careers: Job Application, Salary, Age, Benefits
How to Work for DoorDash: Requirements & Job Application Process