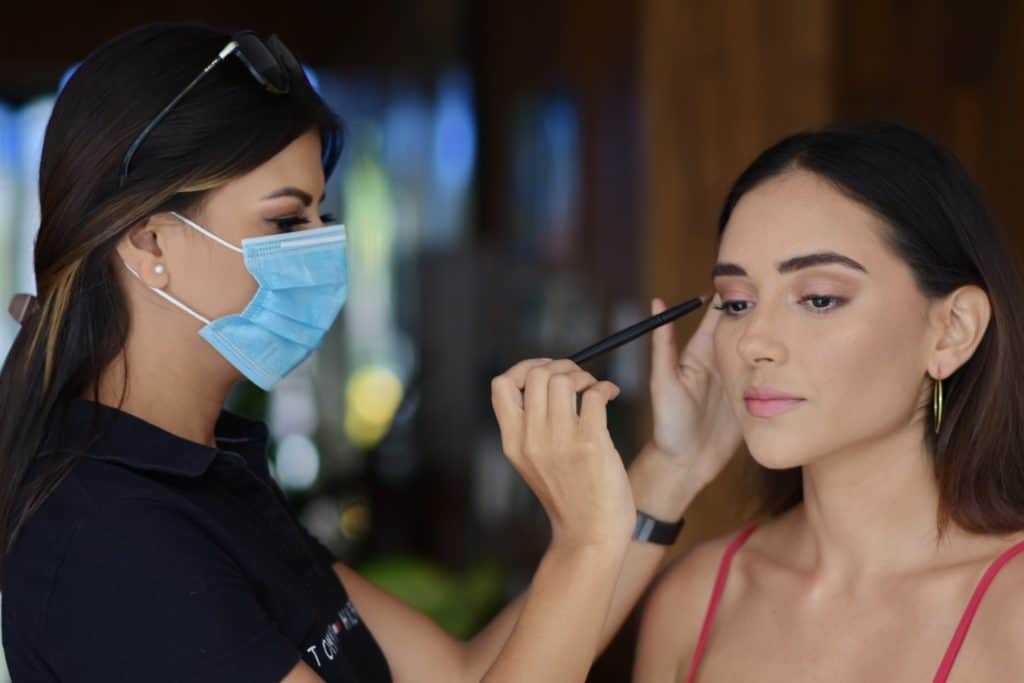 A makeup artist (MUA) is a person who is skilled in using cosmetic techniques to enhance the beauty of any individual. In simpler words, makeup artists enhance natural beauty by using various products and smooth out the skin by hiding the flaws. MUA's are responsible for transforming the looks, including makeup products, body paint, wigs, and other prosthetics and accessories. A professional makeup artist should assess the lighting, setting, and all types of skin textures and physical features to develop a personalized makeup look. The type of makeup to be done generally depends on the preference of the client and the situation for which they want to get glam. Makeup artists are involved in the entertainment, fashion, and cosmetic industry. They can either work as a freelancer or a part of a team. Today we will discuss the freelancer makeup artist and how you can become one. 
Before moving on to the several options of becoming a freelance makeup artist, I will tell you briefly about the freelance MUA. The job responsibility of a freelance MUA is the same as any professional MUA who is working in a salon or anywhere on a full-time contractual basis. The only difference is that you will be working independently and most likely may work on your own hour and pay rate. In addition, you will be able to choose your clients and will be able to work with various brands. Freelancing in the makeup industry is a highly desirable career. However, the makeup industry is very competitive but is very rewarding as well. So the key is to know your options and begin with a great start giving you an edge over other freelancing makeup artists. 
Get certified. Certification is the most crucial step in becoming a makeup artist. Usually, a makeup artist is required to obtain a diploma from a vocational school in cosmetology or makeup with a minimum of three years of experience in their chosen industry.
Develop your personality. Many makeup artists might overlook this factor, and face difficulties when facing their own clients and working as a freelancer. You need to understand that a freelancer needs to entice their client so they form a relationship with them leading to the long-term surety. A makeup artist should have excellent communication and interpersonal skills along with an artistic personality.
Practice your skills. There is no doubt that practice makes a man perfect. Before beginning your professional career it is highly necessary that you have perfected your skills. By doing so, you will be able to generate a better market for yourself. If you could take as much as online or offline, it will enhance your skills. 
Don't rush. Another common mistake a lot of makeup artists do is that once they have expertise on a certain number of looks and a specific skin type, they join the industry which might become a problem in the future. Imagine if you went to the makeup artist and with a different skin type and texture and you want a look suiting your skin. The makeup artist might not be able to give you the best results you hoped for. So you would be losing a potential client. 
Polish your makeup skills and services as a makeup artist. After you have graduated, you already possess skills enough to start working but to become a master in makeup you still have ways to go. Although everything comes with experience but knowing yourself is also an equally important tool. You have to know yourself thoroughly and should be able to answer these questions:
What are you good at?
What is that you are still lacking?
What is your weakest section?
How can you improve?
What is that one thing in you that separates you from another makeup artist?
When you can answer all these questions without hesitation and overcome them, you would have already crossed half the journey. So along with the hands-on practice and skills, you need to focus on these things as well:
Get organized: Whenever you choose to enter into any profession, you need to develop certain skills and habits, and organization skill is one of them. When working as a freelancer you should be able to manage your time and keep a record of your clients. A lot of this work could be reduced when working with any other organization but as a freelancer, you have to keep a record of this information. Making a budget comes under organization skills as well, you need to make a budget for the expenses you make to the money you are earning so you get a proper profit and not end up spending more than you earn.
Professional work ethics: It's something that is not very often highlighted but having a strong work ethic could help you in moving ahead. When working in the freelance makeup industry you need to understand that you might have to work harder and struggle to build your name. In this process you need to understand the importance of networking and marketing, to grow clients and connections. Being a makeup artist is a journey of joy since it's something you love all your efforts will make you feel proud every time you grow. The freelance jobs might take your utmost priority list but still, you need to be able to balance it with your personal life and health.
Digital platforms like social media: In today's generation social media platforms play a big role for the up-rise of various makeup artists, for instance, James Charles. You need to understand the audience that you target, their needs, and the trend, then choose your platform to generate more traffic and light towards your work. Even if you can't afford a makeup studio and fancy camera to shoot YouTube videos you just need your phone and your skills to showcase them on TikTok and Instagram Reels. During this pandemic time when most of the people are at home, they are spending more time on these apps so it gives you an upper hand to showcase your talent and advertise your business.
Professional portfolio: A standalone portfolio is a must for a makeup artist, it allows the clients to see the work of the makeup artist at a professional level. So investing in a good setting and camera. If you are able to arrange for a professional photographer, hairstylists, and designers to get the best results. 
Makeup Artist Kit: The makeup artist kit is a very valuable possession to every professional makeup artist. Understanding the budget as a freelance makeup artist is very important as you should understand that not every expensive product is needed to be a professional. You have to test a lot of products to find the one that will suit the clients and your budget. You are already experienced in handling a beginning kit at makeup training, so working with larger palettes and various professional tools won't be difficult. Organizing is very crucial and you need to have a presentable setup before the clients with skincare products, quality brushes, a range of eyeshadows, different types of lipsticks, foundations for every shade, and cleaning products. 
Understanding the limits and number of clients: A common mistake a number of freelancers tend to do is that they need of lot of clients to make their ends meet and be successful. However, this is not the right approach you don't have to overdo yourself and might decrease the quality of work. As mentioned above you don't need have to master every possible skill as you begin, you just have to develop them while experiencing them. In order to work successfully, you will have to be confident in your own style which could be glamour looks, airbrush, everyday makeup, bridal or any other. The next best thing about being a freelance makeup artist is that you are not forced to things or looks you are not comfortable doing, you always have the option to reject them.
Networking: Another big shot in the makeup industry is your links and connections. They can come in handy and useful to you. They are several ways you can build a trustworthy relationship with your clients and use them to create networking for you. You can always approach event organizers, wedding planners, hairstylists, and designers that are familiar with clients and their needs and may recommend you to them. In addition to establishing your connections, you must have an active online presence. Using social media as a platform to showcase your work you will be directing potential clients towards your makeup business. This could also benefit you if you are looking for partnerships with other professionals. You must update your social media on a daily basis to be really active and a dedicated professional, engage with your potential clients and build an online network for yourself. The best form of marketing is mouth-to-mouth marketing, when a client is happy with your work it will make sure to tell their family and friends about you or even post your work on social media. Therefore, it is essential that you have your business card and details ready to pass to those happy clients and may even encourage them to check your social media pages. 
Be in trend: A professional makeup artist is well aware of the trends going on in the market and develops their skills and tries out new things. Staying put in a makeup industry is never an option. You always have to try to be the best and put it into your work cause if you will not somebody else will. You may get a big break in your career and have a steady income but that may not last long, Customers are always expecting, they need you to be at the top of what you do and be aware of trends. Clients even lookout for the products you are using. Trends are not just for looks they even come for products for example in makeup looks soap eyebrows and blushy looks are a new choice for celebrities to common people and in products, various face masks skincare products like lip masks, and under-eye masks could be seen all over the internet. Clients will be impressed and satisfied with a makeup artist that understands the latest trends and their commitment to their work. Learning is a never-ending journey and it will always pay you off at every stage. As a freelance makeup artist, your services should set you apart from the other makeup artists. 
Being humble can go long way: A lot of customers coming for makeup may have some insecurities, it is your job to understand the client and make them feel beautiful of their own skin and their differences. You need to be able to deliver the message that makeup is not about hiding your flaws it's about accentuating your beauty through your work. Being humble is the most important thing you can do as an artist and it will go long way for you. There will be clients who will appreciate your work and kindness and there may be some who will try to rip you off but you have to understand how to handle every type of situation. Patience will come in handy for you in this industry and since you are working alone you have to remain calm at all times. 
Frequently Asked Questions
Can you make a living off being a freelance makeup artist? 
Based on the US Bureau of Labor Statistics, a freelance makeup artist can earn a median annual salary of $66,000. It is just a figure to tell you about the potential of freelance makeup artists. Still, they can worth much more, and many of YouTube's influencers were freelance makeup artists like James Charles, Nikita Dragon, Pattrick Star, James Welsh, Nyma Tang, Nikkie, and many more. The income can potentially grow as you become more skilled and renowned in the industry. The scope is endless as a freelance makeup artist, but you have to be able to devote yourself to it with your heart. 
How do freelance makeup artists find work? 
Being able to work as a freelance makeup artist is not difficult. You have to understand your assets and how to use them to your benefit. As mentioned above in the article, I have listed several ways you can find work for yourself. In summary, you need to have a professional portfolio, build a network, and contact potential people like wedding planners, event organizers, hairstylists, designers that often require makeup artists. You can also benefit from makeup artist trade shows. 
How can you become a makeup artist without attending school?
Certification is necessary to be a professional makeup artist, but that doesn't mean you cannot become a makeup artist without going to school. You need to focus on developing your skills and do volunteer work to understand the setting and things you need to do as a makeup artist. Build a social platform and spread your talent. Practising is the key to success. Work with professional makeup artists as an intern or as an assistant. 
Who is the highest-paid makeup artist?
One of the top makeup artists is Gucci Westman. She is known for her ability to exude sensual makeup looks for attractive women to both men and non-threatening women. Some of her best works could be seen through Natalie Portman and Drew Barrymore. Westman was one of the most sought out makeup artists for magazine covers. Some other famous makeup artists like Tom Pecheux, Pat McGrath, Charlie Green, and Sam Fine are included in the hot list of highest-paid makeup artists. Many makeup artists are very popular on social media platforms like YouTube and Instagram, for instance, the celebrity makeup artist Mario Dedivanovic with nearly about 6.3 million followers on Instagram. 
How long does it take to become an MUA?
Makeup artist's training varies in length. It depends entirely on the course you opt for. Some courses can take several months to complete, and some could be completed in a few weeks. If you are thinking of obtaining a certified cosmetologist license, it will take a year or more to complete the training program. But, again, it depends on your needs and requirements the type you want to opt for. Besides the license training, people also enroll for weekly or monthly training to learn about new techniques and training. 
Can I learn makeup online? 
Of course, there are plenty of offline and online courses available for learning makeup. They could be either paid or free, depending on the institution you choose. The online makeup program courses can teach you about various types of professional makeup looks for various occasions. In addition, they will focus on various techniques, tricks, and ways you could become a professional makeup artist. Joining a course is always beneficial since it can guide you and help avoid the many makeup artists make. 
How to Become a Freelance Makeup Artist