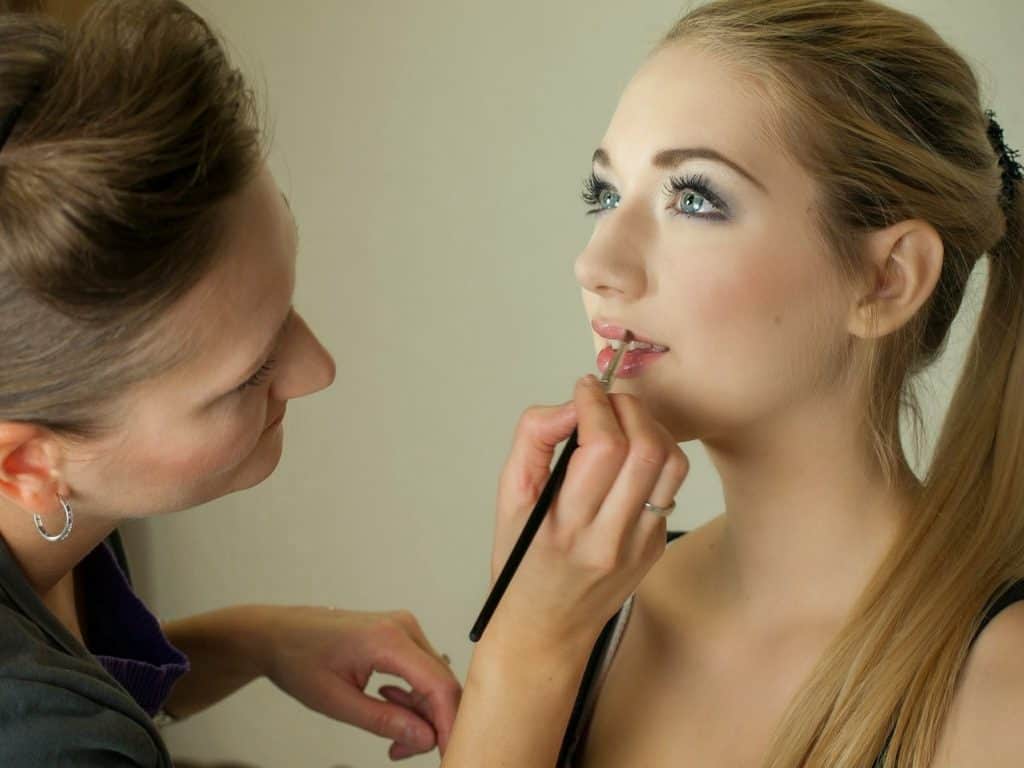 The freelancing world has changed the lives of many people. And it comes with a lot of benefits. As a freelance makeup artist, you have the willpower to set your hours and services fee (a pay rate). Also, you can find your prospects and build a perfect reputation with them. Therefore, becoming a freelance makeup artist is greatly interesting. To start the freelance makeup artistry business, you need to obtain the skills, arrange your makeup kits, advertise your services to the people residing in the same community with you, take advantage of social media to extend your services to potential clients, build a portfolio and learn about marketing, etc. 
16 Steps to Becoming a Freelance Makeup Artist
Follow these steps, and you will find the way forward to becoming a reputable freelance makeup artist. 
Step 1: Learn how to do make-up. You don't need this step if you're a makeup artist. And if you're not a makeup artist, and you'd intended to become one, then this stage is for you. Likewise, as you strive to join the makeup industry, it's required to consider having the skills before taking another reasonable step. 


Step 2: Arrange your makeup tools. As someone who just rounded up the makeup training, the next thing you need to consider is building your tools. Ensure that the necessary tools used for makeup are available. But if you already have the mastery of make-up, the only thing you need to do is to afford the valuable makeup tools. 


Step 3: Build a portfolio. A portfolio includes samples of your work or previous work experience. Some prospects are too curious. They will desire to check the records of your business before allowing you to work for them. Your portfolio should be able to persuade your clients. The portfolio should let your customers feel that they can trust you. Have a website(blog) for your makeup business and build your niche. Additionally, if you want to build a professional makeup artistry portfolio, you need to afford a high-grade camera or go for shooting with photographers. During this process, you may be lucky to have other early career builders such as hair designers, fashion designers, photographers, and other designers who are ready to sell their talents for professional photos. 


Step 4: Start with the people in your locality. There's always a little beginning to every successful business. It's impressive to start with the people around your community. And as you do that, people will acknowledge you to a greater extent and recommend your handy work. Besides, starting within the local also helps to increase your expertise and experience. 


Step 5: Use social media to win more clients. Are you a tech-savvy person? If you're tech-savvy, then you're good to go. Even if you don't know much about tech, you're still good to go. The only thing you need to do at this point is to take your time to learn how to use technology. There are varieties of social media on the internet. Some of these social media are Facebook, Linked In, Instagram, Twitter, etc. You can promote your valuable work on these platforms and land possible prospects. Also, you need to be constant with social media to build stronger and larger audiences. This way, you can also gain a reasonable online identity.


Step 6: Stay current with makeup trends. As a makeup artist, you need to stay current with makeup trends. Fresh makeup ideas do come out most times. Following the sensations helps you to learn about the new makeup ideas. So, always stay current so that you wouldn't be left alone in an old-fashioned way. Additionally, that helps you to stay one step ahead.


Step 7: Continue to learn more about new makeup ideas. There's no limitation to learning. You can learn as much as you can. Research new ideas about makeup and master them.  In that case, you're creating for yourself an exceptional profile. 


Step 8: Develop managerial skills. The managerial skills involve the keeping of schedule and records of the respective client. If you can't meet up with time, you may lose your clients and reputation. Every customer desires his/her demand to be timely fulfilled. So, you must be conscious of time to maintain your standard and avoid an awful prestige.


Step 9: Learn a little bit about marketing. Should I say this is the primary deal? Well, probably this could not be the primary undertakings. But it's also a significant portion of the deal. Leaning the commerce ploys can enable you to gain additional clients. Also, you can sell your services by running paid ads on social media such as Facebook, Linked In, Twitter, etc. Therefore, you can be able to meet wider audiences with the marketing skills you've acquired.


Step 10: Display your makeup certification and license. This is the evidence that can define your legitimacy. Anyone who comes across your certificate or license will note that your business is legitimate. In this case, be bold enough to display your certificate and license. If you had a salon, place them on the wall for customers to acknowledge them. That made you a certified makeup artist.


Step 11: Develop a strong work ethic. If you want to stay highly active and effective as a freelance makeup artist, you must have a strong work ethic. Work ethic is one of the essential parts of freelancing in the makeup industry. Although this part has not been loudly announced. But as someone who is intending to leave a footprint in the freelance makeup artistry business must consider developing a perfect work ethic. An intending business owner is expected to work hard to succeed in life. But in the makeup business, you will need to put in a high level of effort and smartness to understand the science behind marketing. By so doing, you will be able to build a substantial prospects catalog.


Step 12: Be bold to reach out to prospects. The boldness to approach prospects and work ethic both work in handy. And one of the ways of finding new prospects is approaching photographers and models who need makeup artists. You must be able to work hard and smart to achieve this. You can also consider approaching event centers, wedding planners, wedding avenues, salons, and doing makeup for friends and family members. Moreover, you should know your audience. A successful freelancer will know his/her targeted audience and adapt to developing the career. 


Step 13: Make provision for a location. The place where you need to do your work also matters. As a freelance makeup artist, you need to have a studio space where your prospects can meet you. Even if you have desired to move around with your makeup setups, ensure that your kits are available for any task. 


Step 14: Know your makeup artistry style. Your style is what makes you different from others. Your specialty may be light and natural artistry appearance or dramatic contouring(appearances). Making a wonderful transformation or highlighting a prospect's natural attributes could be your objectives. So, you have to be best known for your style. Which will help you to attain a greater height in the makeup industry. Notwithstanding, this is more like building your brand.


Step 15: Consider optimizing your local profiles. The majority of your prospects may likely come from your local domain. Because of that, you need to avail yourself whenever people are looking for a close-by makeup artist. In this case, you should remember to ask your prospects about leaving reviews on your portfolio site. Issue out a business card is also a great way to optimize your profile. You can also ask your prospect to post their new look on their social media handle with your business tag in trade for a discount for their next services. Doing this will go a long way to promote your makeup artistry business. 


Step 16: Take care of your beauty. As a makeup artist, do you have to look after your beauty? Yes, you need to look after your beauty. Let your appearance represent your makeup business. However, there is numerous advice for enriching your look. But the best advice to earn outstanding beauty is by having a significant skincare routine. Take care of your skin at all times, and you will greatly represent what you are.
Why You Should Reflect on Your Skills or Services? 
Reflecting on your skills and services helps you to discover what you are good at. And being sincere is the key to having an effective reflection. Before you begin this makeup career, and perhaps you have undergone training that turns out to be a great skill. But then again, you still have to attest to some facts before you can crown yourself a genius in the business. Nonetheless, you can start by asking yourself certain questions: What am I good at? Which part of the business should I improve? What can I offer to my local domain as a freelance makeup artist? All of these questions are important. They help you to understand how to go about your makeup artistry business. 
The Basic Duties of a Freelance Makeup Artist 
If you are curious about becoming a freelance makeup artist, you have to consider the following duties. Unfortunately, these are what you may end up doing every day.
Providing body and facial makeup services using cosmetics and other valuable makeup products. 
Identifying the skin type of prospects and the type of product that fits their skin. 
Getting a client's skin ready for makeup by cleansing, moisturizing, and toning.
Using essential tools like sponges and other materials. 
A makeup artist can also do the hairstyling if it's within his/her profession. 
Searching for clients via promotion.
Applying for jobs through various platforms or making phone calls to clients. 
Performing makeups such as bridal makeup, media makeup, lip makeup, eye makeup, birthday party makeup, party makeup, and so on. 
Collecting payment after service is also known to be a duty of a freelance makeup artist. 
How to Protect Your Makeup Artistry Business 
After you have succeeded in winning a job, you need to consider doing the following to protect your business: 
Establish an agreement and conclude on paying a rate in advance. 
Be always ready to accept payment and keep a record of your earnings. 
You can consider taking out makeup artist insurance. 
Thinking why you should take out insurance as a makeup artist? Well, you need insurance for your business. For instance, you're in your prospects domain doing makeup for a ceremonial photo shoot. In this case, you could be held responsible if you cause any smudge on their dress. You may be held responsible for any single damage you've caused. Therefore, you can only be protected when you'd already taken out insurance. You need policies such as general liability insurance to help you take charge of third-party and prospective lawsuits of property damage or personal injury. And professional liability insurance to help you take charge of lawsuits of flaws that lead to the loss of money to your prospects. You can see how valuable insurance can be. All that is required from you is to the needful.
The Things Needed in Freelancing 
As a freelance makeup artist yearning for success, you must understand what it takes to survive in the freelancing world. Freelancing requires: 
A high level of self enthusiasm.
A Strong passion and communication skills.
You to maintain a perfect degree of consistency. 
Other Ways to Gain More Potential Clients
If you want to gain more clients, I oblige you to consider using these applications. Tens of thousands of prospects do use these programs to book a freelance markup artist. That sounds amusing. However, you can also join these applications and stand a chance to meet new prospects. They include:
Bella on Demand 
The Glam App 
Priv
Vensette
Glam Squad, etc. 
Clients use these apps to book a freelance makeup artist for events such as parties, wedding ceremonies, birthday parties, and other sorts of celebrations. I hope you've now understood why you should join any of these apps to showcase your skills and abilities. Additionally, you should also research to know the app that is best for your freelance career. 
How to Become a Successful Makeup Artist 
It requires a lot of work to become successful as a freelance makeup artist. You don't only have to be artistic. Let the makeup profession be a passion for you. Yes, it's a freelancing job, but it demands huge effort to stand out. You can consider doing the following if you want to continue to pave your way forward.
Be willing to examine varieties of products, looks, and ideas to come up with your specific style. 
Buy your preferred makeup kits and assure that they are of standard quality. 
Practice as much as you can. That will make you perfect for the business. 
Offer sustainable pay rates compared to others in the same industry.
Build a strong relationship with your prospects. 
You should be able to send persuading proposals to clients – alongside chatting with them to know what they are looking for in your services. 
You can consider using freelancing websites to extend your services. 
Also, be friendly in your approach. Your services should be qualitative and comfortable to clients. This way, you can gain more prospects. 
A Freelance Makeup Artist Averaged Stipend 
Many personalities indeed preferred using the internet to find services.  This makes the freelance makeup artist business becomes greatly fascinating. Considering the areas of concentration, such as beauty salons, fashion, media, entertainment, etc. These industries do go for quality services. And besides, they majorly rely on makeup services. The expected average stipend for an entry-level artist could be earning around $18000. In contrast, the intermediate and expert levels are expected to earn around $19000 to $31000 or more in a year. However, this estimation may vary based on the artist's pay rates per hour. 
Frequently Asked Questions
Do I need to set a boundary for my makeup business? Yes, you need to set a boundary if you're just starting the makeup business. Because you may find it difficult to meet up with appointments. You might even mix up appointments. 
Do I need a license before working as a freelance makeup artist? You need a license to effectively fuel your makeup career. Because a lot of potential prospects preferred hiring licensed freelance makeup artists. This means that you are likely not to succeed in the business if you don't have the license. 
How long does it take to become a makeup artist? At a professional level, you may take up to six months to learn how to do makeup. 
Conclusion 
As a freelance makeup artist, landing a gig could be somewhat hard. But that doesn't infer that you should give up. All that is needed is the consistency of your work. And the only thing that can keep you going is viewing the freelance makeup career as a passion. I hope this article stands as a road map for you to getting started. 
How To Become a Freelance Makeup Artist in 2021?