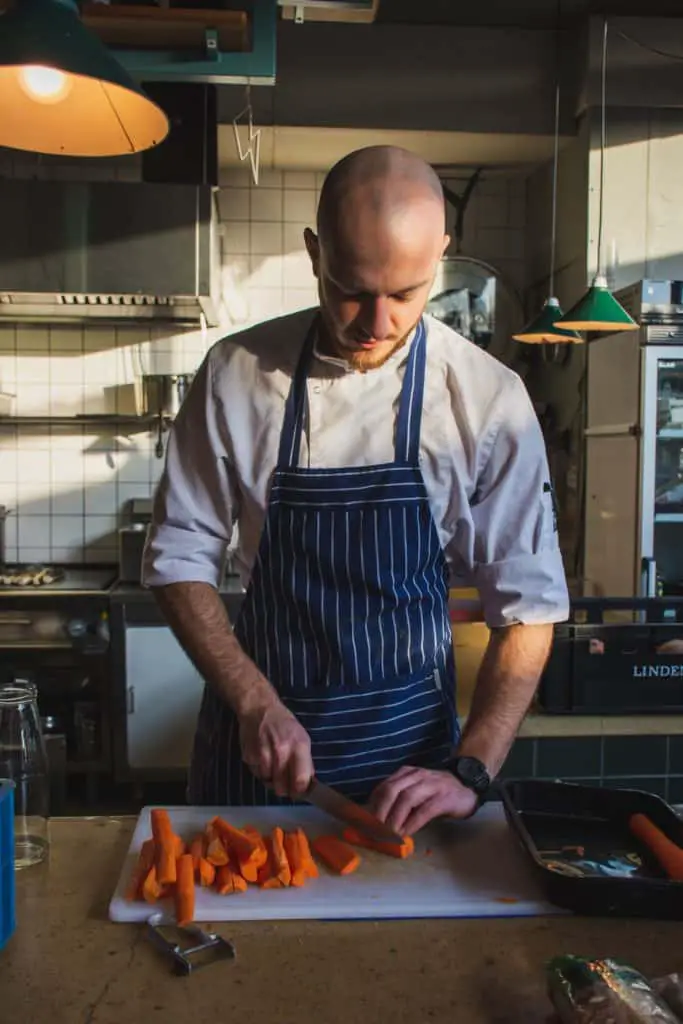 The job of a Kitchen hand (maintaining, organizing, cleaning the kitchen, and assisting chefs) can be a little tricky. But equally tricky is the interview for a kitchen hand. Being an important day of your life, you might be confused about what to wear to cast the best first impression. So today, we are going to tell you what attire can help you create the best impression on an interview in a kitchen hand interview.  
It's essential to look professional and confident when you go for an interview, and for that, you have to make an ideal attire choice. For example, it would be perfectly fine in a kitchen hand interview even if you don't go in a formal suit with a tie and jacket. Actually, the choice of the suit that you should wear depends a lot on which place and position you are applying for. 
There's no perfect dress code for a kitchen hand interview. But a little research of the workplace that you are applying for and the dress code (if any) can give you an edge over others. Whatever you wear, it should be clean and presentable because a kitchen hand's job requires them to maintain cleanliness. 
How to understand the place where you are applying? 
To understand the ideal clothing for the interview, you can: 
Visit the company and look closely at the attire of people and talk to them. 
Look for social media pictures of the staff or you can reach out to people already working there. 
This will give you an idea if they have a dress code or any particular preference of the company in terms of outfits. Then, depending on the type of eatery/restaurant, you can choose between formals and smart casuals. Another great way to know the right dress code is to ask in advance if the eatery has a particular dress code for an interview. In this way, you can demonstrate your competency even before getting the job. 
What should men wear for a kitchen hand interview? 
A kitchen hand is mostly not visible to customers. So there is some leniency in their dressing. For men, the perfect attire would be a business casual but wrinkle-free shirt. It will help if you wear slacks rather than jeans. You can choose the perfect attire from the list given below: 
White or Pinstripe Shirt 
Dark, Navy Blue or Gray Jacket and Shirt with Slacks
Plain Polka Dot Shirt With Slacks
Clean Casual Pants with a Clean Sports Shirt
Ensure that the clothes are properly ironed because your dressing sense, hairstyle, and how you behave directly affect the interviewer.  
Other vital personality tips for men: 
Make sure your shoes are properly polished. 
Shoes should be formal to match your overall attire. Wearing runners is not at all recommended. 
Trimmed hair and a clean shave would make you more presentable. 
You should not wear sunglasses. If you wear glasses, make sure lenses are properly cleaned. 
Avoid wearing unnecessary jewelry but a watch, on one hand, looks good. 
Matching a belt with shoes is highly recommended. 
Don't use any strong deodorant as it can divert the attention of interviewers and leave a bad impression. 
What should women wear for a kitchen hand interview? 
To create a perfect first impression, women should wear clothes of appropriate length. If the restaurant or the place where you are applying for the job has some specific dress code, you can copy that. Some of the dress codes that are recommended for a kitchen hand interview are: 
A Skirt Suit or a Pantsuit 
White, Pastel, or Cream Blouse with Right Pants
Shirt and Slacks
Any other tailored dress with appropriate length. 
Some other personality tips for women to create a good impression in a Kitchen hand interview: 
Style your hair properly. It would help if you tie the hair properly at the back because it looks professional. 
Don't wear too much makeup because it can create a negative impression. 
Try to wear professional shoes to look professional.  
You can carry a leather purse or kit to look organized. 
Don't use a strong deodorant before the interview.
What are the attires that you should never wear? 
Besides knowing what to wear, it is equally vital to know what not to wear. So following is the list of attires that you should never wear for an interview, be it kitchen hand or any other: 
Ripped Jeans (these might look fashionable but not professional). 
Leggings and heels are higher than three inches. 
Clothes with loud prints can divert the attention of the interviewer from you. 
Non-seasonal clothing like sweaters in summers can portray you as incapable of making the right choice. 
Clothes that don't fit you properly.
Wrinkled or revealing clothes that will make interviewers uncomfortable while talking with you. 
FAQs: 
What kinds of questions are most expected in a kitchen hand interview? 
Some of the most common questions asked in a kitchen hand interview are: 
Would you be able to work under pressure? 
Why should we hire you and do you have any prior experience? 
What are your strengths and weaknesses? 
Salary expectations and why did you leave the previous job? etc.
How to choose the perfect attire for the interview, if you are confused between all? 
If you feel confused about what to wear, a suit is the last resort. A formal suit is suitable for both men and women for an interview. So, if you can't decide on the right attire, go with a formal suit. 
What are some of the top interview tips for a kitchen hand?
Put your phone on vibration mode to avoid any distraction. 
It's better to be prepared with the requirements, questions, etc. to look confident. 
Your body language should be consistent with your answers. 
Keep your attire ready, a day before the interview. You can take the advice of your friend if the attire is looking perfect for an interview or not. 
What to wear to a kitchen hand interview?