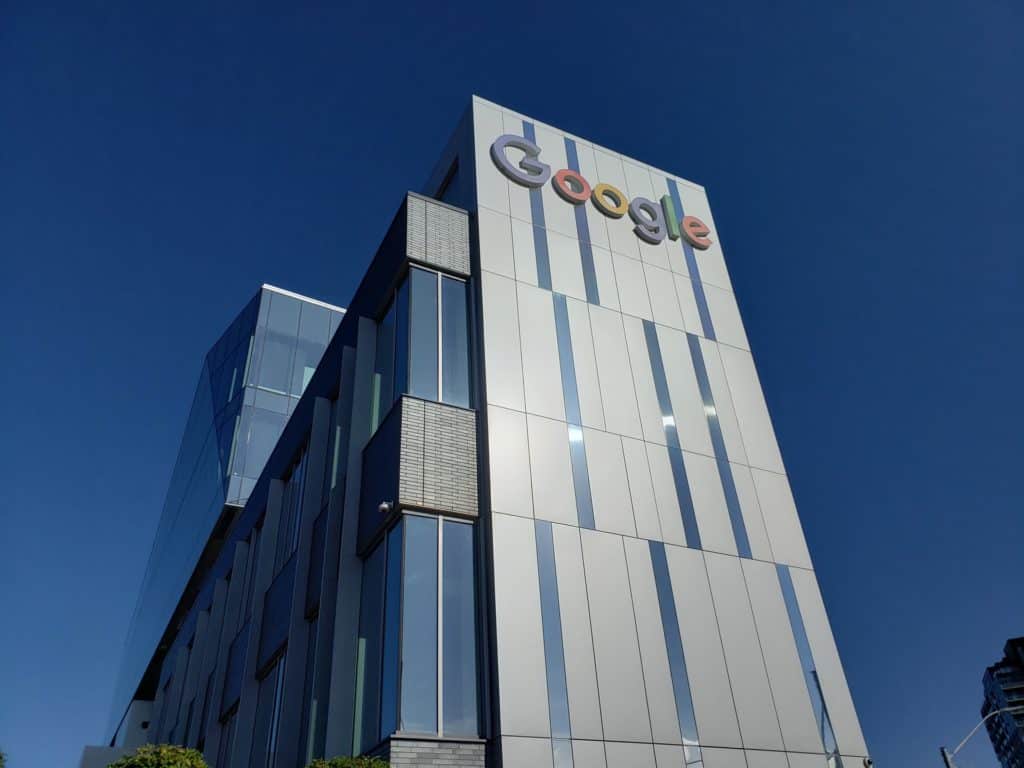 The dress code during an interview shows how sincere and willing you are to pick up the job. A famous quote says, "The first impression is the last impression." So your effort of getting dressed up during an interview can be judged professionally. Dressing up in a certain attire is important as it shows you respect the recruiter's time and follow the ambiance in the workspace.
Google doesn't follow a dress code. Wearing casuals is completely ok during an interview. Many google interviewees say that they ignore the dress code. Instead, wear something in which you feel comfortable and confident. This is important as "To me, clothing is a form of self-expression – there are hints about who you are in what you wear." – Marc Jacobs. 
Steps:
Step 1: Wear a shirt with a tie color can be a classic one. 
Step 2: You can wear trousers or jeans for bottoms. 
Step 3: Suits are also cool but they look more formal so one can avoid them for a google interview.
I shared what you should wear but read on further to know what to avoid. What are other dress codes you might feel comfortable with:
Dress Codes According to the Type of Interview
If a person is going for an onsite IOS development interview, they can wear khakis and a full sleeve shirt. Or if a person is from a 3D computer graphics background, wear a T-shirt and jeans. No matter for which domain interview you go for. Honestly, it doesn't matter. Wear what you feel like, don't go more casually.  Look for dress codes employees wear in the workspace try to imitate them. This is the best way to decide.
What extra things to take care of?
The clothes you are wearing should be clean and ironed. It does matter what you as a person look like after you enter the place. Carry some work samples, your own pen, identification card, and resume in a file. Do not carry a huge bag with you as it is not comfortable. You can wear a wristwatch; women can wear light jewelry. Go with a simple hairstyle, a bit of perfume, least of accessories. 
What comes under gender-neutral attire?
Wearing Slacks or pants comes under unisex clothing. The outfit should not be baggy. Wear matching footwear that is not casual. You can also wear blazers with a tie, neutral colors such as black, brown, grey, blue can be a good choice for clothing. The dress, shoes, or footwear should also have a wondrous look. If you like heels, wear them but not more than 3 inches. Flats like shoes or the ones with closed feet are also cool. 
Questions
What to wear for an online interview?
Wear a shirt as only the top portion of your body is visible. You can also wear a tie to comb your hair properly. For females, make-up is also a part of grooming. Go with normal makeup. Wear pants or jeans below the shirt or top, maintain a complete attire, and groom properly.
What to avoid wearing during video interviews?
Avoid wearing a night suit or shorts or pajamas for bottoms. I know only the top side is visible, but mentally you look professional, and confidence is embedded in you. Also, avoid wearing wavy lines on upper clothing. It can create a disturbance while the video is on. 
What to avoid wearing during interviews?
Avoid wearing flashy-colored clothes or jewelry during your interview, as these colors are eye-catching. Still, if you choose to wear amongst those colors, make sure to balance your overall outfit. For example, do not go with tight skinny clothes.
The most desirable colors to wear during a video interview?
If you are giving a video interview, wear colors opposite to your background. For example, if the background is dark, wear blue, white, grey, or other light colors. But if the background is light, wear some dark shade colors such as black, brown, etc. 
The best color to wear during an interview?
Many experts suggest blue is one of the colors not completely light and not completed dark. Best suited to wear in an interview, so you can probably wear blue for your google interview. Black and gray can also be worn if you do not have blue. These colors are classic and neutral. 
Conclusion
As discussed above, what are the key points to remember while going for a Google interview? Plan the dress code. Do not waste your time before the interview. Formal clothes are good to go, and casual clothes should be avoided. The selected clothes should be well washed and pressed. 
FAQs
What the best hairstyles to wear for an interview? Women can wear a simple ponytail, if someone has curly hairs they can even try trendy braids. A side ponytail on a shoulder also looks cool. Some women prefer to wear a bun with formal clothes, which is also a way of grooming. Going to a parlor is not at all necessary, be natural and go with a natural look. Short hairs can be kept open, they look natural and traditional. Pinup the hairs to avoid disturbance by them while answering.
How males should groom their hair before an interview? Males can go with normal hair styling, they can have a classic haircut. Classic taper is one of the hairstyles business people wear. The slicked cut is also a professional haircut, people these days have this cut before the interview. Pompadour hairstyle is neat, simple, and classic and that can have a good impression on the interviewers. Avoid eye-catching color dye on your hair.
How can females dress up? Starting with the hair, groom with a neat hairstyle, wear a collared shirt that is well-ironed white or navy blue in color. Pant or knee-length skirt for the bottom wear. Low to medium heels are okay.  Jewelry and makeup should also be limited. Appropriate care of perfume must be taken so that it is not strong, few people can be allergic to it. The last point to take care of is nails, a proper cleanliness should be maintained. 
What can males wear? Males should also focus on hair, they should have proper hair cut. A long sleeve shirt of black, white, or blue-colored is recommended.  Pants with a leather belt at the bottom. If they are wearing a suit the story would be completely different. A dark suit with a light-colored shirt is ok to wear.  pants at the bottom and socks that match the dress code.  And for footwear obviously, formal shoes are a good choice. Nails should be trimmed suitably. 
Can we wear perfume and go for an interview? Yes, you can wear perfume, but take it easy and don't get on with a strong perfume. It might affect your interview as the odor will fill the room and it can have a wrong impression on the interviewer. As mentioned above some interviewers might be allergic to perfumes or strong scents. Cologne is the best choice to wear, it has the lowest percentage of perfume oils.
What to wear to a Google interview?