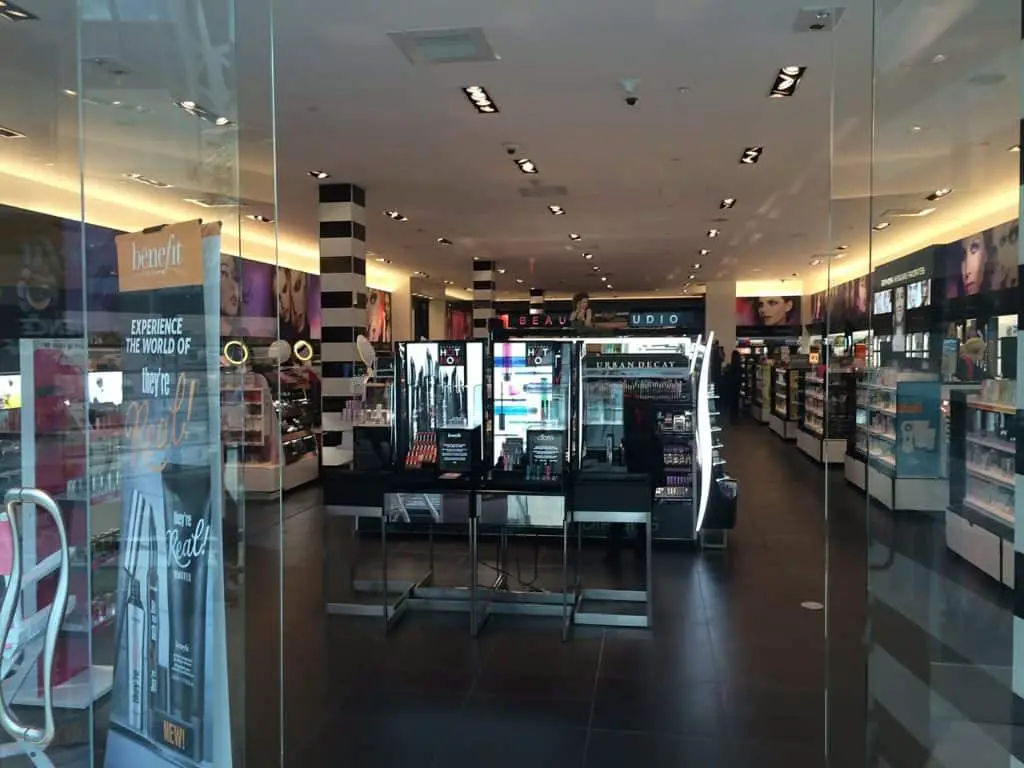 Sally Beauty Holdings, Inc is an American international retailer and distributor supplying quality health and beauty products like hair color, nail color, hair care. Sally Beauty distributes and sells through 4,000 stores, including 200 franchised stores throughout the United States, United Kingdom, Canada, Chile, Puerto Rico, and most European countries.
Hours of Operation: Monday- Saturday: 10 A.M. – 9 P.M.; Sunday 11:00 A.M. – 5:00 P.M.   
Work At Sally Beauty
Minimum Age Requirement – Applicants must be of 16 years of age or above to work at Sally Beauty. 
Other Requirements – Sally beauty welcomes application without any basis of caste, creed, race, color, religion, nationality, origin, gender orientation, gender, or disability as protected by the state law.
Job Opportunities
Sally Beauty offers many positions mainly in customer services at their worldwide chain of stores. Employees can choose part-time or full-time entry-level positions and professional jobs with full-time schedules. Each position involves customer-interaction duties. Associates interact with patrons daily.
Therefore, applicants must work cooperatively in a team and have basic knowledge regarding hair, nail, skin, and other hygiene-related products to get employment at Sally Beauty. In addition, applicants should meet company standards regarding product knowledge, including its application and practical use. Sally Beauty also provides paid training for employees and promotions to trainees to supervisory and management positions.
Available Positions at Sally Beauty
Sally beauty has current job openings for sales associates, sales representatives, district managers, account executives, claims managers, area managers, sales representatives, color experts, and distribution directors. You can check current job openings at Sally Beauty on their main website.
How to Apply
Visit the website and check job openings. If you are interested in a position, check its qualification. After that, you need to click on that job title and fill the application form. You can also send your resume for consideration.
Qualifications
Valid Cosmetology license or beauty background.
Age must be 16 or above. 
Strong knowledge of methods of promoting and sales of products.
General knowledge of health and beauty products.
Flexibility in changing environment, problem-solving.
Valid driver's license and reliable means of transportation.
Previous experience required preferably in sales and management as per the position. 
Knowledge of computer, preferably of windows program
A high school diploma is a minimum requirement; however, some posts require a college degree. 
Other Skills Required
Efficient Communication (Both Verbal and Written) and People Skills
Excellent Presentation Skills
Strong Time Management and Organizational Skills
Ability to handle and address questions from multiple customers at a time.
Strong Analytical Skills
Benefits
Working at Sally Beauty will give you an insight into popular beauty and health products in the well-leading beauty industry. In addition, with potential growth opportunities, Sally Beauty workers get various benefits.
Paid training
Competitive wages
Keeping up with the industries' trends
Growth opportunities
Promotions to management and professional careers
Tuition reimbursement
Employee Benefits packages for qualified associates
Paid Vacation and holidays
Paid Sick leave
Life insurance
Medical coverage; Dental and vision insurance and prescribed drugs
401(k) plan
Associates can take advantage of Sally Beauty in house salon and other complementary services.
Onsite Sally Beauty store with 30% merchandise discount.
Onsite CosmoProf store with 20% merchandise discount
A gourmet cafe 
Sally Beauty Payscale
The beauty retailer sets up the minimum age requirement to be 16 years old. So if you are in high school or college looking to build some skills in the beauty industry, you can send applications to Sally Beauty. Applicants must fulfill the eligible age requirement and other requirements to gain employment. Stores also hire career-oriented managers and professionals for full-time schedules to carry out administrative, technical, supervisory, and expert duties.
Vacancies are generally seen for the following positions:
Sales Associate

Both part-time and full-time job
Requirement – Applicants must be 16 years of age or above, have basic knowledge of health and beauty products, willingness to learn, and cooperative to work in a team.
Responsibilities include customer-intensive duties; greeting customers, doing product recommendations, addressing customer questions and issues related to return and exchange of the products, merchandising, sales, cashier, and completing transactions.
Physical labor includes minor bending, stooping, bending to retrieve products, and stocking shelves with products and required machines.
Associates work mainly part-time or work hours could be 15-30 hours per week if you are going for full time.
If doing full-time associates are even eligible for promotions.
A Sales Associate at Sally Beauty earns minimum wage which generally starts from an hourly wage of $10, but it can vary from $11-$15.60.



Management

Full-time job.
Positions at management include Claims Manager, Assistant Manager, District Manager, Store Manager, Retail Managers.
Responsibilities mainly include monitoring, supervising entry-level workers, hiring and training new employees, implementing promotions, interacting with customers.
District managers monitor store managers and area managers to determine opportunities and impact on store performances. They also monitor expenses at the district level to maintain acceptable levels while minimizing the effects on stores.
Assistant managers work closely with entry-level workers, supervise them and schedule their working hours.
While Store managers communicate with company corporate offices and handle other administrative duties.
Assistant Manager earns an average hourly wage of $16.65  while district Managers earn $39,174 per year.
Working at Sally beauty is an insightful experience with learning customer interaction and the industry's latest trends. Therefore, jobs represent an ideal opportunity for inexperienced workers. In addition, the minimum age requirement to get hired at Sally Beauty is 16 years, while some positions in management require 18 years of age or above. 
Candidates encounter skill tests during the hiring process. These skill tests are required to select potential candidates and remove unfit candidates. After that, all selected candidates are required to complete an assessment of 25 mins. This assessment is designed by the recruitment team to check a candidate's knowledge of beauty products, work ethics, and common retail situations. Candidates will get employment if they pass the assessment.
 Frequently Asked Questions
Is working at Sally Beauty good for a16 year old?
Sally Beauty's part-time job is ideal for a 16-year-old. You will learn many things while earning some shillings for your pocket.


Do the employees at Sally Beauty have to wear uniforms?
But it is a work ethic to wear formals for an interview but you can dress casually while working at the store.


How is the work environment at Sally Beauty?
Sally Beauty employees work in an understanding environment. It can be fast-paced at times. Best-suited for a person looking to work in customer service.


How long does it take for the hiring process?
The hiring process for Sally Beauty can take a day or even a week depending on the position in which you are getting hired. Applicants should check the status of their applications by call or email the store or directly speak with the store manager.


What are some perks provided for workers at Sally Beauty?
Part-time workers get free samples of beauty products and even in-house salons and other complementary services. Full-time workers get life insurance, paid holidays and sick days, competitive salaries.  
Sally Beauty Hiring Age- Job opportunities