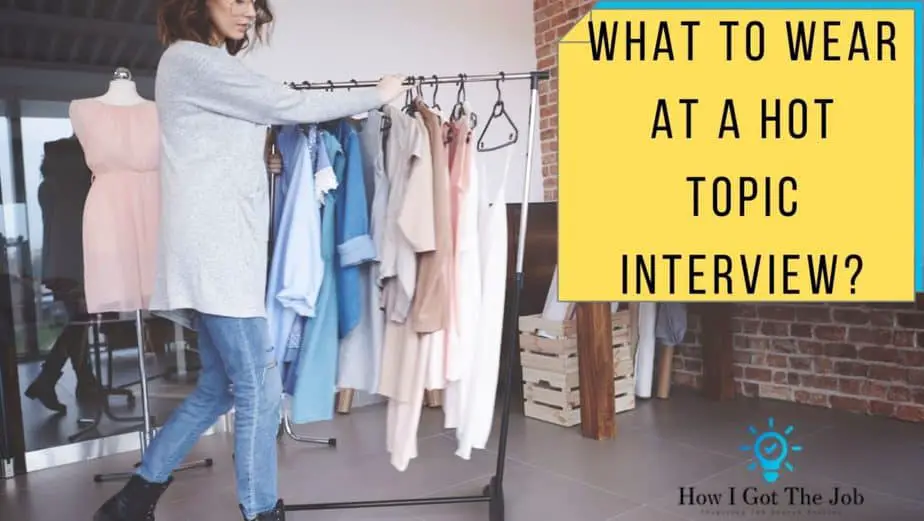 Overview
Indeed, we've all heard of the famous Hot Topic. If not, here is a brief info about the firm; Hot Topic is a company that is well known for its modern culture products. It specializes in apparel and supplies with the themes of mainstream shows, video games, music such as pop, rock, and metal—the target audience range from adolescents/teens to young adults. Today's topic- What to wear at a Hot Topic Interview?
Brief History
It was first opened in California in November of 1989. This was firstly opened by the former executive of The Children's Place, Orv Madden. But he was then replaced by Betsy McLaughlin. The company remained with the head until 2011. In 2016, Steve Vranes was declared CEO. As a company that develops itself based on the mainstream, it is apparent that it constantly fluctuates. It has gone through different stages/phases⎯, including goth and lolita styles⎯as a firm whose archetype aligns with Jester type. It mainly stood as a business that is recognized as going on with the current flow. Other stores similar to Hot Topic are Spencer's, Typo, UNIQLO, Forever 21, H&M, Tribal, and more. Now that the gist has been made familiar to you, let's stick to the current question; what to wear to a Hot Topic interview?
The Three Perspectives
To start, there are three perspectives we can look into. That being; what to wear to a Hot Topic interview as:
An interviewee for the means of getting a job.
A journalist looking into Hot Topic's culture, history, behind the scenes, vision and mission, etc.
An interviewee from the company or a model/celebrity representing its products.
What to Wear at a Hot Topic Interview as an Interviewee for a Job?
Job interviews are pretty much a big deal. The majority of the population might find it nerve-wracking, and that's unobjectionable. You might be overthinking about how to present yourself; there are worries about showing up with a fit that comes off as too unprofessional in the eyes or perception of the company or way too formal that the company might lose interest at first glance. Do not fret; Hot Topic's dress code isn't stressed or fixated on a certain standard, unlike the professional field, nor does the company encourage unprofessionalism. As a person aiming for a position in the company, though, you'd want to stand out in a way that you're making them choose you. You'd want to appear as if you're trying to connect and/or relate to them, except you aren't trying. You are like the people in the company; you just have to appear convincing. Despite all that, there are still a few things to keep in mind.
It is okay to wear clothes of edgy themes. But you can also mix it with casual dresses if you're feeling indecisive. For example, some choose to wear casual button-ups (or something similar), put on eyeliners for emphasis, and then leave some piercings if there are any. This method works for people who can't choose between the two styles. Merging both types works with proper execution. It also shows that no matter the company's theme, presenting yourself in a way that'll satisfy their standards still matters to you. It is essential to have a sense of belief and will no matter where you go, mainly when you apply for a job!
What to Wear at a Hot Topic Interview as a Journalist?
This one is similar to the previous one; you might want to appear like one of them. This can be interpreted as you trying to connect and learn more about them. It doesn't have to be a band shirt; you can opt for something professional while having your favorite show or artist in the mix. What you wear can also convey personality for people who like to analyze such things.
A simple graphic tee paired with skinny jeans (or anything that you're comfortable with) would sell the look. Sometimes, small details along the lines will do such as putting on black nail polish, will help add to the theme. 
Hypothetically, wearing something similar to Hot Topic's themes could bring up a thought that 'This person is on the same spectrum as the very thing they'd interview or would like to know more about or to shorten things up, it radiates connectivity and interest to the topic and its people at hand. But like mentioned before, Hot Topic doesn't stick to strict dress codes. Keep in mind what your company allows you to wear, though!
What to Wear at a Hot Topic Interview as a Celebrity/Model?
For personalities out there, this might be a no-brainer for the most part. You can pretty much wear whatever you want or rock something similar to Hot Topic as well while you're at it! Artists from bands are often encouraged to do this as a form of advertising.
Interviews can have themes, so it is noticeable how the background music matches the person they're interviewing when it's about pop culture in general. For example, if you are to interview a rock star, you might as well put their song in the background. The same goes for clothes⎯, which play a big part in how a person appears and portrays themselves. 
As an artist or a model, there is always a possibility of the "What are we wearing today?" question to pop out. So you need to prepare yourself for that. Representing the company doesn't only mean you get to wear their product for display alone. With the clothes, you carry personality, the aesthetic, the style, and more. You'd want to rock a graphic tee that is tucked under jeans, whether it's fitted or loose. Take Billie Eilish's style, for example; loose clothes can be an option if you're feeling up to it, and incorporate that with some punk rock aesthetic to sell the look. 
You can also combine the theme with some e-girl/e-boy style,⎯popularized on the internet as a sub-culture of the scene aesthetic. It is primarily characterized by plaid skirts matched with graphic tees and a long sleeve underneath. As for accessories, opt for some chains and spikes; that'll look more like the thing!
Conclusion
Hot Topic is a company that goes with the current flow of mainstream media, especially with those that attract or are consumed by teenagers to young adults. You are what you wear. Most of us have this belief of embedding a powerful aura within what we wear. And that's partially true; what you wear often portrays different aspects of life such as your beliefs, style, taste, status, etc. The other part that says otherwise, though, is that clothes are fun; wear whatever you want. Despite all the mental debate that people have regarding issues such as these, it still all comes down to you⎯, the one presenting yourself. We are now living in a time of revolution, innovation, and liberation; some stereotypes have already been left and dismissed, and so are dress code restrictions. However, there are still some exceptions, and those are due to respect to one's beliefs and work (like in churches and professional industries).
What to wear at a Hot Topic Interview?