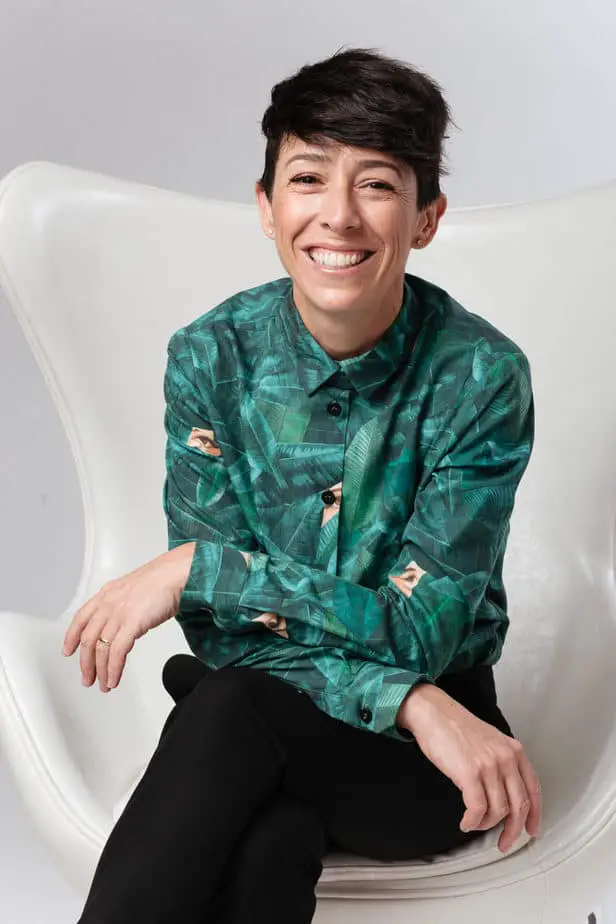 Becoming A Interior Designer
Raised in New York City and Barcelona, Gala Magriñá is a multidisciplinary, multicultural force to be reckoned with. Building on the success of her Event Design + Production Agency, M Crown Productions, Gala launched Gala Magriñá Design in 2017, a New York-based commercial and residential interior design agency.
Her goal is to change the world one space and conversation at a time, bringing mindfulness to the forefront of our daily lives and design practices and, as a result, living happier and more successful lives. Gala believes that if we create mindful environments that have the power to heal and push us to be better versions of ourselves, in doing so, we are elevating individual consciousness and, in turn, the collective conscious.
How was your University time?
It was great! I spent my first 2 years at UCLA and completed my studies at NYU. I studied Film and Television, which is somewhat related to what I do now but not exactly. My experience has been that no matter what you study or what jobs you have on your way to reaching your final career goal, you can always learn something that applies and that your journey, although more of a windy road than a direct one at times – is the exact one you need to be on. 
Why did you choose a career in this field?
My path to Interior Design was a long and windy one. After studying film and television and worked on a bunch of movies, short films, and music videos in the art department, my design side really started showing itself. While in college, I also began working at Diesel, designing and installing their window displays. That job eventually led to a full time position where I also began designing their showrooms, stores and events. So when I left Diesel in 2008, I opened up a very diversified design and production agency that offered myriad services. 
As the business grew and after designing a pop-up shop for a client, they would then ask us to design their first retail flagship store and retail brand identity. Or if we completed a fashion showroom for a client, they asked if we could design their offices or the CEO's home. After we had enough interior design jobs under our belt, we soon realized that designing and building permanent spaces for clients was what we wanted to do. We soon began putting our energy into building that arm of the business up. 
Once COVID hit in March 2020, the signs couldn't be any clearer- we closed the design and production agency and focused on the interior design business 100%. Ultimately, the best advice I can give is to follow what charms you, and even though you may have an idea about what you want to do, be open to what the journey is as it may take you somewhere else, somewhere that is ultimately better and right where you need to be. 
What was your first job or nuggets from jobs you had that helped you get to where you are today?
Designing and installing windows helped me develop a super sharp eye (since a window lives on display for about a month and is seen by everyone that passes by, it needs to be absolutely perfect!). Doing retail windows also trained me to work long hours overnight and have both the mental and physical strength to troubleshoot and think on my feet even if I'm on my 12th hour of installation. That makes installing and styling interiors a breeze which usually takes place during normal working hours and is a lot more mellow and stress-free than installing a custom window overnight.
The second job that really helps me stand apart in interior design is my event design and production experience. There is nothing more stressful than producing live events. Timelines are fast and furious for the design and production phase, and you have to manage moving parts and budgets. That kind of high profile and high-stress training has really prepared me for mastering any sized interior design project and allows my team and me to deliver all projects on time and on budget, which is not something all interior designers can do. 
How did you prepare for the interview?
This was the late 90's in New York City, and Diesel was a wild company back then, so they actually rented a night club out, and we had to go and audition on stage to get a job at their first US retail store, which was on 60th street and Lexington Avenue in New York City. So my two best friends and I cut class and went to the audition and nailed it! They hired all three of us. 
Can you provide some book recommendations?
Absolutely! I am a total book nerd. Here is a link to my top 10 books that changed my life on my blog Beyond Spaces: https://beyondspaces.galamagrinadesign.com/2018/11/05/my-top-10-introduction-to-spirituality-books/
All of these books have one thing in common- they expanded my view of the world and showed me techniques that helped expand my awareness and mind and allowed me to begin thinking differently, which allowed me to create the life of my dreams.
Things are changing very fast in the industry; how do you keep yourself updated. Please list techniques or newsletters, podcasts, events, etc.
The best advice I can give is to stay curious. Follow and sign up for whatever sparks joy. That is usually the best thing to guide you on your path. I am not reading a new book. 
In terms of daily design newsletters, I read to stay on top of my industry's latest news. I subscribe to Business of Home and Surface. And for all things Wellness, I subscribe to the Global Wellness Institute's newsletter. On Instagram, I really enjoy the following accounts for spiritual and life advice: @thrive, @the.sattva.life @thethomknoles @tobemagnetic @hasani_mamavida_wellbeing.
Any advice about CVs?
Make it look nice- use a good font and layout and make it visually appealing and informative. The CV leaves very little room for individuality, so really, look at where you can insert some of yourself in it so it stands out. Perhaps a little bio at the beginning?
Advice for someone looking for a job?
Know that 1+1 doesn't always = 2. You might have a very clear of who you want to work for and, by all means, go after that. But if, for some reason, it doesn't work out, know that there is a bigger or better path for you. And you might have to experience a couple of different stops on your path that will ultimately lead you to a bigger and badder place than you could have ever imagined. Have faith and trust in the Universe. It has an infinite organizing power way more powerful than you or I are capable of. The balance of surrendering to what is while still showing up to work towards what you want is the key to success and happiness.
Why do you think you were selected among other candidates?
In my case, I auditioned for a retail job in a nightclub in front of a bunch of people. They were more interested in my personality than anything else, so I made sure to let my personality shine and was 100% myself on stage. Ultimately, I think that authenticity and showing up as yourself is what can set you apart as much as your technical skills. People hire people, not necessarily the skill. The skill can be learned, taught, and mastered on a job. It's important to be yourself and let your natural talents shine. 
Lessons from jobs that you couldn't get.
The whole spiritual aspect of life. Understanding how my unconscious beliefs may be holding me back. Understanding that there is so much more to the world than your 5 senses are showing you and that accessing those different levels of awareness is really where it's at in terms of personal happiness and evolution and having fun on your life's journey. 
Also read How I Became A Wallpaper Designer + Entrepreneur
My Long And Windy Road To Becoming A Interior Designer