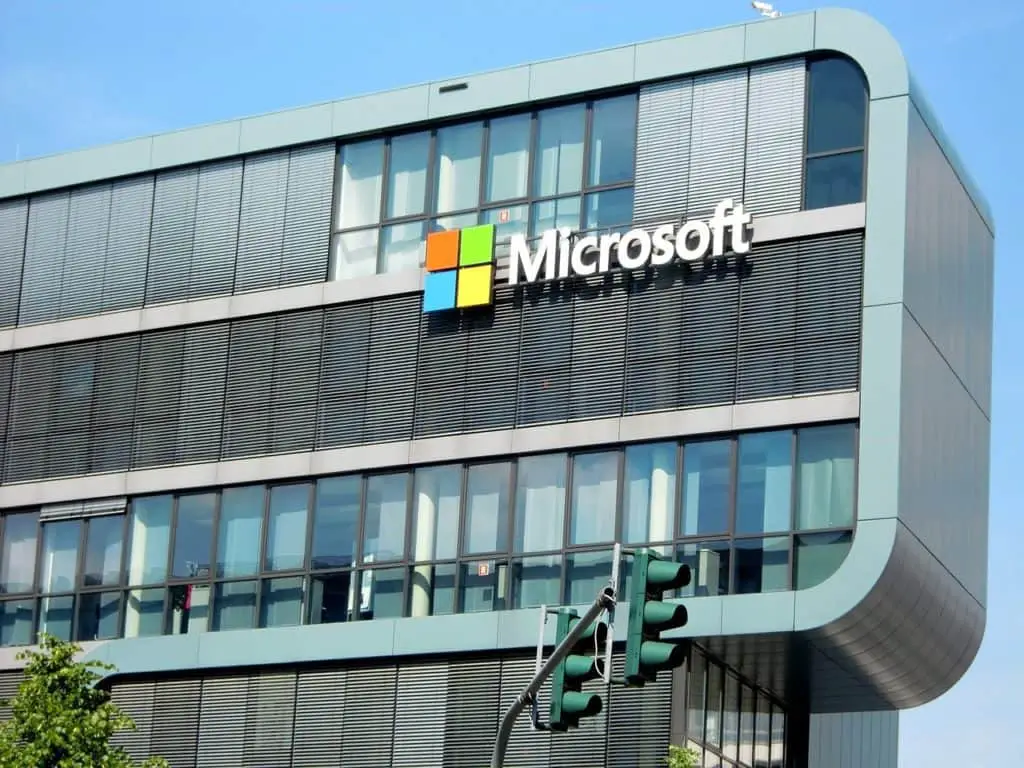 Who owns Microsoft? – Probably most of us would have heard about Microsoft. It is an American company that focuses on computer hardware, software, laptops, and personal computers. Microsoft also owns the gaming console Xbox. Microsoft is most famous for its operating system, Windows, and the widely used service, Microsoft Office.  Bill Gates and Paul Allen founded Microsoft, the former being one of the world's richest persons. Microsoft has various diverse products, ranging from operating systems to smartphones, gaming consoles, cloud services, suite tools, and motion sensors.
So, what was the origin story of Microsoft? How did it develop, and who owns the company? In this article, we will be looking at the history of Microsoft, it's past and present owners, and the areas in which Microsoft had and is working. 
Origin of Microsoft – Who owns Microsoft?
Microsoft was founded on April 4, 1975, by Bill Gates and Paul Allen, childhood friends. Microsoft inspired the name from microcomputing software. However, Microsoft came into the big picture by developing the software MS-DOS, which resulted from IBM providing a contract to Microsoft for developing a PC system. Though IBM renamed it to IBM PC DOS, Microsoft eventually claimed the ownership and renamed it to MS-DOS, one of the most popular operating systems. Initially, Gates was appointed as the CEO, but, after a while, in 1983, Allen resigned from the company due to developing Hodgkin's disease. But the biggest expansion of Microsoft was with the release of Windows as an operating system and Office as a text editing tool, with Windows releasing on November 20, 1985, and Office releasing in 1990. 
Microsoft asserted competitive dominance by quickly adapting to the world wide web, implementing it in its operating system, and making maximum use of it. Its competitors, being companies such as IBM, failed to adapt as quickly as Microsoft. As a result, 1995 was one of the most successful years for Microsoft, with Windows 95 as an operating system. It also introduced multitasking, innovative concepts like a start menu option. It quickly became a success, and Microsoft started building upon this success. This was followed by Microsoft releasing Windows 98 and Windows XP, with the latter being one of the most popular and successful operating systems. 
In 2000, Bill Gates stepped down as the CEO of Microsoft and handed it over to Steve Ballmer, who was an employee of the company and a childhood friend of Bill Gates. Gates assumed the role of Chief Software Architect of the company. The biggest change in the software came in 2007 when Microsoft released the Microsoft Windows 7, which had a revamped user interface, increased security, and more features than the previous iterations. 
Following this, Gates resigned as the Chief Software Architect in the year 2008. However, he still had other positions in the company, which included being on the advisory panel and as an advisor. In 2012, it introduced Windows 8 and the Microsoft surface, which was one of its kind, as the hardware was made entirely by Microsoft. The duration also saw Microsoft emerge in other categories, such as outlook, which was introduced as a competitor to Gmail. In addition, Microsoft started acquiring various indie companies to strengthen its security and increase its competitive advantage. 
2014 saw Steve Ballmer stepping down as the CEO, which was taken over by Satya Nadella, who previously led the company's cloud and enterprise division. This also saw the advent of change of priorities for Microsoft, as the company started focusing more on its cloud system and services. On the same day, Bill Gates stepped down as the company chairman, which John took over. W. Thompson. It was in 2015 that Microsoft released the biggest version of its operating system, Windows 10. Now, after 6 years, the next operating system, Windows 11, is scheduled to release in late 2021. Finally, Bill Gates stepped down from the company entirely by 2020, cutting all official ties with Microsoft.
Microsoft also excelled in other areas, such as smartphones and gaming consoles. Its most famous Xbox series is one of the two main competitors for console gaming and Sony PlayStation. Microsoft also announced its Windows phone, but it did not gain success due to the ever-growing competitors in the smartphone industry.  
Owners and the Timeline
Bill Gates: 1975-2000
Paul Allen: 1975-1983
Steve Ballmer: 2000-2014
Satya Nadella: 2014-present
A board of directors runs the company. These include the current CEO Satya Nadella, John. W. Thompson and 10 other people. The members of the board are changed every year. When Bill Gates resigned from the chairman post, he continued to be a part of the company by being a technological advisor. 
Other Areas of Microsoft Products
Microsoft is also known for introducing the document editing suite, Microsoft office. It is the leading tool used to edit documents, create presentations, and has a widespread application. It also introduced the Microsoft 365 subscription system and started focusing on cloud saves and online services. Microsoft also tried its hand in the smartphone area by bringing the PC operating system to the mobile. Microsoft would later buy Nokia's mobile unit in 2013 and bring its OS through Nokia's hardware.
The most popular smartphone was the Nokia Lumia, which ran the Microsoft operating system, and introduced desktop-like features. The first iteration was launched in 2010, the Windows Phone 7. It was followed by Windows 8 in 2012 but changed the kernel versions, which made the windows 7 phone unable to run the new operating system. In 2015, Microsoft released Windows Phone 10 and then acquired the Nokia services, which saw the Nokia Lumia 520. The Nokia Lumia 520 had the biggest sale of any windows phone. 
But, Microsoft could not compete against the likes of Apple and Samsung. With the emergence of new brands, plus the domination of Google-supported Android and the IOS operating systems, Microsoft eventually discontinued the entire windows mobile operating system by late 2017. Microsoft then moved on to work closely with Android.
Microsoft is particularly known in the gaming world due to its brand Xbox. Xbox is named after DirectX, the Application Programming Interface (API) developed by Microsoft. Microsoft introduced Xbox in 2001 as a gaming console to compete with Sony's PlayStation. Phil Spencer currently manages Xbox. Unlike their smartphones, Xbox was a huge hit, as the entirety of the console player base is split between PlayStation and Xbox. According to Wikipedia, the first Xbox console sold over 24 million copies worldwide. The success was huge that Microsoft changed the name from Microsoft studios to Xbox game studios. The launch of the gaming console also saw the introduction of Xbox game services, an online hub for all gamers, which currently has over 65 million players. As a result, the market moves back and forth from Sony and Microsoft. Still, with the current acquisition of Bethesda's game studios, which will see the games developed by them to be exclusive on the Xbox consoles, Microsoft has a competitive advantage. In 2016, Microsoft announced that it is merging the PC and Xbox services by bringing services like the Xbox Game pass to PC players on Windows. Currently, Microsoft released their next-gen console system, Xbox Series X and S.
Apart from these, Microsoft also focused on cloud computing and services, which has become an important area of focus with Satya Nadella taking over Microsoft. It was first announced back in 2008 and became commercially available to everyone in 2010. Microsoft also utilized this to create Microsoft Teams, an online meeting program that enables people to connect remotely. Due to the current ongoing pandemic, it was reported that there was an almost 775% increase in Microsoft Teams usage in Italy alone. In addition, using Azure, Microsoft created useful applications like the fish farming tool, which was related to water management. 
Kinect was a motion controller developed in 2005 by Microsoft to eliminate the need for Xbox controllers. Though it was a success, not all software and games could take advantage of the Kinect, which led to lots of games not supporting Kinect. With the reports of players able to hack into the Kinect software and cause major issues, Microsoft eventually had to discontinue the Kinect hardware for Xbox. But still, due to its effectively low price (150$), Microsoft found a use for the software in other areas such as medicine, healthcare, and robotics. In robotics, robots were used to determine the space needed to walk, approximate distances to any obstacles, and maneuver them. 
In medicine, Kinect sensors were used to monitor the shape and posture of a body. Microsoft also merged Kinect with Azure and introduced a new Kinect technology for Microsoft Azure products. It integrated Kinect into Azure to increase machine learning accuracy and use artificial intelligence to give better results. While Microsoft did deny that the Kinect was not hacked, and it was merely a small security breach, which was eventually patched. Microsoft also applied for a patent that would let them monitor and record the behavior of viewers who watch television and, based on that, deliver more interactive programs.

Who owns Microsoft? – Owners and Products