Introduction
A certification is a credential you obtain to demonstrate that you possess particular abilities or skills. They frequently relate to a profession, a technology, or an industry. A professional organization or business that specializes in a certain industry or technology would typically give certifications. Certifications grant status to those who have shown their knowledge and give employers a standard by which to evaluate job applicants. It is preferred by the employer. Industry experience is frequently listed on job postings as a recommended attribute. Let us know more about Quick Certifications That Pay Well in this article!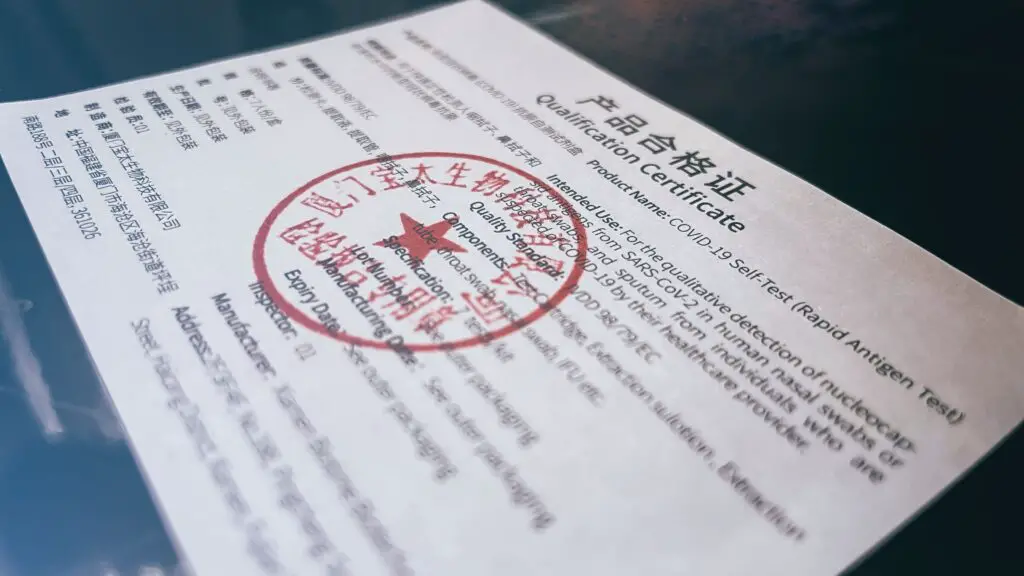 Quick Certifications That Pay Well
Quick certifications that pay well include Phlebotomist Certification Programs, Medical Assistant Certification Programs, cloud computing certification programs, Certified Nurse Assistant Certification Programs, Medical Coder Certification Programs, Flight Attendant Certification Programs, Welder Certification Programs, Pharmacy Technician Certification Programs, Emergency Medical Technician Certification Programs, business analyst certification program, Air Traffic Controller Certification Programs, and artificial intelligence certification program fitness trainer and massage therapist. They usually take less than a year to complete and it is a great way to increase your wages with the knowledge and skills gained. People are increasingly turning to professional certificate programs to acquire the skills they require and to get ready for interviews.
Phlebotomist Certification Program
A phlebotomist determines the most effective way to collect blood samples and other specimens, prepares samples for laboratory testing, and conducts screening procedures to benefit patients. The main method used by phlebotomists to draw blood is venipuncture, which involves puncturing a vein to do so. They should therefore feel at ease handling blood and needles in addition to gathering and transferring samples.
Depending on the type of institution and program the student enrolls in, educational programs can last anywhere from eight weeks to less than a year. Programs at vocational schools might be completed more quickly than those at community colleges. To get a certificate or diploma and land a job, you must finish all of the program's clinical and classroom requirements. Phlebotomists earn an average of $37,000 a year.
Medical Assistant Certification Program
A medical assistant is an allied health specialist who supports the work of doctors, nurse practitioners, physician assistants, and other health professionals, typically in a clinic setting. They are also referred to as clinical assistants or healthcare assistants. You must complete high school, enroll in medical assistant school, and obtain certificates if you want to work as a medical assistant.
Getting certified to work as a medical assistant takes around a year. To comprehend how to code medical records and patient information, students will study anatomy and medical terminologies in the classroom. In the lab, they will also practice taking patient vital signs and understanding medical diagnoses and charts. Medical assistants earn an average of $36,000 per annum.
Cloud computing certification program
Professionals in cloud computing are in high demand and only a small percentage of businesses can afford their data centers and specialized resources, thus more businesses are utilizing cloud computing. Cloud computing abilities are in high demand, so now is the ideal moment to pursue this career by passing a brief course that is focused on the workplace.
Fields of study in cloud computing. Concerns around the commercialization, standardization and control of cloud computing applications are addressed methodically. You will be expected to know the following as a cloud computing expert who has taken cloud computing courses:
What is the system cloud-like?
What varieties of clouds are present today?
How are cloud-hosted apps managed?
What advantages come with utilizing cloud services?
A cloud engineer earns an average of $150,000 a year.
Certified Nursing Assistant Certification Program
Nursing assistants help patients with daily activities including eating and washing. Nursing assistants, commonly referred to as nursing aides, provide basic care and help patients with everyday chores. Patient transporters and cleaning staff are known as orderlies.
A fast certification can be earned by a certified nurse assistant (CNA) in around 12 weeks. Students will gain knowledge of anatomy, patient safety, CPR, first aid, how to take vital signs, and how to interact with different patient demographics. After being taught in a classroom, these abilities will be put to the test in a practical situation while working with patients to finish the program and accrue the training hours that could be needed to obtain a license. Certified nursing assistants earn an average of $32,000 a year.
Medical Coder or Biller Certification Program
Medical coders update patient records with the standardized data required for billing and data management. Each diagnosis and procedure must have a code given to it each time a doctor, nurse, or other healthcare worker provides a service. Several coding programs that have been recognized by the American Health Information Management Association (AHIMA) and that take at least six months to complete can lead to certification as a medical coder or billing specialist.
Medical coders will gain knowledge of human anatomy, medical terminology, and the proper use of ICD and CPT diagnosis when coding. If you have a high school diploma or GED and at least six months of practical experience, you can also take the Certified Coding Associate (CCA) exam. Medical coders earn an average of $48,000 per annum.
Flight attendant certification program
On commercial flights, many corporate jets, and some government planes, a flight attendant is a member of the aircrew. They are also known as air hosts or stewards or stewardesses. The primary responsibilities of flight attendants also referred to as cabin staff, are for the safety and comfort of passengers.
The fast certification procedure can take up to six weeks to complete to become a flight attendant. The Federal Aviation Administration (FAA) stipulates that flight attendants must possess a high school education or its equivalent, as well as prior customer service experience. At their flight training facility, airlines train students in emergency procedures, business operations, flight duties, and federal laws. The company might call for more certifications. Flight attendants earn an average of $60,000.
Welder certification programs
To create or repair metal products, welders use heat to melt different metals like brass, stainless steel, or aluminum. Welders use a variety of different welding tools and equipment depending on the type of metals they are joining and cutting.
You do not need to have completed any previous education beyond a high school diploma or GED to become a licensed welder. Instead, you pay to take practical exams offered by the American Welding Society (AWS), which demonstrate the knowledge you have acquired through coursework or on-the-job training. Vocational programs can be finished in as little as two years and allow welders to simultaneously earn certification in several different welding specialties. Welders earn an average of $47,000 per annum.
Pharmacy Technician Certification Program
A qualified pharmacist and a medical expert work together as a team as pharmacy technicians to complete responsibilities. Training, certification, licensure, and actual practice for pharmacy technicians differ not only nationally but also in some nations based on employment and geography.
In most places, a high school diploma and on-the-job training are all that is required to become a pharmacy technician. But you can complete your certificates in less time than a year. Associate degrees are earned after two-year programs. Pharmacy technicians study medicine doses, names, and uses in addition to ethics, legislation, record-keeping, and how to correctly distribute medication. With a completion time of 15 weeks or less, the American Society of Health-System Pharmacists (ASHP) offers over 300 specialized fast certifications. Pharmacy technicians earn $37,000.
Business Analyst Certification Course
A collection of methods and tools used by businesses to make data-driven decisions is known as business analytics. To improve future decisions, prior data must be studied. If statistics or data handling interests you, this course is a great choice. The following essential modules will be included in a typical business analytics course:
Analysis of Data
Enterprise Intelligence
Systems for managing databases
Organizational Process Management
Business analysts earn $83,000 a year.
Air traffic controller certification program
Ground-based air traffic controllers provide this service, which includes steering aircraft on the ground and through a particular sector of controlled airspace in addition to offering advising services to aircraft in uncontrolled airspace. Completing an FAA-approved Air Traffic Collegiate Training Initiative (AT-CTI) program which instructs students in traffic management and aviation administration. Air traffic controllers who have completed the program can exclude the five-week-long Air Traffic Basics course from their training at the FAA Academy. Air traffic controllers earn an average of $60,000 per annum.
Artificial Intelligence Certification Program 
Artificial intelligence is when machines perform activities intelligently or smartly, depending on predetermined rules to address specific issues. Artificial intelligence functions similarly to humans in terms of decision-making, learning, and problem-solving. Artificial intelligence engineers employ AI and machine learning approaches to create software and systems that can assist organizations in increasing productivity, cutting expenses, increasing profitability, and making smarter business decisions. Right from the beginning of your AI career, the Certified Artificial Intelligence Engineer (CAIETM) credential will help you stand out from your peers. One of the most prestigious and influential certifications for any technology expert looking to launch a career in artificial intelligence. The AI course is usually for 3 months. An AI engineer makes, on average, $135,000 per year.
Fitness Trainer
Fitness trainers and instructors guide, instruct, and motivate participants in exercise activities such as cardiovascular workouts for heart and blood circulation, strength training, and stretching. People of various ages and educational backgrounds are dealt with by them. They interact with individuals of various ages and educational levels. For those who appear to be in good health or who have received medical clearance to exercise, a fitness trainer develops and administers safe and efficient training routines.
If you want to work as a fitness instructor, you need to
complete programs for CPR and automated external defibrillator (AED) certification, or you have a GED or high school certificate. These courses show trainers how to assist a patient in need of medical attention until an ambulance comes.
Select a fitness expert.
get ready for certification
The main organization that accredits fitness training certifications is the National Commission for Certifying Agencies (NCCA). The major certifying bodies include:
American College of Sports Medicine
National Academy of Sports Medicine
American Council on Exercise
National Strength and Conditioning Association
A fitness trainer earns an average of $60,000 a year.
Massage Therapist
To modify the body's soft tissues and joints, massage therapists apply pressure on their patients. Clients may benefit from this therapy by having their pain relieved, injuries healed, stress reduced, and their overall health improved. A massage therapist works on patients' muscles to reduce pain, reduce tension, and aid in recovery from injuries. You can become a professional and study more than 80 different types of treatment if you successfully finish a certification program. While certifications can be obtained in less than two years, and sometimes in a matter of weeks, 
The National Certification Board for Therapeutic Massage and Bodywork is the gold standard for national certification in massage therapy (NCBTMB). NCBTMB accreditation requires completion of an accredited program, passing a board certification exam, and meeting additional requirements. Massage therapists earn an average of $43,000 a year.
Reasons to  get a certification
You earn more
The quality of your work improves
It validated your knowledge
It determines where you stand
It demonstrates your commitment to continued learning
It boosts your career
To determine which certifications are good for you, you need to take into consideration the following:
Your passion and interests
Your future career opportunities
accredited certificates associateed with your career
Your financial abilities and how much you want to invest
conclusion
Numerous quick certifications of pay courses are highly rewarding financially and take less than a year to get certified. Some of them are Phlebotomist Certification Programs, Medical Assistant Certification Programs, cloud computing certification programs, Certified Nurse Assistant Certification Programs, Medical Coder or Biller Certification Programs, Flight Attendant Certification Programs, Welder Certification Programs, Pharmacy Technician Certification Programs, Emergency Medical Technician Certification Programs, business analyst certification program, Air Traffic Controller Certification Programs, artificial intelligence certification program, fitness trainer and massage therapist. 
FAQ
How much does certification cost?
Some are free, orders cost between $1000 and $10000 depending on where you get it.
Can you teach yourself medical coding?
Yes, you however need to carry out thorough research.
Are Artificial engineers in high demand in the United States?
Yes, they are in high demand in the United States, and the pay is very rewarding depending on the company you choose.
Quick Certifications That Pay Well