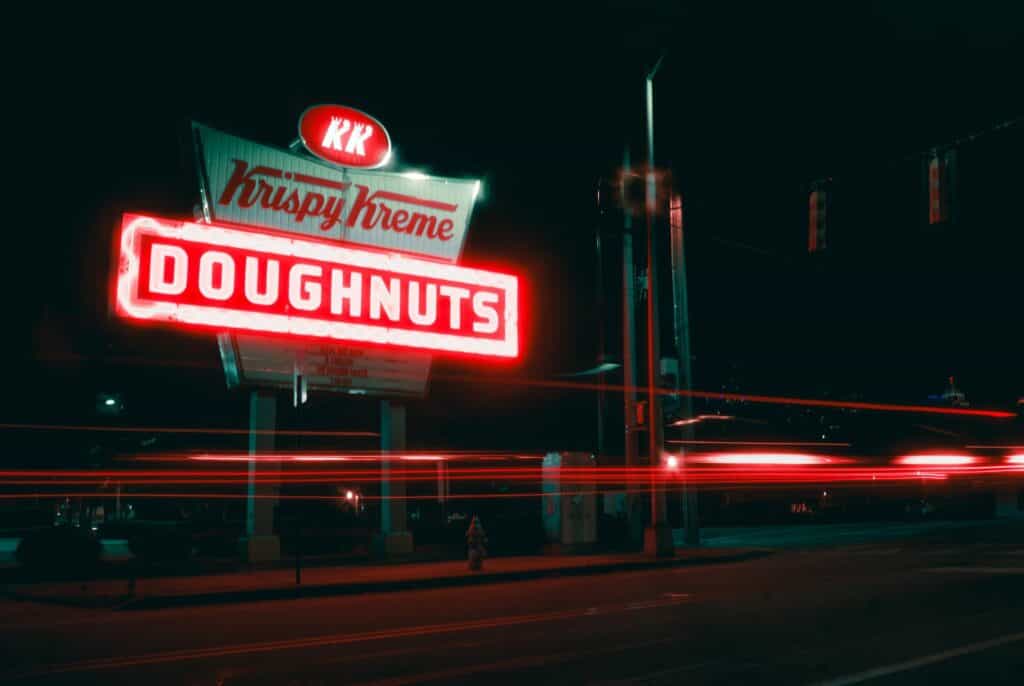 Krispy Kreme Careers – Do you have a sweet tooth? How about a donut and coffee for breakfast? At Krispy Kreme, they offer you the best there is. Whether it be chocolate, with sprinkles, or just glazed, they have it all. Indulge in these delicious flavors and more at Krispy Kreme. This is the place for all your cravings.  Taste happiness with Krispy Kreme doughnuts.
Krispy Kreme is an American company selling donuts and coffee. They make the world slightly better with their delicious assortment of doughnuts. The founder of this doughnut heaven is Vernon Rudolph. Are you looking for a job? How about spreading smiles and making people happy? Try Krispy Kremes. They have a variety of great jobs for you. You can be part of the Krispy Kreme family and start earning. Here is a complete guide.
Krispy Kreme Careers
Krispy Kreme Job Description
Krispy Kreme's mission is to make the world's best doughnuts. Work at Krispy Kreme is fun and friendly. You get a chance to bring a smile to people's faces every day. As a team member, it is up to you to provide excellent service to the customers of Krispy Kreme. You are also responsible for maintaining the overall appearance and mood of the store. Krispy Kreme jobs are mainly indoors. As a Krispy Kreme team member, you need to make sure about getting customer satisfaction. There are many job titles under which you could work at Krispy Kreme's, like a team member, assistant manager, baker or doughnut decorator, and many more.
Job Opportunities at Krispy Kreme
Here are some job titles available at Krispy Kreme:
Team Member-Team members are responsible for correctly taking orders from customers, maintaining a friendly atmosphere, and completing transactions. They must also monitor the freshness of products and bring in new stock when necessary. They should also maintain the cleanliness of the place.


Production Specialist-They are responsible for preparing products that meet the expectation of the company. They are in charge of the production of the ingredients and other items. They supervise the process and check for any problems.


Assistant Manager-They makes sure customers are satisfied with the service. They supervise and inspire team members. You will have to interact with customers and employees if you are an assistant manager. You will be in charge of training the team members so that their work is up to mark. You will also have to follow company policies.


Delivery Driver-Delivers the delicious stuff to different destinations and also has to load and unload packages. They must converse with customers while accepting payments. They must be pleasant and friendly while dealing with customers.


Baker-Makes the delicious donuts by following the recipe. They make sure the doughnuts are perfect and fresh for serving. They stick to store standards and make sure the doughnuts are freshly baked and perfect.


Doughnut Decorator-Includes making and decorating doughnuts and serving customers a delicious dessert. Make sure doughnuts are perfect, and remove doughnuts that are otherwise. They also put toppings, fillings, etc., on the doughnut.


Shift Supervisor-Assigns tasks to staff, taking care of customer queries, and check adherence to safety rules. Oversees all the operations of the store. They also train the employees or team members to ensure that their work is up to mark.


Book Keeper-In charge of accounting, maintaining the ledger, answering the telephone, etc. They are also in charge of collecting and counting money. They have to use the office tools and talk about payroll and company rules to the employees or team members.


The area salesperson in charge of supervising sales of your company in a specific geographical area. Encourages team to exceed sales goal. They also collect feedback from patrons. They also oversee the performance of the team.


Retail Team Member-Provides customers with delicious doughnuts. They will take care of the place by sweeping, mopping, cleaning the bathroom, etc. They are in charge of queries from the customer's side and their complaints.
More jobs are available on the Krispy Kreme official website.
Salary at Krispy Kreme
Salary at Krispy Kreme depends on the job position. For example, the cashier earns around $10 per hour. The driver earns about $14 per hour, whereas the production specialist earns around $11 per hour. The assistant manager earns around $47,000 yearly. The baker earns around $14 per hour. Team members are paid weekly. The average salary of an employee is around $28,400 annually. According to job title, annual salaries are:
The assistant general manager makes around $54k
The salary of a retail specialist is $32K
Route salesperson makes around $47K
Production specialist earns around $37K
The salary of a team leader is $33K
Bookkeeper salary is $37K
The salary of a route driver is $35K
The salary of a shift supervisor is $32K 
The salary of a delivery driver is $31K
Age Requirement for Working at Krispy Kreme
The minimum age required to work at Krispy Kreme is 14 years if you want to work in retail. You need to be 16 years old for positions at the entry-level. You need to be 18 years old for working in the kitchen and for the driving jobs as you need a driver's license.
Application Process
Those who are interested in working at Krispy Kreme must first apply for the position through the website. Then they will have to fill up their application form for their background information, where they used to work, educational qualification, etc. Those selected will get a confirmation through email. The recruiters take up to two weeks to respond to those who applied. Candidates can also call up the manager and ask for their application status.
Benefits of Working at Krispy Kreme
Some of the benefits offered a Krispykreme are:
Employees will get health insurance
There are paid leaves
Employees work with a flexible schedule.
Employees have discount
They have dental insurance
They have vision insurance
They have temporary and long term disability insurance
They have maternity leave
Financial planning is also a perk of the company as it has a 401k retirement plan.
The employees are eligible for wellness programs
There is tuition reimbursement
You will get relocation assistance
You will be eligible for adoption assistance
There will be leadership meetings
You will get service awards
There is an onsite medical clinic.
You will be eligible for holiday gifts.
What is the work environment at Krispy Kreme?
It is a fast-paced environment, and you get to be part of a great team. It all indoors works.  It can get stressful. It will be busy, and you will have to be on your feet all the time, especially during weekends. It is fun to work at Krispy Kreme as part of the family. Everyone is friendly too. It can be an enriching experience working here at Krispy Kreme. You will need to work at weekends also when working at Krispy Kreme. There is a chance to meet people from all walks of life, which is a plus point. You have to be friendly and smiling all the time as you are dealing with different customers every day. The work environment at Krispy Kreme is fun and safe. It is positive, sweet, and passionate. You can learn and grow while working here at Krispy Kreme. Krispy Kreme is ranked number 29 on the 'best hospitality companies to work for in America' list. You will even get free doughnuts!
What are the skills required for working at Krispy Kreme?
In order to be a Krispy Kreme team member, the following skills are required:
Excellent communication skills
Excellent customer service skills
Mathematical skills to handle payment etc
Must be physically fit because you may have to do the lifting
You must have good English written, spoken and reading skills.
You must also have basic computer skills.
Physical Requirements to Work at Krispy Kreme
Here are the physical requirements to work at Krispy Kreme:
May occasionally need to lift 25 to 50 pounds.
Must be able to reach the drive-through
Must be able to use cleaning tools
Must be able to read and understand labels, measurements, etc.
Krispy Kreme vs. Dunkin' Donuts
Let's compare the two doughnut giants:
Krispy Kreme's original glazed doughnut is much better than that of Dunkin' Donuts.
Dunkin' Donuts is not made in house-their donuts are not made in the store but are mass-produced. But, Krispy Kreme doughnuts are made in-house.
You might get free doughnuts at the end of the day from Krispy Kreme if you are lucky.
The taste of Krispy Kreme doughnuts is better, fresher, and warmer than Dunkin' Donuts doughnuts.
Krispy Kreme doughnuts are lighter than Dunkin' Donuts, which are bigger and cakier.
Krispy Kreme's original glazed doughnuts are the most popular among buyers.
Overall, Krispy Kreme doughnuts are the best there is when compared to other doughnut manufacturers.
How does Krispy Kreme impact the youth?
Krispy Kreme attracts people of all ages, especially youngsters. Krispy Kreme employs the youth so that they can start earning and become independent at an early age. Krispy Kreme also started a campaign, "Dough-Nate for a Doughnut," to support children suffering from serious illnesses. Kids can start working at the age of 14 at Krispy Kreme.
Krispy Kreme Charity Work
Krispy Kreme allotted a fraction of their pre-income tax for charity. The company donated 2 % of its pre-income tax to charity in the previous years and, as a bonus, also gave away free doughnuts. The pre-income tax came to $42 million, and the amount donated to charity by Krispy Kremes was $840,000, including the donated doughnuts. Since 1950, Krispy Kreme has been involved in charity programs in schools, religious places, etc., making them eligible to buy a dozen doughnuts. They can also earn coupons for half price as well. Krispy Kreme also held a campaign called "Dough-nate for Doughnuts" to help young children suffering from serious illnesses.
The Krispy Kreme App
Krispy Kreme owns a rewards app. The plus point is, you get a free original glazed doughnut just for downloading the app. Make a free account and get an original glazed doughnut for free. The Krispy Kreme app rewards you for every purchase you make, and with those points, you can purchase from Krispy Kreme free of cost. For example,
If you earn 50 points- any doughnut
If you earn 100 points, you can purchase any beverage
If you earn 250 points, you can buy any dozen doughnuts
If you earn 400 points, you can get a free take-home coffee.
You can also pay for your Krispy Kreme doughnuts directly through this app. You are also eligible for a free treat on your birthday, given that you have provided them with your date of birth. Also, with the help of this app, you can find out if your doughnuts are hot.
Types of Doughnuts at Krispy Kreme
Krispy Kreme's sells a large variety of doughnuts. Here is a list of some of the flavors:
Reese's classic doughnut
Chocolate iced glazed with sprinkles
Original glazed
Oreo cookies and Kreme
Chocolate iced glazed
Glazed blueberry cake
Cinnamon apple-filled
Cinnamon bun
Glazed sour cream
Double dark chocolate
Cake batter
Glazed raspberry-filled
…and many more mouth-watering pieces.
Job Outlook at Krispy Kreme
Krispy Kreme has 4,300 employees, and the annual revenue at the place is $518.7 million. Krispy Kreme has 42,9% female employees, and the percentage of those from ethnic minority backgrounds is 38%. Therefore, Krispy Kreme employs youngsters as well as women and people of different races.
Conclusion
Work at Krispy Kreme's being surrounded by smiling faces and delicious doughnuts. With this job, you can start working at an early age. If you like to work with people and make them happy, this is the job. Work and earn with your Krispy Kreme family and get free doughnuts too. Getting employed at Krispy Kremes would be an exciting prospect. Get job satisfaction every day by seeing smiling faces and happy people. They have many job openings, and they provide excellent benefits to their employees like paid leaves and tuition reimbursement, etc. They give you a lot of opportunities to grow within your career and gain experience for future jobs. Apply today to work at Krispy Kreme. Doughnuts are a favorite among the young and the old. Enjoy some delicious, sweet, and sugary melt-in-your-mouth doughnuts at Krispy Kreme's. Meet new people and make their day by serving them hot and delicious doughnuts with coffee. Make doughnuts and spread the love.
Also read Family Dollar Careers 2021 – Company, Salary, and More
Krispy Kreme Careers – Job Opportunities, Salary, More