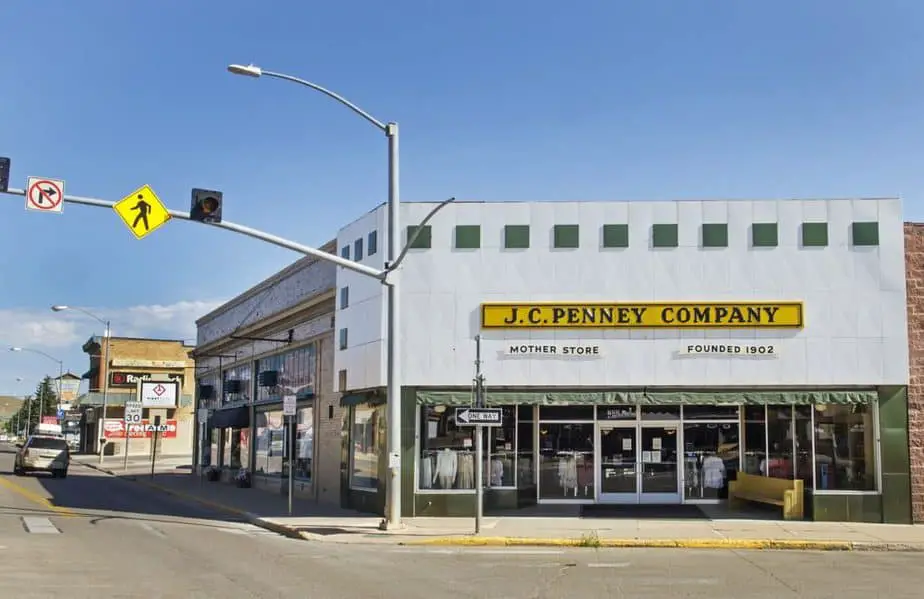 JCPenney was founded in 1902, previously known as J.C. Penney Company Inc was set up by James Cash Penney and William Henry McManus. JCPenney has dedicatedly served its customer for over 100 years. The company grew to have 689 stores in various locations across 49 states and became one of the largest retailers in the USA and Puerto Rica. Let's discuss JCPenney Job Opportunities.
It inclusively offers home apparel, beauty products, jewelry, electronics, clothing, and much more to go in hand with your defined style and purpose. So far, JCPenney has achieved fame and recognition and it would be shocking for its customers to know that many big private brands like Worthington, Stafford, and Liz Claiborne have been acquired by JCPenney. 
Job Opportunities
JCPenney is a company that offers a wide range of products to its customer. Since all the plans to meet customer's demands cannot be executed by a single person alone so there are ample job opportunities available at a different level. Each retail store tends to hire passionate and smart employees which will help them to boost their careers and at the same time they get the benefit of being a part of a dedicated team.
Perhaps, every store needs a manager, sales associate, stock associate, and many more such employees. Thus, JCPenney provides full-time and part-time employment opportunities to individuals from diverse cultures to encourage them towards their personal and professional growth. Some job roles may need special excellence or experience such as loss prevention associate, salon stylist, Sephora manager, planning and allocation manager, financial analyst, and many more. 
Salary
According to sources, the average salary of an employee at JCPenney is $11.32 per hour. However, the pay scale fluctuates based on job roles. Say, for instance, the salary for the post of Vice President which is considered to be the highest-paid job post is $360,000 per annum whereas, the Retail General Manager makes around $83,716 per year. Though the salary chart differs from employee to employee still the average package at JCPenney is $69K per annum, which is not bad at all. 
Availability of Jobs at JCPenney and Salary Overview
Being one of the biggest retail stores in the USA and Puerto Rica, the firm works for customer satisfaction which is also their main agenda. It is only possible with the help of hard-working and passionate employees. If you are also among those who eagerly want to be a part of this firm then you are lucky enough that for the most period of the year, JCPenney is up for hiring employees for different job roles. 
At the moment, various entry-level and career professional jobs are available. Most of the jobs for which you can apply currently are:
The major role of an incident manager who is also known as a business analyst is to analyze the risky situation and try to avoid such incidents. If in case, they occur then by taking necessary steps get the firm back to track. You should be prepared for the upcoming risky situations so that you can lead different departments accordingly. The main function is to give support to employees at the time of crisis.
Salary: On average, the Incident manager can earn up to $12 per hour.
Planning and Allocation Director:
The main duty of the planning and allocation director is to direct the Merchandise Planner and other units for the better functioning of the company. The director collaborates with DMM on the strategic functioning of the company and should work towards achieving goals and forecasting the progress of the company in the coming years. The director manages the preparation of sales, gross profit, and inventory result. One should focus on succession planning by timely coordinating with team members. 
Salary: Planning and Allocation Director make around $61,200- $86,700. 
At JCPenney, an Assistant Manager is responsible for the growth of the company and trains the supervisors for their daily tasks. Their duty is to ensure that sales goals are met on time. You should have prior knowledge of the product line you are dealing in so that you can guide supervisors accordingly. Their most important duty is to notice the areas where they are lacking and should provide direct feedback to staff members. Even you have the power to fire and hire someone according to the need.  
Salary: The salary of Assistant Manager/ Assistant Store Manager can range from $41k- $75k per annum. On average they can earn up to $56,749 per year. 
As the name of the job described, the work of salon managers is to maintain the beauty of their customers, be it related to hair, skin, spa, or anything else. They need to ensure that the salon runs to make a profit and satisfy the needs of its customer. Being a salon manager, you should ensure that all the products used in the salon are safe and have an extended expiry date.  
Salary: On average Salon Manager can make $47,988 per year. 
Email Deployment Specialist:
The major task of an email specialist is to create and monitor a wide variety of emails that are generated. From ensuring the designs and layout of the emails to fixing the type of content to be inserted in an email is decided by the Email Deployment Specialist. One should check whether the emails generated are mobile and user-friendly or not.
Salary: The salary for this position is not revealed by the company yet. 
Other Job Positions that are vacant for candidates are of:
Sephora Manager
Supply Chain Department Manager
Sourcing Manager Senior 
Security Engineer 2 – IT Security and Compliance
Assistant Designer
Senior Manager- Workforce Management Operations
Associate Product Analyst
Director, Omni Creative Marketing 
Senior Technical Project Manager
Digital Marketing Specialist
Asset Protection Manager
Senior Technical Project Manager
Requirements to be a part of JCPenney
If you are not 18 plus and still want to be a part of JCPenney, then worry not you can start your career at the age of sixteen at JCPenney. However, if you are looking for managerial jobs then, the minimum age should be 18. Apart from the required age, you should be well acquainted and must have prior knowledge of the product you wish to deal with. 
Even though knowledge of work is important, instead you should also have good communication skills, leadership quality, and a professional attitude towards work. Different job profiles have a different need for educational qualification basic of all is a high school degree or any other degree/ diploma equal to that. Another academic background is required as per job role and requirement. For example, the post of Planning and allocation director should have a graduate-level degree whereas, for Salon manager master level proficiency is required, who is experienced. 
Application Process
Since JCPenney offers part-time and full-time jobs even at entry-level so there are different ways to apply for the job that fits you. Basically, there are two ways to apply- offline application and online application. For applying offline, you can visit the nearest retail store with your resume and check out whether there is any job available. But the offline procedure has certain limitations, maybe the job position you are looking for is not available in the nearby store. In that case, you can always opt online mode of application. 
A person who wants to be an employee at JCPenney and is looking forward to applying online for an available job position can do so by following the next steps:
Step 1: 
Applicants can either browse the internet and visit the company's official website or they can directly look for JCPenney- Careers. 
Step 2:
After scrolling down the webpage, you will find the option Job Search Results, just click on Job Search Results and a window will appear.
Step 3:
You need to create an account on the official website of JCPenney where you need to enter your name, e-mail address, and some other basic details. After that click on the "Submit" button and you can browse more job options. Creating an account on the website keeps you updated with the vacancy at JCPenney, even you can explore other available positions. 
Step 4: 
On the page, you will find all the available job positions, according to your comfort you can customize the job results and look for the position you are looking for. 
Step 5:
Then you need to fill an online application form which is quite easy to fill but keep your resume in hand, you might need it. There you might need to upload a resume or you need to fill a resume manually. Then just click on "apply" for the suited job position. 
After the application process is done, wait few days for a call or e-mail from the concerned department. In most cases, you will receive a call within a week. But then it depends on the urgency of an employee to fill that particular position. Also, you should always fill in an active phone number and e-mail address while creating an account so that it is easier to contact. Just keep a regular check on your e-mail and do not forget to check the spam section to be aware.   
Benefits for employees
Apart from being part of this renowned firm, you also receive some inclusive benefits few of which are paid and others are free for the employees. Some inclusive benefits include associate discounts, business travel accidents, advocacy services, and time away from work. Instead of these benefits, you get some additional benefits from which you can select such as life insurance, accident insurance, critical illness insurance, and other sought of insurance. 
Interview Questions
The interview is the main and most effective way to impress an interviewer and be a part of the firm. The way you answer the question tells a lot about you, your confidence, and how good your communication skills are. So don't make a mistake and try to be effective and fluent while answering. 
Here are some commonly asked questions at JCPenney as reported by candidates:
Q1. Tell me a little about yourself? 
How to Answer:
This question is mostly asked to check how much a candidate is aware of themselves and how confident an interviewee is. But, keep in mind, not to begin revealing your personal life, keep the discussion as professional as it can be. You can speak about the prior experience you had and try to add some spark and confidence to your answer. Be short and precise while answering this question. 
Q2. How did you hear about us?
How to Answer:
You can reveal from where you actually heard about the company. If you got to know about them from a friend or relative, then politely answer that "A friend or a relative of yours has informed you about the vacancy at the company". If in case, while searching for a job you came to know about them. Then the best reply would be "I was searching for a job and while browsing the internet I came across the vacancy at your firm".
Q3. What can you tell us about JCPenney?
How to Answer:
Keep in mind to give the factual details of the company as given below:
JCPenney was founded in 1902 by James Cash Penney and William Henry McManus. 
JCPenney has approximately 689 stores in the USA and Puerto Rica. 
The company functions on the golden rule "to treat others as we would like to be treated". 
Q4. Why should we consider you over other applicants?
How to Answer:
This is the question where you will let the interviewers know your strength but those strengths should match the job role you are applying for. Show them the spark in you for this job. You can talk about your professional skills and expertise and give examples from your previous job of how you handled things smartly. 
Apart from it, you should have all the information about the company and the job position you are looking for. 
JCPenney Job Opportunities- Their Salary