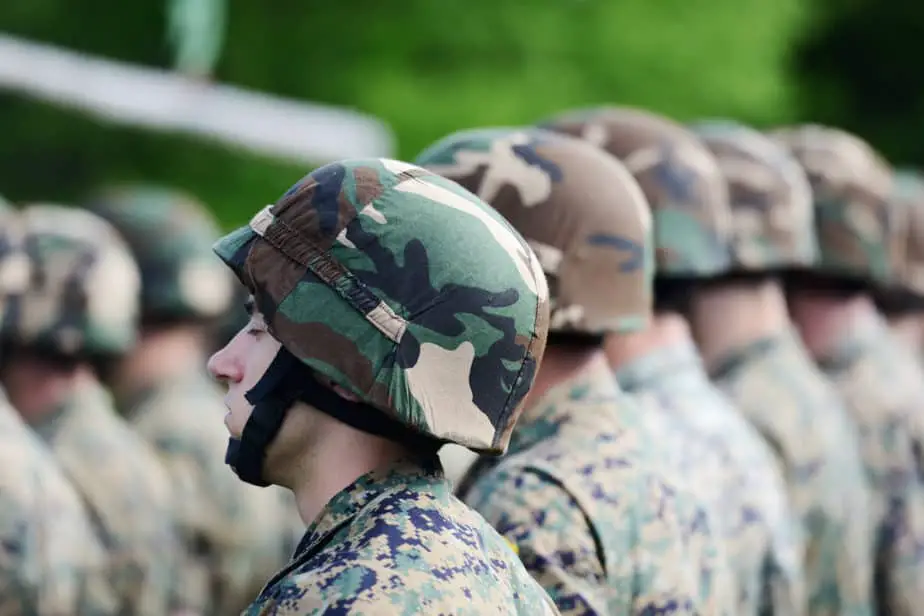 We go through various training programs to earn a living. The certifications lead us to a specific sector to start pursuing our dreams. There are several career choices in contemporary society, including the not-so-popular ones like the Military. Here, let's know 'Is the Army a Good Career?'
The United States Military Forces (Armed Forces) has several branches including the United States Army, formed in June 1775. They are land forces, which distinguish them from air and water forces. Their headquarters is at The Pentagon, Arlington County, Virginia, America. Let us see whether having a career with them is good.
Functions of the Army 
Maintain peace and security within and around the United States borders
Defends the United States and areas occupied by them
Protect commonwealth countries
Support national policies and objectives
Subdue national and international enemies
Participate in land combat
Undertake special operations
Integrate national, multinational, and joint power on land
Provide community and humanitarian services
The Components
The Regular Army
They are full-time personnel of the Army. They work and train for standard hours on a routine basis. In addition, they live and work in the army barracks. Furthermore, there is deployment to the field on a full-time basis.
The Army Reserve
They participate in the battle assembly, which involves training and service once per month. They also have a continuous two-week annual training during the year. Furthermore, they are not regular staff and work on full-time duty when the need arises.
The Army National Guard
They operate under respective governors and equivalents of governors. They only serve by order temporarily or indefinitely. Furthermore, they are critical during crises, national disasters, and civil unrest.
Ranks
Commissioned Officers (C.O)
They are civilians or non-military personnel appointed by the Army due to their expertise or profession. They consist of physicians, pharmacists, nurses, lawyers, and chaplains, among others.
Non-commissioned Officers (N.C.O)
They are enlisted personnel who have completed training directly recruited with specialization in a specific area. The personnel has adequate skills, knowledge, and abilities to perform their duties. Furthermore, they consist of Sergeants and Corporals.
Warrant Officers (W.O)
They are single-track specialty officers with unique and specific expertise in a particular area. Warrant officers become Chief Warrant Officers once commissioned.
Branches (Corps) of the Army
Acquisition Corps (AC)
This branch is responsible for unique product development, fielding, and support, with a composition of N.C.O who specialize in contracting, program management, and purchasing.
Air Defense Artillery Corps (AD)
This branch specializes in anti-aircraft weapons such as surface and air missiles. It is mainly composed of Air Defense Systems.
Adjutant General Corps (AG)
This branch provides personnel service and assistants support. They manage the force, provide human resources services, coordinate personnel support, undertake Army band operations, perform recruitment, and ensure staff retention.
Armor Corps (AR)
This branch controls all tank units in infantry and cavalry units.
Aviation Corps (AV)
This branch is responsible for the doctrine, operating, and configuration of all Army aviation units.
Civil Affairs Corps (CA)
This branch is responsible for managing the conduct of civil-military operations. They have expertise and experience in governance and diplomacy.
Chaplain Corps (CH)
It is composed of commissioned and enlisted ordained clergy from various religious backgrounds.
Chemical Corps (CM)
Its responsibility is to defend against chemical, biological, radiological, and nuclear (C.B.R.N) warfare. Ironically, it mostly delivers chemical weapons as opposed to defending against them.
Cyber Corps (CY)
This unit is responsible for the protection of the American virtual space. It uses defensive cyberspace operations (D.C.O) and offensive cyberspace operations (O.C.O). The control enemy advances within the virtual environment.
Corps of Engineers (EN)
It has three main duty areas including, the Engineer Regiment, Military Construction, and Civil Works. Let us review each of them.
The Engineer Regiment Unit consists of combat engineers. Their duties include developing fighting positions, constructing fixed and floating bridges, placing obstacles and defensive positions, placing and detonating explosives. They also perform obstacle clearance on routes and rivers.
On the other hand, the Military Construction Unit is responsible for constructing barracks and other buildings for the Army locally and internationally.
Finally, the Civil Works Unit consists of a flood and storm subunit, aquatic ecosystem subunit, and navigation subunit.
Field Artillery (FA)
This branch is responsible for integrated fires in land operations. They destroy, defeat, or disrupt enemy advances. It allows the maneuver commanders to gain an advantage during any crossfire.
Infantry (IN)
The Army refers to them as Queen of Battle. They are enlisted ground personnel who engage in combative warfare on foot in close range with the enemy. Their responsibility is to capture or destroy enemies or aggressors on the ground and repel them to a cease-fire.
Inspector General (IG)
This branch is responsible for auditing services. Their focus is on the misuse of funds or credit. It ensures that the Army is operating in compliance with generally established policies of the government. They review security procedure effectiveness, investigate misconduct, waste, fraud, theft, and criminal activity related to the Army operations.
Finance Corps (FI)
They manage the accounts and finances of the Army. They also oversee personnel management and payroll management.
Logistics (LG)
The three subdivisions are the Quartermaster, the Ordinance, and the Transportation sections. Let us review each of them.
The Quartermaster Corps (QM) is responsible for monitoring the stock and inventory. It ensures Army supplies are adequate at any given time. Furthermore, it is in charge of mortuary affairs, subsistence, petroleum, water, material, and distribution management during peacetime and wartime.
On the other hand, the Ordnance Corps (OD) supplies combat units with weapons, ammunition, procurement, and maintenance services.
Finally, the Transportation Corps (TC) is responsible for personnel and material movement via land, air, and water.
Military Intelligence Corps (MI)
This branch provides intelligence and electronic warfare support. It provides intelligence for the Army and the National Intelligence Community. Tactical, operational, and strategic levels use this information. 
Military Police Corps (MP)
It is the law enforcement branch of the Army. Their responsibilities include mounted patrols, dismounted patrols, response force operations, area damage control, route reconnaissance, cordon operations, search operations, critical site security, convoy, and personnel escorts.
Signal Corps (SC)
This unit provides military intelligence, weather forecasting, and aviation services. It creates communication and information systems. Furthermore, it manages communication and information systems. This data is essential in the command and control of joint forces.
Staff Specialist Corps (SS)
It is a combat service support branch. It was the staff and administrative reserve section for the entire agency. However, the Army Reserve and the National Guard now use it for unassigned officers only.
Special Forces (SF)
The Army refers to them as the Green Berets. It is responsible for conventional warfare, foreign internal defense, direct action, special reconnaissance, counter-terrorism, counter-insurgency, counter-proliferation, information operations, and security force assistance.
Public Affairs (PA)
This unit is responsible for communication with the media and the community when the need arises. It handles complaints and inquiries from the media and the community. It relays relevant information to the public. Furthermore, it acts as an intermediary between the Army and the public.
Judge Advocate General's Corps (JA)
It is responsible for legal affairs related to the Army. They provide legal services at all levels of command. It consists of Army officers who are also professional lawyers, legal administrators, warrant officers, paralegal N.C.O, junior enlisted personnel, and civilian employees.
Medical Service Corps (MS)
This branch is responsible for the coordination of medical care required by the Army personnel. It has six sub-branches: the specialist corps, medical corps, dental corps, nurse corps, psychological operations, and veterinary corps. Let us look at each of them. 
The Medical Specialist Corps (SP) is composed of a group of commissioned officers. They are trained and certified professionals with expertise in a medical specialization area. They include clinical dietitians, physical therapists, occupational therapists, and physician assistants.
The Medical Corps (MC) is composed of non-combat specialty personnel. They consist of commissioned medical officers or physicians. They must have acquired a medicine or osteopathic degree, one year of postgraduate clinical training, and a state medical license.
The Dental Corps (DC) or the Dental Command (DEN COM) caters to the dental health of Army personnel. They are responsible for the oral health and readiness of the Army personnel, training of dental personnel for worldwide deployment, and developing structures for the Army evolving missions. They also manage fixed dental treatment facilities, preventive care, dental research, training activities, and development services.
The Army Nurse Corps (AN) provides responsive, innovative, and evidence-based nursing care. They work in collaboration with other medical specialists. They desire to enhance readiness, preserve life, preserve function, promote health, and promote wellness for the injured and sick.
The Psychological Operations (PO) conveys selected information and indicators to the masses. It influences emotions, motives, objective reasoning, and behavior. As a result, it induces or reinforces decisions and actions favorable for American objectives.
The Veterinary Corps (VC) provides veterinary public health services to the Army including, preventive services, clinical services, vaccination, and medical drugs. During national crises and disasters, they give veterinary expertise to the communities to manage and recover from the situation.
Benefits of Working in the Army
Salaries and Allowances
Army personnel receives attractive remuneration packages and tax exemption. It is mainly due to the complex and risky nature of their work. Job descriptions, events attended, and professional qualifications determine the remuneration packages. They are eligible for special pay if deployed to hardship areas. Furthermore, they receive allowances to cater to civilian housing and other subsistence needs.
Housing
The government provides housing for most Army personnel. They reside in the training barracks. The basis for the allocation of housing is seniority and ranks. If accommodation is lacking within the barracks, they seek alternative civilian residences. The affected personnel receives additional allowances for this purpose. The barracks are self-sustaining, and almost all the amenities are within. These facilities include shops, schools, hospitals, and recreation.
Education
The Army personnel have access to subsidized fees on their training programs. They receive sponsorship for further studies, which are partial or complete sponsorship. Furthermore, it extends to the immediate family members.
Health
The Army personnel have specialized medical facilities and specialists. This medical team is part of the Army. They are within the barracks or join deployed soldiers on fieldwork. The immediate families also receive these medical services.
Travel
The Army personnel have sponsorship for overseas volunteer programs. It gives them a chance to explore various countries. They are also eligible for price discounts on commercial airlines. They do not pay for government flights or vehicle services. Furthermore, they have Army vehicles to facilitate ground transport.
Vacation
They are eligible for a 30-day paid vacation, postponed only when on active duty.
Family Support 
There are several networks and support systems extended to the immediate families of Army personnel. It helps reduce the impact of absent family members who are away on duty or training.
Pension
The Army personnel are eligible for a monthly lifelong annuity. It is payable upon reaching retirement age. The retired personnel must also have provided service for more than 20 years. They also receive recoupment.
Conclusion
The Army performs complex and risky functions to keep the country and its territories secure. Their values are loyalty, duty, respect, selfless service, honor, integrity, and personal courage. They have various components, ranks, and branches that absorb a diverse labor force. Selecting a career path in the Army should not scare anyone; it is only a matter of preference and ability. It is important to note that they have one of the best compensation and benefits systems in the corporate world.
Frequently Asked Questions
What are the three components of the United States Army?
The three components include the Regular Army, the Army Reserve, and the Army National Guard.
What are the three ranks in the United States Army?
The three ranks include Commissioned Officers (C.O), Non-commissioned Officers (N.C.O), and Warrant Officers (W.O).
What does DEN COM stand for?
It means Dental Command, the medical unit responsible for dental health and facilities in the Army.
Is the Army a Good Career?