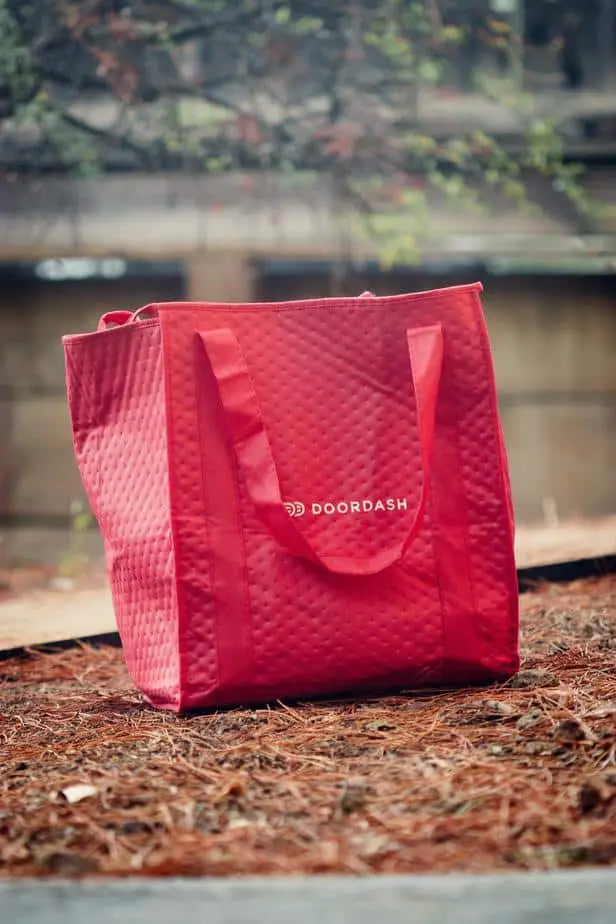 Introduction
The pandemic has obstructed many activities and shoved many people into unemployment. Digital jobs opportunities saw a spike at the same time. Getting into part-time will help you in managing finances along with taking care of your studies. People in the United States got laid off for no reason during the lockdown. Remote jobs stood as hope in these times for those people. Few students are dropping out of college to start a 9 to 5 job without paying their fees. But I say that you can earn and learn without affecting your career. We will see How to Get a Job at DoorDash?.
There are different jobs, including accounting & marketing at DoorDash. But the famous job is Dasher. To work as a dasher, you need to be 18+, own a vehicle, and have a driver's license. Then, sign up on the app/website by filling in your details and undergo a background check to start the work. 
Anyone who is above 18 can become a delivery driver. Read along to get into the details in brief. 
Step-By-Step Guide To Become A Dasher
Before navigating through the steps, it is essential to know the organization. 
DoorDash is a third-party food delivery service that was formed as a startup. It lets restaurants deliver food without having delivery staff. 
DoorDash is spread over 4000 cities in the United States, Canada, and Australia and is expected to expand to more cities and countries. 
You don't work as an employee in the DoorDash company. Instead, you will be an independent contractor who picks up food and takes it to deliver through the super tech app, i.e., DoorDash.
As a dasher, you can think of the work as a school assignment or a side hustle. These works require little exertion. You will work as a freelance driver, connecting customers with the restaurants.
Steps to become a dasher:
Download the DoorDash app or visit their website www.doordash.com/dasher/signup/
 To sign-up.
Click on the menu appearing on the left side.
Click on the 'become a dasher.'
It will then take you to a new browser page.
On the page, fill in the details of your email, phone number, and zip code.
Give consent by ticking the box and clicking on sign-up.
It will take you to another page asking for more details.
Fill in further details such as your full name, middle name, and create a password.
Enter referral details—referral code (if any)
Fill in the details asked in the last step—vehicle, birth date, social security number. 
After filling in the required details in the application, DoorDash asks the applicants to go through a background check, nothing but a criminal history check report. 
Background Check
DoorDash uses a third-party company called Checkr to conduct background checks and includes (according to DoorDash)
Motor vehicle report—if you decide to dash using a motor vehicle.
They give you the approval of the 'background check' via email. So keep checking your emails often to find out your approval status.
A background check takes 5-7 business days or even more by Checkr. If the turnaround takes over 5-7 days, you can reach out to their support team to check your background check status. 
If you live in the United States
Check this link and give the details you asked for, such as your phone number, email, social security number, and date of birth you provided for the background check. After entering these details, click on the 'get status' button. 
If you are from Canada 
directly email to this mail: [email protected]
and ask for your status in the 'background check' application. 
Once the background check is approved, DoorDash asks you to fill in your bank details—add your bank account information.
Then the page redirects you to start your first dash.
Finish your first dash to receive an activation kit, also known as a welcome kit. 
The Welcome Kit
Complete your first dash, and DoorDash will pay you for the first dash you have delivered, even without the activation kit. 
Then you are required to enter your email address to receive the welcome kit.
The welcome kit includes:
Hot bag (to keep the food safe, fresh, and secure that the customers can appreciate)
Instruction manual (mentioned on both sides of the paper for Android and iPhone users separately)
Red card (just like a debit card that lets you accept specific orders that require to be paid at the store)
Just enter your living address, and they will ship the welcome kit to your house. DoorDash sends you a confirmation email where you can track your welcome kit. I advise you to activate the red card as soon as you receive the welcome kit and use the hot bag for every delivery that you make. 
For others, those who clear the background check will have to undergo a quick minute of orientation session by scheduling one, depending on the locality and city you live in.
In the orientation, they instruct dashers on how to dash, some tips and guidelines to be followed. It also includes the teachings about how to use the DoorDash app, accept a Dasher request, place an order at the restaurant, pay for the DoorDash order, and finally, deliver the DoorDash order. 
The orientation session depends on the area you live in. If you are miles away from DoorDash, you can complete the orientation session online by watching a video containing instructions. 
Eligibility Criteria To Become A Dasher
There is no rigorous hiring process or intense interview questions to become a DoorDash driver to deliver the food. 
The background check conducted with the help of a third-party app doesn't check for your educational background. Instead, it asks for criminal background history only to keep with the criminal records. 
To become a DoorDash driver, you need to have the following requirements:
You need to be above 18 years to apply 
You should own a driver's license.
You should also have access to any mode of the vehicle, motorcycle, bike, or car and should maintain an insurance policy.
Access to a smartphone, either iPhone or Android, to run the DoorDash app
Need to complete the sign-up process online
Mandatory to clear background check
Must know driving, rules & regulations regarding driving
The delivery jobs are not widely spread and are only available in the United States, Canada, and Australia. 
It is nearly available in 4000 cities and towns across the United States, including Washington, D.C., and Puerto Rico.
And it is nearly available in 80 cities and towns across Canada. It is also available in Melbourne, Sydney, and Brisbane. 
Distinct Jobs At DoorDash
There are different jobs available at DoorDash, including employment in the accounting and marketing departments. Still, the most famous and fastest way to get paid for working is as a 'Dasher.' The opportunities are endless. Jobs range widely at DoorDash. 
If you want to grab an opportunity to work in DoorDash in other positions, there are other career options as well.
Various career options in different departments at DoorDash:
Account Director for the creative studio
Account Executive (inside pre-sales)
Account Executive (post-sale)
Accounting Payable Analyst
Analyst Manager (Ads and Promotions)
Manager in expertise Application Engineering (For Salesforce)
Associate-Strategy and operations (New Verticals)
Associate/Associate Manager (Sales Strategy & Operations)
Associate Account Executive
Associate of General Counsel 
Associate Manager (Ads & Promotions)
Associate Manager (Enterprise Strategy & Operations)
Associate Manager (Pricing & Product)
Associate Manager, Strategy & Operations-Merchant Operations
Associate Project Manager 
Specialist of Associate Recruiting 
Associate Strategic Account Development Executive-outside sales (Denver, CO, Chicago, IL)
Associate Strategic Account Development Executive-outside sales (In Los Angeles, CA, San Francisco)
Associate, customer relationship management marketing (In Canada)
Associate Enterprise Partnerships (Business Development)
Associate, Finance & Strategy-Global Support Operations (Finance)
Associate, Finance & Strategy-Merchant Acquisition (Growth)
Associate (New Verticals)
Associate Selection-Merchant Strategy & Operations
Associate, Strategic Growth including Operations 
Associate, Strategy & Operations (Tokyo and Japan)
Associate, Strategy & Operations (In Toronto)
Associate, Strategy & Operations, expertise in customer experience (In San Francisco, CA)
Associate, Territory Management – New Business Verticals
Atlassian Administrator-IT (San Francisco, CA)
Autonomy Engineer expertise in Localization
Autonomy Engineer expertise in Motion Planning
Autonomy Engineer expertise in Simulation
BI Engineer- expertise in recruiting analytics)
Benefits Partner, Reporting, and Analytics
And the list goes on and on. As said before, DoorDash offers a wide range of career options to choose from varied departments. The vacancies also depend on geographical locations. Not every position is open in every town. 
You can further find other career options on the official website of DoorDash. In addition, you can also find specific and suitable jobs depending on the province you live in. 
If you further wish to look at other career options in the varied department, visit the official website: https://careers.doordash.com.
Look for the desired job opportunity in your dimension, click on the job, and follow the instructions to apply.
Hiring process for other career positions at DoorDash:
Submit your resume by highlighting your experience in the particular field or the job description you want to work
"Remember, personal branding plays a vital role." 
Promote yourself as much as you want by mentioning the achievements (either lifetime or professional)
After passing the initial screening of the resume, they will connect you with the recruiting coordinator team
The team will set up a time to meet the entire team to sign the NDA and provide you a chance to ask additional questions.
With the 'new normal' and 'remote work,' the interviewing procedure has changed.
Once the team is satisfied with your interview, you can hear from them shortly.
How Work Culture Look Like At DoorDash?
All the workers at DoorDash describe their experience in one word as "fun." 
They furthermore add that it is fun because of the windfalls that no company gives to its workers compared to DoorDash.
DoorDash except a dasher to have a smartphone with a good speed internet connection. 
You don't have to interact with the company or the customers (exceptions exist when their order is being delayed, then a dasher might have to get on a call or messenger to let the customer know the details)
Once you accept the order as a dasher, you will deliver the food on behalf of the restaurant.
Dasher—Accept—Delivery—Earn—Spend
It is that simple.
More details via benefits down below
Benefits of working as a DoorDash delivery driver
Easy Apply
Everyone will agree after going through the application process of DoorDash that it has one of the most straightforward application processes. You can apply as a driver without wasting tons of energy. The time consumed is very little. DoorDash doesn't drag the process by asking a lot of your details.
Flexible Schedules Hours To Work
DoorDash perceived the working schedule even before starting the company. As a dasher, you don't have to invest half of your day or the hours you feel exhausted to work till the point of feeling burned out. 
DoorDash has flexible hours, and all the dashers are liberal to choose their working hours accordingly. So you can pick up a shift whenever you want or need to. 
You can even work when you visit a different place for a trip. In this way, you can earn ten times more than you spend. 
You can even schedule your delivery to a later time beforehand. You have full liberty to decide your "working hours."
Be Your Boss
Dasher is independent contract work. You don't have any superior authority controlling you from above. More or less, you will find 'being your own boss' culture as a dasher. You can decline any opportunity whenever you feel like not working (you can't keep denying many times as the company holds full right to deactivate your account at their discretion for this reason)
You can work at your comfort and reject the work at your solace. For instance, if you dislike the distance needed to travel, the paycheck, or the place where it has to be delivered, you have the full authority to reject the work.
Quick Paychecks
DoorDash pays weekly. What is more impressive than someone who can earn money hourly/weekly? 
You will get paid in three ways:
One through the basic pay you earn through deliveries.
The second way is through getting tips. If your customers are generous, then you can yield a lot of information.
The third way is through delivering during peak hours. People order food in quantity during peak hours, such as dinner hours, where you can get promotional orders. This is known as promotional pay.
You can earn base pay for any delivery that you make. They calculate the base pay by taking the estimated time, distance, and desirability of the order into consideration.
Dashers can earn nearly $2-$10 an hour, depending on the order size. 
When a customer tips for the delivery whenever you dash, you don't have to pay anything for the company. You receive and can keep 100% of the tip that customers pay you.
Promotional pay is also known as peak pay. Sometimes, it is very challenging to track promotional orders. 
Planning your dash around mealtime, dinner time, or any nearby event will let you earn more. Tap on 'promos' to find peak pay orders near you.
Dashers may earn nearly $40 an hour by delivering large orders during peak time.
They will directly deposit all the amounts into your account.
No Compulsion On Having A Car
When we say driver, the first thing that comes to people's minds is 'we have to own or rent a car.' But that's not the case. This job doesn't demand a car like other side hustles. You can even dash on a bicycle. But, of course, you can also race on foot depending on the distance and the local market.
Other Benefits
Other benefits comprise a flexible vacation policy, no restriction on working hours, or when or where you want to work. Health insurance is another massive advantage that one can avail of while working at DoorDash. 
Other benefits also include DoorDash credits, incentives, and beforehand payment details, etc.
Benefits of departmental employees
Availability of remote career options and remote work at fingertips
The restaurants can also avail a few benefits by partnering with DoorDash:
Reduces marketing costs to the restaurant owner because it will list their food on the app
The better reach of the customers
More sales, fewer efforts
DoorDash enables restaurants to reach a different level of customer base beyond the traditional dine-in experience.
DoorDash stimulates a new way of having the public presence of your brand.
Relishing incremental profits
Restaurant food can reach places beyond the locale it is in.
How DoorDash Evaluates A Dasher?
Once you become a dasher, they do not guarantee that you become a permanent independent contractor. Anytime they can deactivate your account based on a few evaluations. DoorDash evaluates the dashers regularly.
For quality assurance, DoorDash constantly evaluates dashers. A dasher's account may get deactivated if they cannot meet minimum quality criteria. In addition, DoorDash commonly issues formal warnings to failing dashers before they remove the Dasher's history from the app.
They chose the metrics on different estimates and are crucial to evaluate a dasher performance.
The following are the possible metrics:
Customer Generated Dashing Rating
Customer-generated dasher quality ratings are summed up in a graph. The customer rates their Dasher on a scale of one to five after receiving their order. Dashers with a combined rating of less than 4.2 may get deactivated.
Approval Rating
By the name itself, you can say how this metric is calculated. This rating depends on how fast the Dasher accepts orders from the app. However, it's not evident that DoorDash has a minimum acceptance rate. 
Dashers with low acceptance rates who consistently decline multiple orders before accepting one could be deactivated if they continue to do so. Also, DoorDash Automatically logs out users who appear to be inactive.
Order Completion Rating
It is expected that dashers finish every accepted order even if things don't go as planned. 
DoorDash also evaluates this rating depending on the different cases. For instance, if a restaurant cannot prepare an order and refuses to make it up, In this case, DoorDash will decide regarding evaluation. Dashers whose completion rates fall below 70 percent are at risk of being deactivated by DoorDash.
Many circumstances are out of Dasher's control, and in those cases, DoorDash takes up a full charge to evaluate the metrics. These numbers aren't precisely disruptive. However, It's important to know how they work before signing up for DoorDash as a dasher. 
One can go through all the brief answers before signing up, and it never hurts to reach out to DoorDash's team if you have questions.
Conclusion
You are almost ready to become a dasher. Thanks to the internet era, it made it possible to find remote jobs and earn money while still being associated with our family members. Now you are equipped with every information you need. Nothing should stop you from here onwards to make.
Frequently Asked Questions 
What is the hiring process to become a dasher at DoorDash?
Answer- There is no hiring process. To become a dasher, you need to sign up online or in the app.
Do we have to own a car to deliver as a dasher?
Answer- No, you don't have to own a car to deliver as a dasher. 
How to check the status of the background check?
Answer-To check the status of the background check, log into the applicant portal of Checkr.
Do we receive any confirmation mail if they approved our background check?
Answer- Yes, you will receive a confirmation email if they approved your background check.
Is a college degree required to become a dasher?
Answer- No, they do not require a college degree to become a dasher.
How to get a Job at DoorDash?