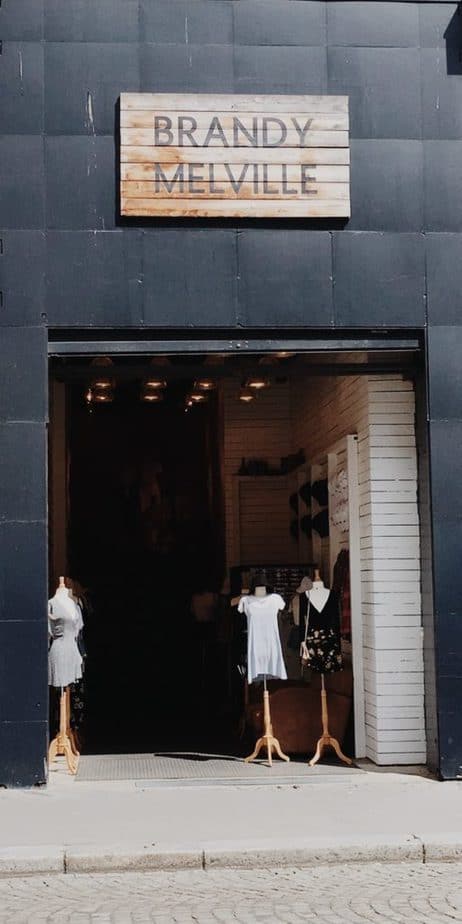 Brandy Melville is a well-known clothing and accessories brand based in Europe. The best part about the clothes of this brand is its one-size clothing, only skinny and young women can get a chance to get these high-quality products. It is a European clothing brand founded in the early 1980s in Italy. Their first US outlet was established in 2009 in Los Angeles. How to get a job at Brandy Melville?
About Brandy Melville
Brandy Melville is a clothing store that is successfully running in over 97 locations and had become a teen hotspot. In each store, you can find many young girls searching for the best clothing for various occasions. With time, the brand continues to gain fame and has become one of the leading brands liked by teenage girls.
The company is growing fastly, so they face a shortage of employees at different levels. 
How to get hired at Brandy Melville?
To get hired at Brandy Melville you first need to check the job vacancy and then according to your preference you need to apply for the job role. Once done applying you need to wait for the interview. While going for an interview you need to keep in mind that Brandy Melville usually hires people who are passionate, talented, stylish, and have fashion sense. For an interview, you should wear something trendy and fashionable which can actually show that you are interested in working for a brand that designs fashionable outfits for teenagers. 
Job Opportunities
Brandy Melville keeps on releasing new job positions at different levels. The company wants to hire passionate, fashionable, and dedicated professionals who are looking forward to excelling in their careers. With various job openings, Brandy Melville is hiring a set of few generous employees who can put in their efforts for the progress of the company. Here is given the list of all job openings at Brandy Melville along with their job description: 
Sales Assistant: This job is available for both full-time workers and part-time workers.
Responsibility of Sales Assistant: 
The work of Sales Assistant is simple, they should greet everyone entering the store and help the customer to find the best possible clothing for them.
They are expected to boost sales by creating strong customer-employee relationships. 
They should arrange all the items in a store properly so that it visually attracts the customer.
You are responsible for the growth of the store in which you are working. 
A sales assistant should possess great communication skills. 
Retail Associate: You can get easily hired for this position but your fashion standard should match up with that of Brandy Melville. 
Responsibility of Retail Associate:
Usually, the work role of a retail associate is the same as that of a sales assistant. 
A retail associate is responsible for assisting the customer and responding to every customer's query.
They should display all the products nicely that attracts customers.
A retail associate must be always available for the assistance of its customer.
Photographer:
A photographer usually works with various types of equipment to capture the best possible photogenic shots.
Responsibility of a Photographer:
You should have an impactful portfolio describing your achievements.
You need to click perfect pictures of models for the catalogs. 
You have to communicate with models and clients to set up schedules.
The pictures you are clicking should attract a crowd which will boost the growth of the company.
All the responsibilities related to clicking pictures, editing them, and submitting them to the right person. 
How to apply for a job at Brandy Melville?
Brandy Melville always hires and looks for candidates who are passionate and talented. Getting a job at any company is a bit tough because you are judged on your prior working experience, degree, and skills. If you think, you fit in the job role then apply for the job at Brandy Melville. There are two ways to apply for a job either you can go for offline application which proves to be time-consuming but it works sometimes as you can get hired immediately. But to be on the safer side, you should apply online as most of the time a job role in your nearest store is not available. So, here is how to apply for a job?
Step 1. You need to browse Brandy Melville- Careers. 
Step 2: As soon as you open up the window, you will find current openings at the company. 
Step 3: If any of the given jobs suit your profile, qualification, and skills then you can apply for that position. 
Step 4: Once you select the position, you will find the details related to the job role.
Step 5: You have to submit your resume and details on the e-mail id given or you can click on [email protected] to submit your application. 
Salary at Brandy Melville
So, how much are employees paid at Brandy Melville? This question must be clicking on your mind for a long time. You need not think much about it, every employee is paid fairly. Though few sources revealed that salary differs even if working at the same position as it is entirely based on looks. But the estimated salary is given below according to job titles:
Sales Associate – $13 per hour
Key Holder – $14 per hour
Retail Sales Associate – $13 per hour
Wholesale Manager – $55,000 per annum
Sales Lead – $12 per hour
Marketing Manager – $77, 650 per annum
Customer Support Department – $65,626 per annum
Marketing Operations – $64, 889 per annum
Store Model – $13 to $14 per hour
Perks of being a member of Brandy Melville
Apart from salary and bonuses, Brandy Melville gives certain benefits to its employees. You can check out all the benefits given to the employees here:
Lively Environment
25% discount on products as an employee
Work-life balance
Job Security
Flexible Working Hours
Casual Dress
Customer-friendly environment
Interview Questions
Brandy Melville is one of the most famous companies which come up with new stylish clothing every time. Though mostly you get hired based on your looks, style, and fashion sense interview also plays a major role in hiring. If you answer all the questions fluently and confidently, then for sure you will get a chance to work at your dream place. 
Ques. 1 How do you describe your style?
How to Answer: Since Brandy Melville is a fashion brand you should have your defined style. Be that style is of the late 80s or early 90s. So, according to your style or fashion choice you need to answer this question.
Ques. 2 How do you relate to Brandy Melville?
How to Answer: You have to answer this question by relating the quality standard and fashion style of the brand with your defined style. You have to highlight the positive impact of the company and its best quality products. The cute and beautiful tops, bottoms, and dresses are something relatable and easy to go with your fashion standards.
Ques. 3 Why do you want to work with Brandy Melville?
How to Answer: From the time I got to know about Brandy Melville and its great hold on the fashion industry, I wanted to work for Brandy Melville. For the long being, the brand has maintained its fame in different locations. 
Frequently Asked Questions
Ques. 1 What is the minimum age to be a part of Brandy Melville?
Ans. 1 You have to be of at least 15 years to work at Brandy Melville also you should have a proper working permit from your parents.  
Ques. 2 How much time does it take to get the products delivered?
Ans. 2 In case buying online the delivery procedure does not take a lot of time. Usually, it takes 3 to 5 working days for the order to get shipped. 
Ques. 3 How do you can get hired at Brandy Melville?
Ans. 3 Generally, you get hired at Brandy Melville based on style and look. Since the brand deals with trendy and stylish clothes so they want their employees to look fashionable. 
Ques. 4 Why does Brandy Melville sell only one-size clothes?
Ans. Brandy Melville mostly sells products for skinny teenage girls. They have used a marketing strategy that has actually worked and attracted many teens because of high quality and unique products. 
Conclusion
Brandy Melville is a clothing brand founded by Silvio Marson and Stephan, his son. The brand grew with the support of teenage girls who tend to stick to this brand because of its amazing clothing collection. One can buy the products of Brandy Melville across the world including in the parts of Canada, Asia, Europe, the US, Australia, and many more countries. 
With 3.6 million followers on Instagram, the brand continues to serve its customer in the best possible way. Every time the brand comes up with a different theme. In different locations, you can find different types of clothing themes according to the culture and diversity, the brand design clothes. If you want to be a part of the Brandy Melville community, then you can apply for the different job profiles. 
How to get a job at Brandy Melville?