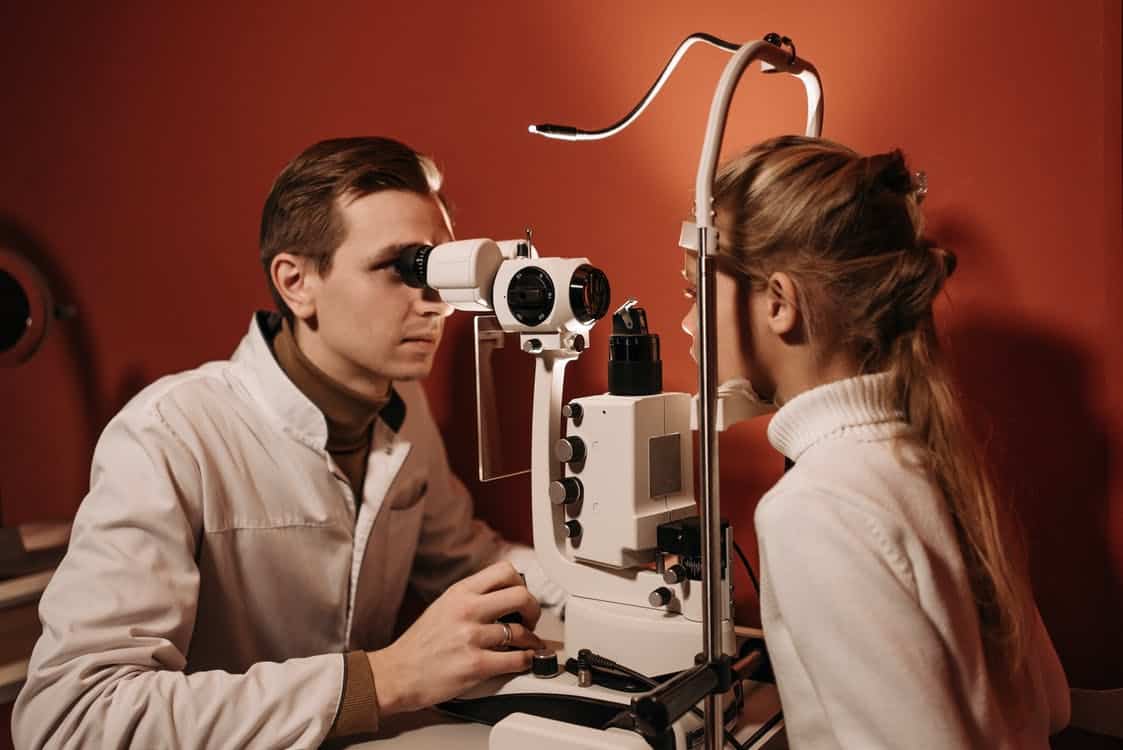 How to Become An Optician? Enrolled in education or training institutes, do Apprenticeship, get Licensed and apply for jobs
Among the five senses, vision is without a doubt the most important one. The eyes are more than gates towards the soul. From the moment you wake up to the instant you close up them until you fall asleep, your eyes are at work.
They take a lot of details, shapes, colors, gestures, and more about the world that surrounds you. Your eyes gather all information from your surroundings and are handed over to the brain. Then, the brain recognizes what is happening outside of the body. So, the question arises: is it important to get your eyes tested?
The answer is definitely "Yes."
Random medical checkups are vital because the quality of everyday life can be improved by getting your vision corrected. They can help diagnose certain eye disorders, such as cataracts, glaucoma, and macular degeneration associated with age, which may lead to loss of vision.
They can also offer a unique look into your health with advances in eye health technology Even when you know you have perfect vision, you should go for regular eye checkups.
Eye tests allow an eye care professional to monitor the eyes for vision issues and symptoms of illnesses that are normal. While it is time to get your eyes checked, ensure that you see a high-quality eye care doctor for your needs.
For taking care of your eyes, optometrists, opticians, and ophthalmologists, every one of them play a crucial role. But for each type of provider, the standards of preparations and expertise are very distinct. We will only focus on opticians in this specific article.
Who are opticians
In simple words, lens specialists are opticians. After regular checkups from an eye specialist, people go to an optician. Opticians, then, take the prescription, meet the patient, and offer the best range of lenses.
In fact, one of the most fascinating things an optician does is to create lenses; they can make lenses for eyeglass frames.
They make their own contact lens or prepare prosthetic eye care for a patient in need. They also make special kinds of lenses to assist individuals with complex vision issues, such as bifocals or trifocals.
They are qualified to change the eyeglasses by hand or using special instruments to ensure that the eyeglasses suit the customer correctly and comfortably.
Some also patch broken frames, change, and refit them. They teach consumers to adapt to, use, or care for eyeglasses.
So, now we finally come to our main topic which is very important and most of the people want to know this answer.
How to become an optician
Opticians normally go through training at the activity; however, some even choose a twelve-month partner degree in Opticianry.
According to the Bureau of Labor Statistics, specific standards differ by state, with about half the states requiring a license.
Washington, D.C. does not require the licensing of opticians. Many new to the sector also have experience in retail or restaurant employment with a customer service focus.
Some opticians start out in apprenticeships that can be completed in two years.
A bachelor's degree is not needed, they kind of start working at an
eyeglass store and really get an understanding of the job from the inside out.
The American Opticianry Board also provides those who have successfully completed a written exam with a certificate that is required by certain employers.
There are several things which we will need to discuss this topic. Let us study all these things one by one.
1. Enrolled in education or training institutes
College diplomas are typically the minimal requirement for acquiring an activity as an optician, but it's turning into more and more necessary to accumulate a companion's degree in Opticianry. If viable, sign up for a program this is authorized by the Commission on Opticianry Accreditation. Some of the important public colleges offer these programs.
Your education may include courses on topics such as optical laboratory, optical dispensing theory, optical business management, professional competence, and contact lens laboratory, in addition to classes in anatomy, physics, computer applications, and trigonometry may also include in this course.
Tips to remember:
Build functional skills by experience in clinics.
Participating in clinical practice under the guidance of a seasoned optician at the associate degree level, and in certain yearlong certificate programs that provide the ability to learn practical expertise in the on-site pharmacy of a school.
Establish expertise in communication and customer support. Opticians need to clarify patients' directions and eyewear choices, so the ability to communicate clearly is important.
2. Apprenticeship
Attaining an associate spot that is largely on-the-job expertise is the second path to changing into a dispensing trained worker in an exceeding vision care center or non-public apply. Apprentices attain an edge operational underneath the direction of associate oculist or specialist.
It takes a defined number of hours to complete an apprenticeship and
will prove to be a sufficient certification for several vision care centers nationwide. Apprenticeships are mainstream on the grounds that there has been a lack of organized preparing programs for Opticianry.
The levels of apprenticeship differ because the ophthalmologist or optometrist who supervises the process determines them. In a similar area where they completed their apprenticeship, a few disciples keep on functioning as opticians.
Taking an interest in an apprenticeship might be a possibility for forthcoming opticians in certain states. The tenure of most of the apprenticeship is for two years. An apprentice should complete a minimum of six hundred hours of labor of a maximum of three years.
3. Licensing
Licensing regulations vary from state-to-state for opticians. Some states require licensure, which requires written and practical tests to be completed successfully.
You must be a graduate of a formal Opticianry program to apply to take the state board exams, or you must have worked as an apprentice in optics for a period of four years.
The ABO study would involve the usage of ophthalmic instruments, the analysis and understanding of prescriptions, and the fitting and dispensing of spectacles and other supplies.
You will then need to clear all parts of the National Board of Examiners in Optometry exam after you receive your O.D. You may also be eligible to pass an additional clinical test or a medical ethics exam in some jurisdictions. Annually an optician should renew his or her license according to rules and regulations governed by their states.
Continued education is also a condition for renewing and keeping your license up to date.
4. Continue Learning
Usually, so as to renew your license every three years, you will need continuing education courses.
Continuing education classes can be provided by conferences with opticians. Additionally, continuing education seminars and online courses are offered by Opticianry academies.
Apply for jobs
The next thing which is very important after doing all your hard work in acquiring knowledge and getting a license is to apply for various open jobs.
After you have fulfilled all the criteria for education and licensing, you will apply for open positions in optometry. Secondly, you will have to develop a resume that showcases your skills and expertise in your area of study. You can request your seniors or supervisors to recommend you for a certain job.
Optician Salaries
The median Optician salary in the United States is $47,602 in 2020.
Polish yourself by gaining experience
There are several non-profit agencies where you can gain job experience with volunteer positions. Some employers look favorably at volunteer operations, so reach out to groups that attract you.
Working for or volunteering in an optometry agency is a common way to gain experience as an optician.
You will be able to observe patient care, support clinicians in-office tasks or collaborate with practice management if you can find an opportunity to job shadow.
Activity shadowing will give you an up-near examine an optometrist's duties and help you make a decision whether or not you are interested in a profession in optometry.
Besides the above-mentioned steps, an optician should have some of the following skills:
Good communication skills
Opticians have to be in a position to listen closely to what consumers want. They have to be able to describe treatment choices and guidelines clearly in terms that clients understand.
Business skills
Because it's a kind of business so they should know how to deal with people. They have to answer questions and know about the items they sell. They connect on a very non-public level with customers, fitting eyeglasses, or touch lenses. They must be polite, courteous, patient, and supportive to clients in order to succeed.
Dexterity and agility
Special instruments are commonly used by opticians to make final changes and repairs to eyeglasses. To do the work successfully and reliably, they need to have robust hand-eye coordination.
Conclusion
So from the above article, we conclude that eyes are a great blessing for us, so we should give proper care to our eyes. There are many specialists who can take care of our eyes and we talk about one of them that is opticians. There are certain ways to become an optician like training in an institute and Apprenticeship. Opticians should have good business, communications skills and should also have a great command of dexterity.
So, if any one of you wants to become an optician we wished you the best of luck!
How to Become An Optician