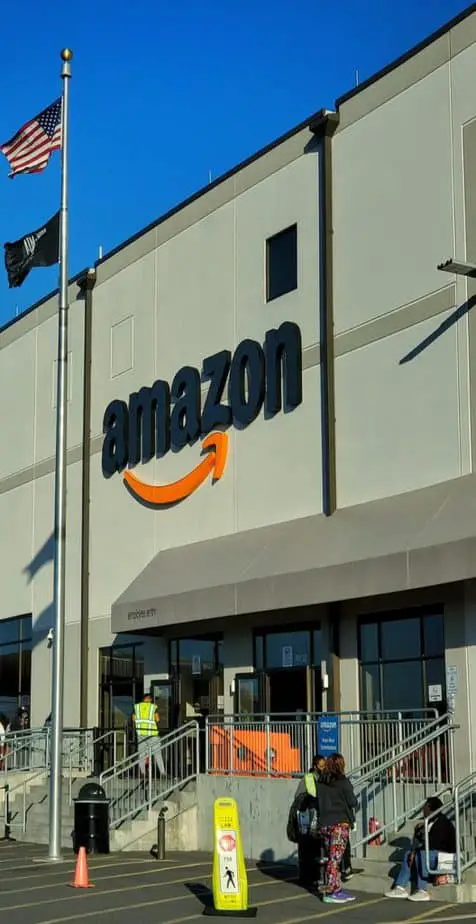 About Amazon
In this article, we will learn more about Amazon Work From Home.
Amazon is an American multinational company, well known for its technology, cloud computing, e-commerce, digital streaming, and many other services. As of December 2020, it has over 1.2 million employees worldwide. It is a multi-billion-dollar company that caters to various sectors of the market. Its services include Amazon streaming services, Amazon Alexa, Amazon.com and its delivery services, Amazon Music, Amazon Appstore, and many more. It also produces products like Amazon fire stick TV and Amazon kindle. This company found in 1994 in Washington, United States. Jeff Bezos founded this company in his garage in Washington, and slowly, it started taking over the retail market and surpassed companies like Walmart and Whole Foods. 
Amazon is very well known in the online marketplace and has become the largest revenue producer. However, it placed second based on private employers in the United States. 
How covid change their work environment?
With the global pandemic on the rise, many companies came to a standstill, and many others closed down with the drastic fall in the economy. Amazon is one of the very few companies that have benefited from this new normal:
Profits: Their online shopping services raised through the roof with their highest profits because, in times like this, customers shifted to the online retail world. It brought about concepts like noncontact deliveries and online modes of payment. Although it was sometimes difficult to keep up with the rising demand and limited stocks. The company faced some difficulties regarding labor and delays in deliveries as well.   
Employment: Amazon hired more employees with the increase in demand. From March to mid-April of 2020, Amazon hired over 175,000 employees for warehouse and delivery to meet the rising demands. In addition, the company hired around 36,000 employees by June that year. As a result, it witnessed an overall increase of 34% in employees in 2020. 
Paid Holidays: For cases where employees are affected by the coronavirus, all employees from that warehouse are sent home with full pay for cleaning the space. They provide over two weeks of paid holidays for employees.
Necessities: Products that are not medical-related or a necessity halt. Companies that rely on products like this have lost up to 50% of their revenue and lay off over 70% of their employees. In addition, services like Prime Now deliveries and Amazon Fresh are not as efficient anymore and are running out of delivery slots due to the rising demand. 
Supply: Amazon unfortunately highly depends on the collection of products from China, and now all of that has been put on hold. There are cases where such products are out of stock for six months, causing significant issues for companies that depend on Chinese products. 
Contamination: There have been cases where customers question the contamination of packages sourced from China, but officials have stated that the chance of contracting the virus from packages or letters that are in transit for multiple days is meager. All customers have to make sure that they wash their hands and sanitize after opening an Amazon package. 
How has the company complied with covid regulations?
Amazon saw a massive wave of demand in such limited time, and by the second quarter, they invested billions of dollars for covid related expenses. It included kits to help out employees to comply with covid regulations. 
They have taken measures to help their employees and the community in numerous ways:
Vaccines for front-line employees: Front-line employees, i.e., employees who have direct contact with the customers, have been prioritized to get access to vaccines. More than half a million of them have received these through vaccination events on-site.
Providing protective kits: Amazon started taking measures like social distancing, nourishing masks, gloves, etc.continually  back in March 2020. So they have been actively taking precautions ever since the problem arose. 
Testing crew: They have made sure to keep a team to test employees for Covid-19 on site. 
Special Programmes: In March 2020, they started building their labs to boost the testing process worldwide. They took things into their own hands, came out with a solution, and believed that other companies would eventually follow. With expert mids like research scientists, engineers, operators, program managers from all over the company they came together to find a solution and sped things up. 
Test labs: In 2 weeks, they converted their warehouses into testing labs. Their main priority was to test frontline employees regularly, and now with the testing labs, thousands of employees are tested every week. 
Investment: Amazon has invested more than $2.5 billion in incentives and bonuses for employees worldwide. It has also launched a $25 million relief fund to cater to delivery drivers and seasonal employees diagnosed with Covid-19. In addition, they are offering diagnosed employees to choose grants from $400 to $5000 pay. As of 2020, Amazon has invested $11.5 billion for Covid related expenses. 
Nepal crises: Amazon has supported United Nations World Food Programme to benefit Nepal during the pandemic. Flights from Munich, Germany, have traveled to Kathmandu, Nepal, to provide protective kits. The plane consisted of around 850,000 protective gears to help with the tremendous third wave that increased cases by 1200% in just a month. 
India second wave: Amazon has been working with the Ministry of Health and Family Welfare to provide Medtronic ventilators. With rising cases in India, they started providing 1000 ventilators in May 2021. Amazon vowed to fund the first 100 ventilators for the most crucial points. 
Effect of the pandemic on employees– Amazon Work From Home
Thousands of employees were forced into their homes and as of now, the work-from-home period extended to January 2022.
To come up with a solution, The Seattle Times has stated that Amazon is coming with a hybrid plan where employees work from home only for two days a week to overcome the monotonous life of working from home. Amazon has over 750,000 employees in the Seattle area, and once the local jurisdictions provide permission, employees will be able to go on-site. When employees work and rest in the same space continually, it takes a toll on their work-life balance and mental health. So, this concept might solve that problem to a certain extent.
Amazon has started providing seasonal jobs like Tech Support and Customer Support for candidates in areas like Alabama, Arkansas, Delaware, Florida, Indiana, Georgia, New York, Nebraska, Tennessee, Texas, Wyoming, and many more states of the US. This job requires employees to support customers with navigating the online portal and overall technical help regarding their services. 
Employees are paid a starting wage of $15 per hour and are paid 1.5 times for overtime. Candidates interested in applying for this job position must work full-time and agree to the 'Amazon Work From Home Agreement' containing various clauses. In addition, candidates must have a High School Diploma or its equivalent and be proficient in English writing and speaking skills. This seasonal position lasts up to 9 months, so candidates must pertain to clauses based on employment. Amazon provides a training period before employees can start their work. 
This work-from-home culture results in many advantages like cutting down on commute time, saving on management costs, employees gain the flexibility of time, etc. However, some downfalls are that employees worldwide are affected by this "productive" culture, both physically and mentally. Extended hours spend in front of the computer, and there is no concept of free time. Some companies enforce an overproductive culture since everyone is in the comfort of their homes with 'unlimited time.' 
Future of Amazon environment post-pandemic
Post pandemic life for giants like Amazon is going through so many changes. There has been an incredible rise in employment for work from home, warehouse, and delivery workforce. Amazon's revenue has skyrocketed with this global phenomenon. The rise of Amazon in the market has been like no other, and it has surpassed so many of its competitors just during the pandemic. They have provided so many employment opportunities. They are providing vaccination services to employees on a priority basis. Unvaccinated employees are also going for onsite activities but are taking necessary covid precautions. 
Amazon has also provided the added value of increased pay and bonuses for those employees who have been vaccinated and are actively participating in the betterment of the system. The company is seeing a bright future by moving customers to the e-commerce world, and all these new programs are paving Amazon, the road to a trillion-dollar company. Something as phenomenal as this would not have been accomplished without a global pandemic.
Although Amazon has enjoyed its fruits of success through this pandemic, it is putting just as much effort into abating this crisis. Since it has such a substantial impact on the world and reaches a large audience, the future doesn't seem so dark anymore. 
Also, read
Amazon Work From Home- Know more about it